The ICCID (Integrated Circuit Card Identifier) is a special number assigned to every SIM card that identifies the mobile device and its network account. By going to the settings menu and finding the SIM card section for Android phones, the ICCID can be discovered there. With its guarantee of network and device security and efficient functioning, the ICCID is essential for mobile technologies. On an Android phone, it performs several crucial tasks, including authentication, use and billing tracking, and remote device management. The mobile network uses it to validate the gadget's identity and guarantee that only approved gadgets can connect to the network. Hence, unwanted access is deterred and user privacy is maintained. The ICCID is sent as part of the authentication procedure when a device connects to a mobile network. The network uses the ICCID to verify that the device is authorized to access the network.
Moreover, usage and billing information is tracked using each device's ICCID. This enables the network operator to appropriately bill the user for network usage. The device is recognized by its ICCID, which is associated with the user's network account. ICCID may monitor a user's network activities, including minutes, data, and messages. The ICCID can also be used to remotely control the device. This covers services activation or deactivation, firmware updates, and remotely wiping the device in the event of theft or loss.
The ICCID is used to identify the device on the network and makes it possible to carry out remote management operations. ICCID must be kept safe because it is essential to mobile security and billing. The ICCID needs to be protected against unwanted access just like a password. It can be found in the settings menu of an Android phone and is typically printed on the SIM card itself.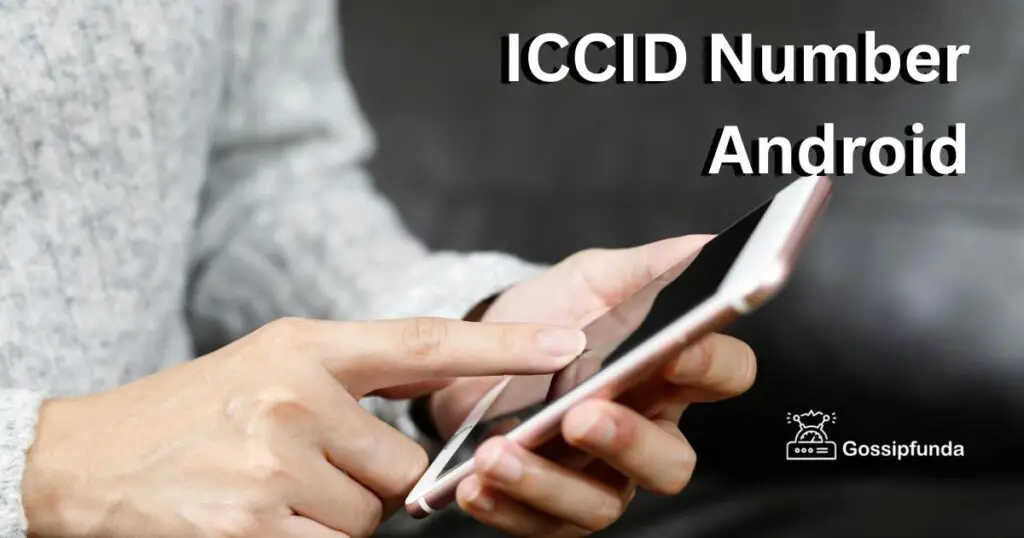 ICCID is utilized in areas other than mobile networks, such as automotive and healthcare. In the automotive industry, ICCID serves as a unique identity for connected cars, giving access to services such as navigation, entertainment, and diagnostics. In healthcare, ICCID acts as a unique identification for medical devices, enabling for usage tracking and patient health monitoring. It differs from IMEI (International Mobile Equipment Identity), which is a device-specific identification. The IMEI is normally printed on the device and can be used to track down lost or stolen handsets. The ICCID and IMEI numbers work together to ensure the security and effective operation of the mobile device and network.
How do I find my Iccid number on Android?
Follow these simple procedures to get your ICCID (Integrated Circuit Card Identification) number on your Android phone:
On your Android device, open the Settings app.
Scroll down to the System section and tap on About phone.
Locate and press on the SIM status column.
You should see the ICCID number listed under SIM card status.
If your device has dual SIM slots, you might need to choose which SIM card you want to view the ICCID number for.
Find the ICCID by taking the SIM card out and examining the number. On the SIM card, the ICCID is typically printed and is frequently located close to the card's edge. You can also enter *#06# using the keypad on your phone as an option. This will reveal your handset's IMEI (International Mobile Equipment Identity) number and a unique identification code. For a variety of reasons, your carrier also needs the IMEI in addition to the ICCID.
In some cases, you may be able to find your ICCID number through your mobile carrier's website or mobile app. You may need to log in to your account and navigate to the "Account" or Device section to find your ICCID. Then also you still having trouble finding your ICCID, you can contact your mobile carrier's customer support for assistance. They should be able to provide you with your ICCID number or help you locate it on your device.
So, finding your ICCID number on an Android device is a simple process that can be carried out using the Settings app. Maintaining the security of your ICCID is essential because it is used to uniquely identify your device and account on the mobile network. Try a different approach or get in touch with your carrier's customer support if the aforementioned steps don't help you locate your ICCID.
How do I find my Iccid number without a SIM card?
A SIM card is required since an ICCID number is assigned to it explicitly. Your SIM card's ICCID identifies your device and mobile network account. Your device cannot connect to the mobile network without a SIM card and hence cannot get your ICCID. Yet, there are a few circumstances in which you may need to locate your ICCID without using a SIM card. If you've misplaced your SIM card or are waiting for a replacement, you may need to activate your handset or transfer the service to a new one. In such circumstances, you may be able to get your ICCID by contacting customer service at your cell carrier. They should be able to provide you with your ICCID number or help you locate it on your device.
Check the box or literature that came with your SIM card as another option. The ICCID is frequently printed on SIM cards or included in SIM card kits or user manuals. Save these materials in a safe location because they contain vital information about your SIM card and account. If you used your SIM card on another device earlier, you may be able to get your ICCID from that device. Even without a SIM card connected, some Android smartphones allow you to check the ICCID number in the Settings app.
To see if your device displays the ICCID number, try the instructions mentioned in the previous section. It is important to note that the ICCID is a critical component of mobile security and billing. You should treat your ICCID like a password and keep it safe from unauthorized access. Be sure to handle your SIM card and device with care and avoid damaging or losing them.
How Crucial is ICCID?
ICCID is crucial for mobile technology since it ensures that devices and services operate efficiently and securely. The ICCID is a 19 or 20-digit number that is assigned to your SIM card and is used to identify your device and mobile network account. The SIM card's ICCID establishes a connection to the mobile network for call, data, and reception. Your device cannot connect to the mobile network or access mobile services if it lacks an ICCID. The significance of ICCID arises from its crucial role in ensuring that mobile technology devices and services function as intended.
The ICCID serves as a means of tracking usage and billing data in addition to serving as a means of identifying your device and account. Cellular carriers may trace the calls you make, the data you consume, and the services you use with the use of ICCIDs. ICCIDs must be used to track data consumption, calls, and services in order for mobile carriers to deliver accurate billing and necessary services.
Moreover, the ICCID is essential for security reasons. It is intended to guard against fraud and unauthorized access to your account and mobile device. Your cell carrier will use your ICCID, for instance, to restrict the device and stop unwanted access if you report a lost or stolen device. Carriers employ ICCID verification during activation or transfer of devices to help identify you and authorise transfer.
The ICCID is also essential for maintaining and configuring mobile devices. IT managers use ICCIDs to configure mobile devices that can connect to a company's network at work. Devices are authenticated using the ICCID to ensure that they have permission to access corporate resources. By doing so, integrated networks and data are maintained safe and authentic.
ICCID is essential for mobile device and service security and efficiency. Devices cannot connect to the mobile network and consumers cannot access mobile services without an ICCID. Tracking, pricing, security against unauthorized access, and workplace mobile device administration are all possible with ICCID. It's crucial to keep your ICCID private and to prevent disclosing it to unauthorized people or organizations. You can get the most out of your mobile services and safeguard your mobile device and account by using ICCID. Inform your carrier as soon as possible if you have any ICCID issues in order to safeguard your device and account.
Conclusion
To summarize, the ICCID is a vital component of mobile technology that is used to identify mobile devices and accounts on the network. It is a unique 19 or 20-digit number assigned to and saved on your SIM card. It enables network connectivity, phone calls, and data access; without it, such mobile device operations are restricted. The ICCID is also useful for tracking usage and billing information, which is vital for both users and cell carriers. By tracking data consumption, call duration, and service usage, ICCID supports carriers in properly charging customers. This guarantees that customers pay for the services they use while also allowing carriers to provide those services effectively.
In addition, security considerations make the ICCID essential. Using it helps prevent fraud and unauthorized access to accounts and mobile devices. An unwelcome user can't access a device that has been blocked by the ICCID due to loss or theft. It is used to confirm the user's identification and allow authorization for device activations or transfers. The management and configuration of mobile devices both depend on the ICCID. It is used by IT managers to monitor mobile devices in the workplace and guarantee appropriate corporate network settings. The ICCID is used to authenticate devices and make sure they have permission to access corporate resources. The security and integrity of business networks and data are preserved as a result.
All things considered, the ICCID is a vital part of mobile technology that is necessary for identifying devices and accounts, tracking usage and billing data, and safeguarding devices and accounts from unwanted access and fraud. Maintain the privacy of your ICCID and refrain from sharing it to stop unauthorized access and fraud. Secure your ICCID to protect your account, and device, and to enhance mobile services.