The excitement of gaming enthusiasts is reaching new heights as EA FC 24 gears up for its mobile version. As the EA FC Mobile development team unveils the new installment, they have initiated an exclusive limited beta period. In this article, we'll guide you through the process of joining the EA FC Mobile beta on both Android and iOS devices. With engaging gameplay features and enhanced visuals, this beta promises an immersive experience like never before.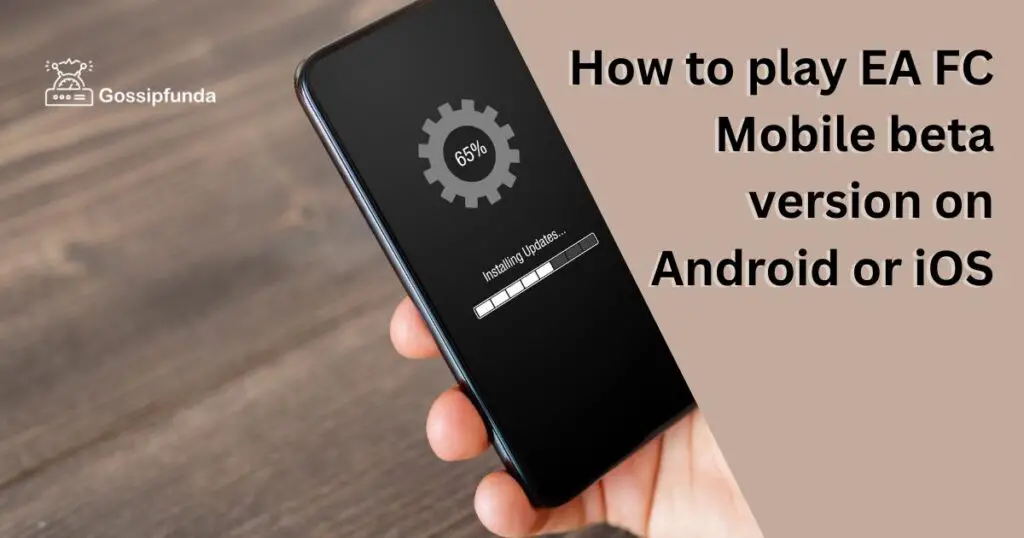 Joining the EA FC Limited Beta
Android Steps For Android users located in Australia, Canada, Malaysia, and Romania, participating in the EA FC Mobile limited beta is a few simple steps away:
Download the "EA FC Mobile Beta": Head to the Play Store and install the EA FC Mobile Beta application.
Access the Invitation Link: Open the invitation link on your Android device to initiate the beta process.
Enjoy the Beta: Once the link is accessed, you're all set to dive into the exciting world of the EA FC Mobile limited beta.
iOS & iPadOS Steps iOS and iPadOS users can gain access to the EA FC Mobile limited beta through the TestFlight platform:
Download TestFlight App: Visit the App Store and install the TestFlight app.
Open the Invitation Link: Click on the invitation link using your iOS or iPadOS device. This will redirect you to the TestFlight app.
Start Testing: Within TestFlight, select "Start Testing" and proceed to download the "FC Mobile Beta."
Installation and Access: Once the download is complete, you can launch the beta app just like any other application on your device.
Note: Since this is a limited beta, participation availability may be restricted. If the quota is reached, you might receive a message stating that the beta is no longer accepting new testers.
Read more:
Expectations from the EA FC Mobile Limited Beta
Dynamic Game Speed: Get ready for a more authentic in-game experience with enhanced flow and pace.
Elite Shooting System: Make smarter shooting decisions with a realistic shot system that mirrors real-life trajectories.
True Player Personality: Authentic player traits, attributes, and animations for a more immersive gameplay.
Immersive Broadcast Experience: Closer to the action with improved goal replays and dynamic camera angles.
Impact Controls: Command the field with new controls like Power Shot, Hard Tackle, and Knock-On.
Content & Modes in the EA FC Mobile Limited Beta
Base Player Roster: Iconic teams like Manchester City, Chelsea, Liverpool, and more, with updated kits.
New Kits: Get a glimpse of the upcoming season with fresh 23/24 kits for the featured teams.
Preseason Beta Event: Engage in skill games and matches to prepare for the full release.
VS Attack and Head to Head: Experience thrilling multiplayer modes for competitive gameplay.
Locker Room: Customize your team's look and feel with various options available.
New Gameplay Controls: Master new controls to enhance your playing style and tactics.
New Menus and UI: Enjoy a revamped user interface for smoother navigation.
Updated Audio Commentary: Immerse yourself further with improved commentary during matches.
Login Bonus Rewards: Be rewarded for your dedication with login bonuses.
Conclusion
The EA FC Mobile limited beta presents an exciting opportunity for Android and iOS users to get a sneak peek into the enhanced world of gaming. By following the simple steps mentioned above, players can join this exclusive beta and experience the immersive gameplay features firsthand. With dynamic game speed, elite shooting systems, and true player personalities, this beta promises an unparalleled gaming experience. Stay ahead of the game by diving into the action-packed world of EA FC Mobile's limited beta version.
FAQs
What is the EA FC Mobile Beta?
The EA FC Mobile Beta offers a sneak peek into upcoming features of the game.
How can I join the beta?
For Android, download "EA FC Mobile Beta." For iOS, use TestFlight app with the invitation link.
Who can participate?
Android users in Australia, Canada, Malaysia, Romania, and iOS users globally can join.
What features can I expect?
Dynamic game speed, elite shooting, player personality, immersive broadcasts, impactful controls, and more.
What are the steps for Android?
Download the app, open the link, and dive into the EA FC Mobile beta.
How can iOS users access it?
Download TestFlight, open the link, start testing, and explore the "FC Mobile Beta."
Is there a participant limit?
Yes, a limited number can join. Once full, you'll be notified it's closed.