A system Android app called Com Samsung android smartmirroring uses technologies to automatically mirror your smartphone's screen to the TV. The latest iteration of such technology has given rise to smart TVs that can automatically mirror content from your phone on the Television screen after scanning it. This software has one drawback: It prevents you from viewing anything because it frequently crashes and constantly stops when displaying material on your TV screen.
What Is the Samsung Android Smart Mirroring App?
Your device already has the Samsung Android Smart Mirroring App pre-installed, which enables content sharing between two Android devices, including images and videos. When you utilize clever mirroring, the other device receives a copy of the content from your phone and displays it on its monitor. The app represents the system package in charge of your Android phone's mirroring feature. To show someone what you're doing with your phone in real-time or to share the content through friends, family, or coworkers.com.samsung.android.smart mirroring, there are numerous ways to resolve issues with the com.Samsung.android.smart mirroring App.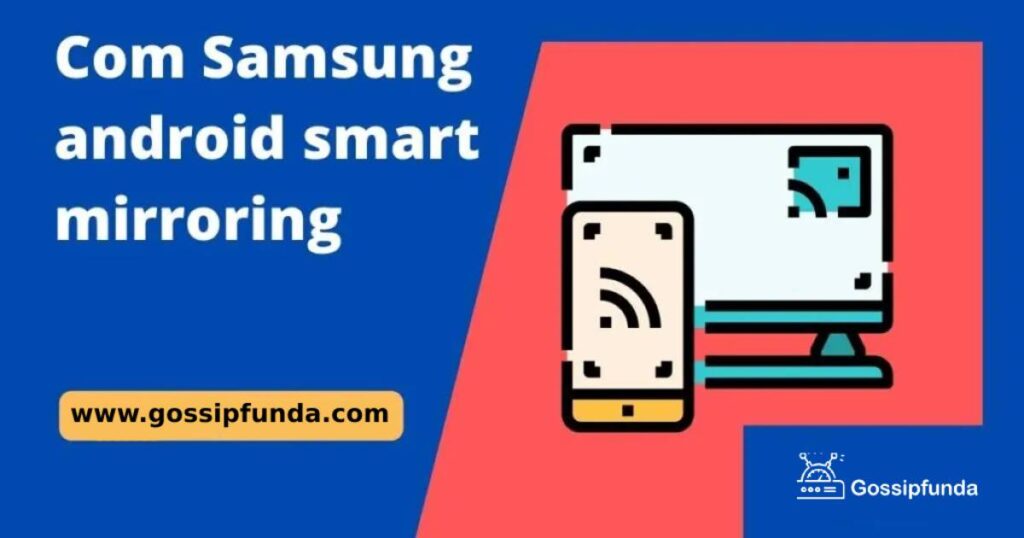 How you can use Smart View to mirror your Samsung tablet or smartphone to the computer:
The steps to show content through your Samsung device's screen on your TV are listed below:
Put the Wireless Display Receiver (such as a ScreenBeam Mini2) into a TV port that is open for HDMI connections.
Set the TV to present the data from the appropriate HDMI port after turning it on. Check if the TV displays the "Ready to Connect" screen.
Drag the finger down the Notification panel from the top of the display on your Samsung mobile device or tablet to activate the screen mirroring feature. Alternatively, look under settings for "Wireless Display Application."
Select Smart View, Screen Mirroring, and Quick Connect.
Your device will look for Receivers that it can connect to. Choose the Receiver from the list of devices.
A PIN may be required and will be visible on the TV screen. Then select Connect after entering the Password in the PIN message box. Await the gadget to connect and pair it with the Receiver.
The gadget's screen will appear on the TV as soon as it is connected.
Samsung TV Doesn't Support Smart View Smart View Requirements:
Android 4.3 or later-running phones and tablets are necessary.
It must be the same Wi-Fi network.
Up-to-date software.
Enable access on your TV when connected.
The Smart View app is a fantastic way to link your tablet or smartphone to your smart TV by Samsung. Both gadgets must be linked to a single network to use this feature. Try resetting or restarting your device if you have problems getting Smart View to function. Remember that DRM-protected content will not be compatible with Smart View.
Mirroring the screen on a Samsung TV is not working
You can try to reset your Samsung device if the screen mirroring feature isn't working. This frequently solves the problem. You can attempt to reset your TV if that doesn't work. Resetting your television every once in a while is always a good idea.
Confirm that your smartphone is paired with and linked to your TV via the same Wi-Fi connection, and then restart your wireless router.
Make sure your TV has the updated software as well. Your television and mobile device must be securely connected with a USB cable, and verify the USB cable supports that data transfers.
Set the settings on your smartphone to Mass Storage Class if the mobile device uses Media Transfer Protocol (MTP) (MSC).
Mirroring on a Samsung TV without sound
Screen mirroring Samsung may not operate if you have difficulties getting the audio to play. Verify your settings to ensure that the appropriate speaker, internal or external, is selected. Make sure the sound bar or external speaker is turned on and connected to the TV.
Your Samsung TV probably has a feature that enables both screen mirroring and sound mirroring. Make sure the settings are correct. If the issue persists, turn off the TV and speaker system and give it time to cool before restarting.
Screen Mirror substitutes for Samsung TV
You can utilize any third-party apps as screen mirror Smart TV substitutes. You can reduce screen mirroring issues by using it.
Within five minutes, the screen mirrors a Samsung TV using AirDroid Cast Web.
You may project your device's screen, whether it is an Android, iOS, tablet, PC, or Mac, using the screen-mirroring website AirDroid Cast Web on any browser across several platforms.
It is an excellent method for sharing your screen without any installation or cables. Utilize Airdroid Cast Web to project content from any computing phone onto a Samsung TV, as it is compatible with all browsers and platforms.
How do I use AirDroid Cast Web to screen mirror a Samsung TV?
Use AirDroid Cast Web to cast Android, iOS, or other gadgets to a Samsung TV by following the instructions.
Step 1: To download the AirDroid Broadcast app on the device whose screen you want to share, click the "Try It Free" option below. This program is also available from the website of the developer. App Store or Google Play Store.
Step 2: Go to webcast.airdroid.com after opening the internet browser on your Smart Tv. Input the 9-digit cast number on the webcast site or scan the cast code.
Step 3: As soon as the link is successful, the content from your device will appear instantaneously on the browser.
Note:- Please verify that launching a browser is supported by your Samsung TV.
Chromecast by Google
Google's Chromecast is a media streaming adapter that enables users to play web material on their digital television, including music and video. A mobile app enables a tablet, laptop, desktop, or smartphone as a TV remote.
The app can be dismissed after the streaming starts so that the gadget can be utilized for other things. You can stream content with Chromecast from various devices, including your Smart Tv.
Ensure that Chromecast and your phone are connected to the same Wi-Fi.
On your phone, download and launch the "Google Home app," then select "Chromecast" and "Cast my screen."
What Leads To The Failure Of Com Samsung Android Smart Mirroring?
Several things could be the cause of any com. Samsung. Android. Brilliant mirroring troubles you may be having. Check first that both Android phones are logged into the same Wi-Fi connection.Com Samsung Android Smartmirroring could not work effectively if your mobile network frequently disconnects. Second, confirm that your devices have installed the most recent software updates. When your devices don't have the most recent software upgrades, Samsung Smart Mirroring may occasionally not work correctly. Lastly, check if your devices are set up correctly for Android Smartmirroring.
How Can I Fix The Smart Mirroring Has Stopped On Samsung Android Problem?
If your com.Samsung. Android. If smart mirroring isn't working, try the following solutions and step-by-step instructions.
Android device updates
You can upgrade your Android operating system to the most recent version of Android to solve these issues.
Here's how to go about it
On your Android handset, go to Settings, scroll down, and hit About phone.
Tap on Download updates from Google after selecting Version 7 or 8 under System updates.
The upgrades will be installed and downloaded onto your Android smartphone after you choose OK to confirm.
After the updates are finished, restart your Android operating system in recovery mode by holding down both volume keys until you notice a green robot with a yellow triangular in its jaws on the screen.
When you see a warning message indicating that you're about to reboot your phone, hit the Up the volume button to raise it and the Volume scroll down to turn it down.
To restart your phone, press the Power button.
Android cache clearing
Some users claim that wiping their Android cache resolved the issue notice "com Samsung Android Smartmirroring has stopped." Others who tried this solution had absolutely no success. Consult the steps below if you still have issues or are unsure how to delete your Android cache.
Your phone's "Settings" app should be opened.
Tap "Storage" under "General."
Tap "Android Cache" under "Media."
To remove all caching content from your smartphone, tap "Clear All."
If it hasn't already, restart your phone.
If this doesn't solve the issue, proceed to the step after that to conduct a factory reset.
Reset the factory
Most Android system apps, including com.Samsung. Android. Messaging and com.Samsung.android.smart mirroring may be fixed with a factory reset. Users of the app can utilize the ability to mirror its screens on some other devices so they can keep working even while they are away from their primary screen. Despite being made to operate with Samsung devices, there have been reports of the Com Samsung Android Smartmirroring not functioning with some Android devices. Any app problems can be resolved, and everyone's functionality should be returned with a factory reset.
This is how you do it
To access the Apps menu from your Main screen, slide up from the bottom of both the displays.
Select Settings.
Select Security and System.
Tap Complete data reset and Reset options.
To confirm, tap Reset phone.
When requested to do so after the phone has finished resetting, input your lock code and select OK to complete the process.
Open the Smart Mirroring app and log in to your Storage account when ready to use it again.
Removal of system applications
The system app uninstaller can be used in various ways to deactivate the com. Samsung. Android. Smart mirroring app. A free utility called System App Remover enables users to disable or eliminate unneeded system programs like ConfigAPK. The Google Play app store offers the option to download the app.
Utilizing the system app uninstaller, deactivate an Android application as follows:
Launch the system app removal program.
The Applications tab can be tapped.
To disable an application, choose it.
Click and hold the Disable button.
Now that the program has been disabled, it cannot be used.
How do I operate a Samsung Smartview?
Here we know, how to use Smart View to mirror your Samsung tablet or phone to your computer
Obtain and set up Reflector on your Windows or Mac computer.
To display the Settings" tray on your Android phone, swipe down a couple of times from the top of the screen.
The Smart View button, then tap.
There will be a list of obtainable receivers.
How safe is Smart View?
On October 11, 2018, the trial for the SmartView.msi file was finished. 27 different antivirus programs were used. These files have not been found to contain any malware, spyware, trojans, worms, or other infections, according to the antivirus software we used to test them.
Conclusion
If you have an Android phone, you might require the Com Samsung Android Smart Mirroring System package to use the mirroring screen feature. The advice in this post explains how to fix Android Smartmirroring if it isn't functioning correctly. With the expectation that it will help resolve any challenges, you may be experiencing and enhance the overall mirroring procedure.
FAQs
What is the purpose of an intelligent view?
With the help of Smart View, you can easily incorporate data from Microsoft Word, PowerPoint, Excel, and Outlook into your ERP, enterprise performance management (EPM), and business intelligence (BI) systems. Data in Office-based interfaces can be viewed, imported, modified, distributed, and shared using Smart View.
SmartView PST: What is it?
Users can execute ad hoc analysis and reporting, enter data instead of web-based forms, and examine Financial Reporting (FR) reports thanks to the Smart View Excel interface, which interfaces with Hyperion Planning and Essbase.
What does Samsung's DeX software do?
A software package called Samsung DeX transforms your smartphone into a desktop computer system. It has worked with almost every flagship smartphone released by Samsung since 2017, starting with the Galaxy S8 and continuing with the Galaxy S22, S22+, and S22 Ultra this year.