Wyze Cam 1080p HD Indoor Wireless Smart home camera: We are in the age of AI and the Internet of Things. Products like Smart Watches, Alexa, Google Home etc. aren't hard to find anymore. In fact they are becoming a part of human lives. Nowadays everyone depends on a machine to make their lives fluent. The whole world is moving towards AI based gadgets. Gadgets that make smart decisions and act as a constant companion. Today's discussion is about one such smart gadget.
Introduction to Wyze Cam v2
Wyze Cam V2, Smart Home Camera by Wyze is what we'll talk about. Smart Home products are trending. And, a Smart Home Camera is one of the foundation tools of building a Smart Home. By the end of the article you'll learn about this product, and some of its competitors in the market. Wyze has been creating a buzz in smart home products since it came to market in 2017. And this product by the company isn't an exception to it.
The First Impression
This HD cam is loaded with so many features that you can't resist to go for it.
To begin with, The camera supports 1080p HD video recording. Loaded with advanced night vision and 2-way audio. This product comes with the support of both Alexa and Google Assistant, the pioneers in smart home services. supports the live stream of the video on multiple devices through Wyze app. This camera automatically records and stores a 12 sec video over the cloud, on detecting a sound or motion. Online storage comes without any cost. Listed at a price of 25.98$, I believe it to be value for money.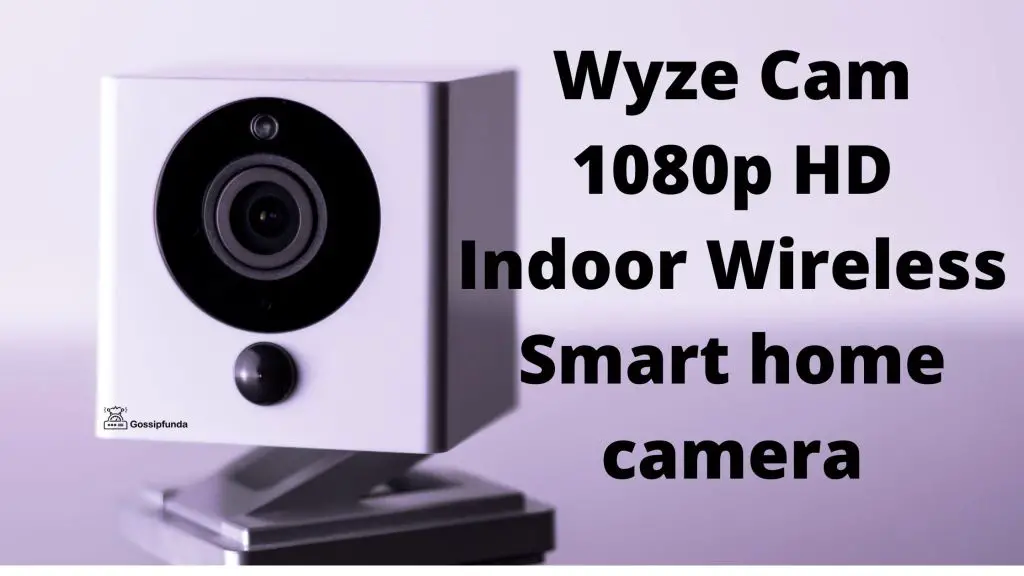 Key Features
Now that we know the basic features of the product let's dive deeper. So that we understand why one should go for it. Here, I provide you a detailed analysis of various features of the product one by one.
Built Quality: With its small size, magnetic base, included adhesive metal plate, and flexible 3-axis design, the Wyze Cam v2 can go anywhere you need it. Also no screws are required to fasten this camera. Weighing 3.53 ounces, the camera sports a miniature skeleton with dimensions 2.2 x 2 x 2 inches. The camera is designed for indoor use and it is not weatherproof.
Camera Specifications: Sporting a lens with a 2.8mm focal length, 1/2.9″ CMOS sensor. The Wyze cam v2 comes with an F2.0 aperture lens. A total of four 850nm infrared LEDs are placed for better night vision. Also embedded with a 110 degree wide angle lens, the camera delivers crisp and clear videos to your smartphone or any display device. Adding to all these specifications is the 8x digital zoom and the IR-CUT Filter. The camera has 128 MB memory and runs with the help of a 1.0 Ghz CPU.
Get the deal here: click now
Camera Features
The Smart Camera: This product from Wyze comes with many AI based features. Let's discuss in brief about the smartness of the camera.
Video Quality: The camera delivers stunning videos supporting 1080p HD video recording. This makes it efficient for recording crisp, clear and stunning videos throughout the day. Wyze Cam V2 comes with a 1920×1080 HD resolution support. Videos are recorded in H.264 encoding. Delivers 15 fps in daytime while 10 fps in night  vision. Even while recording on a full scale 8x zoom, the clarity of the videos does not disappoint.
2-way Audio: Listen and speak through the camera. The smart cam comes with a built in speaker and microphone. So it can be used for recording sound, and producing it as output. You can use the 2-way audio feature to interact with a visitor at your doorstep. A class-K Power Amplifier is embedded in the camera.
Auto Record: The camera automatically records a 12 second video, when it detects motion or sense sound. This video is saved over the wyze cloud storage. The storage access is free of cost. Each video has a 14 day lifetime. Between two consecutive automatically recorded videos there is a cooldown window of 5 minutes.
Night Watcher: Wyze Cam v2 comes with night vision enabled. The 4 infrared LEDs make this camera a night mode beast. Also with it's IR-CUT filter the camera can record motion within 30 feet under darkness. So you can make the most out of it 24×7.
read also: Sony cameras
Special features
Alexa Compatible: The camera fully supports the voice assistance of Alexa. So you can control the camera and operate it through Alexa and Google Assistant. For instance, to view the live stream of your bedroom all you need to say is, "Alexa, show me the Bedroom." And there you go.
Motion Tagging: Wyze cam v2 highlights the objects in motion within its view. It works on image processing and differentiates between moving and still objects. The motion tagging feature works in both live stream and playback videos.
CO2 and Smoke Alarm Detection:  This advanced camera supports the feature to detect the pattern of a smoke alarm. Also it indicates an increase of CO2 levels in the environment. If enabled, it sends instant notification to the connected smartphone.
Power Support: Wyze cam v2 has no nbaatery support. It works with the power adapter that comes with it. The power adapter has an input range 110-240V and a 5V/1A output.
Storage: Wyze cam v2 supports micro SD cards with 8, 16, and 32GBs of storage. The FAT32 file format is supported by the camera. The SD card is not delivered with the camera and has to be purchased separately. For the automatically recorded 12s videos, free Wyze cloud storage supported by AWS is provided. The videos stored over the cloud are recycled every 14 days. 
Connectivity: This product comes with a  802.11 b/g/n 2.4 Ghz Wi-Fi connectivity. The camera cannot be connected to 5Ghz networks. It supports WPA WPA2 protocols. Upload speed of 1.0 Mbps for SD video and 1.5 Mbps for HD video is required, as stated on the official website of the product. 
Warranty and Support: Wyze Cam v2 comes with a 1 year limited warranty from the manufacturer.
What's in the Box
Wyze Cam v2 is accompanied by a few utility accessories. For instance the tools required to mount the camera and the adapter is delivered along with the camera. You get the following accessories out of the box.
Wyze Cam v2
Power adapter: Source of power for the camera
USB cable
Wall plate: The surface to set up the camera on wall
Mounting tape: Adhesive to harness the camera
Quick Start Guide of how to install security cameras
Specification Table
| | |
| --- | --- |
| Dimensions |          2.2 x 2 x 2 inches |
| Weight | 3.53 ounces |
| Ports | 1 Type-A USB, 1 micro USB |
| Power Adapter Input | 110-240V (AC/DC) |
| Power Adapter Output | 5V/1000mA |
| CPU | 1.0GHz |
| Memory | 128MB |
| Resolution | 1920 X 1080 (1080p) |
| Camera | Lens: F2.0 aperture, 2.8mm focal lengthImage sensor: 1/2.9″ CMOSDigital zoom: 8x |
| Field of View | 110° lens |
| Night Vision | 4 IR LEDs (850nm) Illuminates up to 29.6 feet (9m) |
| Video | H.264 encodingDay time video: 15 FPSNight vision: 10 FPS |
| Audio | Built-in speaker and microphone Class-K power amplifier |
| Storage | Supports 8GB, 16GB and 32GB microSD cards in FAT32 format |
| WiFi | 2.4GHz Supports WPA and WPA2 protocols |
| Operating Systems | Supports iOS 9.0 and Android 5.0 or later |
Additional Products Required:
The camera itself is just meant for recording the videos and storing clips on the cloud storage. A few additional tools are required to exploit all its features. The most required add ons are listed below:
Storage Media: An SD card of suitable storage capacity need s to be plugged in so as to store the recordings locally. Moreover the cloud storage technology shoots clips of 12 sec only so an SD is required.
Smart Home Device: Devices such as Alexa, Google Home or Google Home Mini are required to add voice control to the camera. Also to access other smart camera features a smart home product is needed.
Don't miss: Nikon Camera
Ratings and Reviews:
Wyze Cam v2 has a rating of 4.3 out of 5 with 39,201 customer ratings. With 71% of the reviewers giving it a 5 on 5. Also on the official website of Wyze, the product has been rated 4.6 out of 5 with 2294 reviews. 95% of the users on the website recommend purchasing it.
A Few Cons:
With so many features to praise for, The Cam V2 brings along some disadvantages to watch for. Since this is an unbiased review, the cons of the product are listed below:
Connectivity: The 5GHz bandwidth is not supported by the Wyze Cam V2.l
Not Weather Proof: The camera is strictly made for indoor use. If you need it at your doorstep make sure the environment is dust-free.
IR does not work through Glass windows.
The Close Competitors
Wi-Fi camera by Goowls: This camera by Goowls is the new buzz in the town. Ranked #1 New Release, this is the best alternative to Wyze Cam v2. Also on offer periods this might cost you even less than the Wyze Cam v2.
Wansview Wireless Security Camera:  A close competitor in terms of price and features.
Wyze Cam Pan: This one is a little heavy on the pocket but the features compensate for the price. The 360 degree rotation, camera patrolling and 6 IRs give this product an edge over others.
Closure:
Concluding my write up, I say that the Cam V2 by Wyze is a product to go for. Comparing the price to the features provided, this security camera is the best in class. The need of such products has grown over the years. The popular phrase, "big things come in small packages" is perhaps the shortest way to define the features of this product. Coming at a price of less than 30$ the product can be purchased,  overlooking few of its cons. In my opinion, if you are looking for a cheap smart home product or simply a security camera then Cam V2 should be your pick.