On either an iPad or Apple device, you may utilize widgets to customize the design of your homepage. Apple offers its very own selection of widgets, and several apps have their own built-in widgets. But if you want to modify widgets, you'll need the widgetsmith software. A custom widget software called Widgesmith offers a wide variety of information widgets that are easily configurable, including calendar, date, and weather widgets. Each of them can be properly modified to fit the function and style you select.  Then, according to the rules you provide, this group of widgets can be automatically scheduled to display on your home screen.
Depending on the widget, the weather might be displayed 1st thing every morning, followed by your calendar while you're at work, and finally your Activity ring status when the day comes to a close. This enables you to utilize every available space on your home screen. Widgesmith is a fairly user-friendly program that lets you add personalized widgets to your iPhone or iPad. For small, medium, and large widgets, the app offers three sections. For each size of the widget, you can add a number of them and personalize them. Although the majority of widgets are free, some call for a premium subscription to the widgetsmith program.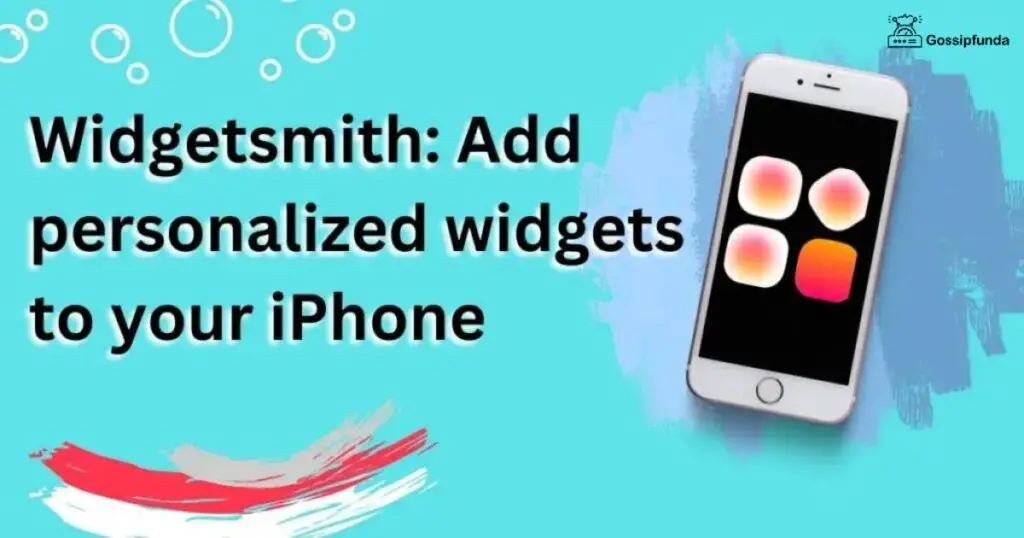 Simply tap and hold on an empty area of your home page on your iPhone or iPad until you see a + sign in the top left corner of the screen to add a widget. At the bottom of your page, select widgetsmith by clicking it. You may add any size widgetsmith widget to your home page and reposition it wherever you like. For the greatest outcome, you can also combine and match several different widget sizes.
How to use Widgetsmith to its fullest potential?
Widgetsmith also has a number of extra tricks in its sleeve beyond what is obviously evident. In order to avoid making a mistake if you want to go all out with customization, make sure to read the useful guidelines given below.
How to utilize custom widgets from Widgetsmith on an iPhone?
Start by visiting the app store. Go to search and type in "widgetsmith" there. Widgetsmith will then be seen there. If you don't already have it, get the widgetsmith there. after downloading it, open the widgetsmith program. All that this program allows you to accomplish is what you see there. Basically, there are three sizes of widgets that you can customize: small, medium, and large. Clicking on a widget will take you to the screen where you may customize it.
Small widget
Actually, you may include a time widget that, after a predetermined period of time, will swap out the current widget, allowing the system to cycle through them. Simply touch anywhere on that area of the screen to edit and customize the time widget.After this, you are free to alter anything you want. You may choose to display the date only, the day only, which is incredibly great, or the time and it may even display your location, which is really good. You can view reminders or future events down there. Weather is another factor, but it is locked. For that, you must upgrade. You can have a step counter or an activity bar, both of which look extremely good. Additionally, astronomy seems extremely impressive. Press it if any of that is acceptable to you. Following that, you may simply exit the screen by pressing the save button.
Medium widget
Click the medium widget. To edit a widget, simply tap anywhere on the display. We may then have a wide variety of appearances, so simply browse them all and pick the one that appeals to you the most. This section's widgets are a bit bigger than those in the previous section. You can see the distinction for yourself. Select the widget you want to save by tapping on it.
Large widgets
The large widget section is just like the other two sections. but its widget size is bigger than that of other sections. You can go through this section and choose the most appealing widget. Then click on it and save it.
Widgetsmith: How to Create a Widget
Creating custom widgets is simple using Widgetsmith's user-friendly interface. To make a special widget with Widgetsmith, adhere to following instructions:
Upon acquiring a downloader from the App Store, launch Widgetsmith.
Click Small, Medium, or Large to select the dimension of the widget that you want. A square-shaped tiny widget may accommodate four applications inside of it. The medium widget appears to be a rectangle, whilst the large widget is also a squares.
Label your widget differently now. You will find it easy to identify amongst your customized widgets as a result.
Pick Default Widget next. Visit the widget-choosing page by using Widgetsmith. You can pick any of the various styles on this page as well as the sort of widget you want to create.
To select your preferred widget and style, tap. Scroll down for other categories after seeing the Photos widget area at the top of the screen.
To edit your widget, click or tap Aesthetic or Theme there at the bottom.
Select one of several basic styles and press the Modify Theme button to further modify your widget. The artwork, background, border, tint, and text colors of the widget are all editable.
To finish, press Save.
 To apply changes, Widgetsmith will ask you. When you wish to keep it, choose yes.
Choose Back, then press Save.
The widget naming page will then ask you to hit Save to complete.
How can I make widgets available on my home screen?
You can add widgets to your homepage in the following ways:
In Widgetsmith, customize the widget.
Visit the homepage now.
By holding down a prolonged hold any point on the screen, you can enter a jiggle state.
To add a widget, click the plus sign.
Navigate to widgets and type "Widgetsmith"
Press "Add Widget" after selecting the size widget you've chosen.
When you tap on the widget, choose your custom widget's name from the list that appears.
Rearranging your home screen widgets while in jiggle mode is an option.
You can change the name of your widget to make things clearer to find after you add that one to your homepage by tapping on done when you're done.
Scheduled Widgets by Widgetsmith: How to utilize
Timed Widgets are yet another intriguing Widgetsmith feature. Considered a timed widget, this brief widget will only momentarily show up on your iPhone's homepage. 1, 2, 3 hours, and others are all possible durations. On the Homepage outside of certain times, your iOS device or iPad will display the default widget.
Create a Timer Widget by following these steps:
Get Widgetsmith going.
A widget that is special to you should be chosen.
Select add a Real-time Widget on the subsequent page.
You can decide the time your Real-time Widget should appear by pressing and holding the time selector while altering it.
Touch the empty widget grid.
Next, pick a widget out from predefined options, then tap on the theme to make changes.
Go back and save the changes once again.
Snap Widget
I find it strange that Apple forbids users from customizing the default Photo widget. No user-selectable photographs are available in Apple's Photo widget. It's a blessing that Widgetsmith provides you the choice to select a particular image as well as to loop into an album, which makes it possible to perform this relatively straightforward task. Scheduled widgets may also be programmed so that a different photo will show up at different moments of the day. Although putting a photo of yourself or your pet might be your first thought, the most creative ideas you might have seen involve adding additional decorations to your homepage.
How can I configure a photo widget?
You can choose a specific image or album from Widgetsmith to show on the widget.If you select Photos in Album, the widget will loop through all the album's pictures constantly throughout the day. You can choose from the one image to use as your widget's static background by selecting Photo.
Setting up just one photo widget:
Widgetsmith should be opened.
By pressing it, you may choose the widget size you want to employ.
To modify it, select Default Widget from the menu.
If you want an overlay, pick from one of the alternative options; otherwise, select Photo for a simple photo widget.
To enable the app to display your photos, make sure you grant it access to all photos.
After choosing the preferred photo kind, a new tile with the label Selected Photo will appear somewhere near the bottom of the display.
If  selecting Choose Photo, you can see all of the images stored on your camera roll. The same search and filtering features that are available in the Photos app can be used to find the image you're looking for.
Swiping and pinching the widget will change the orientation of the image.
Click after selecting an image to save it. You can use the touch to rename function to change the widget's name so that you can identify which widget you developed while placing it on your home screen.
Use Simple or Colorful Wallpapers to Decorate Your iPhone Home Page
When it comes to creating a classy home screen, wallpapers are a key component. When it comes to plain and colored wallpapers, Widgetsmith has a huge collection that you may use to further personalize your device. Open the Widgetsmith app on your iPhone and select either the Plain Wallpapers or Colorful Wallpapers option after scrolling down to the Extras area. Now that you've chosen a lovely background, save it to your pictures app.You are free to select as many more wallpapers as you want because there are no restrictions. Save Widgetsmith background images to your Gallery. Utilizing a variety of gorgeous themes, Widgetsmith also enables you to edit a multicolored wallpaper.
Conclusion
If you want to add stunning widgets to your phone as a custom feature, that is all you need to know. You must use widgets because they give your phone a distinctive look. An array of themes and features are available in the widgetsmith app. Therefore, make sure to explore this program thoroughly and use it to its greatest potential.
FAQs
How much does widgetsmith cost?
You can grab widgetsmith from your app store for free. None of the costs are included. but if you want to use it more effectively, you need to pay for a premium subscription.
How can I modify my widget photo in the best way?
In Style Chooser, the program provides a wide selection of images. A photo can be chosen in a variety of ways, or you can select Photos in Album, which will switch between pictures in this album throughout the day. You can select the picture that displays in the Selected Photo box for each of them.
What choices do I have when using aesthetics?
The widget you want to change must be opened in the Widgetsmith app before an aesthetic is applied. A unique widget can be added by selecting the "add widget" option. You can change how something looks by hitting the widget and then selecting the Aesthetic title. There seem to be a wide variety of categories to pick from. Select customize theme after making your decision to further customize the background, text, tint color, frame, and artwork. You can choose to apply to this widget only or change the theme everywhere once you have the desired style. If you alter the theme globally, your customized design will be applied moving forward to whichever widget you select.
Widgets on previous iPhone devices are possible?
On an older iPhone, going to the home screen requires tapping the home button just below the screen. Press and hold any available space as soon as you detect the apps swiping back and forth. Any widget or software also has a tap-and-hold function accessible.