If your voicemail is unavailable on your iPhone, then you would be missing out on some important messages. There are a few things you can try if you are facing the issue of Voicemail unavailable on your iPhone. Ideally, one of these fixes will make your iPhone's voice message function properly, preventing you from missing any further messages.
After updating to a new version of iOS, several users have reported experiencing several problems, including the fact that their new iPhone 12 or older models will no longer turn on, charge, or receive calls. Additionally, you can experience issues such as voice messages that are unavailable. If you are having similar problems and are unsure of how to fix voicemail on an iPhone that isn't working, the following information we have recorded may be of use to you.
Why is my voicemail unavailable on my iPhone?
Voicemails will probably not reach you due to the following reasons:
You are not a member of your carrier's network.
Your SIM card has not read properly.
You might be running the older version of iOS.
You need to fix your network settings.
Your firmware has a bug.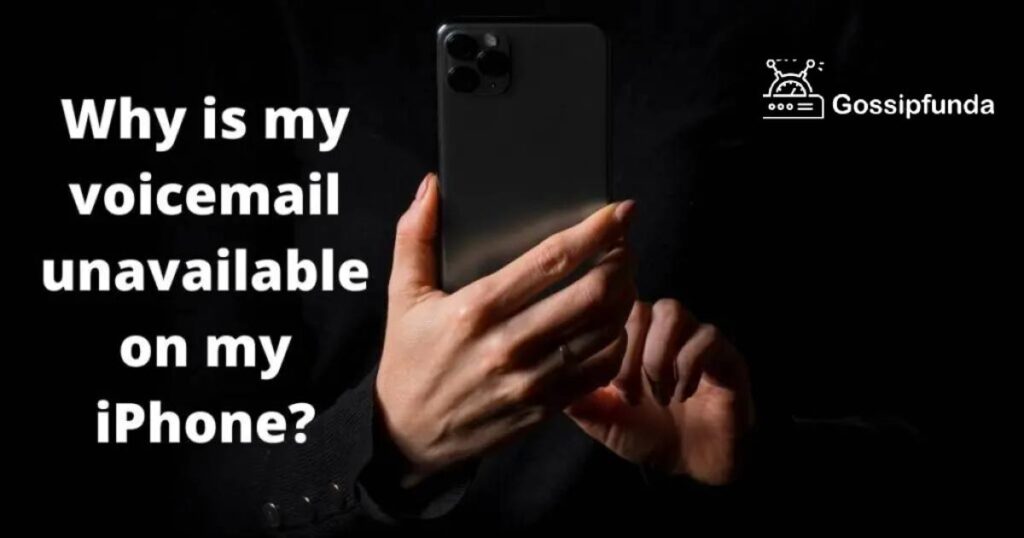 Problems you may encounter if voicemail is unavailable on your iPhone:
If you discover that the voice message is not working on your iPhone after updating to a new iOS, you may encounter the following problems:
You can't see voicemails on your iPhone.
After an update, phone message setup is not possible.
No warnings or cautions regarding phone texts.
The voice message is currently unavailable or cannot be reached.
Voice messages are duplicated or copied is several ways.
Not displaying a list of visible audio messages, calls, or dials voice messages.
unable to hear or maintain attention while listening to a voicemail.
No option to record or leave a voicemail.
A voice message cannot be deleted.
Quick Fixes to resolve the voicemail unavailable issue:
Here are some of the methods which you can try to fix the problem of your query of "Why is my voicemail unavailable on my iPhone?".
Delete Your Voicemail
If your voicemail box fills up too much, you might occasionally stop receiving voicemails. Although the majority of modern iPhones have a GBs of storage space, the voice message capacity is limited and it can quickly fill up, especially if you frequently receive spam calls.
Go to the Phone application and select Voicemail to delete older voice mails and free up space. When you get to this page, pick the audio messages you want to delete by tapping Edit in the top right corner. When ready, select Delete by tapping the bottom right corner. If this was the case, you should have the ability to receive voicemails again when the space is free.
Look for an update of carrier settings
There aren't many people who are aware of this, but occasionally your carrier settings need to be updated. Even while it doesn't happen frequently, when it does, it means that refreshing can often fix carrier issues. This recalls when you didn't receive voicemails on your iPhone.
Fortunately, updating your carrier's settings is simple. Your carrier settings can be viewed by going to Settings > General > About. You can even install carrier update if it is asking for it. If not, all you'll see is your carrier information.
Your iPhone needs a cell network association for voice messages to function. Look at the screen of your device in the upper left corner; there may be a No Service error there. This suggests that you are currently not connected to your carrier. This might be a sim-card issue, as expected.
Get rid of your SIM card.
Blow its opening and slot (Residue may have entered them, preventing the proper scanning of your SIM.)
Replacing the SIM
Additionally, it's possible that your remote carrier is managing outages and that's why you're experiencing the No Service error.
Restart the cellular network after turning it off.
A quick reset of your mobile cellular data might occasionally resolve some problems. In the unlikely event that your audio messages aren't uploading rapidly enough, this is evident. Receiving notification of a missed call after hours is a good indication.
You can accomplish this by turning your phone's cellular data on and off repeatedly or by setting it to airplane mode.
You can do this by frequently turning on and off your phone or by switching it to offline mode. Call your phone from a separate device after doing so to see if your voicemail is now working or not. If you get a voicemail after performing the above steps, then the issue is resolved.
Verify cellular data is turned on
In general, cellular data is crucial for receiving phone texts. Considering that voice messages are a feature of carriers, interacting with information ensures that your voice messages are delivered. Cellular data is also important for the Visual Voicemail feature to work. Without cellular data being switched on you cannot perform any task. You can listen to a voicemail without paying attention to it at this point.
Turning on your voice message could help you identify the issue if it's not working and you don't have information switched on. To enable it, go to Settings > Cellular and select Cellular Data. If you have a data plan with a limited data allowance, there are ways to utilize less data while still receiving phone calls.
Activate Wi-Fi Calling
Voicemails take up your Wi-Fi to get downloaded to your device if you live in an area with a bad connection. Bad connections may also cause missed call notifications to appear on your phone without your phone ringing.
If this happens to you, you may check by turning on your device's Wi-Fi. Additionally, it helps you receive better sound quality and reduces missed calls.
Go to Settings > Phone > Wi-Fi Calling to enable Wi-Fi calling. To activate it from this location, tap Wi-Fi Calling on This iPhone. It is worth activating since it is free.
Ensure that Call forwarding is turned off
Your calls will be sent to a different number if you have Call Forwarding activated. While normally disabled, it occasionally has the potential to become enabled accidentally if you're fiddling with the settings. You aren't getting phone messages as a result, if it is enabled.
Go to Settings > Phone > Call Forwarding and tap Disable to disable it. Call forwarding may not be enabled on all carriers.
Reset Network Configuration
It's possible that resetting the network settings will help if your iPhone's voice message still doesn't function following the previous repairs. This also helps if you have other reasons such as missed calls that don't ring on your phone or problems with mobile data.
Go to Settings > General > Transfer or Reset iPhone > Reset > Reset Network Settings to clear the network settings.
Use the Conventional Method to Access Your Voicemail
Although Visual Voicemail and the phone app are ideal, they are by no means the only ways to check your phone message in the case that they aren't working. If after trying the aforementioned methods your iPhone's phone message still doesn't function, you may need to check your voicemail as it was done back in the day. You can check your phone message through your carrier by dialing your number on your phone.
The final four digits of your phone number are typically the default secret word, just in case you don't know it.
Verify that voicemail is set up
Perhaps you didn't put up a visual phone message. Many people believe that iPhones automatically have the element enabled, but you need to do so.
If you assume that an iPhone phone message is in progress, there is a quick way to check:
Activate Settings > Phone.
There should be a Change Voicemail Password option available.
If you haven't set it up, do the following:
Launch the Phone app.
Locate the Voicemail tab, then click on it.
select setup
Enter a four-digit or six-digit passcode.
Click Done
If you need to use a default or custom hello, you'll be informed when you click "done." There are many options to look through if you choose the default route.
However, if you're having problems, you can get in touch with the company that provided your remote setup. Your interaction with the company will be guided by their customer service team.
Update iOS
Try refreshing your iOS, if you are using an older version to fix the issue. You can be one of the uncommon people who refuses to install fresh firmware because they genuinely detest the way the new upgrades appear.
To update the software, go to Settings > General.
Click update.
Instead of physically installing new firmware, the establishments can be done automatically
General > Settings > Software update
Set automatic updates to on
Simply said, your iPhone would lose battery more quickly than it should if you enabled Automatic Updates. All things considered; the device would constantly look for new firmware.
Reset Voicemail Password
The problem might be resolved with something as simple as altering your voicemail secret phrase.
Activate Settings > Phone.
Toggle Voicemail Password Change.
Put in the fresh secret key.
Tap done (you would need to tell the lessee the chosen secret word)
Change Your Time Zone
The incorrect date and time zone on your portable probably went unnoticed by you. Many customers have reported that a quick reset of their device's time zone and date solves the problem.
This is how you can accomplish this:
Select Settings > General.
Select Date and Time.
Select Automatically.
Factory Reset
Not only would this reset network settings to their default values, but it would also reset all planned settings to their default values. Just be aware that the data on your iPhone would be removed.
A more ridiculous solution for unauthorized settings is factory resetting. It's the best tactic if you were considering getting rid of messiness.
On iOS 14:
Reset by going to Settings > General.
By clicking it you'll erase all the data.
You would be asked to enter your device's password.
Press Confirm.
Talk To Your Carrier
One of the aforementioned focuses, for example, should be helpful. Contact the support group for your carrier if they don't. They can help you identify the cause of any voicemail problems. Give the support staff your phone if, in the odd event you are unable to fix the issue.
If a blackout isn't the cause of the problem, there are several methods you may look at your iPhone's voicemail. Try altering your voice message secret key, updating your iOS, clearing your network's settings, activating and deactivating silent mode, or restarting the Phone
Conclusion
Because your carrier is experiencing outages, the visual phone message may be currently unavailable. When a few hours have passed, restart your iPhone. At that point, theoretically, the outage would have ended.
If an outage isn't the root of the problem, there are a number of methods you can look into your iPhone's phone message. Try altering your voice message secret phrase, updating iOS, clearing your network's settings, activating and deactivating silent mode, or restarting the Phone program. For all devices, from the iPhone 12 to the iPhone XR, all the way down to the iPhone 5s, the issue can easily be resolved using the above-mentioned fixes in the article. I hope you would have gotten the answer to your query "Why is my voicemail unavailable on my iPhone?"