Despite having a SIM card inserted, do you receive the "No SIM Card" or "SIM Card Not Detected" error and you question yourself "Why does my phone say no sim"? If so, you've reached the correct location.
Isn't it exhausting when your phone suddenly displays No Sim while you're working on an important project? After a while, this problem gets aggravating because you can't make any more phone calls or utilize the network. You may have also tried rebooting your phone or searching for many other choices in your phone settings to resolve this issue, but it is possible that you were able to resolve this issue. As a result, there is no one solution to this problem. One method may work for one person while not working for another.
In this post, we will discuss various methods and techniques that will assist you in troubleshooting your problem so that you can get back on track.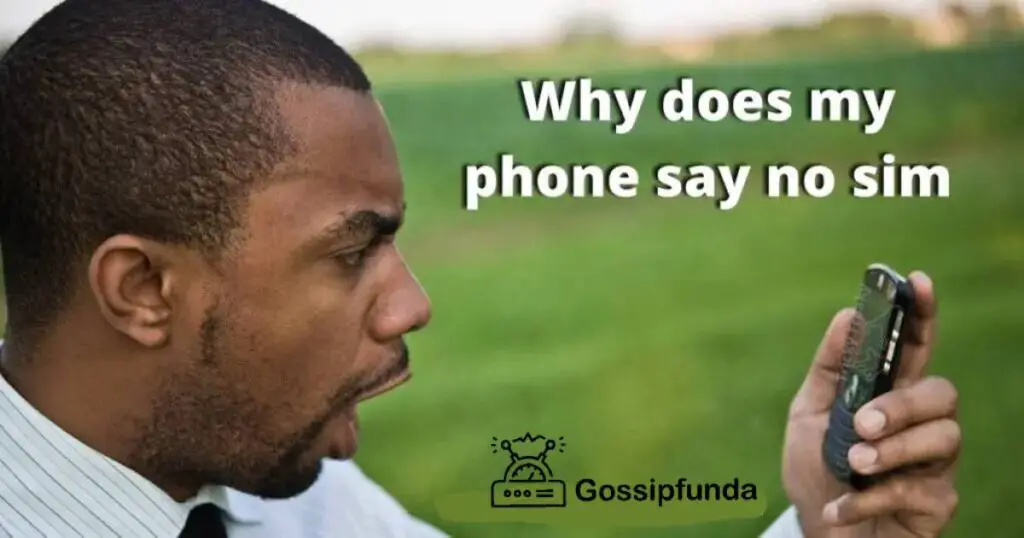 Reason for your query of "Why does my phone say no sim"
Your device displays No Sim card because it is unable to correctly read the contents of your Sim card. This error of indicating No Sim card could be caused by several factors. This can occur if your SIM card is not correctly installed or has been damaged, which can range from minor software errors to a broken SIM card in some circumstances.
You are not required to immediately discard your Sim Card. The following are some fast fixes to your No Sim Card Error so that this warning does not upset you in the future.
Wondering "Why does my phone say no sim"? Here are some Solutions.
Restart the device
The first and most important step is to reboot your smartphone and see if the error has been resolved. Rebooting your device can resolve small issues such as software malfunctions and improve overall system performance. So, to restart your phone, take these steps:
From there, press the power button and then the Restart or Reboot button.
If you want to proceed, a dialogue box will display. Click Yes.
It will then take a few moments to restart.
This method can solve half of the No Sim difficulties. As these problems are not unusual, they are minor technical hiccups caused by network loss.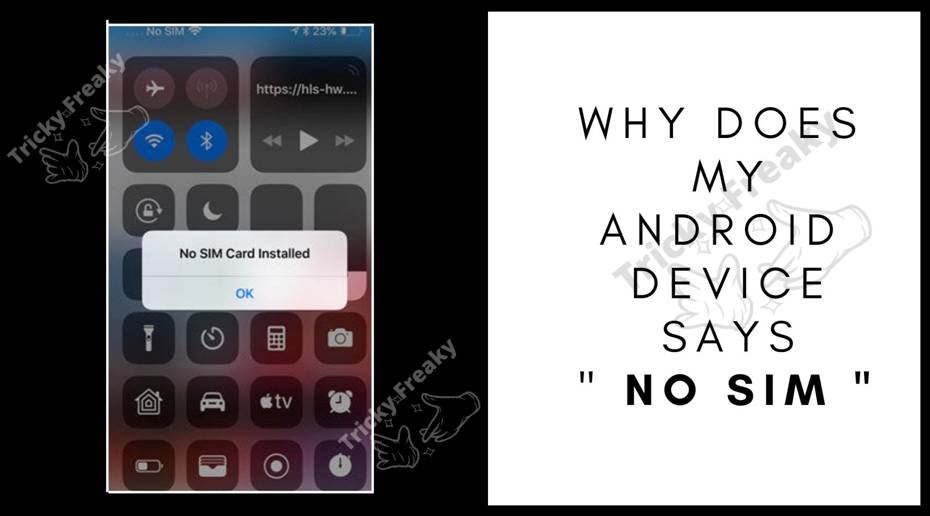 If the Reboot fails, Take the Sim out and then replace it:
Because this problem is entirely tied to your Sim, you can try removing the Sim and then reinserting it. So, if your Sim tray is somewhat loose or your Sim was not correctly placed, you can resolve these issues by following this procedure. Below are the steps to take the Sim out:
Look at the Sim card's slot.
Remove the SIM card and wait for a couple of minutes.
Replace the Sim in the slot on the Sim tray.
Place the Sim tray on your device.
Try rebooting it again, and see whether the Sim is now reading or not.
The majority of people will be able to solve the problem using this strategy because the first two are the primary solutions. The two major solutions to this problem are listed above.
Turn on and off Airplane mode
The main aim of activating airplane mode is to disconnect from all networks while flying, however, this step can also help you fix a range of difficulties, ranging from minor network faults to serious issues such as phone hanging.
This method may be useful in resolving your issue, but it does not ensure that the problem will be resolved; however, you can give it a try because it will not harm your device.
The following are the procedures to enable your device's Airplane Mode:
Open your device's notification panel.
Select the flight mode.
When you select Airplane Mode, you will be isolated from all internet and network connections.
Then, hit the icon again to turn off Airplane Mode.
Then, check to see if your SIM card is now readable.
Remove All Cache Data
Although cleaning store information is normally recommended when there is a broken program, it can also resolve SIM card errors. Occasionally, store data becomes corrupted, which might result in a variety of display issues for your device. Clearing your reserved data can resolve network crash faults or force your device to rearrange memory assets, resulting in a reconnection to your transporter.
This is how you clear reserve data on Android devices:
Navigate to Settings.
Proceed to storage.
Proceed to storage.
Click on the cache data 
In the dialogue box that appears, confirm that you need to clear reserved information.
Remove, clean, and replace your SIM card
Replacing your SIM card will not fix the "No SIM Card" issue if the SIM plate is clogged with dirt or filth. This is how you should wipe your SIM card and SIM card opening for the best results:
Turn off your device.
Locate the SIM card plate on your device.
Remove your SIM card by opening the SIM card plate. At the very same time, be cautious not to use enormous power. Similarly, the SIM card plate may not be accessible on all devices. If you don't understand how your device's plate works, read the manual for your device.
You'll need to use a little toothbrush or cotton swab to wipe the Sim card space. If you're not sure what kind of toothbrush to use, go for a little and delicate microfibre cloth. If you have access to one, you can also use an artificially glamorous cleaner. The cleaner works best after the initial round of sensitive scrubbing to remove any dirt and dust that might become stuck in the SIM card slot. Likewise, make certain that nothing insertable (such as a toothpick or pin) is obstructing your SIM card collection region.
Clean your SIM card with a soft microfiber cloth. You could use cleaning fluid or a similar non-conductive spray to soak the substance. When all dirt and grease have been removed, make sure to thoroughly dry any excess fluid before inserting the SIM card again.
After cleaning and reinserting your SIM card, you should turn your device back on to see if the problem has been resolved.
Replace Your SIM Card
Provided there is no doubt regarding the "No SIM Card" mistake, physical harm to your SIM card might be the culprit. You can retain your phone number in any scenario, but you may lose personal details.
Perform Factory Reset
If none of the alternatives we've proposed work for you, try resetting your device to factory settings. However, if you reset your device, all the data stored will get erased, and you'll lose all the important files and information from your device. As a result, you should back up files before beginning the reset.
Try inserting the Sim card into Other phones
You can even go for a method that is inserting the same Sim in some other device to check if the Sim is working in that device or not. If the SIM card isn't working with some other person's phone, the problem is with the SIM card. However, if your SIM card isn't functioning in your phone but is operating on other phones, the problem is with your device's SIM card reader.
Select a Network Operator
An invisible SIM card might be quite perplexing. You may miss conferences, make preparations, or fall behind on new difficulties for an extended period. You should try picking your organization physically before purchasing a new SIM card. The "Why does my phone say no sim" issue is unavoidable if your device is set to a different organization administrator than the one you've selected. This is how you guarantee you have the correct organizational settings:
Click the Settings button.
Select Mobile Networks.
Click on "Search Networks." Your device will search through every available organization and display the findings within a few moments.
Tap the transporter you're now using. Your gadget will then set it as the preferred organization.
Contact customer service
If you get a call from your specialized organization, examine your "administration and fixings" guarantee. If it's still inside as far as possible, it is your lucky day!
The customer care department will also ask for the EMEI number so always remember to bring your phone with you. They may occasionally replace your SIM card, the opening reader, or even your device, depending on the nature of the issue. Occasionally, all that is required is for your transporter to execute your SIM in their data set.
Back to the very first ROM
This could be the cause of your difficulty if you just booted your device with a new ROM. If you didn't notice any issues before completing the task, there's a good likelihood that the error was caused by ROM burning. Reinstalling your phone's original ROM will resolve the problem. To do so, enter Recovery Mode and perform an industrial facility reset. Continue to "Reinforcement and Restore" and click "Re-establish."
Replace your phone
Assuming that your phone recently supported genuine harm:
If your Android phone becomes wet, dry it out as soon as possible.
To begin, try replacing the SIM card.
For nuances, contact your specialist organization.
Check the Direction of the sim:
If your phone still says 'no sim card recognized,' ensure that you have put the sim in the correct direction. Of course, the majority of us make this mistake by integrating a sim. It eventually results in a message that says "No sim detected." As a result, be certain that your sim is incorporated correctly.
Conclusion
That's all the conceivable explanations for the query of "Why does my phone say no sim". You can also remove the no SIM card message on Android using the methods given above.
FAQs
What does it imply when your Android device says that it lacks a SIM card?
This message indicates that your phone was unable to recognize a SIM card inside its SIM card plate. If you intend to use this device for mobile correspondence and information, you will require a SIM card if it has a SIM card plate.
What is the most straightforward way to fix the "no SIM card" notification
If you are having your Sim card, the try resetting your phone and ensure if the Sim card is properly set in the Sim card tray or not. If you don't have a SIM card and don't intend to use one, a warning impeding application will suffice.
Why is my phone saying I don't have a sim card?
If the cellphone displays that there is no sim card, it signifies that the device's sim card is no longer accepted. This issue could be caused by equipment or software faults.
Why would it be possible that my phone is not properly recognizing my Simcard?
This can be because of a variety of reasons mentioned below:
1) There may be communication troubles between your device and the cell pinnacles of your preferred transporter. Activate Airplane mode, reboot your smartphone, clear cache data, or switch off your devices briefly to see if this is the case.
 2) It's possible that your SIM card will be moved from its existing location. Turn down your device, remove the SIM card, and then replace it to fix the problem.
3) Dirt and grime may obstruct your SIM card slot. Use a soft microfiber cloth or cleaning solution to clean it.
4) It's possible that your device isn't set to the correct organization administrator. You should double-check that you've selected the correct administrator in Settings.
5) The reason can also be because of physical damage to the Sim.