MMS, or Multimedia Messaging Service, is a general term for picture messaging. The ability to send photo messages from an Android handset is now widely available thanks to technology. The internet and a reliable network connection have made it simpler than ever. The issue is that some individuals can't transfer photographs to Android devices and have posted complaints about it online in forums under the heading "I can't send pictures through text on my Android."
While MMS (Multimedia Messaging Service) is less popular than it was ten years ago, some people continue to use it to send images or GIFs. On their Android devices, it appears that some of them cannot text photographs. You must have MMS functionality activated to transmit photographs via the texting application. Android users frequently experience this issue, and some simple solutions are available. You can learn such solutions and apply them to your circumstances with the help of this article.
Why Can't My Android Send Text Messages?
This is a subject that Google users search for frequently. Many people are looking for the cause of the MMS problem they are experiencing. People have this problem because of two primary difficulties. Three elements are necessary for texting: cellular connections, your phone, and the messaging platform. This is primarily caused by a network or software fault. All three parts may malfunction at various times for a variety of causes, including.
No signal. People occasionally reside in locations with poor network connections. In that situation, MMS delivery is impossible.
Data and message cache are partly to blame for this issue. Sometimes it interferes with messaging capabilities, preventing you from sending or receiving MMS.
This issue also stems from some severe software issues. They disable certain features, and occasionally people run across this issue.
APN settings must be correct to send MMS. You will then need to create or edit the APN settings.
Not enough airtime.
Inaccurate settings
Messages may not be sent or received by the cellular network.
Traffic congestion on the network.
The number you're calling may be inactive or inaccurate.
The phone could be broken.
The gadget is set to flight mode.
The SIM card is not correctly inserted.
The messaging app could have errors or be broken.
A message center with invalid settings (SMSC).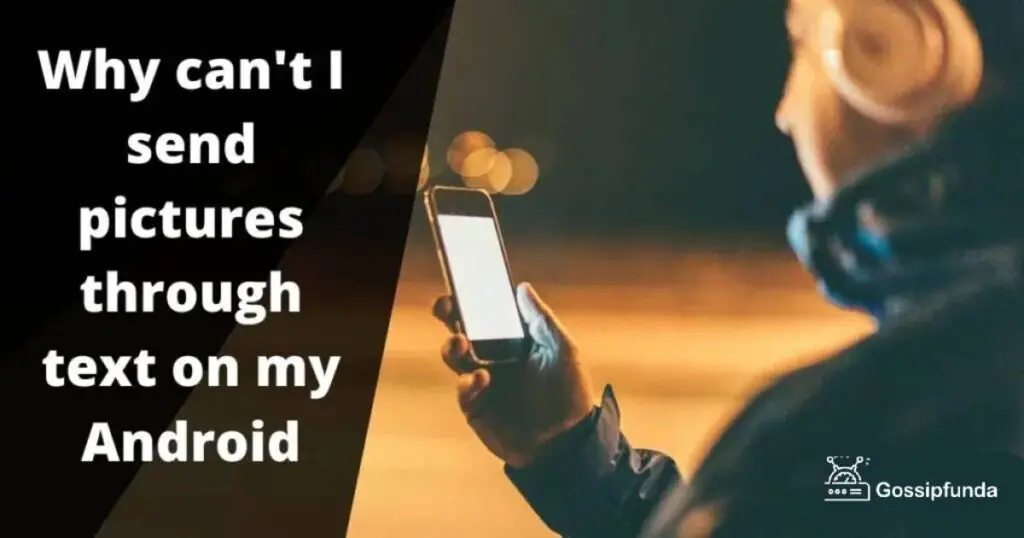 Can't send pictures through text on Android: Top 12 error fixes
Turn on the data connection
Sending photo messages on Android smartphones requires data access, which is a crucial requirement. Ensure that your data connection is operational and enabled on your device if it won't send or receive photo messages. Stop Wi-Fi for a while and switch to using cellular data if you're using it. You must have an active mobile network plan to send MMS because it cannot be done via Wi-Fi. Open Settings > Network & Internet and turn on Mobile data.
Disconnect and enable your device's cellular internet if you use it; Android won't deliver picture messages. Continue to the following troubleshooting advice if that doesn't solve the problem.
Force stop messaging application
If the messaging app refuses to send MMS to anyone, one can think about forcibly closing it. A defect or problem may have been brought to light, and Force-closing the application and restarting it is preferable. When a problem arises, it functions precisely like rebooting your smartphone. Another potential solution for this problem is to force-quit the messaging software that won't send picture messages. To complete it, follow the directions below.
Open Settings, then choose "Apps & notifications."
Choose All Apps 
Choose your messaging app at the bottom of the page as you scroll.
When prompted, select OK after tapping the Force Stop icon.
The messaging app will close as a result. Check to see if you can send picture messages after relaunching the app.
Clear cache data
There is a risk that while working around the program, your smartphone may have cached some faulty cache data that is causing issues. Users can delete their cache and check to see if the issue has been resolved. To accomplish that, press the icon and hold it down for two seconds to view the settings. Go to Storage>clear cache there. See if sending the MMS again resolves the issue. Or you can;
Visit the Settings app on your device
Go to  Apps & notifications option
Click on All Apps and choose the Messages app
Tap on Storage & cache 
Clear cache to accomplish the process.
Reminder: Message conversations will be deleted if the app's Storage is cleared. If all of the below-listed troubleshooting steps fail to resolve the issue, it is advised that you erase the app's data as a final resort.
Allow unrestricted data use
Android smartphones are intelligent and can operate independently in the background. However, occasionally they also impose unnecessary restrictions on select apps. Make sure the Messaging program allows for unlimited use of both foreground and background data. To make sure, take these actions.
To understand more go to settings and open messaging app.
Click the "app info" tab(or similar setting)
Select Mobile Data and Wi-Fi from the application's settings menu.
Check to see if Background data and Unrestricted data usage are both selected.
Update the messages app
If the Messages app contains a problem, your Android might be unable to send multimedia messages. You should update the Messages app on your smartphone if you aren't already using the most recent version because upgrades frequently address issues.
Open the Settings app 
Choose Apps & notifications option
From  All Apps, select the Messages option
To upgrade the Messages app, tap the Update button on the app's page.
Otherwise, you can open the Messages app page on the Google Play Store by tapping the Update Messages icon below.
Reset network configuration
Your network settings must be configured correctly to send any form of multimedia through message. They can also create further problems if they aren't configured correctly. Resetting the network settings on the phone will resolve this, and one can use these techniques.
Open settings application
Look in the settings for "Reset Options."
Hit the reset network setting button (or similar depending on the device)
Confirm the request.
This will reset your network settings. You might be prompted to restart some phones. Try sending the MMS once more after the procedure.
Review the message settings
Open Messages first, then look for any tab linked to MMS. You will still need to use MMS (Multimedia Communications Service) to transfer photographs (no more than 300KB) via text messages if you don't use the new RCS messaging.
Toggle any MMS-related tabs by opening Messages 
Click on the 3-dot menu option
Open Settings of the app
Open the Advanced option
Continue to the next step if that is ineffective. 
Try resetting the app if you can still not send pictures through text messages on your Android.
Turn on RCS messaging
RCS (Rich Communication Services) is a recent replacement to MMS, providing many instant messaging features typically found in WhatsApp or Telegram. It's essentially how Android responds to iMessage on iOS.
If your carrier allows this capability, you can turn it on in the Messages Settings. It should allow you to send huge files (photos don't require compression).
Here's how to activate RCS Chat on your Android device
Enable Messages.
To access the Settings menu, tap the 3-dot menu.
Click the Chat button.
Use a toggle to turn on the Chat functionality.
The only thing left is telling your recipients to follow suit. The feature is only functional if all parties are using RCS.
This is merely a solution or advice if you prefer. If you have valid justifications for remaining with MMS but are still unable to text-send pictures from an Android device, proceed to the next step.
Reset APN (Access Point Name) settings
Resetting the default APN is always advised if text messaging problems (including MMS) arise. You'll get a configuration notification as soon as you insert your SIM card for the first time, and it will instantly create APN entries for cellular data and MMS. Naturally, you must execute these configuration files. We'll set the APN settings to their default levels in this step. Restoring their MMS/Mobile Data settings, in other words.
Here's how to restore your Android's APN settings to factory defaults:
Launch Settings.
The Internet & Network option.
Click on the mobile network option.
Select Advanced option.
Enable the Access Point Names.
Reset to default can be selected by tapping the 3-dot icon.
Reach out to your carrier
Ensure to get in touch with your carrier and request MMS configuration if the issue continues. If you can access it via a dial number or an app, you don't need to get in touch with them. Make sure to reset the network settings and give it another go if even that doesn't help and you still can't transmit pictures over text messages on Android.
Perform a soft reset
Your phone's performance may be enhanced by doing a soft reset. Many individuals believe that the soft reset will damage their phone. However, that is a bad idea, and it has some positive effects rather than any negative ones. Your phone will be enhanced, and this could help to resolve any function-related bugs.
Try a soft reset if you're having trouble with the MMS issue. Take your phone's battery out first. After that, wait 45 seconds. Start your smartphone again after changing the battery. Check to see if the MMS issue has been resolved now.
Update your Android device
Your device's most recent Android OS update may also be able to resolve this problem.
Go to the settings, 
Choose "System," and further select the "System update," option
Then select "Check for Update" on the pop-up menu.
Check if any updates have been downloaded and installed to see if they have fixed the Messages app bug.
Conclusion
These are some easy procedures that may be taken to fix the issue with Android do not send MMS or pictures through text. Any one of the troubleshooting techniques mentioned above ought to assist resolve the problem, no matter what its root cause may be. If you can resolve the problem with the Android device's inability to send photographs to Android, there is nothing better for you. Therefore, the finest resource for helping you solve this problem is this article. You can use any of these top 12 solutions to address Android's inability to attach images to text messages.
FAQs
How To Compress Pictures And Trim Videos For MMS Messages?
You must reduce the size of your files if they are too large to send over MMS. The file size directly correlates with image and video dimensions, clarity, and quantity. Minimize the size of the image directly, which lowers both its quality and dimensions, to reduce the file size of photographs. Remember that this could blur your photo, so if required, think about transmitting the original photo to MMS using a different method. In a photo compression app, such as the editors included in some gallery apps like Samsung Gallery, you can minimize the image size.
Using a gallery program like Google Photos, you can clip films. Click the edit option after opening the video in the gallery of your choosing. By setting the start and end times of the video, you should have the option to trim it.
Why Won't My Android Send Pictures To iPhones?
There are a few things you and the recipient can do if the recipient has an iPhone and they are unable to receive the picture. Restart the computers first. If the issue persists or you need additional help, you might need to contact your cell network providers.
What are the Alternatives To Sending Pictures Over Text?
Android Beam
Android Beam is a simple substitute for MMS messaging when transmitting images from an Android device. You may touch your phone to another Android device to send files using NFC technology.
Instant Messaging
Utilizing an instant messaging tool like WhatsApp, Facebook Messenger, or Discord is a fantastic additional choice. You can send someone an image over Wi-Fi or mobile data as long as both of you have accounts on one of these providers.
Cloud Storage
In addition to text messaging, cloud sharing is another method for sending images on an Android device. This allows your recipient to view and download the photograph or album of their choosing in digital form via a link or email.