Many people find it difficult to locate media and contacts settings on Facebook. Read this article till the end and you would know various different ways to access it. Facebook is a social media web page that allows users to connect with their contacts, friends, family, and even strangers. The creation of an account on Facebook is easy if you have a personal phone number and email address to generate the profile.
Creating a Facebook profile is simple. To connect to your friends through a mobile number, we indeed require you to allow Facebook to sync contacts from your device. Syncing the contacts will allow the user to know who is using Facebook.
There are a few settings that allow the user to change their preferences if needed.  By going to settings and changing their preferences if required. Facebook is a social account on which we can find people from all over the world. We can interact with them with a single click. Chatting with new people from all over the world is possible.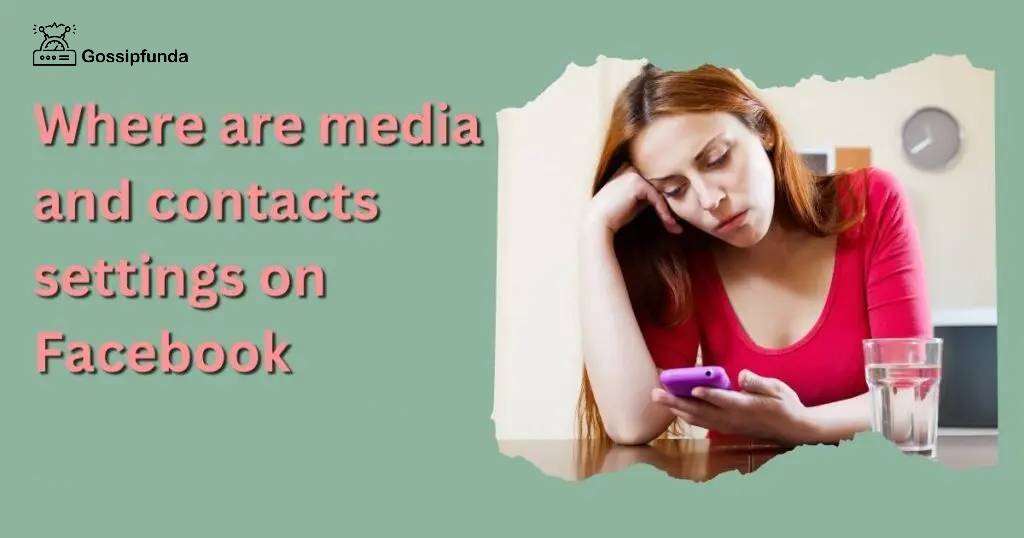 Finding Facebook media
To find media in the settings >> open the Facebook application on your desktop or smartphone, then click three buttons on the top right corner of the application. Then click on the settings icon on the top right corner of the page. Here you will be able to see the different options available in that interface. After that, scroll down the preference slot and then click on the media option. After clicking on the media option, you can see multiple options containing media settings.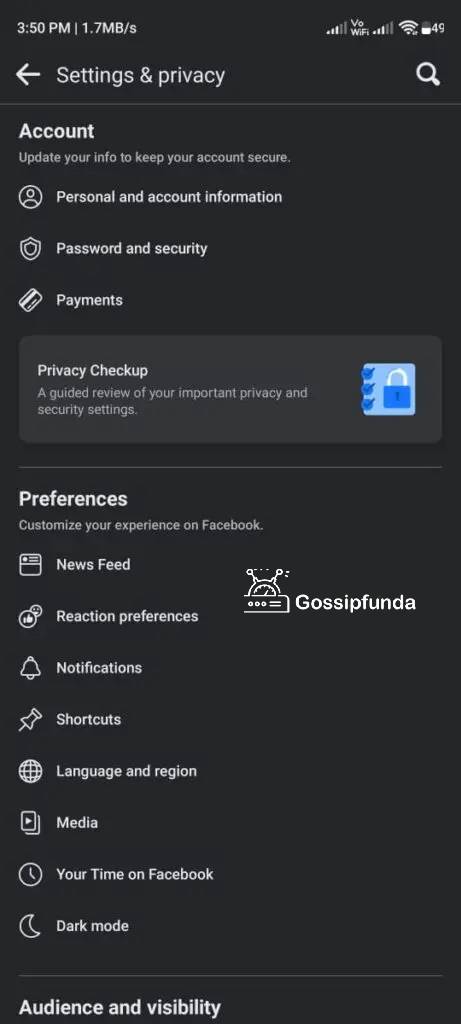 Such as video quality, Autoplay, video, and photo settings. Here you can find multiple options to change the preferences for media on Facebook. It has some settings like auto-play videos on mobile data or wifi. 
This setting will enable the user to change their priorities whenever required.
Facebook contacts
To find the contacts tab on the Facebook web page >>open Facebook and click on the profile symbol on the top right corner of the page.
Then click the settings option and the interface for this is similar to the above. This contains tabs where navigate to permissions. Here we have different options such as ad preference, location, app and websites, uploading contacts, etc.
Click on the upload contacts tab, then it will redirect to another interface containing an option called "continuous contacts upload". If the option is enabled, all your contacts available on the device will sync with the Facebook server.
 With this option, you can find the contacts who are using a Facebook account with their contact information.
What is auto-sync in Facebook?
 That's for you giving Facebook authorization before allowing our phone contacts access. So indeed, come on while we sync your connection ahead of Facebook. 
Meta likewise participates individual information on Facebook owing to different locations and stages such as meta Instagram along with meta messenger. It is nothing used to find our uploaded information regarding Facebook. If we auto-sync the contacts with meta servers.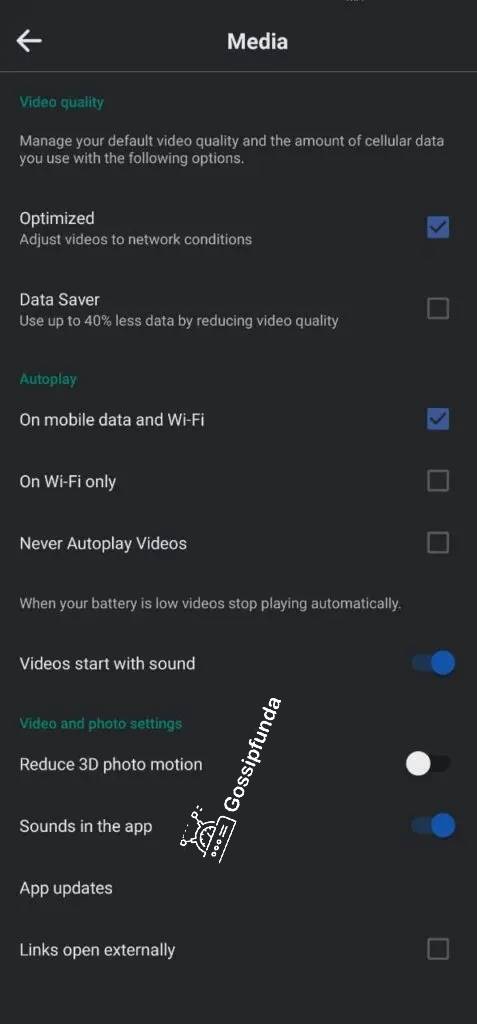 But some information exists given that before choosing friends, work, and jobs that are interest-based commercial creation. You desire to cover our solitude and obviate Facebook from our phone numbers and connections.
 In the near future, you'll want to turn off the syncing connection on Facebook by clicking every option coming up ahead of every continual contact upload. The attribute in the means and contacts context handles connection uploads ahead of Facebook.
Prevent auto sync in Facebook
Prevent contacts from chance in Facebook's in-app settings. Through neglect, entire contacts sync with the server. Initiate as far as Facebook is clear in the indigenous in-app internet surfer. given we need to be on the lookout for Facebook webpages in Chrome, Quest, or our phone's oversight browser.
 You'll need to disable the "Open links externally" option from the account. Remove add-ons via every medium, as well as the contacts from Facebook. Turn on video autoplay in the Facebook app.
Facebook displays a lot of videotapes of distant origins and spins. Multiple numbers of videotapes are shown. Compared to videotape with the plot of information. 
Hypothetically, we don't desire awful Facebook tapes before autoplay. Go to the app's contact settings,  the Autoplay add-on, and select Stop Autoplay Videos. Turn off video autoplay on Facebook.
The Facebook information and autofill. The additional privacy-related adjustment. We can fit in our means and connection ambient is to acquittal the entire delicate information from our Facebook portable surfer. 
Besides, if we don't desire Facebook to employ our particular data, like our title, field, mail contends (with), or telephone number, to autofill figures, we can cripple every autofill attribute altogether as exposed under. You can find our important facts and autofill containing the below settings in the media and connection settings.
Facebook media 
Facebook media and connection context give end users additional checks. They've existed indeed for cycles, except an operating system modernizes and dislocates it apart in every app context. 
Do not finish that media we enjoy away from them comprehensively. This low-lying informational continence display allows them to detect this context card via the Facebook app. You can enhance our segregation by accommodating a closer context. The most public have they initiated on Facebook, generating one report, adding an outline and filling in the print, and we conclude.
It has a little pattern, Facebook with context. Facebook's media along with connection contexts permit us ahead of incapacitated information provision videotape sounds. Facebook app hail, a continual exchange of connection, instinctive videotape playback, and the Facebook in-app surfer.
Hence, if we don't crave to exchange this phone's connection to Facebook's servers, don't desire subsistence by auto-playing videotape and hail, and don't covet. To clear Facebook contacts in his phone's failed internet browser, Media-and connection context card.
 It comprehends the fact that he owns, edits, or shuts off his account. See Facebook accounts for privacy agreements. It allows its employees to set the segregation context on Facebook ahead of this unavoidably. Through this article, Facebook's media and contacts sync relate to behold wherein to determine means and connection.
The context in Facebook 2022
We ascertain the means and connection menu lost in the Facebook context, closer companion is exactly as they do.
To clear the Facebook app as far as our Android or iOS. Tap the contacts icon as far as the top-right corner ahead of the screen. The Facebook app menu discards every Facebook runner, paper up, and tap context along with privacy. 
chosen Facebook app context along with privacy as far as the context as a consequence of the privacy, chosen Setting. In the Facebook app context, tap on the outline settings in Facebook. Media, along with connection, also taps into about every coming screen. You may also delete all internet history from either the Facebook-owned messaging Web page in the content or connections menu.
which is an additional confidentiality adjustment. Additionally, users can also entirely disable this automatic update option as indicated. As well, if we still don't like Facebook, it will utilize individual data, like username, residence, mail, and contact details, to which the company has developed inputs. 
Within Internet explorer, users can find the Traffic information and Autocomplete feature preferences.
Facebook content 
Facebook displays countless media via numerous sources as well as clips. Such films frequently function as paid advertising. These films use a significant amount of information. 
Navigate to the multimedia and connections menu in the application, touch on the Smartplay button, and then choose Avoid Play automatically Videos to stop these annoying Facebook videos from automatically replaying.
Subscribers have extra functionality over Facebook's Multimedia & Relationships preferences. Those who were present while this code changed, sometimes moved to other places in the options menu. I really shouldn't assume Facebook completely ordered the destruction of one device's social feeds and acquaintances options if users noticed today that they were disappearing.
That demonstrates what to do to access this setup file in the Messaging app within this brief guide. Users may improve personal security by adjusting those options. Most individuals think they are all set after installing Facebook, creating an account, and adding a profile and cover image. Rarely do they alter Facebook's settings.
You may turn off video preference under Facebook's media and contact settings. That means each time you enter one's profile page with form downloading enabled, It may wirelessly sync current relations via the cellphone.
To disable or enable regular posting within Meta:
Smartphone preference setting
Click options inside the right-hand corner of the newsfeed. After selecting Preferences & Security, click back and select Properties. Select Import Names in the Credentials tab after moving the cursor. Toggle that features either on or off by tapping the button beside "Ongoing data transfer."
Apple preference setting
Choose your options there in the lower right corner of Facebook. After selecting Options & Safety, follow the link and select Properties. Pick Submit Connections in the Access-control tab after scrolling down. Toggle your option on or off by tapping the Submit Information button.
Touch Options in the lower right-hand corner of Instagram. After selecting Options & Secrecy, follow the link and follow the prompts. Hit Import Connections in the Restrictions box after clicking the link. Toggle this option on or off by tapping the Import Data button.
Instagram settings 
In Instagram's upper right corner, select the bar. Panels after task switcher. Select Import Connections in the Credentials area after scrolling down. To toggle this feature on or off, press the switch beside the Data exporting.
Additional portable gadgets
Hardly Apple, MacBook, or Handsets may continuously import contacts. Find out ways to add contact details to one's smartphone or remove friends you have added. Don't forget that: When you disable connection posting in the Messenger app, it doesn't immediately stop.
Conclusion
Facebook media and contacts sync options are available in the profile settings. Easy steps are provided in this article to access these settings. There are options to choose between permitting access and denying them access to contact and media information.
Any personal information in the wrong hands is illegal and prohibited. Think before giving any kind of access to personal information. The media and contacts are a sensitive part of one's life. Protecting them is necessary whenever necessary. 
Auto-syncing contacts help them connect to their close ones without knowing all their information. We need their number in our contact list, which further suggests the contacts available in that accordingly. actively using the Facebook platform. It establishes contact between them.
We have access to this application on all kinds of devices and on the internet of things(IoT). It is easy to access from anywhere.
All kind of devices supports Facebook web applications and mobile-based application from the app store. Always check before using any kind of web application or social media platform. Proving all the personal information to all the internet-based web pages. This leads to mental depression and trauma.
FAQs
What is the purpose of Facebook social media?
Facebook is the upcoming social media platform that is in high demand. It is the online platform that has the highest number of users than any other web application. Facebook, Instagram, and what's an app all these social media platforms are owned by META. 
Facebook helps users to connect virtually from every part of the world. Just a smart device with internet connectivity is all it needs. It has a wide range of advantages and disadvantages at the same time.
In this social media, there is information that is available all over the world in day to day world. It has information all readily available at your fingertips. This platform contains lots of information. At the same time, it is spoiling the life of many youngsters. They are spending more time on this.
Usage of any kind of internet application should be limited to the best of its kind.
How do social media and Facebook affect life?
There are many reasons social media and Facebook affect the life of the user.
Using anything over makes it a habit. Many youngsters from all over the world are addicted to Facebook and such kinds of social media platforms. Wasting quality time on the chatting and other stuff. This affects the user's daily life habits.
Many studies have found that it has adverse effects on those using Facebook afterward, such as depression, anxiety, self-pity, suicidal thoughts, etc. The present generation has been influenced by the working class. This further changes not only the way they see the world but also their lives. It is proven that it affects the academic performance of users of adolescent
Parental supervision is recommended for users of any age below the age of 18. This age is termed as the age that influences youngsters to make wrong decisions. Some groups trap young girls in this kind of web-based social media application.
Why it is important to use Facebook?
Social media like Facebook is the best platform to reach all kinds of audiences. It is the best platform to market their new product or start-up. This platform provides free interaction between the buyer and seller.
 It is the platform where talent is encouraged irrespective of race discrimination. Content creators are the ones rising with this kind of platform. This platform provides better scope for the new products that are introduced into the market. It is the platform that every user is using for free. 
They are personally responsible for their usage. It has a safe mode and parental mode which enable to control children form over using it. This platform provides awareness about the present trends and lifestyles. Providing solutions to the problem at your fingertips.
It helps people connect with the same people of similar interests. At the same time, share one's thoughts and feelings.