Well, some of you may have noticed recently an orange/green dot on your iPhone. And thinking, "What's the orange dot on my iPhone?" This is mainly appearing in the display.  Also, you might be thinking about its working. So, It is nothing to worry about regarding it, as last year, the iPhone released this simple feature of iOS14. This is a new feature for many, as it was not an added feature in old versions.
But it is just a normal updated feature added to the iOS14 operating system. It is not related to any network connectivity issue, the functioning of features, or something bad. So, as an iPhone user, you need not worry.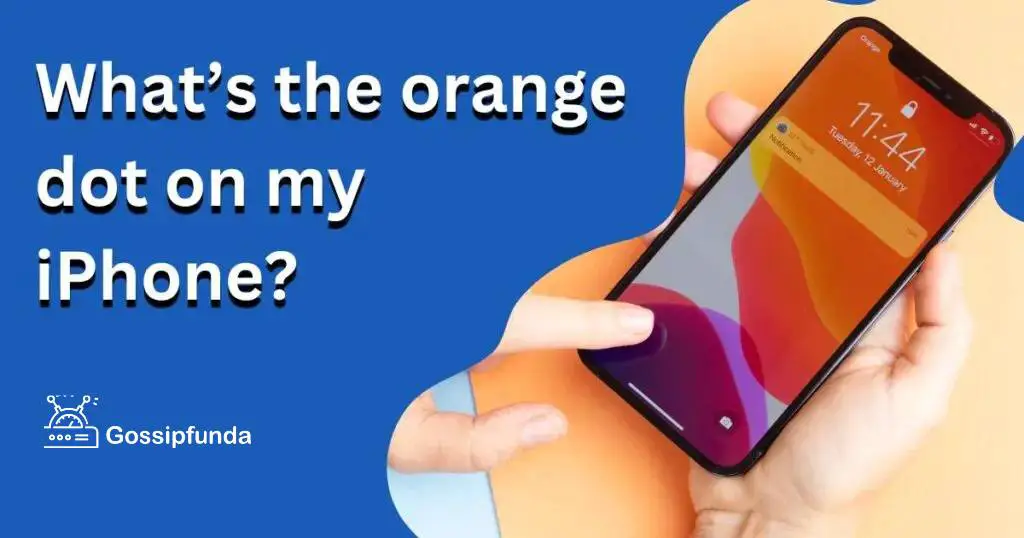 Meaning of the orange dot on my iPhone
The simple aim of this feature is only to assure your security by indicating the accessibility of your microphone to any application that is not under your concern. This appears in the top-right corner of the display of the iPhone. It just indicates an application in your device using the iPhone's microphone.
Sometimes, some applications must have access to a microphone to work properly. For example, any conference app, namely Google meet, Zoom, Webex, Whatsapp, etc., all these apps requires access to a microphone and camera. Look at the aesthetic ways to organize your apps on iPhone.
This feature only confirms the security of the user as sometimes it can be possible that any malicious activity is happening via the accessibility of your microphone and camera. There is one more feature: when it's using a microphone, an orange dot appears, and when the camera is accessed, it will appear as a green dot.
So, whenever your iPhone is using such kind of application that is using a microphone, it will display an orange dot, and whenever any camera then it will appear as a green dot.
How do I get rid of the orange dot on my iPhone?
Well, it is an inbuilt functionality added to the iPhone to ensure the privacy and security of an individual, and it is implicitly not possible to turn it off.
Method 1: Deny permission for the microphone
Here is the thing you can do if you scroll down your screen, at the center, you can see which application is currently using the microphone with an orange icon. So, to remove the dot from an application, you can deny permission for the microphone of that particular application.
After that, the orange dot will disappear.
Steps to Follow :
Step 1: Go to >settings.
Step 2: After that to > Privacy.
Step 3: Privacy > Microphone.
Step 4: Disable access to the app.
Method 2: Restart your iPhone
After following these steps, the orange dot does not disappear immediately. So after these steps, you can Restart your iPhone and see if the it disappears or not.
Method 3: ReiBoot method via connecting with the computer
If, after restarting also, it doesn't disappear then, one can try the ReiBoot method via connecting with the computer. In ReiBoot mode, users need to Tap on "Enter Recovery Mode", and when it is successfully entered, then tap on Exit Recovery Mode. After that, click OK, and the Restart will be done, and you can check your iPhone.
Method 4: Updating or Reinstalling iOS with iTunes
Another fix can be done via Updating or Reinstalling iOS with iTunes. Connect USB to the computer and then Tap on update.
Method 5: Repair using iOS ReiBoot
Here, you can click on START and then tap on Standard Repair, click on Download > standard repair, and it will start progressing. This will also benefit you by updating your iPhone with the latest feature and, at the same time, will reboot your iPhone. After that, you can check if the orange dot on my iPhone is visible or not.
Alternate Method:
Go to Settings.
Tap the General tab there and then tap on accessibility.
There, you can Tap on the Assistive Touch feature.
Now, you can disable it.
How to change the shape of the orange dot on an iPhone?
There is one more way of handling the orange dot that one can modify its shape. If you wish to see an orange dot in a different shape, then you can follow these steps :
Step 1: Go to Settings.
Step 2: After that, tap on Accessibility under Settings.
Step 3: There, tap Display & Text Size.
Step 4: Tap on Differentiate Without Color.
Enabling this setting will modify the orange dot and immediately appear as a square.
Conclusion
We have covered what's the orange dot on my iPhone. Thereby the presence of the orange dot on my iPhone is for personal security and privacy to make the user aware of which app in the phone is using a microphone and camera(green dot). This will be very helpful to prevent any unaware access given to the app.
I hope those who were not aware of this might find it useful. Now you get an idea about the orange dot. And you can follow the above steps if you want to remove the orange or green dot from the screen and can also modify the shape. So, I on behalf of Gossipfunda expect the above information to have been read, and your doubts related to the updated feature have been cleared. You find it beneficial and interesting.
FAQ
Does the orange dot mean someone is listening?
When an orange dot on my iPhone appears on the top-right corner of the screen, it indicates that an app is utilizing your iPhone's microphone. For example, when you are using a recorder, you can glance at the orange dot that appears as the recorder has the permission of the microphone. You can notice the same with other apps that require the permission of the camera and microphone.
So, If you want to know that someone is listening or watching, then look at the top corner of your display above the network bar, and if an orange dot appears, it means that microphone is on. 

Is the orange dot on an iPhone bad?
The orange dot is an updated feature of iOS14 that one can notice in the latest versions of the iPhone. If your iPhone does not have that feature, it means maybe your iPhone is not the updated one. Having an orange dot in the top right corner of the screen is nothing bad. It is an additional feature that Apple provides to ensure the security and privacy of the user by indicating that an application is currently using its microphone.
So, if you are on a phone call, you can glance at the center of the screen. An orange dot will appear along with the phone written as the phone has access to the microphone. 

How do I find out which app is using my microphone?
The first thing you can do is that if you are currently using any application, you can just scroll down and see at the center of the screen if it's showing an orange dot with the app name written. Then it indicates that this app is using your microphone currently.
And another way to find out is that you can go to the settings of your iPhone, there you can tap on privacy and after that tap on the microphone and then you can have a look at the names of apps that you have permitted the microphone. If you find any app you don't wish to give permission to, you can simply disable the bar.