Although we have been texting for many years, the SMS we still use today hasn't held up very well. It's time to move on because SMS is a constrained standard with inadequate security protocols. Rich Chatting Service, at least in the eyes of Google, is the messaging technology of the future (RCS). Let's examine RCS's definition and application.
By the standards set by the current most widely used data-based messaging services, MS and MMS appear downright antiquated. We have a tonne of options thanks to the sophisticated messaging tools offered by apps like WhatsApp, Telegram, Signal, and others. However, you may get features like read receipts and location sharing without registering for a third-party messaging service.
What exactly does RCS mean on Android?
RCS has surfaced at certain carriers under a few distinct names. You might have heard it referred to as Advanced Messaging, Rich Communication Services Chat, Joyn, Message+, or SMS+ in various places. To that end, to send and receive Rich Communications Services messages, both parties must utilize a compatible messaging app and network. Fortunately, if your receiver doesn't support RCS, the protocol is set up to fall back to SMS or MMS.
Chat has several fun features that render SMS useless. Along with the delivery time, one of them includes the capability to view read receipts of your written messages. Before transferring your SIM card to something like a new phone, you should turn off the chat functions on the old device because if you don't, they could not operate normally on the new machine.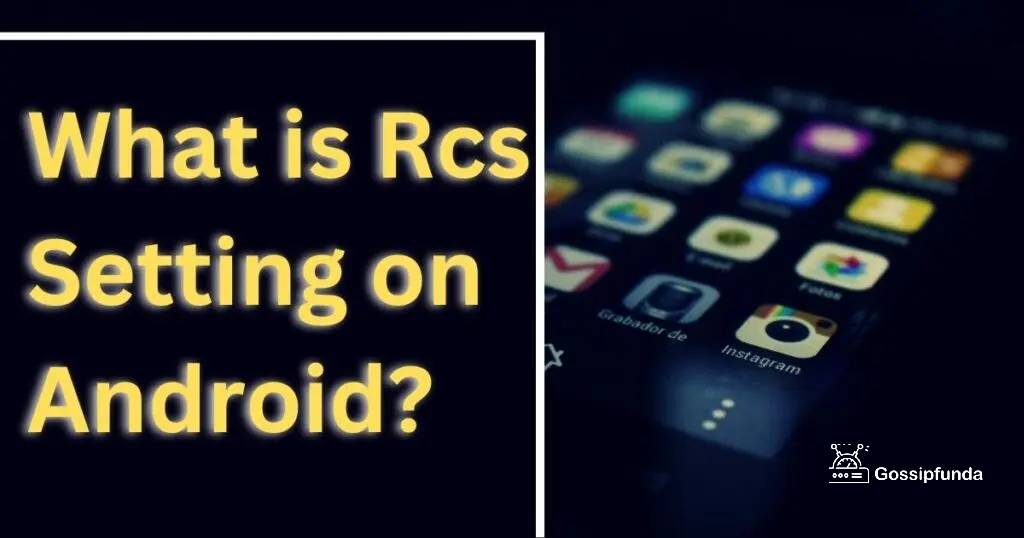 A typing indication, a common feature in contemporary instant messaging services, is also visible. Compared to SMS, RCS operates differently. As long as the recipient utilizes RCS, it can deliver messages over Wi-Fi or mobile data. Unlike SMS, which is sent over the network of your mobile provider, this.
Although texting altered how we interact, it is already obsolete. Today, we want to message that enables us to exchange larger files and high-resolution photographs, talk with a group, find out when messages are read, and make video calls, among other things.
Consumers' messaging experiences are expected to significantly change thanks to the next-generation text messaging technology, RCS. having a big impact on texting, sharing of images, and GIFs. Many carriers are considering switching from SMS to RCS because it is an open, uniform, and internationally compatible communications technology. It's time to comprehend how a rich communication chat service functions now that you are aware of what it is. RCS is a component of the protocol known as an Advanced Messaging standard by carriers. It is a vast advance above the basic text messaging features that come with most cell phones by default. If you're curious about what a rich communication service message is and how it works, consider the apps you've used in the past that include sophisticated sharing options, read receipts, and typing indicators.
To unite behind the GSMA's Universal Profile, Google is pushing a new messaging standard called Rich Communication Services. The security of messaging is improved for consumers thanks to this new standard. Improved media sharing, secure texting, and typing indications are just a few of the capabilities offered by Rich Communication Services.
Using SMS to transfer multimedia files is likewise not possible. MMS, or Multimedia Messaging Service, is used for this. Due to MMS's limited file size, shared photographs are frequently pixelated. As previously stated, RCS outperforms this restriction by allowing you to send files up to 105MB in size.
SMS VERSUS RCS VERSUS MMS
Also supported by RCS but not by SMS and MMS are group messaging, read receipts, message reactions, and a typing indicator. Additionally, chat allows several data types, including GIFs, stickers, locations, photographs, documents, videos, and others.
All of this is made possible by Rich Communication Services (RCS), and the mobile industry is now working together to make it available to users worldwide.
Rich Communication Services, or Rich Communication Services, are frequently positioned as the next step in developing SMS and MMS. The standard incorporates several contemporary features that we have grown accustomed to using in other messaging services and combines them into a protocol that can be used on any smartphone that wishes to support it.
Rich Communication Services expands character boundaries and enhances image quality at the most fundamental level. But it also goes much further than that; it makes it possible to share video clips, GIFs, and other bits of knowledge like your location. RCS uses internet data to transfer content, thus it may also be encrypted, further enhancing the security of your communications. Finally, the standard should theoretically be more effective in blocking spam.
History of RCS
Google is pushing  Rich Communication Services, a new messaging standard, to converge around the GSMA's Universal Profile. This new standard improves users' messaging experiences and the security that supports them. Encrypted messaging, increased media sharing and typing indications are just a few advantages Rich Communication Services offers. RCS commonly referred to as Chat, is an upgraded SMS/simple text messaging service for Android devices that is comparable to iMessage or WhatsApp. Google's Android operating system supports chat, which may be accessed using either the Google Android Messages app or the Samsung Messages app. Large file transfers, improved group conversations, high-resolution photo and file sharing (up to 100MB), location sharing, video calls, and Google Assistant integration are just a few of the communication capabilities offered by Rich Communication Services. If Chat is not accessible, both the Android and Samsung Messages apps go back to SMS/MMS.
Rich Communication Services increases character counts and image quality at the most fundamental level. Fragmentation is an issue even if the Universal Profile has a fair amount of adoption and Rich Communication Services versions still support some legacy systems. Some providers, including AT&T in the US, have developed independent Rich Communication Services implementations that cannot communicate with those of other carriers. Therefore, while sending messages to contacts on different networks, functionalities won't function.
Features may also be app- and carrier-specific. For instance, end-to-end encryption was just recently added to Google Messages, though it came with some serious restrictions. It can also share GIFs, video clips, and other small information like your location, so it goes much further than that. Your discussions are safer with Rich Communication Services since it leverages internet data to convey content, which may also be encrypted. The standard, at least theoretically, is also more effective in preventing spam. A number of well-known companies, like Deutsche Telekom, Google Fi, NTT Docomo, Vodafone, and others, are on the list of carriers that use the Universal Profile.
The earlier Joyn standard is still used by Movistar, MetroPCS, and a few other carriers. The three major carriers in the US support both Universal Profile and RCS messaging. Nevertheless, each advertises their answer slightly differently. Over 55 carriers offer Rich Communication Services messaging on their networks as of this writing.
All carriers have agreed to support a set of Rich Communication Services features that are part of the GSMA's Universal Profile, which is an alliance of network operators and businesses from around the world. The most recent version, 2.5, of Universal Profile, which presently has five iterations, was released in October 2020. Carriers do not, however, need to provide a Universal Profile to enable RCS. It just serves to hasten deployment and enhance interoperability.
Make RCS Messaging available for Android
The Google Messages app should be downloaded if you don't already have it.
Get the Messages app open.
A three-dot menu will appear; tap it.
Choosing Settings from the popup menu.
After choosing General, click Chat features.
A slider to enable Chat will be visible if it is available for your location and device.
Choose Yes, I'm through from the popup by tapping the slider.
Then type in your mobile number and select "Verify now."
To validate your phone number, allow the application a few seconds. Tap Reattempt next to Current if it still doesn't successfully verify after a couple of minutes.
Following, the Status will change to Connected, indicating that RCS is activated.
Once that is done, make sure that reading receipt and typing indications are enabled so that you may utilize them while talking.
Conclusion
Rich Communication Services' communication aims to increase the appeal and affordability of messaging for Android phones. It enhances communications by adding read receipts, alerting you when somebody is writing, and adding reactions.
There are around 60 backers. Mobile carriers, OEMs, and OS vendors make up this total. While some carriers, including T-Mobile, were hesitant to implement the necessary network and software improvements, others were ready to provide this capability. Because of this, Google provides Rich Communication Services messaging services via an app, eliminating the need for carrier support. To better engage their customers, commercial marketplaces are beginning to include Rich Communication Services communications. This type of message helps businesses differentiate themselves from rivals and retain clients.
With some of the features that leading providers of over-the-top messaging services like Facebook messenger, iMessage, as well as Facebook currently provide, such as audio and video messages, high-resolution visuals, read receipts, and real-time reaction notifications, Rich Communication ServicesMessaging aims to bring SMS to the next generation.
One of the main causes of the delayed adoption rate and the shift in customer attention to other, more straightforward messaging experiences is due to this. Not to mention the fact that some carriers in certain areas still do not allow Rich Communication Services communications. Third-party programs like WhatsApp will keep occupying the throne of texting until they act.
Frequently Asked Questions
What RCS functionalities are available in Google Messages?
By enabling this feature, both users can verify that the other person has read their communication. This capability is lost if it is left off.
By enabling this feature, each user may see if the other is typing. By turning off this feature, nobody can see what the other is typing.
If this option is enabled, your message will be sent as a regular text message if it cannot be sent as an RCS message. This is helpful if you still need to chat to the person you're messaging even when they've lost their RCS connection.
Responses to communications: One can respond to messages sent by one another even when both individuals have RCS activated. You can choose from a menu of emojis when you touch them & keep the communication you wish to reply to. To let the other person see your response, tap the symbol you would like to use.
Group communications are created if every user who texted the recipient has RCS. Every user can benefit from RCS functionalities thanks to this group message. All customers will be able to observe, for example, whether one person is typing.
If both participants have RCS, end-to-end encryption is possible. If you see a status indicator beside your received receipts on something like a communication you've sent, you may tell if you are employing encryption.
How to stop RCS Chat from running in Google Messages
You might want to turn off the RCS chat functionality in the Messages app for a variety of reasons. It would be a good idea to deactivate and then reactivate the option if you've been experiencing connectivity problems.
Do the following to turn off your device's RCS conversation features:
Launch the messaging app.
A three-dot menu will appear.
Access Settings.
Click the Chat button.
Set the conversation functionality to be disabled.
Tap Turn off in the pop-up window.
Your device's chat functionality has been deactivated, and any active RCS chat groups have been deleted from you.
Up there till you activate RCS again, all of your messages will be SMS/MMS going forward. Additionally, it's a good idea to turn off RCS before purchasing a new phone to prevent any prospective communication problems from either the old one. It's simple to initially turn off these settings if you retain the old smartphone.
How secure is RCS messaging?
RCS utilizes network bandwidth to transfer content, thus it can also be encrypted, further enhancing the security of your communications. Finally, the standard should theoretically be more effective at blocking spam. RCS adds media support and encryption to the basic SMS experience.
Your carrier can still read your messages and keep your attachments notwithstanding RCS encryption. End-to-end encryption is a trustworthy feature of the Google Messages app, giving a significant layer of protection that SMS just cannot match. Customers of Google Messages, Android's standard SMS and RCS app, will soon be able to send and receive messages with end-to-end encryption, according to Google. After months of testing, the feature is now available to everyone. Only after both users are signed up for Google Messages does encryption in messages function.