Motorola Talkabout
Whenever we think about intercom two-way radios, the first company we have in mind is Motorola. A walkie-talkie is a two-way handheld radio that was created in the Second World War by the engineering teams in Motorola. Originally created for the military, they slowly entered their way into public safety, commercial purposes & job-site work. Now, Motorola offers a wide range of these devices and they are known as Motorola Talkabout.
A typical walkie-talkie resembles the old handheld phone, with a speaker and microphone built into it. There is also an antenna attached to the device through which it communicates. The walkie-talkie is always on receive mode unless turned off and you need to press a button, "push-to-talk" (PTS) to reply to the incoming message. The device needs to be held face to face for communication
A typical walkie-talkie works in half-duplex telecommunication & many also use a single radio channel, where only one person can transmit at a time, although many can listen at once
What is duplex telecommunication?
Basically, the telecommunication can be of three types: Simplex, Half-Duplex & Full-Duplex
Simplex: In this type of telecommunication only one side of the communication can send the information i.e. it has a one-way flow. The other side can only receive the information but cannot reply to any messages.
Half-Duplex: In this type of telecommunication, both sides can send or receive the information but not at the same time. There is a two-way flow but not at the same time.
A two-way push-button radio (walkie-talkie) works in the principle of half-duplex telecommunication
Full-Duplex: In this type of telecommunication, both sides can send or receive information at the same time i.e. there is no restriction that both parties cannot send data at the same time.
Your mobile calls work in this kind of telecommunication where both parties can communicate at the same time.
The Motorola TALKABOUT Family
Did you know that the first words that were spoken by Neil Armstrong, the first man ever to walk on the moon were transmitted through a Motorola Transmitter?
The company has come a long way since then and has made different categories of the original "walkie-talkie". These new two-way radios are now known as "Motorola Talkabout"
T100 Motorola Talkabout Radio
               The Motorola T100 is the most simple and compact Talkabout offered by the company. These are great if you want a solid walkie-talkie with a good range. The T100 boasts of radio capable of reaching almost 25 km which is quite an exaggeration in my opinion. These small walkie-talkies are definitely very sturdy but lack the range capability. It requires a 3xAAA battery that can last you for about 18 hours of time.
               The T100 can hand a bit of abuse such as small drops and scratches but definitely is not weatherproof as some other Talkabout models in this list. You can lock the radio channel so that it can't be changed accidentally by kids or anyone. Unfortunately, the display is not illuminated and can be a huge problem for those who want to use these babies in the night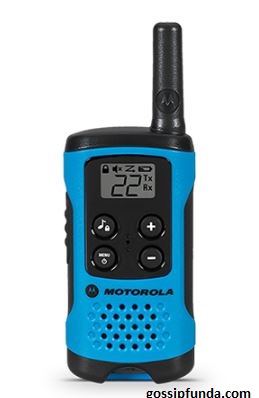 These little walkie-talkies are great for gifts for kids and can easily handle any abuse they throw at them. They can be easily used in camping trips or trekking but is definitely not recommended for any long-distance communication
Motorola T200 Radio
               The Motorola T200 is similar to that of the T100 but pack some extra feature that the T100 lacks. The T200 comes in a monochrome color and packs an LCD display. It has a frequency range of 462 – 467 MHz and has 22 channels that you can set upon.
               This one also has a lock button for accidental change of radio and requires 3x AAA batteries similar to that of T100. It gives a battery backup of about 12 hours and offers a range of 20 miles which again is an exaggeration because, in reality, they work fine until you cross the 1-mile limit.
               The T200 offers the capability of USB and the option to put-in privacy codes that the T100 lacks.
T260 Motorola Talkabout Radio
               The Motorola T260 can be termed as a successor of T200 because it has similar features to what was offered in T200 but with some extras. It comes in white color and has a frequency of 462-467 MHz. It is a 22 channel, a two-way radio that has 20 call alerts. This one again boasts a range of over 25 miles (open area). Obviously, you can't achieve that kind of range but the T260 has a much better transmission and range than T200. You need 3xAAA batteries to power this one up and can use them for about 12 hours.
               The impressive features that this one offers include a USB, support for privacy codes and the one that T200 lacks i.e. Weather channels. It has 11 weather channels (7 NOAA) with NOAA weather alert and auto squelch
Motorola T400 Radio
               This one is a super upgrade from what we have seen earlier and packs very exciting features. The T400 is an excellent walkie-talkie that can be your companion for excursions and trips. This one has a range of 35 miles outside city areas, and of 2 miles in a place with buildings.
The battery backup by the T400 is not so great and only lasts up to 8 hours on a full charge. It has 22 channels to choose from and offers 121 privacy codes. The Talkabout can easily access the NOAA weather channels and can inform you about any local emergencies.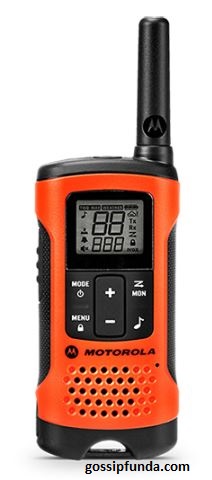 The T400 offers to customize the call tones of the radio and set up a unique tone when you finish your speaking. It has a Quiet Talk facility that can easily allow nonstop communication with your other Motorola devices. It has a backlight screen and an LED flashlight that is a huge advantage over the previous Talkabouts that we have seen until now. There is a special notification to tell you if the battery is low and also has a vibrating alert. It also has VOX i.e. "voice-operated exchanged" and when you enable this feature the microphone is always listening for your voice.
T465 Motorola Talkabout Radio
               The Motorola T465 is where you really start to see the huge upgrades that it is designed for from the other walkie-talkies. This one was designed by keeping the hunters in mind. It comes with a carry case and 2 x Earbud with PTT Microphone. Motorola has designed this Talkabout Radio to be used while you go for Hunting, Camping, Hiking, Fishing & Canoeing. It has 22 channels, 121 privacy codes with 2662 available combinations to choose from. This walkie-talkie is rated IP56 which means it has limited protection from dust ingress and even from high-pressure water jets from any direction.
               This Talkabout can be even paired with a Bluetooth compatible headset and Bluetooth PTT button for a hands-free setup. It has a feature known as "VibraCall" that gives you an edge over other walkie-talkies because this feature enables you to get you a silent alert if you have incoming calls or messages. Motorola boasts for a 35-mile mountain range, and you can easily expect the range to last for about 25 miles. It is powered by 3xAA batteries and can easily last for 13 hours.
It is designed to meet the CEC standards for low consumption of energy. You can choose from 20 call tones and can even customize the call tone.
Motorola T605 Talkabout Radio
               The Motorola T605 is the real deal between every other Talkabout that we have seen until now. This one is the best choice that you can pick because it has many features not available in any other Talkabout. The Radio has 35 miles of coverage on mountain areas, an advanced built-in flashlight. It has 22 channels & 121 privacy codes that you can choose. Like the other Talkabouts, it has NOAA radio weather service and even a dual power option. It has a simple design that can be used to carry in camping, trekking, and canoeing.

               The T605 boasts an IP67 rating which literally means there's complete dust ingress protection as well as protection from immersion in water from 15cm to 1 meter in depth. It runs on  3 x AA battery and can easily give you 10 hours of backup. It also has the hands-free option meaning you can operate the radio even if you're hunting or busy with a task. The box includes a car charger as well as a bag in which you can carry the radio. The car charger is a bonus because you now even don't need to worry about running out of charge.
Conclusion
               The Talkabout family is a great choice for buying walkie-talkies as the company Motorola has been reliable in this field for decades. These radios would be great for anyone who wants to have a rugged device for camping, trekking or even for communication.
Image Credit:
Don't Miss: Albion Online Android