We all require a pause to de-stress the body amid living in a fast world when the pressures of job and education are too much. Traveling is a useful method for relieving your thoughts of stressful circumstances. A planned trip also offers everyone something more to glance forward to. It doesn't matter if it's a short trip you take by yourself around town, a trip with your family, or a getaway with your best friends—it just gets you eager and makes you wish the day would come sooner.  Even while preparing a trip is enjoyable, there are occasions when it becomes excessive. There are several apps that could ease the strain for us.
Travelers depend on their cell phones more than ever when it comes to vacation planning and taking. Travel applications are a great tool for planning trips and handling logistics in addition to being a great source of inspiration. You can even use them to book a restaurant or locate a fantastic fitness class wherever you're traveling next. Numerous applications are available to assist with a variety of tasks, including last-minute airline adjustments and day-of hotel reservations. You can also use some of these apps as portable dictionaries and guidebooks for foreign languages. Apps can handle currency conversions, help you pack smartly, and even offer on-the-ground local knowledge. They can even assist you to navigate a new place. Anything you would need when traveling can be found as an app.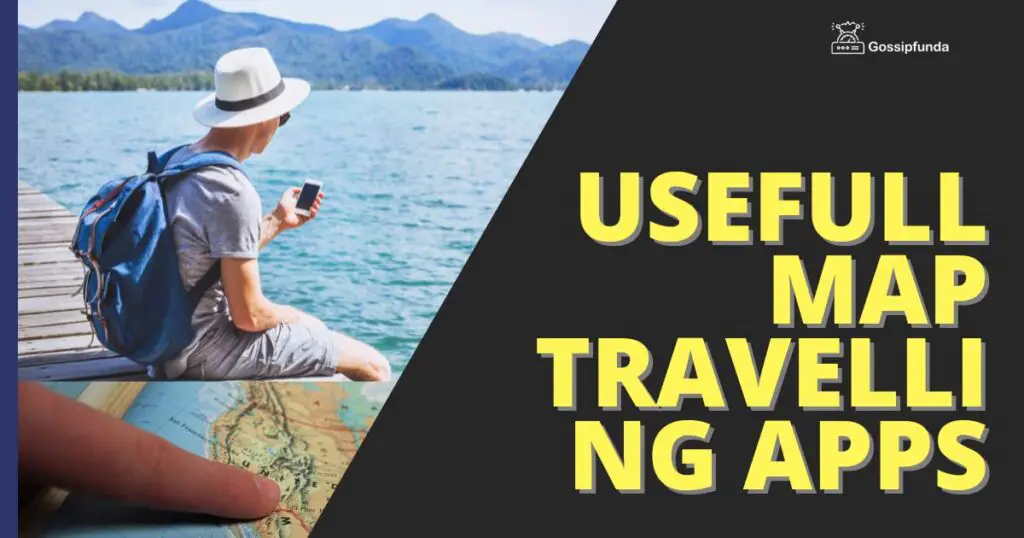 It's sometimes difficult, time-consuming, expensive, and limited to obtain cell data while traveling abroad. Once you are outside of large urban areas, quick, dependable coverage is far from guaranteed anywhere, even within the United States. Many travel apps, thankfully, don't require any kind of real-time data connection. Instead, you can use them in offline mode when traveling by first syncing them through WiFi in advance, which will save you money and hassle. According to your demands, there are many more instances, however, these are Some of the most helpful ones. At the very least, all of these are accessible on iOS and Android.
Some of the most useful map application for travelers are as follow:
google maps
Whenever it comes to offline functionality, Google Maps does indeed have a mixed past, but the 2018 and 2019 updates included offline turn-by-turn navigation and eventually brought back support for an infinite number of bookmarked places. Picking towns, cities, or entire regions, syncing those to your smartphone, and then receiving driving instructions even when in flight mode is simple. Unfortunately, without a connection, you won't be able to see your position on the map in person or receive directions for walking, biking, or taking public transportation.
Wanderlog
You may share travel information, plan upcoming excursions, and blog about previous travels all in one place on Wanderlog. It has a tonne of flexible trip planning tools, including the ability to look for destinations and activities, make reservations by logging in with your email and create a day's worth of activities with start and end hours. You can insert notes as well as links at various points. To access your itinerary while traveling overseas, everything is kept offline. It computes travel time and distance and exports the results to Google Maps for use on the road (Additionally, there are no restrictions on how many stops you can make while traveling).
A fun social aspect is also present: you may plan trips along with friends, and create your personal tourist guide, as well as a weblog regarding previous excursions. With Wanderlog, you can easily plan while still at home and on the road. Wanderlog is accessible via the internet and on smartphones.
Skratch: Create your personal Skratch map with the program
Tracking your travels to the fullest extent is possible with Skratch. Simply make a map on Scratch, and the program will display all the nations you have visited in real-time. Afterward, you can add locations to your bucket list that you have lived in or that you desire to visit. Ever pondered your activities in any of these locations? Your travel-related photographs and videos can be directly pinned on the map with Skratch. Reliving your favorite memories by nation is a breeze with this. Skratch allows you to label your map offline as you visit new locations or Skratch will automatically mark them with a notification.
Skratch allows you to annotate your map offline or Skratch will automatically mark new locations as you visit them. Additionally, there is an achievements section where you may post your map on social media and track your statistics as you earn geographical regions. Any tourist would benefit from having this app as a companion, and you can enhance it to highlight over 18,000 regions and towns on your map or create custom themes (for now available for iOS only).
Here we go
Here WeGo, an app for offline navigation that was first created by Nokia, is most likely the best one available. In contrast to Google Maps, it could provide directions for traveling, cycling, and taking public transportation even when the user is not connected to the internet. Additionally, acquiring location information for vast areas or nations is simple. Most of the time, directions are precise. Having the precise address rather than simply the location's name is helpful when However, you're not online. Keep in mind the app's storage requirements as well because installing maps for numerous nations may use a sizable amount of memory on your smartphone.
Hopper 
The greatest travel applications for your phone are Hopper and TripIt. With an accuracy rate of 95%, the app forecasts airfares up to one year in advance. It determines whether you should plan your trip now and maybe hold off for a little while by analyzing over a billion airfare and hotel rates each day. It operates as follows: The cheapest and most costly dates to fly are shown on a color-coded calendar once you enter your destination.
If you choose to wait for a while and wait for lower airfare, the application will then advise you whether to schedule the travel now or not. Additionally, you may customize your trip's forecasts by removing things like lengthy layovers, additional costs, restrictions, and more. And if you're concerned that you won't get the best deals on flights, don't be! As soon as prices decrease to their lowest level, Hopper will notify you.
Tripit
The best option to organize your itinerary, regardless of whether you have a data connection or not, is still Tripit, which has been in existence for a while. The software will keep to sync the most recent information every time it has a Connection to the internet. It can check your email for booking tickets and updates, or you may physically forward approvals if you'd like. Hotels, flights, rental cars, and other items are all kept in one location, and the system automatically generates a thorough itinerary for you. There is a Pro edition of Tripit that costs money but adds a few features above the free version.
Journey Planner SYGIC Travel Maps
The newest Sygic Trip Planner software, Sygic Travel Maps, is the first to show all of the destinations and attractions a traveler requires to view and explore on a single map. Use the Sygic Travel application to sync your travel itineraries and explore unknown areas of every city you visit. The app has a big database that lets you look up the best lodging options, tourist sites, museums, restaurants, pubs, and shops wherever you are. With the help of this smartphone app, you can also install offline maps and guides, which is useful when visiting distant areas without or with spotty Wi-Fi. For business travelers, it also features a section devoted to popular destinations across the world.
Triposo
Check out Triposo if you're searching for a travel manual. It compiles knowledge from a variety of sources, including Wikipedia, Wikitravel, and other sites, into a simple offline guide. Since they can be very substantial, install the data package for your intended destination(s) in advance to have access to a comprehensive list of attractions, lodging options, and basic directions. The programme also offers free offline usage of phrasebooks, currency conversion, phrasebooks, background information on locations across the world, and more.
Packing pro
We can admit that packing is indeed the pre- and post-trip chore we least enjoy doing. Please ask Packing Pro for assistance. The software allows you to make a customizable list of what you need to pack in order to go on a vacation, taking into account things like the length of the trip, the weather, the location, and many other things. You're not sure where to begin. If you don't want to make your own, the sample packing list from Packing Pro is a nice place to start. To make sure that everyone and everything is taken care of, Packing Pro does have a sizable item catalog. To ensure that no member of the family forgets important items, the software enables smooth syncing and sharing.
Pocket
Every time you plan a vacation, you'll unavoidably wind up saving a significant amount of information about the place you want to visit, including suggestions for restaurants, sightseeing locations, navigational instructions, and more. Download the Pocket chrome extension and mobile app to guarantee offline access to everything. Your present web page is saved with a single click or press, and the software then syncs everything without any more action anytime it connects to a WiFi connection. Everything that you have saved as information is still available on your phone anytime and anywhere you need it. Additionally, the Pocket app is a fantastic resource for saving videos from YouTube, news items via Vox and also The New York Times, and perhaps even amusing gifs via Twitter and Reddit.
A WiFi Map application
You might be capable of establishing an internet connection with the help of an offline application. The premium edition of Wifi Map enables you to obtain information on WiFi spots for entire cities in advance so that you can use the app when you're away from your house and discover the closest WiFi hotspot. Users of the app enter data, comprising location and password, and there are presently more than 100 million networks listed worldwide. Although the edition with offline support costs $5, as was already noted, it's a tiny thing to pay to always have access to the Internet.
Skyscanner
Skyscanner, used by more than ninety million people around the world, offers you fantastic discounts on travel-related expenses including hotels and rental cars. You can look at places that would be perfect for your budget and schedule thanks to its "anywhere" feature. Europe—is that where you want to go? Skyscanner will enable you to cross that ambition off your to-do list and turn it into a reality. When fares are at their lowest, Skyscanner also notifies you, just like Hopper.
TripAdvisor
Almost everyone has travel dreams! However, it can be challenging to plan a fantastic trip to a location we have not visited because you are unsure of where to sleep, what you should do, where to eat, and what adventures to go on. Our main source of information is online suggestions, the majority of which are incorrect. You may browse through more than a billion travel suggestions on TripAdvisor, including the best places to stay, eat, enjoy must-have activities, and discover hidden gems in more than 8 million locations. You may compare cheap hotel and flight tickets as well as reserve tables at restaurants using this all-in-one software. For recommendations tailored to your interests, you can also watch movies, read articles, and contact friends and travel industry professionals.
Roadtrippers
Considering taking a road trip across the country? You should download Roadtrippers! Some people dislike sitting through a red-eye trip and spending a lot of time in line at the airport. Instead, go on a road trip with your pals. For your road trip, Roadtrippers has all the information you need. To get the app to operate for you, just type your beginning and destination. Outdoor activities, amazing side trips you weren't aware existed, camping places, rest stops, etc. No matter what kind of vehicle you're traveling in—a sedan, a rented car, or a large family RV—this app is the ideal travel companion.
Loungebuddy
Let's face it—waiting at the terminal for a flight that ends up being delayed is not a pleasant experience at all. Inconvenient seating, poor Wi-Fi, and unappetizing food are all provided while you wait. But wouldn't it be lovely to wait in comfortable lounges? However, there is no way for you to enter without a membership or business-class tickets. It's a good thing that travelers can quickly allow entry to airport lounges all over the world with Loungebuddy. The software allows you to upgrade your flying experience in style despite having an economy ticket.
TravelSpend
It is simple to create a spending plan for your vacation; the challenge lies in sticking to it. You can get assistance with it from TravelSpend. To avoid going overboard, start by inputting your allowance and expenditures across a number of days. You can efficiently stick to your budget with the aid of the app. Being abroad does not pose a barrier at all because the software will convert your spending immediately to your local currency after you enter it in any currency. Whether you're traveling alone around the world or with your closest friends on a backpacking trip, keep track of your travel expenses. You may manage your spending as a group and share your journey with pals using the app. The ability to pay back the debt, split installments, and check balances is all included in the app.
Whatsapp
We observe that WhatsApp is the ideal messaging app when traveling and that the majority of the world uses it, which is why messaging apps, especially in 2020, are becoming more and more significant. We create a WhatsApp group conversation for our group trips so that we can all communicate with one another. Also, we are able to transfer text, photographs, and videos while using very little data. You should create a WhatsApp account if you do not really currently have one. Cost: Free; available for download on Google Play or the App Store.
Google Translate
TripLingo and iTranslate are two excellent translation tools, however, nothing seems to be able to match Google Translate's functionality. In nations where Chinese, Japanese, or Cyrillic writing is used, it has proved a lifeline. When we line up writing to our cam while using the app's live view feature, it instantaneously translates text from other languages, including Chinese characters, to English so we can understand the content we are reading. Using Google Translate, we have had lengthy talks with numerous individuals. When we ask a question into the app, it converts it from one language to some other language so that the person can read it in their own language. The fact that it is available to use offline is a huge benefit. It is available for free download on Google Play.
The KnowRoaming App
When traveling, using global roaming and data can be a hassle, add to your stress level, and be quite expensive. When we travel, we use the app to make international calls using KnowRoaming, which is a SIM Sticker that we apply to our current SIM card that is connected using our home phone system. Unless we opt to utilize it, it doesn't interfere with our home phone service. We launch the app and engage the desired plan as soon as we touch down in a new nation.
TripWise
Our ability to manage emergencies while traveling is aided by the TripWise smartphone application from Allianz Global Assist. The emergency service numbers (such as 911) of the nation we are visiting are provided, along with real-time updates on travel warnings, security information, and other relevant topics. A hospital search is conducted using GPS, and aircraft within three days are monitored for alterations and cancellations at the last minute. The medical dictionary is useful for understanding prescription drugs that are widely known around the world. Likewise, contribute to the 15 language translations of first aid words. The application is free and available for installation from either the mobile App Store or Google store.
Priority Pass
If you travel frequently, you are aware of how crucial a vacation from the commotion and bustle at the terminal can indeed be. To keep our gold status, we strive to fly the Star Alliance to the greatest extent we can, but it is getting more difficult. So, we signed up for Priority Pass, which grants us entry to lounges without requiring that we possess status with such an airline alliance. We get a membership to 1300 airport terminals across the world with Priority Pass, and the app makes it easy to locate them and determine which terminal they are in. We've observed that Priority Boarding lounges frequently outperform standard airline lounges.
The starting price for standard bundles is $99. For every encounter with this, you'll be expected to pay $32. 
$10 Free Visits for $299 and Unlimited Free Visits for $429.
As an aside, the $699 CAD annual charge for your American Express Platinum Card includes Priority Pass. This is a benefit that many travel credit cards, like Chase Sapphire in the United States offer.
You must check the website for pricing because it may change.
Hotel tonight
My buddy and I are known for not making good plans. We often wing things, especially while traveling by car. I can't even begin to count how many times we have arrived at our destination without a place to stay. And that is why the software from Hotel Tonight has consistently demonstrated to be useful.  Hotel Tonight locates available rooms for last-minute hotel stays and gives travelers who need to make a reservation straightaway discounts. Hotels would prefer to offer a stay at a reduced price than let a room go unoccupied. In that case, if you are adaptable and prepared to take a risk (or are completely disorganized like us, Hotel Tonight is really a perfect choice) Visit the Play Store or App Store to get Hotel Tonight for nothing.
XE Currency Converter application
The XE Currency Converter software needs to be on all smartphones used by travelers. When traveling, exchanging money can be daunting, especially if we are haggling at a marketplace or having to deal with high-pressure salespeople. When we use a calculator to calculate a deal, we find out it is not at all a good deal, even though it may seem cheap in a foreign exchange. We have such an application on our smartphones to readily check costs because of this. Instead of using the calculator, we have entered the relevant data into the converter to determine the precise exchange.
The IronSocket VPN
In countries like China, where popular websites like Facebook, Instagram, and Google are restricted, a VPN is a necessity. The majority of online restrictions may be avoided with a VPN. However, having a VPN handy when conducting any sort of online banking or shopping is indeed a great idea. Information can be easily stolen over public Wi-Fi, & VPNs make it more challenging. IronSocket has worked well for us wherever we have traveled for years. Monthly cost: $4 Visit the web to download.
Apple Pay
We have long been Mac users, however, our iPhones pretty much are having everything we require for all of our vacations and reservations. Apple Pay is also fantastic for traveling. Utilize Apple Pay for your apple device to conveniently make purchases without searching for your actual credit card. Perhaps North America hasn't caught up yet, but most of the globe is already using it! Here's how to quickly configure it on all of your devices.
WeChat
In China, it is the standard communication tool. WeChat is a messaging programme that takes the place of WhatsApp, Facebook Messenger, and any other messaging app we use if you are traveling in China. Even in restaurants and retail establishments, WeChat is accepted as payment. To make any purchases, you must have a Chinese bank account, but you can easily acquire one for social media and chatting. If you are heading over there, be certain to obtain it beforehand so you can communicate and remain in touch with each of the new buddies you will be meeting. Everyone will inquire if you use WeChat. Free – available on Google Play and the App Store
Rome2Rio
We can learn how to travel from spot 1 to spot 2 in such a location with the Rome2Rio app. Rome2Rio asks for our start and end points before displaying all of the possibilities and costs, assisting us in determining the most affordable way to take, from booking flights and trains to renting a car and taking public transportation. It's a simple approach to calculating our travel times and budget for our trips. When we arrive in a new city, we frequently check this to determine what the best option is from the airport. Free at the App Store or Google Play
Apple Maps
We've only recently started using Apple Maps, but we already found it to be a very practical travel programme. It has actually been modified for travelers. Use the Indoor Maps features incorporated into the airport's terminal to look around and locate things like gates, bathrooms, and restaurants. What I enjoy about it personally is that it tells me when I'm driving which position to choose for the next exit. There's no need to speculate anymore. Everything is depicted on the realistic map, including parks, beaches, and airports. and is now accessible in the USA. so exciting You may get it by going to the App Store.
Maps.Me
During our travels in Cuba, we came upon this map app, and it was incredibly helpful. In the event that you are without data or WiFi, you can utilize the offline maps on Maps.Me. Our destination's maps can be preloaded onto Maps.Me so that we can use them while offline. Having maps preloaded on our phones and being able to use our offline maps while walking around downtown Havana was very helpful. But everywhere you travel, this is a terrific app. Downloading offline maps of the city you're visiting will help you navigate if you don't have a strong data plan while traveling abroad. Check it out via the App Store or Google Play.
Citymapper
Transport and route planning are both good uses for CityMapper. The fact is that CityMapper has dedicated software for assisting you in using public transportation, as opposed to Google Maps as well as Apple Maps, which is what distinguishes it from these other navigational tools. Real-time departures, line interruptions, status warnings, and transit maps are also provided. Additionally integrated into CityMapper are Uber, bike share services, and cycling routes. If you want to discover the fastest route to your location, it also enables you to compare all of your travel alternatives and forms of transportation.
Once your route has loaded, an added bonus is that it can be utilized offline.
Cost: Google Play and the App Store both provide free downloads of it.
Uber or Lyft
The advent of ride-sharing services such as Uber or Lyft has greatly simplified travel. Before Uber, I'm not sure how we got around. In the past, when we traveled to a new nation, we would haggle over fares with taxi drivers and wind up spending far too much for our transportation. Now that there are ridesharing services like Uber and Lyft, we can summon a driver to meet us wherever we are dining, sleeping, or just standing on the sidewalk, and they will show up shortly. As the prices drastically differ depending on the city, make sure both applications are downloaded to your phones. Prior to booking, we always verify both. We may monitor our progress, determine how far away the other party is, and receive an upfront price. It is always more inexpensive, easy, and painless.
Grab app
The Uber of Southeast Asia is this. While Uber is no longer available in countries like Thailand, GrabApp is swiftly gaining ground and is the most popular ride-sharing app in countries like Singapore, Malaysia, Indonesia, and the Philippines. It delivers food, just like Uber. Free in the Google Play and App Store
Gasbuddy
Talking about family vacations, Gasbuddy is a great software to use in order to reduce your fuel costs. The Gasbuddy application not only aids in locating the lowest gas prices but also performs searches based on amenities and location because gas is becoming more and more expensive. You may get it through either the mobile App Store or Play store.
Booking site apps: websites and applications for making reservations
The majority of consumers are already familiar with Expedia, Booking.com, and Trivago, so we deliberated about whether or not we should include them. However, we thought we'd include a few of the websites we use to reserve our travel accommodations, hotels, and flights, along with why we prefer them.
Get Your Guide
Making a tour selection decision when touring a city might be difficult. We always adore their tiny group and personal excursions, and we utilize GetYourGuide to reserve tours and transportation. With GetYourGuide, you may reserve skip-the-line admission to well-liked destinations and guided excursions. Additionally, if customers withdraw within 1 day before the activity, the majority of reservations are 100% refundable. Another fantastic feature is the ease with which last-minute reservations may be made.
Kayak
Hotel and flight reservations can be made on Kayak. It offers an excellent feature that tracks bargains from your local airport if you are willing to fly anywhere. I simply enter "anywhere" into the search bar, specify my financial limits, the amount of hours I want to spend in the air, or if I want a nonstop flight or one that makes one or more stops before letting the system take me where it may. Then, based on my setup settings, it displays airfare deals worldwide. We enjoy how Kayak searches with a +3 or –3-day window when selecting certain flights to find lower fares. You have the choice if it discovers something less expensive on a different day. No cost – Google Play or the App Store
Busbud
An app called Busbud makes it simple to arrange bus rides between cities all around the world. It enables users to look for, evaluate, and reserve bus travel options across 75 nations. Everything you need to do is enter the town you want to visit and the city from which we are departing, and Busbud will look up costs and departure times. It provides us with price alternatives, departure timings, and even the ability to check the possibilities for the quickest and latest bus arrivals. If we're staying the night, Busbud examines 6 different hotel reservation websites to help us get the greatest offer in the place you're visiting. No cost at the Google Play or App Store
VRBO
We're new VRBO users, Dave and I, and we enjoy looking through the listings to discover someplace to stay this winter. For much less than hotels, we can rent anything from a single room to a full house (our preference). We also enjoy staying in neighborhoods with a residential feel for a more authentic experience. As soon as we arrive, VRBO also suggests local activities to partake in.
Totally free – Visit their website
The Best Ways to Get Free Accommodation Everywhere
House Sitting Career Advice begin home sitting in 2021
PackPoint
The hassle of packing is completely eliminated by PackPoint. Based on your planned activities, the weather where you're going, and the duration of your trip, the app suggests what to pack. PackPoint even enables you to account for cleaning your clothing and wearing them numerous times if you have access to laundromats where you're going. Simply download and open the app, enter the name of the destination city, and enter your trip information. Therefore, don't put off packing until the day of your vacation or the last few minutes before you must depart for the airport. Instead, go to work immediately.
Conclusion
If you are planning to go on a trip either alone or with family or friends, and want your trip to be picture perfect then you are on the right page. All the needed apps are mentioned above. These apps will help you during your trips and will make it easy to manage everything for you. Thank me later.
Frequently asked questions
What is the best app for traveling?
Google Maps is the app I use most often when I travel. On the ground, it indicates where you're located and how to get there via foot, public transportation, a car, or a bicycle. When you wish to explore the area, including nearby hotels, restaurants, and petrol stations, Google Maps is similarly useful.
What exactly is Google's travel app?
By providing information on the user's route in numerous categories, such as the day plans, bookings, and activities to do, Google Travel enables users to make travel plans for prospective journeys. The defunct app had full day itineraries for more than 250 major cities when it first launched.
Does a travel planning app exist?
One of the most effective (and well-liked) apps for planning road trips is called Roadtrippers. Together with colleagues or family, you can map out your itinerary and find amazing locations to stop along the way, such as nature reserves, tourist spots, motels, and more. With a premium membership, you may add up to 150 destinations.
Which day is the cheapest to travel on?
What are the most affordable travel days? Tuesdays, Wednesdays, and Saturdays are frequently the least expensive days to travel. These days will probably be the ideal days to fly if you can plan your trip around them because they will be less expensive and less crowded at the airport.
Is the travel companion app reliable?
It is quite helpful to meet local influencers who can direct you to the best locations to visit in their region whether you are a lone traveler or part of a group. Additionally, if you are a solitary traveler, you can meet someone else who is going to the same destination at the same time.