Universal tv remote app: Technology has changed a lot and going far beyond our thinking every day. Accessing anything by just sitting in your place itself can be the best thing we can imagine. The Universal remote app is another milestone in this journey of technology. This product will give you a taste of this liberty. Read the full article to know more about the universal TV remote app.
In recent years, we have grown more demanding in terms of technology. We want more from the world, more in terms of liberty, freedom, and ease in doing anything. Though this has made today's generation lazier, there's no stop to the growth of this technology. Universal remote apps are just another impressive thing we could have. There were days, hardly 1 year ago, when we saw the latest remote apps like firestick and other such remotes.
These remotes fascinated us and created a lot of buzzes, but look today, we have replaced them also by remote apps. The universal TV remote app is an app that will provide you access to any device just by sitting at your place. It has actually acted as a bridge between humans and machines. Finding your remote and fiddling with it is outmoded these days. The overall idea behind these apps is to control everything with just one click. This app perfectly controls all of them.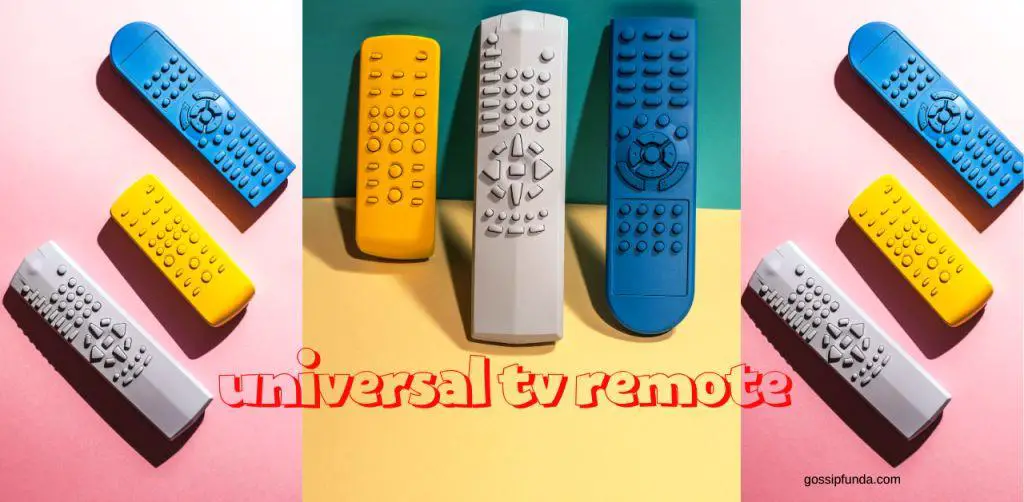 Universal remote apps can control the operation of the TV, gaming consoles, projectors, lights, etc. Universal remote apps have IR sensors that read or sense any object or device in front of it. These universal remote apps are user-friendly for which an IR blaster is a necessity. Let's understand in depth exactly what universal tv remote apps are.
Universal tv remote apps
This is an app that converts your Android into a universal control system that is capable of doing multiple things. This universal tv remote app will give you access for any TV. If you have any old TV, it is an IR TV set, and your Android will need to have a built-in IR feature to send IR (infrared) rays to the TV set, only then it will work. But if you have the latest TV sets, that is smart TV this is not needed to be fulfilled by you. You just need to establish a wireless connection between your android phone and the TV set under the same Wi-Fi network.
With the help of a universal TV remote app, you effortlessly change the channel or turn the volume up or down just from your own place. You can also switch on and off your lights as well as control your fan's speed. If you have a projector, you could easily turn it on without even getting up from your place. All of this is done by mere your Android mobile phone that, too, in just one click. It doesn't matter at all, which company's TV you are watching or what brand fans you have in your home.
You can also play, pause, stop your movie while watching it on your TV set. Also, with universal TV remote app, you get the rewind and the forward feature as well. You also have a remote control just for your favorites on your TV. It will also allow you to cast the media of your Android on the TV set. One requirement that needs to be fulfilled for using a Universal TV remote app is the Android requirement. It necessarily requires an android of 4.1 or above version to work or get downloaded.
Functionalities for Smart TV
Voice recognition – the app also allows the user to search for anything on the TV using his/her voice only. No need to type anything on your phone, just say it and the result will be displayed on the TV.
Power control- you can also turn on and turn off your TV irrespective of which brand's TV you have.
Volume controls – the volume of the TV can be lowered or increases, or else you can mute the TV also using this app.
Casting- this app provides you the screen sharing option as well. So you can play anything on TV that's being displayed on the Android mobile phone.
Keyboard – it gives keyboard feature and mouse navigation as well so that you can type in case required on the smart TV.
Navigations- you can easily navigate up and down, right and left using this app on your smart TV. Hence can change channels. You also have rewind, play, pause, forward stop buttons.
Also read: Peel Remote
Functionalities for IR TV
Voice search- it does not give you the liberty of voice search in IR TVs.
Power control – you can turn on and turn off the IR TV using this app easily by sitting at your place itself.
Volume – you can surely turn up your volume or lower it down. Also, the mute option is available too.
Keyboard – it doesn't give you this feature for IR TVs, and you cannot type anything on it.
Navigations- you will get pretty normal navigations like up, down, left, right in the form of a menu button.
Another requirement here to be remembered is the IR blaster. Without this, IR TVs won't work with remote apps.
Working
The main idea behind the working of such apps is the transmission and receiving of signals. These signals are in the form of pulses which are invisible through human eyes. When you open the app, you need to select the device and then the brand name. The transmitter in the phone through the remote app sends the signal to the brand chosen. Each signal is a unique one for every device. The receiver in the device selected response to it as soon as it receives the signal. Hence, you establish a connection in between and can do all the things listed above. The same thing happens with a smart TV as well, where the in-between connections is a WI-FI connection. The transmitter and receiver are directly get connected through a Wi-Fi connection, and you can do all that you want from your place only.
Must read: Google Saved Passwords
Other Apps
Twinone universal TV remote app
The Twinone is also one of the top TV remote apps that is available free on the Play store. It has a very simple design, and you will have no problem learning it. It has too many brands listed, and you can choose your TV brand. The only problem with this app is the advertisement. Since it's a free app with no more add-ons, you will have no option to get rid of it. Also, with that, this Twinone app is only available for a restricted number of devices. Well, overall, it is a good app.
SURE universal smart TV remote app
This app is also a good app with a bit longer name. It too has a lot many brands on the list. The good thing about this app is that it operates for devices with IR blaster as well. This app has additionally put Wi-Fi support and DLNA in order to cast videos and pictures. Another amazing feature is the option to connect it with Alexa as well. SURE is a free app and still has an opportunity to buy the premium version.
MI Universal TV remote app
Filled with numerous features, MI universal TV remote app is the best app in today's time. It has so many things listed to attach. You can easily connect any projector, TV, light, fan, AC, DVD player, etc. XIAOMI launches this MI app. What makes this app best is, its no pop-up ad operation. It is a totally free app and simple to use. You need to select the device to which you want to connect and then select the brand of the device.
AnyMote
It is another good TV remote app that is universal. The app promises to support around 900,000 devices and adds more devices on a daily basis. It is also multifunctional and supports more than just a TV. You can connect air conditioners and DSLR cameras also. AnyMote gives you buttons, especially for Netflix and Hulu. It also has two versions, free version and other is a paid version. The paid is quite expensive at $6.99. It also works with a phone with an IR blaster.
Unified remote
The unified remote app is also an excellent app to control devices from your place only. The only difference is that it can also control the computer. This feature would be helpful for those who have home theatre PC sets. It supports PC, Mac, and Linux. It has two versions, one is a free version, and the other is the paid version that costs $3.99.
Conclusion
The advantages of these apps are that you can access your devices like TV, light, fan, computer, etc. without even moving. You get also get all the features in one click. You don't have to worry about the remote battery, whether it is drained out or not. Forget the tension of losing your remote somewhere and then finding it in the whole house. The disadvantage of this app is that you need to rely on a phone battery for using it. If you're low on your battery, it isn't a problem, though, and you could just connect the charger and keep working on it.
Another thing to remember is your phone should be compatible with the app; otherwise, you can't use it. The third thing is you also need to have your device's brand name to be listed on the app; otherwise, still, it won't work. Now considering all the pros and cons, the conclusion that can be drawn is that these universal tv remote apps are actually much better than orthodox remotes. This has already started replacing the old remotes, and that day is very near when the companies will stop selling remotes. People will stop buying them and start using these apps totally.