If you are facing issues on your Samsung TV as the gadget is unable to connect to the Samsung server, don't worry in this article you will learn various ways to fix this. Being citizens of this modern era, we all have a knack for having super cool and tech-savvy electronic gadgets. All these gadgets get smarter and more user-friendly day by day. And smart TVs are just among the top of these smart gadgets. There was a time when Televisions were just a heavy box displaying black&white frames seconds by second. Who could have thought that we could use TVs as multipurpose devices now?
And these smart TVs are undoubtedly the most ingenious and efficient gadgets ever made. And Samsung is the pioneer when it comes to all those handy tech-savvy devices. The Samsung Smart TV is a high revolutionized and highly functional device. And operating it entirely by oneself will require a person to understand all its functions and settings.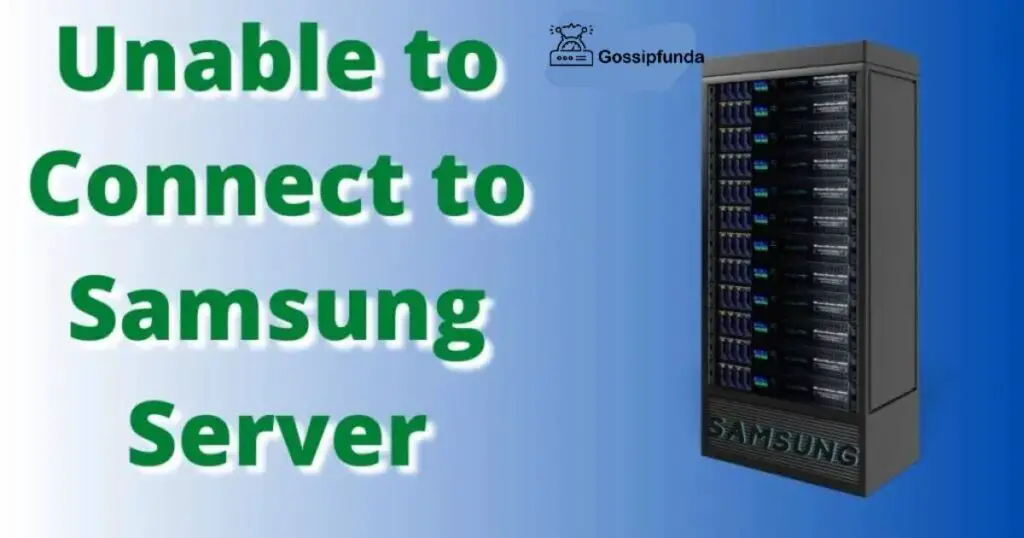 Now, if you are also among the users to use the Samsung Smart TV for streaming purposes. Then you would have faced  "Unable to connect to Samsung Server" at least once. If this happens it means the Samsung network is distorted. And is unable to connect to the Server. And this makes you unable to browse or stream anything on your TV. There are loads of causes that could have caused this issue. In this article, we will discuss all those issues' causes and possible solutions. Thus, stop looking at any other place and take your time to read the full article to get your preferred solution.
Possible Causes of Samsung Server Disconnection issue
Now that we know there are many reasons responsible for your Samsung TV being unable to connect to Samsung Server. Here is a list of possible causes for the same:
Disrupted Server Connection-The major reason why you are encountering the problem is that your server might be down or offline. Or, the server could be under maintenance or have some severe network problems.
Cache Files-When we use the device often while it is connected to the internet, a lot of cache files get stored in storage. These caches are corrupted files that cause issues with the Internet Router and prevent it from connecting to the server. Clearing them frequently from the device is an ideal solution.
DNS issue-When we try to customize our network server, but we fail to set up the correct DNS address. This is because we could have entered the wrong DNS configuration. This could be prevented if we input the DNS correctly.
Smart Hub-Smart Hub is a multi-featurette setting panel like the Control Panel on our PC. It has all the features necessary for our TV that are remote-controlled. Now, this feature when gets malfunctioned will create a lot of problems such as network connectivity.
Outdated Software-If you have a smart TV around, it is surely running on a software OS. But if this software gets old or outdated for your device, then it won't necessarily cause any issue for your TV-watching experience. But will surely interrupt the network and server-related connections. As the outdated software gets incompatible with the protocols of your TV.
Regional Issue-This is one of the reasons why your TV is unable to connect to the Samsung server. If the locations where you purchased your TV and are operating it is different, then it may cause some problems. Especially different countries. Because terms of the policy are different in various regions. And the TV is configured to follow a particular set of algorithms. This can be prevented if you are using a VPN. Or, you can also configure the network protocols.
Smart Hub Password-Sometimes creating an unusually long password creates issues for our Smart Hub. Thus you can try using a not-so-long password with minimal characters for your Smart Hub.
Poor Internet Connection-Or, maybe apart from all these major issues, it could be just your internet connection. As having an unstable connection is also prone to many connectivity issues. So, just try changing your Internet provider or configuration of your Router.
Instruction
As we are going to discuss a few steps as a solution to your problem, it is better if you do the following prior to that.
Unplug your TV and Router. Switch the power buttons off in them, to avoid any static electricity. 
Wait for 10-15 minutes before switching them on.
Configure your Smart Hub Password to a small one.
Make sure you have a stable Internet connection.
How to fix the issue of being unable to connect to the Samsung Server?
Method 1: Soft Reset your TV
Performing a soft reset may clear most of your problems. As it seems to kill all the tasks running in the background in the internal storage of the TV. It clears the RAM data and restarts the TV. You can soft reset your TV by:
Step 1: Long press the power button on your remote.
Step 2: Release it as soon as the TV reboots.
Step 3: After the TV has finished booting, check whether the problem persists.
Method 2: Reset Smart Hub
The Samsung TV error 198 issues can be resolved sometimes by factory resetting the Smart Hub. In order to avoid the connection issue, you can factory reset your Smart Hub. You can do the same by following:
Step 1: Press the Home button on the remote and go to "Menu".
Step 2: Select "Settings".
Step 3: Go to "Support".
Step 4: Click on "Self Diagnosis".
Step 5: Then "Reset Smart Hub".
Step 6: Enter 0000 which is the default pin code.
Step 7: Confirm the factory reset.
Step 8: Follow the on-screen commands and finish it.
After you have reset the Smart Hub, check if the error continues. Follow the next, if not.
Method 3: Update the Smart TV Software
As we discussed earlier, the "Unable to connect to Samsung server" issue could be caused due to outdated software. You could check for software updates. To update your TV, you could follow the below steps:
Step 1: Long press your remote's Home button.
Step 2: Click on "settings".
Step 3: Click on "Support".
Step 4: Then click on Software Update.
Step 5: Enable the Auto Update option & then select Update Now.
Your TV will start updating the software. If your TV has the latest software updated then it won't update. After the update, it will reboot to completely install the software. Look for the problem continuation again.
Method 4: Signing out of our Samsung Account
If your TV is unable to connect to Samsung Server, then make sure that your Samsung Account is synced. Because if the account is not synced, then it may cause you connectivity problems too. To resolve this you can try signing out of the account and re-sign it. This will help to sync both the Smart Hub and TV. thereby, fixing the error.
Follow the steps below for the same:
Step 1: Navigate to "Settings" from the menu.
Step 2: Go to the General section.
Step 3: Click on "System Manager".
Step 3: Click on "Samsung account" and eventually on "My Account".
Step 4: Highlight your account by selecting it and then Sign out.
Step 5: Now, reset your Smart Hub as stated in Method 2.
Now, you can follow step 1&2 again and then re-sign into your account. After this is finished, wait for another 10-15 minutes for your account to sync with the TV. Check whether the problem persists or not.
Method 5: Use VPN
This method is most recommended to those who are facing the issue of "Unable to connect to Samsung server" due to regional issues. This surely will not be applicable to all users. If so, you could use a Virtual Private Network (VPN) to connect your TV to the country from where this TV was purchased. This can be done very easily as your Router has this option available in-built. After turning on the VPN in your Router, you can set up a wired connection to your TV. For more details on achieving this configuration, you can contact your Router and VPN provider.
Method 6: Change the IP Configuration
While discussing the possible causes, we also discussed about the wrong DNS issue. This issue will be resolved by changing your IP configuration. But, first of all, let's understand this DNS or Domain Name System. DNS is responsible for turning domain names into IP addresses that will be used by browsers to load internet pages. When the DNS server can't find the web address required. Then they can't connect to the server. Thus, modifying your DNS is the only option in this case. To do this:
Step 1: Long press the "Menu" on the Remote.
Step 2: Then go to "Network".
Step 3: Click on the "Network Status" option and then "IP Settings".
Step 4: For "IP setting" choose the option to obtain automatically.
Step 5: For "DNS Setting" choose "Enter Manually".
Step 6: Enter "8.8.8.8" as the DNS server.
Step 7: Save and apply the settings. 
After completely changing the IP address, check if the problem persists.
Method 7: Perform a Network Reset
As discussed earlier, Network connectivity issues can also result in this "Unable to connect to Samsung Error". Thus, these Network connectivity issues cause problems while establishing a connection with the server. Performing a Network reset can resolve this easily and allow you to connect to the Samsung Server. For this you can:
Step 1: Long press "Menu" on the remote.
Step 2: Navigate to the "Settings".
Step 3: Select the "General" option.
Step 4: Then go to the "Network" option.
Step 5: Click on  "Reset Network".
Step 6: Confirm all the on-screen prompts that display on your TV.
Usually, wait till the network gets established again and check if the solution persists.
Method 8: Perform a Hard TV Reset
If the "Unable to connect to Samsung Server" option persists. Then, you can factory reset the Samsung TV to its default settings. Being the last choice, it is very risky. This will discard and revert all the changes you have made to your TV ever. And will change every setback to the default one.  Be a bit careful about this one and follow the steps below:
Step 1: Open the "Menu" on the remote.
Step 2: Go to "Settings".
Step 3: Navigate to the "Support Tab".
Step 4: Then select "Self Diagnosis".
Step 5: Click on "Reset" present on prompt.
Step 6: It then asks for a security pin which is 0000 by default for your TV.
You need to wait till this process is over and then check whether the problem has been resolved or not.
Method 9: Contact the Customer Support
The only option left if you have tried all the above methods and failed is to contact Customer Support. The official team assigned by Samsung to resolve your issue will definitely solve your problem. You can contact them by browsing their official site. There, you can scroll down and select "Contact Us".
Conclusion
We have listed all the causes and their particular solutions above in the article. Still, the readers are advised to wait for a while as Samsung is the pioneer in this field and has a backup for all the troubleshooting problems. Contacting them will fix your issue or waiting for a while can too. Just wait for some time before you reset your TV, network, or Smart Hub. As sometimes these network connectivity issues get cleared on their own. I wish this article helped you in resolving your "Unable to connect to Samsung Server".
FAQs
How can you use the Internet on Smart TV?
You can use the Internet on your Samsung Smart TV for various purposes. It can be streaming movies on OTT platforms or web browsing, etc.
How do you get Set-up Menu on Samsung TV?
To find the Set-up Menu, go to the Menu option in your remote and then select Settings. You can find the option there.
What is Samsung ID?
Go to Samsung Account's Homepage and ask for login. Enter your credentials to get your Samsung Account ID. 
Should the password for Smart Hub be long or short?
You must use a short 8-10 characters password for your Smart Hub as creating a long password creates problems while during network connectivity.
Is updating your Samsung Smart TV software necessary?
It is very crucial to update the software in your Smart TV frequently (or whenever available) to get your TV running smoothly.