To be short and precise, you can say that PDF files have made your life relatively easier in many ways. Right? Whether it's an official document or your university assignment, PDF documents come in handy every time. but how do I transfer PDF files to my iPad without iTunes?
Moreover, you can quickly sign your PDF files and set your PDF to the password-protected mode for security. And let's not forget that those bulky 400 pages books you used to carry are now readily available in PDF files. So, no need to look for the books on your dusty shelves because they are only a click away. 
While using PDF files, you often have to transfer files over to different devices, but things get complicated sometimes when you are an Apple user because of limited options. 
Imagine having a deadline approaching, and you need to make some quick edits. But what's consuming your time is transferring PDF to your iPad! And yeah, iTunes cannot do it, so you're just trying to figure it out.
Ah! 
Frustrating! Isn't it?
What if we tell you there is a way around bypassing these hectic steps to transfer pdf from pc to iPad without iTunes. 
Really? 
Yes!
That's WALTR 2!
Let's get on with some fantastic methods we have searched exclusively for you for transferring PDF files to iPad without iTunes.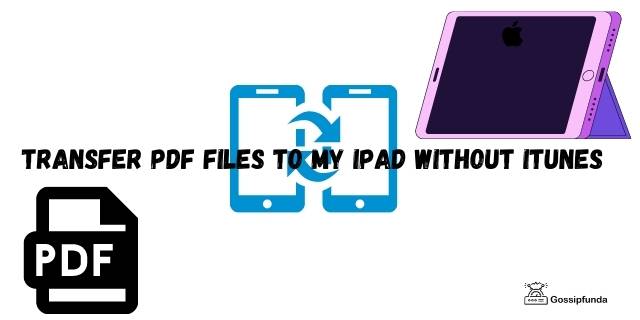 1. Quick transfer with WALTR 2
Imagine having your chauffeur, who is always there to assist you whenever you get into trouble. 
Meet your new assistant for all your apple devices –  WALTR 2!
WALTR 2 has the quickest possible algorithm design that allows you to drag-n-drop any file you want. 
Why use WALTR 2:
Only a few steps to drag-n-drop PDF files, saving a lot of time
No worries about file size 
Can use wifi to transfer file 
Forget about format problems as it will take care of it
Steps for using WALTR 2:
Launch WALTR 2 app on your Mac/Windows PC.
Connect your iPad to PC via cable or WIFI
Simply Drag-n-drop your files. It's like 1-2-3!
2. Airdrop the PDF
Another efficient method for transferring PDF to iPad is using Airdrop. It's quick and easy to send PDF to your iPad using Airdrop.
But,
Guess What?
If you are using Windows on your PC, this method is not for you – as it's only iOS compatible.
Following steps can be followed for using Airdrop.  
Switch on your Airdrop on iOS >> Click on Airdrop finder on your Mac >> Find your relevant 
Device and select it >> Drag PDF, and it will be shown in iBooks.
3. Transfer PDF using iBooks:
iBooks can also be used to transfer PDF to iPad but depending upon updates; it can sometimes cause issues. 
If you are using Windows on your PC, you should start looking for another option like WALTR 2 or iCloud. 
Following steps can be followed for using iBooks:
Launch iBooks app on Mac >> In collection tab, click PDF on the left>> Drag your file from the desired location >> Click on sync books >> Hit "Apply," and it's done ENJOY!
4. Transfer PDF using iCloud:
iCloud Drive can be used to save all kinds of files. Using this cloud-based sharing system, you can share your files across PC, Mac, iPhone, and iPad.
We have simplified the steps for you for using iCloud.
Go to iCloud on your PC browser >> sign in using ID and click "iCloud Drive" >> drag and drop your files to iCloud Drive >> Wait for the sync to other devices >> Go to iPad >> Click iCloud Drive on iPad >> You will see your file there. Hooray!
Conclusion:
It seems like it's time to part ways. 
Ah! 
But we've given you multiple options to transfer PDF files to my iPad without iTunes.
The most essential thing in today's world is "Time." You should always go with something easy, super-fast, and kinda single solution for all your problems, just like WALTR 2.
We would like you to try all methods yourself and determine the best method for transferring PDF to iPad. 
But,
If you want an expert's opinion, we would say go with WALTR 2! Because it's the most reliable third-party software out there with quick solutions in an easy peasy way.