A smartphone is a multifunctional thing. Watching films, listening to your favorite tracks, and communicating on social media are just a few of the possibilities offered by modern gadgets. With their help, you can even realize your hidden talents and at the same time release the stress of the week.
How you may ask? Android Drawing apps are used for this purpose. They are a great way to discharge your batteries, release your emotions on a "screen canvas" and share your creations with your friends. The main thing is that your new hobby should not interfere with your academic success, or you will have to turn to the writing essay service to have time to complete important academic assignments.
We've picked out our top five Android paint apps just for you. Install any (or even a few) of them and start painting!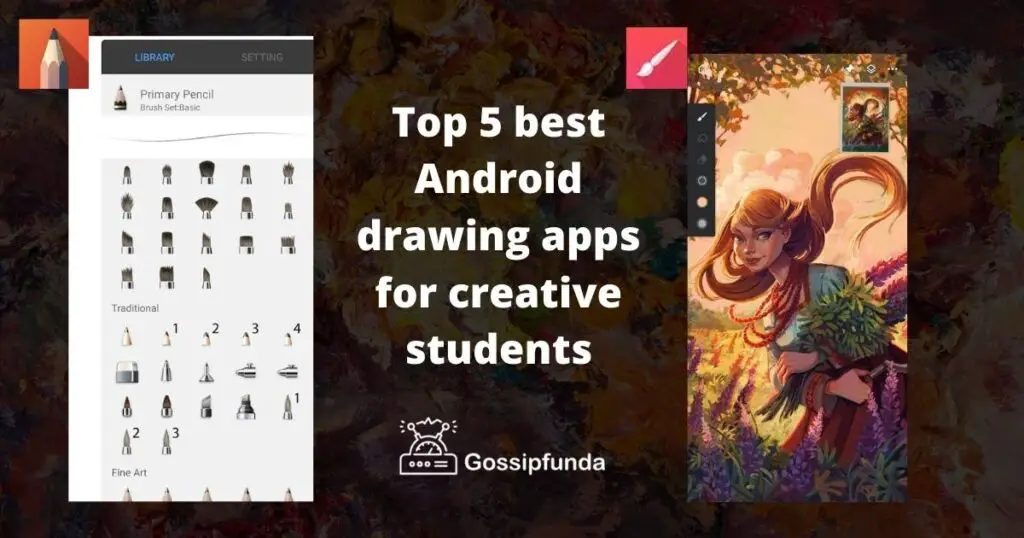 Sketch
At the top of the podium, we put Sony's Sketch app. In fact, it's a combination of a sketch pad, photo editor, and social network. It's a three-in-one solution. The app's interface is straightforward, so it's quick and easy to learn. With it, you can create a vivid picture, add funny details or text to your selfies and then share your masterpiece with the world. Sketch service has been discontinued from 30 September 2019 onwards, we hope it will restart soon.
You will have access to an impressive range of painting tools: various brushes and sprayers, with the ability to scale the thickness of lines, fill the canvas with color, a variety of stickers, a huge selection of colors, and the ability to choose your color palette. A layer editor, cropping, panning, eraser, backup, and synchronization of images across devices – the app's functionality is almost as good as that of a full-fledged professional drawing program.
As a social network, Sketch will please you with the absence of compulsory registration (unfortunately, some of the functionality will be unavailable), a news feed, the ability to write private messages, collaborative drawings, and a bunch of other useful features. All in all, Sketch is a must-have for anyone, no matter if he or she is an artist or not.
Autodesk SketchBook
This application is in many ways as good as the one above. However, it does not possess such extensive social features – hence the second place.
If you consider Autodesk SketchBook only as a "drawing tool," the program deserves sincere praise. There's just an enormous array of different brushes, shapes, textures, tones, splashes, and other elements that will allow you to create professional drawings, blueprints, and other graphics. The range of colors available is stunning, too: the scale, which has 13 different colors, is handy. And for each color, there are several shades and gradations. In addition, users can create their colors using a custom palette.
The developers haven't forgotten about the additional tools, such as embedded geometric shapes, the possibility of symmetric drawing, adding text to graphics, and inserting your photos into the image you're working on right now.
All in all, Autodesk SketchBook is a cool tool for both amateur and professional drawing. The only downside of which is the need for mandatory registration after a 7-day trial period. To be fair, registration is fast and completely free.
ibis Paint X
It is another pretty cool "application" that can be used to paint any kind of picture.
The main feature of ibis Paint X is the simple interface that makes it easy to get used to the "Paint" program for everybody. The developers have reacted responsibly: after the first launch of the application, the user will get acquainted with the interface elements and will be explained what they are used for.
The number of drawing tools is also plentiful, although inferior to the aforementioned competitors. You're pleased with the number of rulers – rectangular, circular, and radial – and the filters, of which there are more than 30, as well as brushes that draw both standard lines and patterns (such as maple leaves).
The color palette here is similar to what we have seen in Autodesk SketchBook: there are only minimal differences. Some similarities with procreate alternatives for android.
It is worth mentioning that ibis Paint X has a kind of social networking application called Online Gallery where users can upload their creations to the public.
The only thing that spoils the experience is the large number of ads, which you can get rid of by purchasing the paid Pro version of the program.
PaperDraw: Paint Draw Sketchbook
There's no tutorial in this app, but of all the "sketchbooks" in our top list: the interface here is not overloaded with extra buttons and features.
Fill, in a dozen free brushes (you can buy an additional set of VIP tools for a fee), eraser, adding text, ruler, editing custom images, as well as convenient, though not rich, color palette – this set looks modest compared to other opponents.
Of course, PaperDraw: Paint Draw Sketchbook does not boast an abundance of advanced tools, but it does its main task well. It is the simplicity of the application that attracts. If you don't have any grandiose goals, but just want to draw, then PaperDraw: Paint Draw Sketchbook is one of the best ways to do it.
Infinite Painter
And last on our list is Infinite Painter. But that doesn't mean it's bad – it's not a simple painting app. It has everything for both amateurs and professionals. For example, in addition to a huge number of preinstalled brushes, you can create your own sets, according to your preferences.
The app offers all the standard utility features, such as eraser, fill, and geometric shapes. There are also texture templates, symmetric painting tools, reflections, a bunch of color filters, and much more. All in all, there's everything you need for both a simple android drawing apps and creating truly beautiful professional images.
Conclusion
Let's summarize: all the applications from our Top are unique in their way. Therefore it is impossible to claim that one is much better than the other. Each of them is focused on a certain audience: someone will be interested in the social features of the "drawer", the other – a wide range of built-in tools for creativity. Ultimately, the choice is yours – we encourage you to try each one and come to your own opinion!