While AI content writing tools have value, they can't yet replace human writers. Writers can benefit from using them for various purposes, such as giving them more scalability and writing efficiency. There are also some cons, such as a concern about the quality and the lack of originality. Here are some pros and cons of using AI content writing tools.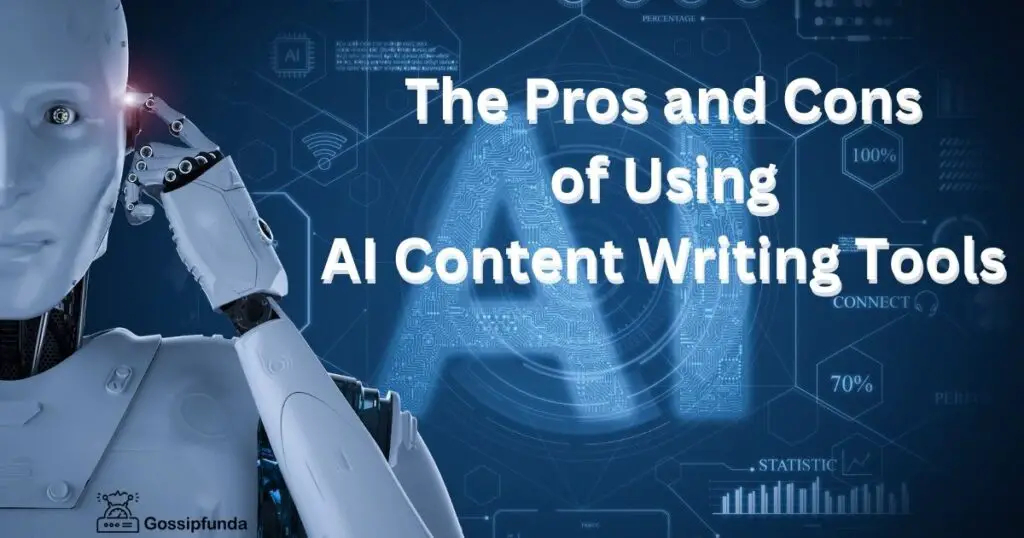 Pro: Writing efficiency and scalability
Using AI tools can influence the speed at which writers generate content. They can write much faster than humans. To write and research a two-page article will usually take a human writer about an hour, whereas it will take an AI tool only a few minutes. Some of the benefits this offers are ways to:
Quickly create personalized posts for all the different social media platforms.
Localize the language of products and services for different geographic regions.
Keep up with trending topics and get articles onto platforms speedily.
Getting suggestions, paraphrasing short passages, and checking grammar and spelling are all possible with the use of AI tools.
Con: Concerns about quality and plagiarism
AI tools rely on data analysis and algorithms. They will scrape statistics from different platforms, which can easily result in their misuse with a specific article. Another common problem when using AI tools is missing the tone and nuances that make writing more engaging.   
There is also the concern that search engines will flag an article for plagiarism. AI tools scrape content from websites and reword it. This is a violation of Google's guidelines against combining facts from various other web pages without adding any value. Search engines will devalue content that isn't original or useful to users. Students who use AI tools may find their essays are flagged for plagiarism which is a serious offense in academic environments.  
Pro: Cost-effectiveness
Detailed, well-researched content by human writers has a high value. Companies often pay writers well for producing excellent content. They know the value of great writing for enticing consumers. However, using AI content writing tools is fairly inexpensive in comparison. To use them usually requires payment for a monthly subscription that allows writers to write multiple articles per month. It is definitely cost-effective to use AI tools for brief, simple articles.
Sometimes, tools do not help as the AI concept is still not fully mature. Using professional writers from the essay writing service EduBirdie is another cost-effective way to receive help. For an affordable price, students at college have access to a professional writer with an academic education and writing experience. These writers will produce high-quality content within a specific timeframe.
Unlike the content produced by AI tools, students can be sure the writing is plagiarism free. These writers can handle even the most complex of topics within their area of expertise.
Con: Lack of expertise, authoritativeness, and trustworthiness
Readers are skeptics when it comes to online content. One of the reasons for this is a rise in the quantity of misinformation. To make them trust its value, showcasing the professional qualifications and expertise of a writer helps. With artificial intelligence content writing, no human writer credentials are available. There is no way to convince readers that they are reading the writings of an authoritative individual.
Pro: Spark ideas for content creation
AI article writing tools can develop detailed outlines for articles. Writers can feed in a title and get key points and ideas of what to include in an article. This will save them time. It also helps them to overcome the problem of staring at a blank page with no idea about what to write.  
Con: Missing creativity and originality
Search engines want to serve users with the most original, creative, and helpful content. It's the originality and nuances of writing that makes it engaging and shareable. These are the two main metrics that lead to success. AI relies on existing content to create 'new' content. It doesn't yet have the emotional intelligence to understand some of the nuances in language or what makes it engaging to humans. 
Conclusion
The use of AI content tools does have various advantages. Writers can quickly write drafts in a cost-efficient way and scale their writing efficiently. They can overcome writer's block and generate article outlines that spark their creativity. However, it is best for them not to rely entirely on AI tools. There are concerns about quality, and the writing is often missing creativity and originality. AI tools work best as writing assistants rather than as a replacement for human writers.