A gaming system more portable than the razer blade 13? Yes, it exists. Dubbed as the world's most powerful smartphone by Unbox Therapy's Lewis Hilsenteger, the Black Shark 3 Pro is the dream of every gamer.
The Black Shark 3 Pro
In the tech world today, a compact is the new trendy, and the Blackshark 3 pro does just that by creating the ultimate mobile gaming device. A lot of people today are shifting to mobile gaming. You don't want to go for the whole PC setup or the $2000 laptop, but you want to game, and your gaming platform should be portable. It is one of the biggest smartphones out there.
With a 7.1-inch display, it dwarfs the Galaxy S20 Ultra too. With the main focus being gaming, it comes with a ton of accessories, which we'll get back to later. It has sandwich cooling, and it can be overclocked, it has a 270 Hz touch response rate, TACTILE SHOULDER BUTTONS, Snapdragon 865 with UFS 3.0 Storage, 5G, Wi-Fi 6, A 65-WATT Hyper-Charge IN A SMARTPHONE, RGB lighting and a humungous 5000 mAh battery. I bet you couldn't ask for more in a smartphone. With the main focus being on making a mobile gaming device for those PC gamers with a full setup at home, they've accomplished that.
Display
Now talking about the physical components of the phone, it comes with a super bright (500 nits), super sharp, 1440 x 3120-pixel display that comes in a 19.5:9 ratio so that you get that wide gaming experience as you get on the PC. Being a gaming smartphone, it obviously has a fast refresh rate, which is 90Hz. Still, it even has a faster 270Hz Touch reporting rate.
So hey, your smartphone is going to recognize every slide, every touch, and every tap you make flawlessly, without lag. The phone also has the capability of boosting 25Hz videos up to 90Hz using Motion Estimation, Motion compensation (MEMC) technology. The 7.1″ display makes it more like a phablet than a tablet, to be honest, but you need that screen size when you're going for the ultimate mobile gaming experience.
The Speakers
It has a 3.5 mm headphone jack. If you're buying a phone loaded with gaming goodies, you surely want to use your gaming headphones with it. Yes, Bluetooth headphones are fabulous when they are used to hear music or attend a meeting. You aren't tangled in cords and can roam around without worrying about your phone. But when it comes to gaming, you don't want that lag. The sound should be in complete sync with the game you're playing.
A little lag, and your game is ruined.

Rishit
It's either that or sometimes you want to go completely free. No headphones, no earphones. It's just your phone and you. For that case, you get two symmetrical front-facing stereo speakers. The best thing about them is that your hands don't cover them when you're playing. Moreover, since the speakers are completely symmetrical, you will be able to tell where the enemy is shooting from and hear the footsteps and tell whether the enemy is approaching from the left or the right.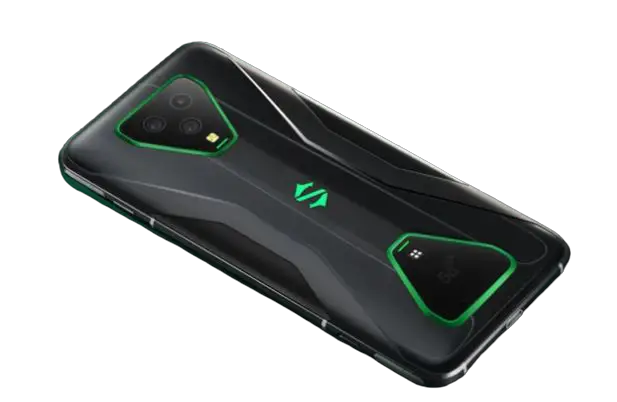 JOYUI 11
So, the guys at Blackshark designed a custom game-centric skin for the phone. They have something called the new "Shark Space." Shark Space is the ultimate thing you need for mobile gaming. Using that, you can overclock your Snapdragon 865, change the fans' speed, and individually customize the phone settings for your games. There is a tremendous configuration on a per-game basis.
You can clock up the performance on a particular title,
You can modify your display settings:

60Hz
90Hz
Intelligent switch
Standard
HDR
Custom

Touch sensitivity controls,
You also have the option to turn on edge anti-mistouch so that you don't accidentally hit the wrong button when you're fully in the game.
You can also prioritize background traffic stuff while you're gaming.
Limit your notifications
Moreover, it has all the individual settings for the accessories, and your physical keyboard or a headset that you might have connected.
There are a lot of features in there, completely for gaming, and things that you never realized were annoying until you had the option to turn them off. There are settings you can adjust system-wide using what they have called the Shark Arsenal, or you can adjust them on a per-game basis. This implementation is extremely different than what you have seen out there.
The thing is, there are other phones too with a huge display and the Snapdragon 865, but they never thought of it, or if they did, they never implemented such things on their phone. The OnePlus 8 Pro and Samsung Galaxy S20 ultra both fit this bracket, but they don't have such gamer-centric features. They are powerful phones with gigabytes worth of RAM, but they lack an extensive settings page like this for gamers.
The Accessories
Now, this is where things get crazy.
1. The Black Shark FunCooler Pro
In case you don't know, smartphones toggle back their performance when they heat up. It happens because they cannot dissipate that heat. This phone has been designed both internally and externally for advanced cooling and greater heat dissipation. This also permits the phone to do some degree of overclocking.
By clipping on the Black Shark FunCooler Pro, having it sit on top of the phone's internal components, it is going to pull heat and blow it out of the back, and at the same time, exchange that heat for cool. It claims to cool the phone by 14 degrees C in 1 minute and up to 28 degrees over the next few minutes. The cooling unit consists of 7 rotor blades and rotates at a blazing speed of 6200 RPM. That is twice the speed of a helicopter rotor. And even after all that, the fan is extremely quiet compared to what you would expect from a 6200 RPM motor.
Moreover, to show off your gaming style, the fan also comes with an RGB halo light strip made from 12 LED lights with 34 customizable patterns. The fan has to be connected to a 5V/2A DC to activate.
The best part? You can get this cooling unit for any phone, and it has an android and iOS app. It is available for $39.00 on BlackShark's website.
2. BlackShark Magnetic Charging Cable
How many times has it happened that a guy in PUBG killed you just because your grip wasn't proper because of the charging cable? Well, that's not going to happen anymore. Along with the Black Shark 3 Pro, you can buy a magnetic charging cable. The back of the phone has three specially arranged magnets just for this purpose. Although the phone has 65W charging and can charge your phone up to 100% in 38 minutes, you sometimes don't want that cable there. So, the folks at BlackShark made this triangular magnetic pin at the back where you can attach a magnetic charging cable. It snaps directly into the slot and charges your phone at 18W, providing uninterrupted gaming throughout.
The BlackShark Gamepad 3
Although the phone has tactile buttons on the top, the developers went a step further and created the gamepad. It comes with a joystick and a d-pad and gets attached to your phone's left side when the tactile shoulder buttons are folded in. It has L1, L2 buttons too. The joystick, like the ones on the Xbox and PS4, works as a button also. You can map that button to do anything you'd like depending on the game. Every button on the Gamepad can be mapped as per your requirement.
Lastly
In conclusion, the Black Shark 3 Pro isn't for only those people who have a full gaming setup at home and want to take that out with them too. It is for someone who wants to game but doesn't want to spend so much on a complete gaming setup, or just likes the idea of portable gaming. Who wouldn't love a portable gaming setup though, right?