Artificial Intelligence is the hottest and trending turn of phrases across the Globe for online investment platforms. Hello friends! Welcome again to the Gossipfunda gossips. Today's we shall have a long gossip and you might have known the reason. Hurrah! My favorite topics. Just by listening or seeing these names my excitement and curiosity reach the ninth cloud. These are the topics for gossips indeed. Apart from this, the combination of investment with AI is really very overwhelming. As these terms are interesting, at the same time they require thorough understanding to get benefitted the most.
By the title, it might be clear to all that our discussion shall go around investment platforms, AI and should move towards the implementation of AI in the backend of trading platforms. This article will help you in gaining more knowledge and confidence for these platforms. If teenagers and youngsters are reading this article, then nothing can be greater than this. Let us move ahead step-by-step.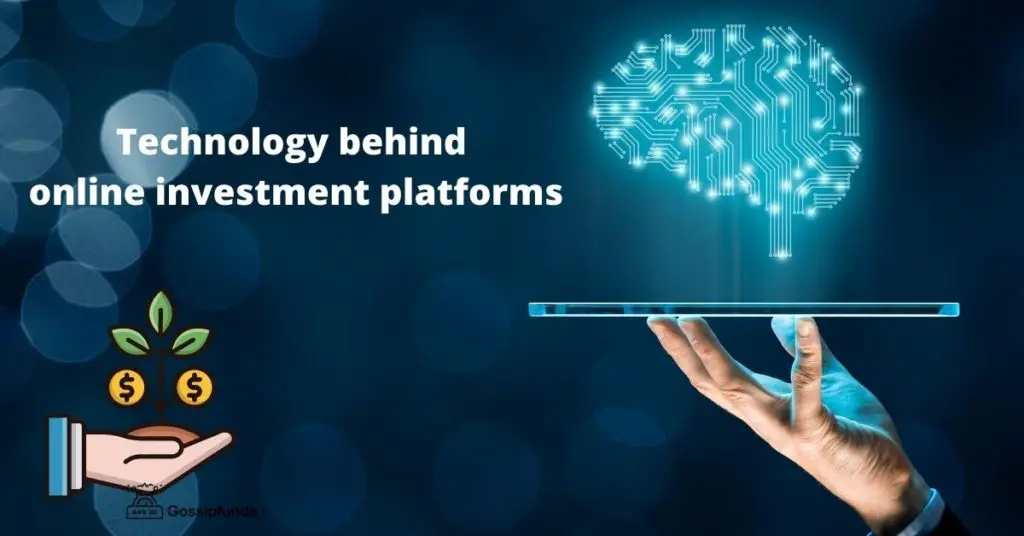 What is Investment?
It is a vast topic indeed. A complete article shall not be sufficient to cover it. But we will try to understand it in brief. In laymen's language, investment is just making money from money. Instead of keeping our savings in our bank accounts, if we invest them by any means, we get an additional amount in return along with the base amount invested. Investment is an asset.
Now that we got familiar with investment, let us explore the types of investment. So, it can be categorized as:
Ownership Investments – The investor buys and owns these assets. For example, real estate, stock market, mutual funds, funding a business, etc.
Lending Investments – This means basically behaving like a bank. For example, savings accounts in banks. Bank uses that amount to lend loans to others and in return pays you some amount.
Cash Equivalents – These are risk-free, low returns type of investment.
I am not elaborating on this topic more. Wanna increase your curiosity so that you explore it more. 
What are online investment platforms?
Investment platform/ Fund platform/ Trading platform in an online service that permits us to make the investments online and get benefitted. Gone are the days when people used to make deals on papers. Now we are a part of the paperless era. Especially covid-19 pandemic has forced us to be paperless. In fact, people try to avoid handling cash up to the level they can.
Putting your savings in such platforms is definitely risky if you indulge in these activities without thorough homework. And if you make investments consciously then that time is no far when you can make extra money and live your life as you wish.
Some of the online investment platforms/apps are as follows:
Fidelity Investments
Ally Invest
eToro
TD Ameritrade
E*Trade
just coded etc.
What is AI?
AI (Artificial Intelligence) is the future of the world.  In simple words, imitating or training machines to be competent enough to human intelligence and actions. Humans will be different than machines only in feelings and senses. But this difference can also be eradicated. AI is an umbrella covering Machine Learning (ML) and Deep Learning (DL). ML is learning from the past that is the data collected or already available and predicting the future that is presenting results for the new data. It is basically limited to structured data. If you want to work on large datasets or data is unstructured like audio, images, or videos, then go for deep learning. According to the data processed technology can be further mentioned as Computer Vision (images, videos, real-time frames), NLP- Natural Language Processing (text, audio), etc.
If you can think of any sector, then you can also think of the AL application there. Healthcare, retail and e-commerce, food tech, banking and finance, travel, logistics and transportation, entertainment and gaming, real estate, manufacturing and many other sectors are rapidly becoming AI-powered. 
AI working for online investment platforms
Artificial Intelligence, a new buzz of our life. Everyone in his or her daily life uses gadgets or technology which are based on Artificial Intelligence. Whether it be smart phones, smart watches, or any health-related gadgets, etc. 
When it comes to the finance domain, it acts as a boon. It feels so cool that you can make money or you can make a profit by using intelligent machines trained on data of previous years. But there are always two sides to a coin. If there is an advantage of artificial intelligence, there are disadvantages too.
 As we know that Artificial Intelligence can never achieve 100 percent accuracy, otherwise there will be no difference between human brains and machines. Since systems are trained on previous year data, they do calculations based on that only, it cannot adjust according to the present situation. 
My Personal View
So, my point is that we cannot rely completely on an AI application for any sort of thing whether it is of the health domain or finance domain, etc. A responsive and reliable algorithm is still to be made. For using a machine's brain, you will have to apply your brain. You cannot blindly follow it. Otherwise, it will not take much time in transforming from boon to curse.
Now, to understand the working of Artificial Intelligence in the field of finance or how it works for online investment platforms, you need to know what basically AI is. As already stated, AI helps machines learn a pattern based on previous years or previously recorded data. This seems similar to our brain right. We learn by our past experiences. So, we can make machines do the same work as an experienced trader by making machines learn the pattern of the market or pattern of price hike by providing it with large amounts of previous year data.
Now, we can make an AI application forecast the market and invest accordingly. These applications are for navigating the instructions or for helping them in taking the decisions. These types of applications are most beneficial for new investors who have just entered the world of investing. So, they refer to these platforms for starting out. But again repeating, one cannot completely rely on that.
There are various factors on basis of which we can make an AI application for online investment platforms:
Using Patterns:
As explained above, AI can help applications identify patterns and market trends. So, they can approximately forecast the future of markets and help in taking decisions related to investments.
By Analysing the Sentiments:
By using Machine Learning (subdomain of AI) techniques, analysis of sentiments of investors, news headlines, tweets, comments and other sources available on the internet can be used by an AI application to understand the next moves of various business firms, influential traders which will help in understanding the market.
Algorithmic Trading:
It is also known as Black-box trading. It uses machine learning applications that follow a set of instructions to do trading for generating profits. So, these were some factors upon which AI application for trading can be based upon. Now, we will see steps for building such types of applications:
Data collection – So, the first step in this process is gathering ample amounts of financial data. Historic data is the best source of analyzing patterns. Now, there are some complexities in this. Data should be unbiased, sustainable, and proper. Otherwise, it may deviate the algorithm from predicting correct values.
Organizing the data – This step involves dividing the data into proper groups and intervals. Dividing it into training and test sets and fine-tuning it.
Making the algorithm – Now an algorithm is trained using gathered data and making it identifying relevant patterns so that it becomes predictive. Now take help from this algorithm and make money.
So, most of the AI applications are based on the above steps only but making a completely reliable and advanced algorithm will require regular maintenance (regular fine-tuning and cleaning of data), very advanced programming skills, interdependencies, lots of money, and much more. That's why there is a scarcity of 100 percent reliable software.
There are various companies that are working on this:
AUQUAN (London): It solves investment challenges with the help of algorithm trading. It is the sizzling fintech of Europe.
Greenkey Technologies (Chicago): It saves investors time while looking for financial data by implementing techniques like natural language processing and speech recognition.
National Stock Exchange (India): It connects financial sectors to the nation, being an AI-driven learning ecosystem.
Kavout (Seattle): This tech giant involves predictive models i.e., the machine learning part under artificial intelligence to predict the stock ratings and rankings.
Sigmoidal (Poland): It is a consultancy that utilizes AI up to a great extent. It cuts costs by leveraging AI for information extraction, document search, increases revenue by uncovering investment opportunities with the help of natural language processing, and a lot more.
EPOQUE (Switzerland): It utilizes 'three' engines plan of action to easily manage active orders, and carry out automated artificial intelligence trading.
Algoriz Financial Services (New York):  This is also an AI-powered trading firm that builds AI trading algorithms for global investment banks like Goldman Sachs.
Equbot (San Francisco): This firm uses natural language processing, machine learning algorithms to analyze and create portfolios and help global investors to grow in this complex world.
Summarising above, you can use these technologies according to your preference of trading and investments.
Trade-Ideas: Best for day trading
TrendSpider: Best for swing trading
Blackboxstocks: Best for option traders
Conclusion
Artificial intelligence is such a vast technology that we can find its application almost everywhere. It has become a part of everyone's daily life. In today's article, we started our journey with an introduction to investment. I suggest you people take this term seriously and increase your awareness of this. You will come to know why rich people are so rich. Then we went on with online investment platforms. You know well that you can do a lot of productive activities using mobiles and laptops.
And being paperless is the need of the current time. Then I explained about artificial intelligence because later I wanted to connect AI to investment. AI is just awesome. In the later section, we saw how AI regulates investment. It has increased options for investment. Now we have the opportunity to invest anywhere in the world by analyzing the profit percentage. In the end, you will invest only where you are comfortable and confident. But AI-powered investment is really a crazy thing.