Tech talent crunch in 2020
Get prepare for Tech talent crunch in 2020. New jobs have popped up to meet market demands. With the expansion in technologies,  job roles with new skill set have become visible in the market.
Nowadays, technology is ruling the world. From dawn to dusk, technology is embedded in all our daily activities. It has emerged in such a way that even a small sense of touch will make us interact with the real-time environment. Whereas the evolution of technology is unstoppable, because whatever techniques or versions which are observed in initial phases are not the same.
Gradually, people have started to look forward to new advancements by which they can save their time and money.  New skills have formed to develop and exhibit these innovations. Simultaneously, new jobs have popped up to meet market demands. With the expansion in technologies,  job roles with new skill set have become visible in the market.
Below is the list of technical job titles which we haven't appeared before 15 years back: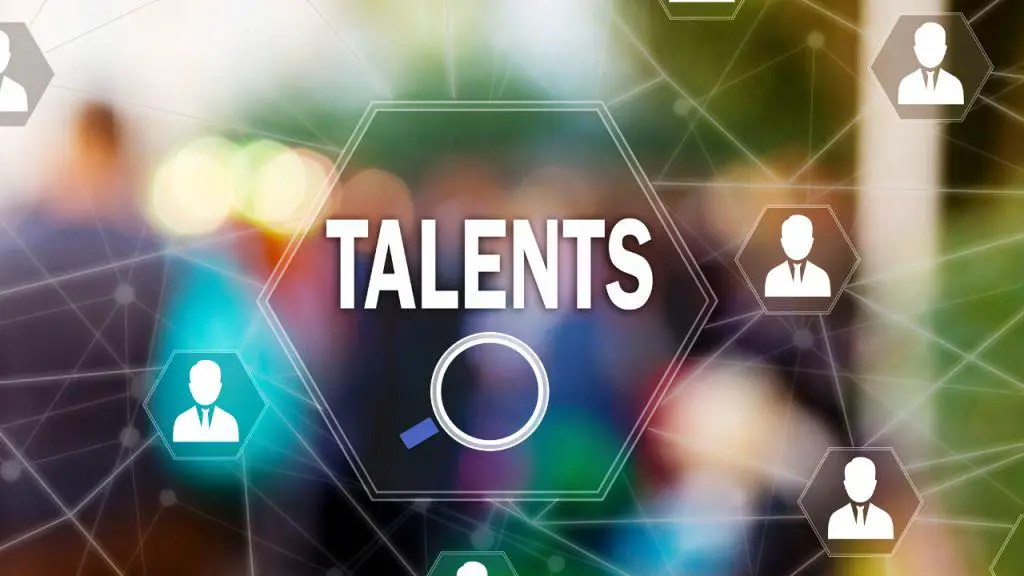 Social Media Manager:
Social networking sites have grown up a lot to make our day to day tasks in a simple, flexible and feasible way. For example websites like Amazon, Flipkart, Myntra, Magic bricks etc are like trendsetters in the social field, wherein people can access these networking sites to fulfil their necessities. Sites like Facebook, Instagram, Twitter etc have given a chance to post ideas, pictures, suggestions, new trends in technology and business. Henceforth, to organise, improvise, advertise, design and develop these social media sites, numerous job roles have been posted for individuals to apply.
App developer:
When Android and IOS have come into the limelight, an opportunity has been provided for a number of graduates to learn, design and code a number of applications to sit in Playstore of Google and iPhone. Developer should have knowledge in analysis of requirements, efficiency in communication, proficient in languages like Python etc.
Search Engine Optimization Specialist:
SEO specialist analyses, reviews and implement changes to websites so they are of best use in search engines. Problem-solving, creating a new website which comes at the top of search engine results, website layouts and advertising for search engine optimisation are some of the demands to seek job opportunities in this sector.
Driverless car Engineer:
One should have a thorough knowledge in the automotive field regarding various sensors, steering angles, lane detection, tracking of vehicles, norms, network control etc. This involves huge programming and testing engineering.
Cloud computing:
Cloud computing is of the highly recognised computing system over the internet. Warehouses which act as the data centres are constructed to store and process the information from the interconnected network. Companies like Google, Amazon etc are having cloud drive in preserving their data. As the name itself denotes a cloud, there are humongous opportunities like cloud architecture, stack developer, data engineer etc. This requires huge coding and database as a skill set.
Artificial Intelligence:
It is an area of computer science that targets to create intelligent machines that work and react like human beings. Speech recognition is the best example of AI. This incorporates a wide range of engineering employment opportunities in analysis, development, maintenance and research.
Cybersecurity:
When one encounters the word cyber, the immediate response will be on cybercrimes happening now. To ensure more safety and security, there are numerous vacancies in security architect, chief security officer and security engineer.
Robotics:
Robotics deals with designing, construction, operation and use of robots to perform various physical activities. It is considered as one of the subfields in artificial intelligence. One can view a number of openings in robotic technician, operator and developer.
Apart from the above,  there are a few more skill sets mentioned below:
Blockchain developer
JavaScript developer
Backend developer
Site reliability engineer
Python developer
Front end engineer
Full-stack engineer
Machine learning
Data science
Data scientist  etc
This showcases how are we making use of technology in an extensive way. Finally, at the end of the day, everyone's effort is to make bread and butter out of their skill set. But the current situation isn't a cakewalk for the Indian economy due to the shortage in the skill set of upcoming technologies like Artificial intelligence, Cloud computing, Machine learning, App development etc. When a graduate passes out from a college or an experienced professional needs a job change, the first question that arises is: whether they are eligible to claim for the above skill set.
If we look into recent statistics, more than 10 lakh students are graduating from colleges every year and only 40% are getting employed, the rest 60% is being considered as unemployed. The Centre for Monitoring Indian economy stated that 11 million of graduates lost their jobs in 2018. Today, India is ranked among the top 10 most-affected markets with 58 per cent of job vacancies. ManpowerGroup Chairman & CEO Jonas Prising noticing this talent crunch have made a statement that the world is now facing a shortage of skill sets in employers, so instead of searching for new talent,  let us rebuild or reskill the employers to continue for a longer-term.
Below image portrays the talent crunch in other countries: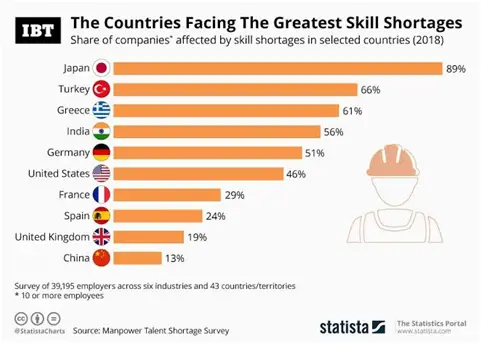 Indian IT companies are trying to set up their markets and production units in new technological areas like Artificial intelligence, cloud, machine learning, app developing etc with mid-level talent. For example,  Indian tech companies have 4,000 unfilled AI positions. India will expect to have more than a million cloud computing jobs by 2022. There are more than 50,000 vacancies in domains like machine learning and data science. If the trend continues, we can foresee a heavy crisis in obtaining talented resources.
                 In 2019, India places its 25 educational institutions top of 200 in 43 emerging economic countries. Hari Krishnan Nair, co-founder of the Great learning said that still there is no match between the courses which have been teaching in educational institutions and industry. Yes, it is true, as we analyse in in-depth,
few demerits are listed out in  today's education system:
Students are blindly following bookish content which decreased their questioning power.
Applying theoretical knowledge in practical terms is zero.
Hands-on experience with tools and machines is very less.
Increase of guides and all in ones in markets have degraded students problem-solving skills.
There are no strict guidelines to follow communication skills in classrooms.
Study for the sake of scores has suppressed their creative and imaginative skills.
Same old textbooks, no up-gradation in the syllabus.
Students are not understanding the importance of the subject and their usages in the outside world.
Moreover, the thinking of students has been limited to just settle themselves financially in reputed MNCs.
Encourage smart learning from the school level itself.
We can reduce the tech talent crunch by making minor improvements:
Revive the education system with new technologies and innovations. Describe the textbook matter in a more basic and technical way.
Recruitment in campuses should happen in a filtered way. A thorough interview to be taken not just by assessing on grades or the project the explanation is done in the final semester. An interviewer should always be in clarity that each and every student whom they are enrolling will aid in the company's growth.
Employees who are working in IT companies currently should be capable enough to develop the products on various technologies. The thought process of employees should slightly differ in giving quality products by integrating the latest technologies. This occurs, if the companies invest their time and money by providing an extra skill set to refine their talents and try to explain the benefits of new technologies prior  to increase the company's growth and production
Hike in the salary is also one of the options to boost up the performance of employees.
Conclusion:
Hope the above-categorised points on Tech talent crunch in 2020 will eliminate 60% of a roadblock to a talent crunch in the near future and make India digitalise by producing talented resources.
Sharing is Caring