Let's assume you are having fun while playing games, and listening to the music on your phone. Suddenly, your phone stops responding with a popup of "System UI not responding". Even worst you are on a call with someone and talking about something important and it hangs. Did you feel irritated? A lot right?
Well, this may happen to anyone. We all have to face this issue on our phones very often. What will you do? You will try to find out a solution to fix the issue you are facing. You will try doing something on your phone by restarting it.
But guess what? The issue is still not resolved. Well for fixing this first of all you should know what is the issue. Well, there may be various issues that can hang your phone's interface but here I will talk about "System UI". Do you know what "System UI" is, No? Well, don't worry. We are here to help you with this issue. You may get frustrated or irritated by trying a lot of solutions to fix this problem.
What is system UI?
Well, the system is your phone. Ui is a "User interface". That is why it is "system UI". System UI is a type of interface that enables users to control and customize their displays independently of an app. Basically whatever you see on your phone is an interface and you are the user.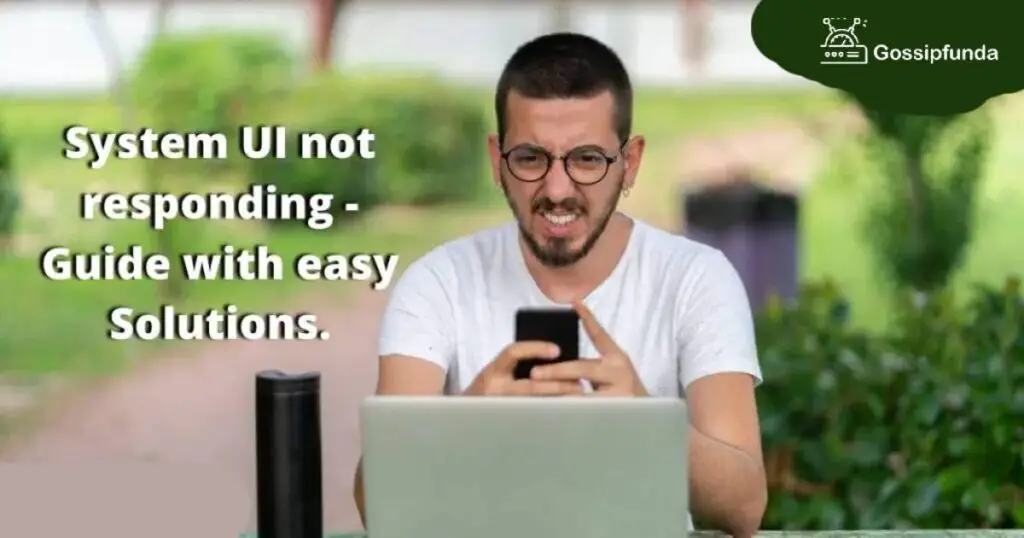 The system is important this helps the phone to run. It is the only that makes your phone look fab. We used to have keypad phones a decade ago. But now we have various choices to choose from. Every phone has its own unique interface
The applications will start through reflection. This system UI may cause some issues with your phone. But you can fix this. Before you know the ways how to fix this error? You should know why this error happens.
You don't need to go anywhere to find out why this happens. Why? Because we are here to tell you. Let's dive into the discussion about why this error happened.
Why does this error happen?
Your phone is full of multiple things. Now let's take your phone to your house. You have a beautiful house looking royal same goes with your phone. Your phone also looks very nice. Now in your house, there is the kitchen, room, dining room, and balcony. The same goes with your phone it has multiple apps. Now, what happens when you bring unnecessary things into your house? 
You don't even have enough space to keep them. But no whatever you like bring that to your house and your house is filled with all things everywhere. What will happen? Hangs.
Exactly the same thing happens with your phone if you install unnecessary apps and open links that have the virus in them tends to cause an error in your phone. Well, you should keep your house and phone clean. Well, the "system UI not responding" error does not only happen if you installed some virus-containing apps. This can happen due to some more reasons. Let's discuss them now.
Some causes
First and foremost, You may have installed some apps that may contain some viruses.
You may have opened some links that have viruses that can affect your phone.
Then your internal storage doesn't have enough space.
the conflict between software and services.
Your SD card may contain some virus.
Your SD card may have been corrupted.
You may have deleted some important files on your phone.
There may be an incomplete google update.
These are some reasons these your phone may show a "system UI not responding " error. There can be more causes also but we have mentioned the top most. Now, we have discussed the causes. Now, what about the solutions? We will let you know about the solution. So, don't take tension, we are here to help. But needed to know the reason behind it. Now, let's talk about the solutions.
What are the ways to fix System UI not responding?
You are frustrated now. We know that. But keep yourself calm. Take a deep breath. Why? Because we are going to provide the perfect solutions to fix this error. Now let's dive into this discussion. Read carefully.
Using an app that works the same:
Delete that app that works for the same thing. It may cause the "system UI not responding" error. You should uninstall them right now. Don't install the app that works the same. It will take up space on your phone. It will also create some errors that will slow down the speed of your phone. The apps may contain some viruses also.
Reset app preferences:
Many users set a default program on their android phone by setting the Always option.  You can fix this issue. You only have followed this.
Step 1: Go to settings
Step 2: Look for the application tab
Step 3: Click on the three dots which is no the top right corner
Step 4: You will see an option Reset Application preferences
Step 5: Click on the Reset.
This will help you to reset the defaults of all apps on your phone.
How to Clear cache
 Clear the cache in your phone that is due to browsing. Clear the app cache.
You can do so by following this.
Clear app cache
Step 1: Go to the setting of your phone.
Step 2: Open the Apps section
Step 3: Here you will find a clear cache button click and done.
Simple 3 steps can make your phone run smoothly.
Clear cache partition
Step 1: Switch off your phone
Step 2: Now press the Volume up key, volume down key, and the power button simultaneously 
Step 3: Select the wipe cache partition using the power button
Step 4: wait for some time, take a deep breath 
Step 5: Reboot 
Follow the above steps, and try to fix the issue.
Delete unnecessary files:
"System UI not responding" error may occur due to insufficient storage.
Delete the files, photos, and videos you no longer needed. We know you have your fav memories on your phone. But you have to do this in order to fix the issue "system UI not response". 
Sufficient internal storage
You should have space in your phone for internal storage. This can be the reason for the "system UI not responding" error. We will give you some steps to follow these and see your phone's internal storage and clear the data.
Step 1: Go to settings
Step 2: Find Memory & Storage section
Step 3: Then go to the storage
Step 3: Click on cached data
Step 4: Click Ok
On some phones, you have to find out the option for the above steps. Then check if the error is still there or not.
Virus Scan
Do a quick virus check. This virus may come from unnecessary apps and links that contain viruses. For scanning viruses, You have to install any genuine antivirus. You can find these antiviruses on the google play store. Try to scan and see if there is any virus that exists on your phone or not. If your phone is working then enjoy.
Update Phone
You need to update your phone from time to time. If you don't update your phone the software becomes outdated. That may cause the "system UI not responding" error. So, you should update it following these steps.
Step 1: Open the Google play store
Step 2: Go to apps & games
Step 3: Click on manage apps
Step 4: Click on update all
Step 5: Open setting
Step 6: Click on the phone
Step 7: Update the system
SD card
Check if your SD card has some or not. As we discussed above. "System UI not responding" may occur due to a corrupted SD card. There are some tools using these that can fix the issue. If still, the error is there. Then remove the SD card and place a new one.
Read Also: com.android.systemui
Boot your Android in safe mode
There may be a software conflict in your device. So, you have to boost your phone. It will ensure that no third-party application is running in the background. Here are some steps. Follow them and see if the error gets fixed or not.
Step 1: Hold the power button, until you see a Boot option.
Step 2: Click on the power off button, click on OK
Now, look at your phone. Check whether "system UI not responding" still exist or not. We hope it will help in some way.
Reset
If you are fed up now. By trying every possible way to fix the "system UI not responding" error. You are not in the stage to try more ways to fix the error. Reset your phone. But note that if you reset your phone your data will get erased. So make sure you have the backup of your data on your phone. 
Here are the steps to reset your phone.
Step 1: Go to Setting
Step 2: Scroll down and find the backup or reset option.
Step 3: Tick the checkbox to back up data and wait
Step 4: Click reset
Step 5: Click on erase everything
Google account
You can also sign out in your google account and then again sign in to your account. Doing so may fix the error. Make you remember your Google account password.
Step 1: Open the device setting on your phone
Step 2: Go to the account section
Step 3: Click on the google
Step 4: Click on the three dots
Step 5: Remove account
If you do so you will get sign-out from your Google account. 
Wrap Up
You will get a "System UI not responding" error when there is some problem with your android phone. Well, we have mentioned many ways using them you can fix the it.
We hope it helps you at present or in the future. Whenever you want you can look here and find out which solution can fix the error. Well, we have mentioned some more quick ways so that you can fix the problem.
Here are some ways
Rolling back the Android version
Delete unwanted data
Wipe cache 
System UI is not any kind of virus. It is a file used by the Android UI manager. It refers to any element displayed on the user interface screen. The ways that we have mentioned. All will work on almost all the phones.
At last, if nothing is working for you. If you have tried every possible way to fix the "system UI not responding" error Then the last thing you can do is you can go to any shop and get your phone fixed. Otherwise, it's high time to buy a new phone. What can make you happier than buying a new phone for yourself? Well, we have tried our best to give you the best solution to fix the "system UI not responding" error. If this will help you. We are happy to see that.