I remember the first time I excitedly launched Spotify, ready to sing along to my favorite tunes, only to find that the lyrics weren't showing up on the screen. It was such a bummer! If you've ever faced the same issue with Spotify lyrics not working, you know how frustrating it can be. Thankfully, it's often just a temporary glitch that can be fixed. So, to help you get back to belting out your favorite songs, here are the steps you should take.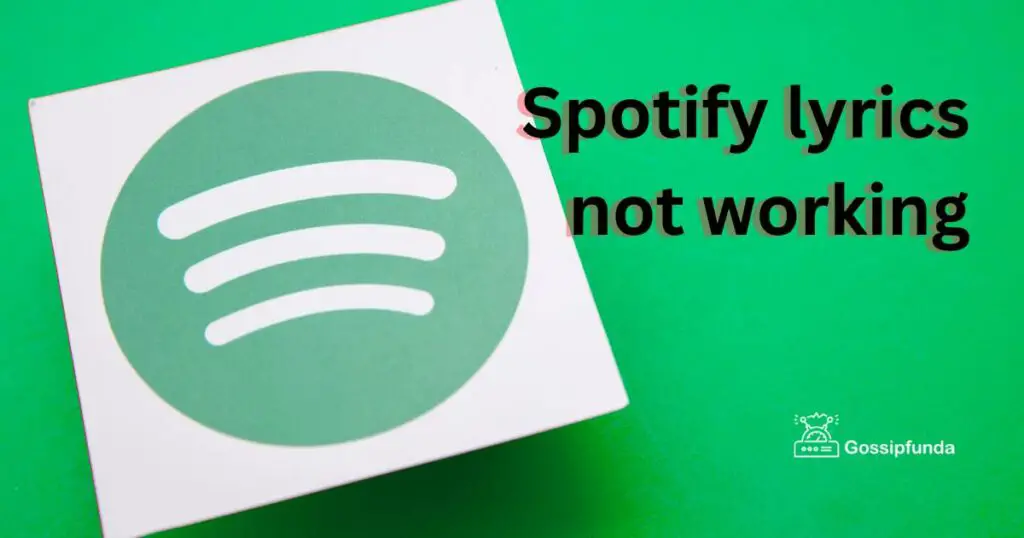 How to fix Spotify lyrics not working
Internet Connectivity Issues
A common reason for Spotify lyrics not working is a weak or unstable internet connection. To ensure smooth functioning, make sure you're connected to a reliable Wi-Fi network or have strong mobile data signal. If you're facing connectivity issues, try the following steps:
Reset your modem or router
Move closer to the Wi-Fi source
Turn off and on your device's Wi-Fi or mobile data
Once your connection is stable, relaunch Spotify and check if the lyrics are visible.
Outdated App Version
Using an outdated version of Spotify can cause issues with displaying lyrics. It's important to keep your app up to date to enjoy the latest features and bug fixes. Here's how you can update Spotify:
For Android:
Open Google Play Store
Tap on the menu (three horizontal lines)
Select 'My apps & games'
Find Spotify and tap 'Update'
For iOS:
Open the App Store
Tap on your profile picture
Scroll down to find Spotify and tap 'Update'
After updating, launch the app and see if the lyrics are working.
Device Compatibility
Some older devices may not support the lyrics feature on Spotify due to hardware limitations or compatibility issues. To check if your device is compatible, visit Spotify's official website and look for device requirements. If your device isn't compatible, consider upgrading to a newer model.
Regional Restrictions
Spotify lyrics may not be available in all regions due to licensing restrictions or other factors. If you're traveling or living in a region where the lyrics feature is unavailable, you might need to wait until the feature is accessible in your location. Keep an eye on Spotify's updates for any changes regarding regional availability.
Server-side Issues
Sometimes, the issue with Spotify lyrics not working might be on Spotify's end, such as server outages or maintenance. In such cases, all you can do is wait for the issue to be resolved. To stay informed, follow Spotify's official social media channels or check their status page for updates.
Clear Cache and Data
Over time, your device accumulates cache and data, which can cause issues with app performance. Clearing the cache and data for Spotify might help resolve the lyrics issue. Here's how to do it:
For Android:
Go to Settings
Navigate to 'Apps' or 'Apps & notifications'
Find Spotify and tap on it
Select 'Storage' and tap 'Clear cache' and 'Clear data'
For iOS:
Go to Settings
Scroll down to Spotify
Tap 'Spotify'
Toggle on 'Reset cache'
After clearing the cache and data, restart your device and open Spotify to check if the lyrics are working.
Reinstall the App
If none of the above solutions work, you may need to reinstall Spotify. Here's how:
For Android:
Long press the Spotify app icon
Tap 'Uninstall'
Open Google Play Store
Search for 'Spotify' and tap 'Install'
For iOS:
Long press the Spotify app icon
Tap 'Remove App' and confirm
Open the App Store
Search for 'Spotify' and tap 'Get'
Once reinstalled, log in with your credentials and check if the lyrics are now visible.
Reach Out to Spotify Support
If you've tried all the troubleshooting steps mentioned above and still can't get the lyrics to work on Spotify, it's time to contact Spotify Support. Visit their help center, search for the lyrics issue, and follow the prompts to contact their customer service team. Provide as much detail as possible about your issue and the steps you've already taken to resolve it. Spotify's support team should be able to assist you further or escalate the issue to their technical team if necessary.
Conclusion
Encountering the issue of Spotify lyrics not working can be frustrating, especially when you're looking forward to singing along with your favorite songs. Thankfully, most of these issues can be resolved by following the troubleshooting steps outlined in this article. Whether it's a connectivity issue, an outdated app version, or something else, these solutions should help you get your Spotify lyrics back on track. Remember, if all else fails, don't hesitate to reach out to Spotify Support for assistance. Happy singing!