SAMSUNG One UI 2.0 || SAMSUNG UI Beta Version
Troubleshooting of Samsung UI and register for the new version of UI, Beta version, registration and many more.
Introduction
The latest SAMSUNG Galaxy phones are very advance and lash with lots of features. These features build up SAMSUNG as a Unique phone and better user experience. All SAMSUNG Galaxy S10 series is lashed with SAMSUNG One UI 2.0. SAMSUNG UI 2.0 is full of the latest features which really give a better user experience. This is our own UI of SAMSUNG company. One UI 2.0 is the successor of SAMSUNG TouchWiz and UX, these were coming in older versions of SAMSUNG. In all latest SAMSUNG Mobile phones, One UI 1.0 and its upgraded version, One UI 2.0 is present in the maximum latest phone. As per SAMSUNG Guidelines, it's Beta Version is available in a few countries with limited features it may be available in all countries.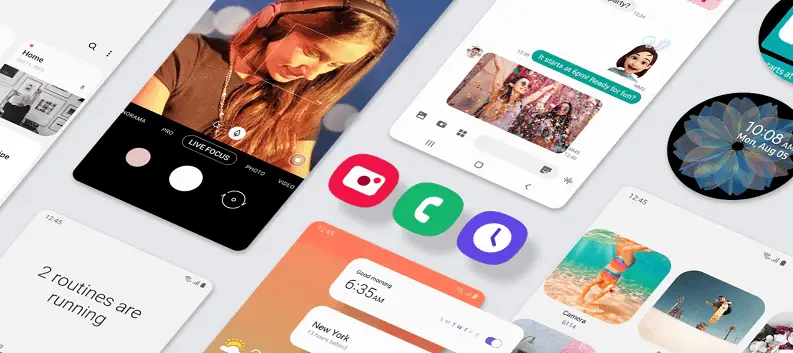 Sometimes user face issue with UI is not working or their phone is eligible for One UI 2.0 or not, what are the new features of this latest One UI 2.0. Read this article to end Gossipfunda has explored all features and how to troubleshoot and install updates.
How to check Samsung UI version
It is very easy to check the UI version. Read it carefully and apply it step by step.
Open the "Setting" menu in the latest SAMSUNG Galaxy S9, S9+ and S10 series and latest SAMSUNG S10 Lite, etc.
Scroll down and search the "Software Information" menu and click on it.
It will show the latest "One UI version" and "Android version".
In this way easily it could check the latest UI version and operating system of your SAMSUNG Galaxy phone.
Features of SAMSUNG One UI 2.0
It is a very cool and awesome feature of the latest SAMSUNG Galaxy phone. The user feels the best phone experience in comparison with another smartphone in the market. This latest version of UI has brought the revolution in the SAMSUNG Galaxy phone. Each and every user has trust in Samsung's product. There are lots of reasons behind it. SAMSUNG phone has better battery experience, best camera experience, best display, best phone durability, best support, best features of the phone, trusted because SAMSUNG never breaks the heart of the customer. Gossipfunda is providing some best new features of One UI 2.0.
Vivid moving icon.
Dark mode
Brightness recognition
One-handed operated
Advance notification
Recycle bin option
Lift to wake
New keyboard feature
Theme option
Clock style
New gesture
Advanced fingerprint & face unlock.
Screen recording
Must see: How to screenshot on Samsung, What is com.android.incallui?
Vivid Moving Icon
It is one of the best features of One UI 2.0. If any application needs to update it starts rotating. The user easily gets information that this particular App needs to update.
Dark Mode
The dark mode is also one of the best features of SAMSUNG One UI 2.0. In its previous version in One UI 1.0, Dark mode was with another name "Night Mode". Dark mode quality is also improved. Turn on this mode and enjoy a better experience of using the phone at night and protect your eye. Eyes feel comfortable and this mode helps in power saving also. This model has enhanced battery durability.
Brightness recognition
According to the presented light, this feature enables the phone to auto and precisely adjust suitably to the eye. This feature enables the user to feel better. Users can use more time because light adjusted suitably and the eye does not pain.
One-handed Operated
This UI provides the facility to users to use the phone by one hand. For one-handed operation UI help to reduce the screen size. This enables the user to have good experience to use with one hand. When needed one-handed mode will be changed to full mode. User can choose any one mode what he feels better. It's also the best feature of One UI.
Advanced Notification
One UI has this feature that if you are watching a video or playing the game, if any call or message notification comes in precisely small and without affecting your game it will show you on top of your screen. This is also a very good feature and users are enjoying this feature.
Recycle bin option
Really this is one of the most favorite features of SAMSUNG Galaxy One UI 2.0. You deleted any photo or file then it could be easily restored from the recycling option within 15 days. This option is only in one UI2.0, as its previous version One UI 1.0 does not provide a recycle bin facility.
Lift to wake
Alright, it wakes up when you touch your phone or bring up. You don't need to press the power key if you wish to check any notification or time. There might be many cases when a user tries to check their phone and the phone works this way to help the user.
New Keyboard feature
In this UI keyboard features are changed. As floating keyboard was introduced in the previous version of One UI. This feature attracts the user who loves to type more matter by phone. SAMSUNG One UI 2.0 is the best feature.
Theme Option
Theme option is increased in comparison with One UI 1.0. There were limited theme options in One UI1.0, there is a lot of customizing them the option is available in One UI 2.0. It really gives a better look and feels to mind. All the features are good everyone must try once and enjoy new updates.
Clock style
In this version of UI clock features are changed here are so many clock styles. And clock color will change according to the background theme. Enjoy this feature which strengthens to SAMSUNG Galaxy phones.
Don't Miss: Best Android Gaming Smartphones in 2020
New gesture
By sliding left, right or from mid to home button. It works differently and gives an amazing look. If the user 'swipe from the center it will open home'. The user' swipe from left goes back'. If a user 'swipe from right shows a recent open apps' list.  Using it feels good. Just try and enjoy the best ever phone experience.
Advanced fingerprint/face Unlock
This UI fingerprint is improved and really works faster and responds better than any other. In this latest SAMSUNG one UI 2.0 there is two option of face unlock. As the user has seen no one phone provides two faces unlock. Users can save two types of the look of the face. It gives the option to save the first face unlock and one secondary face unlocks option. The really cool and best feature for the user.
Screen recording
In the previous version of UI, it was not available and users were using any third-party software for screen recording. There is no use of third-party software in the latest One UI 2.0. It gives an inbuilt screen recording tool on the phone. Just check and enjoy it.
Explore One UI Beta Program
Check its Beta version for testing. You can use it and give feedback. As it was not available for all users and not available in all countries. There are a few countries where it could be used. If you wish to use the Beta version just follow the below-mentioned steps.
Step1. Become a Beta Tester
You must need a "SAMSUNG Member application" and Download it from SAMSUNG Store or download it from the Google play store. You need to "login fist". Now check "One UI Beta registration" and "submit a registration".
Step2. Update software
Open the "Setting" tab in your SAMSUNG Galaxy phone. Click on the "Software updates" menu. This will "download beta software and updates". In this way, you could enjoy the new beta version of SAMSUNG.
The updates software option is not working. How will you resolve it? Read the below-mentioned solution for it. Definitely will be downloaded the beta version.
Login SAMSUNG Member application -> open One UI–> Hold it–>App Informationàstorageàclear Data and Cacheà restart then Open Settingàsoftware updateàUpdate the software and restart again. Now check the Beta version in the Samsung member app.
SAMSUNG "One UI" is not working
There is very less chance that one UI stops working. If it stops working touch is not working properly and unable to enjoy the features of one UI. Here the solution of this error is mentioned below. Read it carefully and you could solve this issue easily. Follow the steps
Select the 'Setting' and open it.
Open 'Application' option
Go to 'Application Manager'.
Touch 'One UI' and Hold it more option to select storage. 'Clear the storage and cache'.
'Restart' phone and phone will start working now.
  There might be issues and unable to run One UI properly. Comment your error message below in this article. Gossipfunda will suggest you some more technique to resolve issues.
Conclusion
Gossipfunda has introduced all features of One UI 2.0. One UI is the best user interface of SAMSUNG. How to use its Beta version and there is mentioned troubleshooting technique. These techniques will help to resolve the issue related to SAMSUNG UI. Gossipfunda has discussed all important features  there are some more features you will feel it after using the latest Galaxy phone