Bloatware is a software come with an app or software, which is preinstalled in an app or a related software. The Bloatware is designed in such a way that it will aquire a space in your system, they tend to reduce battery life or also decrease performance. The Bloatware has to be removed from the app or computer to avoid any malfunction of the system. It is develop by manufacturer or company so that they can make some revenue from this Bloatware. Some may try to delete the app or software to remove the bloatware but it won't help or Rooting the device is also not a solution. So we will learn about how to remove Bloatware without Root on Android.
The Bloatware is an useless Program which is hidden in the system and Slowly it harm the device. You can also find bloatware in your device with the help of some tools. These tools can be paid or free depending on the owner. Bloatware can be good or bad, some Bloatware is only used for marketing or for creating revenue while some bloatware can be used to harm the device. Let's see how to Remove Bloatware Without Root on Android.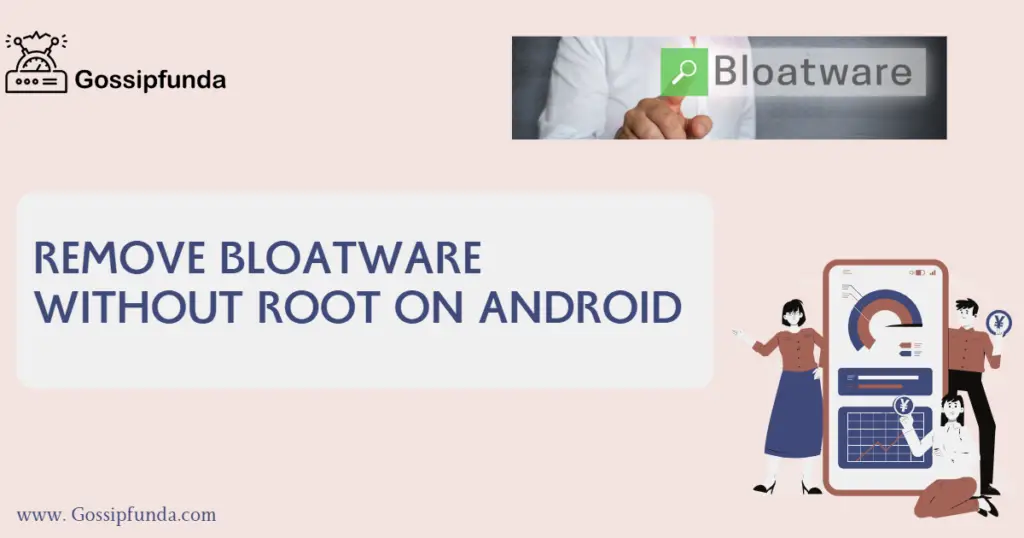 What is Bloatware in android?
Bloatware is useless and harmful software for your android device which tends to slow down the process of your android or harm your device. Affectionately called crapware, or also called Potentially Unwanted Programs(PUP). Bloatware is a malware which is present in your laptop, computer, or mobile device. Mainly the Bloatware is install by the manufacturer or carrier. Bloatware can also enter your device, when you install a particular app from the internet then it can enter your device by the app which you have installed on your device. 
Why Carrier or Manufacturer Install Bloatware in Android
Bloatware can do many functions in your device however, manufacturers or carriers generally install this Bloatware to earn Money. According to the manufacturer, they say that these bloatware apps or files add functionality to an operating system or a mobile device. Bloatware is use to make money when we promote an app or pay the app to get it pre install in our device. This is a business they have been running for decades and no one will think that this can be a business model. 
Bloatware Removal Method & Android Debugging without Rooting
Bloatware removal is necessary in order to avoid any leak of your user data. There are many ways to remove Bloatware from your device. We can use some tools, ABD, or cleaner. We can even delete some unnecessary storage if required. First, you have to detect whether your device has bloatware or not. So, you will get whether it is required to remove bloatware or not. There are multiple trusted paid software available, you can purchase them to remove the bloatware. Apps play a very important role in Bloatware, many apps use bloatware but we did not know about them. 
Bloatware Removal is not very harmful to your device but it can not be simply ignored. Bloatware also requires Android Debugging and for this, you have to enable the developer option first. Android Debugging is a step to find and remove Bloatware. Rooting may not required in this process and all this is because of the tools available nowadays. Earlier before these tools arrived we had to use the Rooting method to remove Bloatware and really rooting was a very difficult method. Rooting is very harmful as it will harm the device or the device can malfunction.   
Android Debugging Bridge
This is a Programming tool that is used for the debugging of android devices. We can connect it through a server on a PC by the use of a USB or TCP, which can connect it to the client. This is an open-source software provided by Google. ABD is a very useful software for removing Bloatware. We can use this tool to install apps, logcat output, and Unix shell. ABD can be enabled in your smartphone by following some steps, that is, First, go to your setting then find an option called Build phone in about phone and click on it. Now, the developer option will be enabled on the device. Again go to settings and find the developer option in it and click on ABD in the developer option. 
Universal Android Debloater to remove bloatware from Android
This is a Tool available online or can be downloaded on the system. This will remove the Bloatware without rooting your device. This is an easy and excellent tool to remove Bloatware from the device. We will see some steps to remove it from the device. 
Step1 – Device, Find the setting and click on it > Then on About Phone > Software information. Now you will see the Build number option in it So click on it until you get the message like 'you are in developer mode 
Step2 – Close all and again click on settings in your device and find the Developer option.
Step3 – Tap on the Developer Option. Find and Click on USB debugging and turn it on
Step4 – Now Install the Android debugging Bridge on your device. This will help us to remove bloatware easily.
Step5 – After all this, you need to download a file named uad_gui-windows.exe. 
Step6 – After downloading the program just launch it and connect it to your device and give the necessary permission
Step7 – Now you will see a list of different packages, Select which you want to remove and uninstall it. 
I hope that this tool will help you to solve the problem which you are facing on your device. Bloatware is not a big thing to deal with. Above tool is easy to use and can be install from the internet. We will see some more methods to Remove Bloatware without Root on Android.
Bloatware Disabling in Android
Bloatware is directly disable in the setting of your Android phone. You can uninstall or disable bloatware in android. Android has the inbuilt setting to do this just we have to find it and proceed according to it. Let's see some of the Steps to disable or remove bloatware directly from your Android. 
Step1 –  Go to your settings on the device. 
Step2 – Now Find the option of Apps & notification by scrolling down 
Step3 – Select the particular app to disable bloatware in it
Step4 – Now 3 options will appear in it such as Open, Disable, and Force Stop. 
Step5 – Select the Disable option so that the apps will not work further
Step6 – A popup window will appear after selecting the disable option. Again click on disable. 
This method is very easy and does not require any tool to install on your device. An easy way to disable bloatware. I hope that it will help you remove bloatware in your android. There were many other ways also like you can hide the specific app or can use some app hider app. We can also clear the app data or app cache in the app setting. 
Avast Cleanup Tool
Avast is a software available online through which you can do many tasks like Memory cleaning, Bloatware removal, Boost device, app uninstall or cleaning, Media modification, Duplicate Pic removal, and many more functions you can use. This tool is very useful because we can manage multiple things from this tool. Now, we will see the function and Bloatware removal with the help of this tool. 
First Download Avast Tool online from the browse
Open the Avast tool and find the apps option in it. 
Find the System option in the app overview to see the number of apps installed in the device
Now tap and select the number of apps that you want and click on Hibernate.
Avast cleaner will hide all the bloatware apps in a minute. Even you get an option of Disabling hibernates after hibernating the apps. So that you can again wake the required apps that you want. 
Bloatware Removal in Apple Mac Device
Not only in Android device but your PC b hit by Bloatware Apple Mac devices are free from 3rd Party Malware, trialware, or adware. However, it is also true that Apple devices also collect unnecessary data or files from third-party apps or the internet. So. For this, you can check your device regularly or after a specific period. I will guide you with some steps to Secure your device with bloatware.
Step1 – The desktop screen of Mac has an app called Finder
Step2 – Click on the Finder Icon located at the bottom 
Step3 – Now select the particular option in the finder application on the left-hand side
Step4 – Drag the app which you want to remove from the application into Trash
Step5 – Now empty the trash by right-clicking on it
This is an easy and useful method to remove Bloatware from the device. I hope that you will find it useful.
Conclusion
To Remove Bloatware Without Root on Android, you have to use the above-suggested method and all the methods are reliable and very useful to remove bloatware. All the above method is used by many people around the world and it have solved many issues related to bloatware. Android devices have pre-installed bloatware which can be harmful in some cases. But as per my knowledge and understanding, this is a way to earn money or revenue from your device. Android is develop by google and every brand use android in the device. . By this, we can assure you that Google also earns a huge amount from this Bloatware. Carrie and Manufacturer also play an important role in this bloatware thing. To remove bloatware we have many tools available like Avast and many others tools also but Avast will be best. 
Android Debugging also helps in bloatware removal. We just have to enable developer options and things will set by themselves. Although rooting is not necessary nowadays, But you can use the root method to resolve bloatware issues. However, this is a risky way to do it because rooting is not good for your device's health and it will definitely harm the device. At last, the above method will use by many and it is trustable and Bloatware is nothing but a way to earn money for the company. I hope that you have understood about how to Remove Bloatware Without Root on Android
FAQ
What will happen after bloatware removal?
When you remove bloatware from the app or device then your device will work more smoothly and also releases unwanted RAM used by that app or device. If a particular app has bloatware in it and after disabling the app, it's obvious that the app won't work anymore till you enable it again. This is a risk-free thing. No need to worry about this.
Different Bloatware examples?
Bloatware install in the app and Generally, all this app use regularly by the user. I will list some of the apps below Apps like Weather, Financial or money app, Game app, Sports app, Map, health, messaging, Music, video, and many more apps which we use regularly. These apps may be present on your android device or laptop. So be careful next time before using these apps. 
How can we identify bloatware in our device?
We can quickly identify bloatware in the system or your android device. Check if you face uninstalling issues in a particular app, also check an app that you were not able to recognize, also check if you find any purchase feature in some app or if they are forcefully asking you to agree on some parts. By this, you can easily find and identify bloatware.