SEGA Genesis Mega drive console was one of the best entertainment sources for the kids of the 1980s. It was a virtual playground for many kids who used to enjoy games like Super Mario and Sonic the Hedgehog. In this post, we would walk through 10 Tech Ways to Play SEGA Genesis Games Today.
With time the SEGA Genesis console was discontinued from the market, as many other more advanced and modern gaming consoles took its place. However, for the gamers grown up in the 80s, the SEGA Genesis Mega drive was always close to the heart, a thing they were always nostalgic for, even after they grow up.
If you are one of those who would like to relive SEGA Genesis's memories and love to play the games like Sonic the Hedgehog, there are multiple ways you can still do that.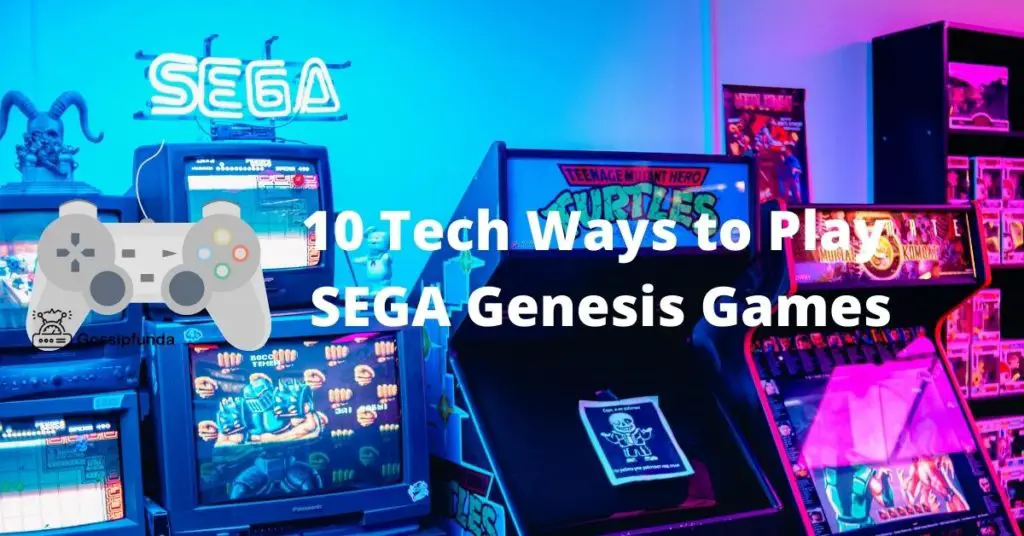 10 Tech Ways to Play SEGA Genesis Games Today
Through PC Emulators
Even though the hardware to play the SEGA games is no longer in production, you can still play those games on your PC using emulators. After the rise of computers in the late 80s and early 90s, the PC gaming industry has grown enormously. Since SEGA games were quite popular during their time and many people still want to play those games, many developers have created specially designed emulators for playing SEGA games on PC. These emulators would help you to download and install the old SEGA games and play the games using the traditional controllers or even using the mouse and keyboards.
Get the Original SEGA Genesis
Since the SEGA Genesis Mega Drive console was trendy among the kids in the 80s and 90s, it is possible that many people might have kept it just for collection purposes. If that is the case, it won't be surprising that you can find the original SEGA Genesis consoles on online reseller sites such as eBay or auction sites. However, the thing is, many modern gamers want to add this old gem into their collectibles, which makes it quite costly as per today's standards.
Play Classic SEGA games on Modern Console
If you do not wish to spend money on getting the original SEGA Genesis console, there is a way to play the classic SEGA games on any of your modern consoles. The Sega Genesis Classic Collection is an excellent collection of all the popular, classic SEGA games. It is compatible with all modern gaming consoles such as Xbox One, PS4, Switch, and others. This collection would surely take you back to the old times of Super Mario and Hedgehog.
SEGA Genesis Mini
Like every other major gaming console developer like Nintendo, Sony, and others, SEGA Genesis also has a mini version of its know by SEGA Genesis Mini. Although it is a tiny and non-versatile version of the original SEGA Genesis, it still has a good collection of old games, which would surely bring back your old memories.
Nintendo Switch eShop
Nintendo Switch is one of the popular gaming consoles in modern times. It is the most successful game console of all time. One of the reasons for the popularity of the Switch is its eShop. The Nintendo Switch eShop provides gamers with not only modern games but also with a vast collection of old SEGA classic games. You just have to search for "SEGA Ages" to get all popular games under Genesis title.
Play SEGA Games on 3DS
Although Nintendo has already stopped producing one of their popular consoles – Nintendo 3DS, for the individuals who already own a 3DS console, the Nintendo eShop is there to satisfy their gaming craving. As already mentioned in the previous section, the Nintendo eShop has a vast collection of retro SEGA games. So, you can get those games on your 3DS console too.
Sonic's Ultimate Genesis Collection
Sonic has compiled a collection of the best of SEGA Genesis games in the form of Sonic's Ultimate Genesis collection. The gamers can get their hand on possible every retro SEGA game from Sonic, Mario to ComixZone. However, this collection is only available for the Xbox 360 and PS3 users.
Modern Retro Consoles
Retro games are always popular among old and new gamers. Because of this fact, many modern gaming consoles like Polymega, Analogue Mega Sg, and others come with the support to the vintage games cartridges, including the SEGA Genesis. You can replace your old dust-ridden SEGA Genesis console with such modern ones and enjoy the classic games on them.
All in One Consoles
When you search on the internet, you will find that many manufacturers like Retro-bit and Minigen provide multiple slots for inserting any type of old and new cartridges for playing the games, including the SEGA Genesis. Although such all-in-one consoles look tempting and a great way to utilize the old cartridges, there is always a question on the build quality. Many times they might not even support the cartridges of your favorite games.
Download Retro Games
If you want, you can play the SEGA Genesis games on your PC. For PC, many games are available on the official site of sega. The same is applicable for Mac and smartphone devices. For the Apple iPad and iPhone users, games like Sonic the Hedgehog, Golden Axe, Space Harrier, and even Phantasy Star are readily available to download from the App Store.
Bottom Line
Although modern devices like PC, Sony's PlayStations, Microsoft's Xbox, and others provide lots of advanced games to play, the old classic SEGA Genesis games offer a different level of satisfaction to the old gamers. By following any of the ways in this post, you can get that retro feeling.
This is all about 10 Tech Ways to Play SEGA Genesis Games Today, you find new ways then do not forget to mention below.