PIE is the name assigned to the 9th android version. On March 7, 2018, google declared publicly that the name of the 9th android version would be PIE. However, the first release was made officially on Aug 6, 2018
Android Pie, It was named by the Android Authority by following their ongoing naming culture from the very beginning. Google codenamed Android Pie as Android P while it was in the development phase. Among all the versions in android, Pie played a unique role by providing no updates. Conversely, this android 9 version has diverging features from its previous versions. However, Android Pie played a considerably played an excellent role in the mobile world. You can also know which of the following is not a version of Android OS.
Naming hierarchy followed by Android authority is as shown below: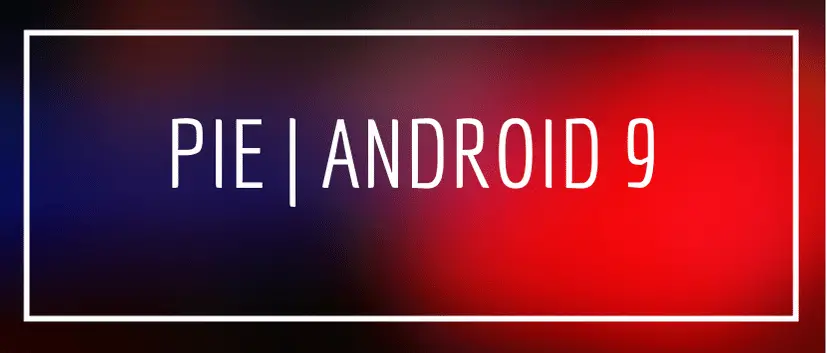 A – Apple pie     
B – Banana Bread 
C – Cupcake 
D – Donut 
E – Eclair
F – Froyo 
G – Gingerbread 
H – Honeycomb 
I – Ice-cream Sandwich
J – Jellybean
K – KitKat 
L – Lollipop 
M – Marshmallow 
N – Nougat 
O – Oreo 
P – Pie
Android 10
WHAT MADE ANDROID PIE SPECIAL?
With entirely diverging features from its older versions, Android improved a lot several features. These features made the android gadgets more realistic and more comfortable to cop up with. In contrast, let me share a few of these special features here.
The first thing is its AI. Implementing Artificial intelligence took its users to another level of highness.
It mainly focused on the user/end-user experience rather than being in its own way.
The next level of security and productivity aided its users in moving forward with mobile gadgets and improving themselves in real-life.
Built-in QR code was another exceptional characteristic that android version 9 provided to its users.
PIE VERSUS OREO
Even though, the entire User Integration (UI) is commutated. Some exceptional characteristics played an exclusively prominent role. These are unavailable in the previous version of Android i.e Android 8, named as oreo and codenamed as Android P. Coming to the update part, same as the last two versions nougat and oreo, over-air-update is carried out in pie.
Wi-Fi RTT (IEEE 802.11mc):
The Round Trip Time is abbreviated as RTT. It is the time that a network request consumes to reach its destination gadget or device from the source gadget or device. On the contrary, In the case of Android Pie, it is more enhanced. Large areas like universities and industries are provided with indoor seamless facilities.
Multi-camera reinforcement:
Accessing both the front and back cameras simultaneously was not provided by the outdated versions of Android. On the other hand, Android Pie showed its uniqueness by providing access to both the cameras.
Biometric authentication:
Every user is concerned about the security part. The security issues are resolved and enhanced to a very far extent in android version 9. In contrast, there is no need for an external app to lock your applications.
The developer can easily make code modifications just by the biometric process in your device.
Easy Screenshot and editor:
Native screen capture editor is one of the best tools integrated with Android Pie. In contrast, it makes easy screen capture and immediate editing options. This eventually leads us to post the screenshot or share the screenshot or paint the screenshot and etc.,
Battery Management:
From the last few updates in android, google has taken down the reckless usage of battery by the gadgets. It implemented machine learning aided adaptive battery which in turn, helps a user with all sensitive informations related to the battery.
Machine learning:
With the advancement of machine learning, the android users felt very much happy, when the new version Pie is adapted with machine learning. This provides two distinct features to the mobile gadgets with Android pie integrated with them. They are:
Intelligent battery system
Adaptive battery
New navigation system:
Android 9 made navigating more intuitive by providing entirely new navigation systems. At the same time, this extra-ordinary feature was not provided by the older versions of android.  
What are the features of Android Pie?
As we are discussing the same thing that this version played a unique role, it can be proved by listing some features of Pie. Such distinctive features are as detailed below.
Adaptive battery
It is an interesting feature, where the mobile battery is aided with a machine learning system. Thus, In turn, making it more advance. It is a boosting factor in Android Pie. Apps that you use rarely are killed in the background and this saves battery system work in a proper way.
Adaptive brightness
Some settings in android Pie are automated. One of the best features that were automated is Brightness. Amongst all the previous versions Pie made its best in adapting a sufficient amount of brightness without the user manual operation. For this, the Adaptive Brightness setting should be enabled.
Action predictor
With machine learning, everything gets calculated. When we frequently use an app, the Pie OS predicts the next usage of that particular app. Even suggestions are predicted by it.
Advanced Dashboard
Advanced dashboard or the exact name was given to it is "Digital wellbeing Dashboard". This dashboard gets habituated in accordance with our usage. It also provides certain tools and modes that make the user more comfortable and convenient. It can even bring the feeling of sleep to the user.
Simultaneous Bluetooth Connections
Since, the invention of Bluetooth in 1994 it played a very prominent role in the mobile world. With the advancement in android versions, moreover, the arrival of Android Pie made the usage of Bluetooth usage more significant by connecting multiple devices simultaneously.
Working tabs
Android Pie provides a special container for work apps. This provides the user with a clear cut vision of the applications he is maintaining. Also, such a feature enables easy usage of apps.
Camera view with OCR
Optical Character Reorganisation is abbreviated as OCR. With modern OS in mobile phones, it is very easy to read and scan the content through the camera. This was made available by the Android Pie version.
Transport Layer Security
Networks make a prominent role in this digital world. A new security protocol was made available through Android Pie. This makes or provides a secure web connection for us.
Still, there are many distinct features of Pie like Enhanced Volume Control, New auto-rotate button, Easy way messaging application and etc., Security and productivity played a very important role in the Android Pie version. Many of these features are not available with the older versions.
What made Android Pie fail?
It is hard to talk about the drawbacks of Android 9. As there is a saying, the toughest ones will also have certain week points. In the same way, the 9th android version i.e Pie do have some issues. Even though certain issues arise  Android Authority made every step towards resolving the issues and kept on updating its users about such issues. A few of the issues stayed remarkable. They are detailedly discussed here.
Issues regarding fingerprint sensor
Users often face fingerprint issues. The sensor frequently goes wrong during the mobile unlock. On the other hand, sensor performance is very bad under certain circumstances.
Home and recent app buttons often stop appearing. They go vanish mainly during random screen rotations. In some cases, this issue is treated as a hardware issue and can be resolved.
Even Android Pie extends its connectivity system, problems still persist. By offering multi-user connectivity new problems knocked on the door of android. Wifi RTT often creates connectivity issues among a kind of mobile phone.
Android Pie made a revolutionary change by implementing adaptive brightness. But, in some cases, it creates a problem by false detecting the brightness around the mobile gadget. This brings trouble to the user. In this situation, he/she need to approach system settings and disable the Adaptive brightness mode.
Is Android Pie still in usage?
The present running version of android id Android Q and most of the critics say that Pie is outdated. However, the users are in quest for many interesting features that Google already decided to release in its coming updates. Even though Pie is still working in many mobiles, It is not treated as an android version with high importance.
How to download Pie?
Link1: Android 9
Link2: Android development team
Link3: Android-p-beta
Conclusion
As the technology is on its way to finding better tomorrow, Android is developing a next-level kind of version. Every time they bring an update, it's a whole new thing for critics and tech giants. Bringing a whole new Android Pie to its users made them feel very high. The existing users took less than five minutes in getting adapted to that whole new version. Android, Having more than half of the mobile population using its OS is a privilege to users of android. While this may be true, It brings entirely new and innovative features with trending technology for every new update release.
For more interesting content keep visiting our website.
Happy reading..!!