NOUGAT: is the name given to the 7th android version. It is android's sweetest release with exciting features.
Why the name NOUGAT for android 7.0?
Being the sweetest release, NOUGAT  is not only named after the famous NEW YORK CHEESECAKE but also brought sweetness to the android mobiles by giving longer battery life and faster operation. Google and Android authority code-named this as version "N".It sustains the alphabetical hierarchy followed by android since its first release. You can also check which of the following is not a version of Android OS.
A – Apple pie     
B – Banana Bread
C – Cupcake
D – Donut
E – Eclair
F – Froyo
G – Gingerbread
H – Honeycomb
I – Ice-cream Sandwich
J – Jellybean
K – KitKat
L – Lollipop
M – Marshmallow
N – Nougat
O – Oreo
P – Pie
Android 11
Android 12
Do not Miss: How to Root Android 7.0
ANDROID N | ANDROID NOUGAT | ANDROID 7.0
On June 30, 2016, Google officially announced that Android N's release name will be "Nougat".On the same day, it was also confirmed that the same name would be version 7.0 of android.
Android authority launched this version on August 22, 2016.
The first mobile series to receive this update is Nexus.
The Space required is 5.39GB.
It was declared that Qualcomm will not be supporting Android 7.0 on devices using Snapdragon 800 and Snapdragon 801.
versions of Android 7.0
Under the Android beta program, Nougat provides all its users with an over-the-air update across the globe. However, there are three version updates sent by Android authority during 2016-17. The final update was on April 4, 2017.
Android 7.0 (August 22, 2016)
Android 7.1 (October 4, 2016)
Android 7.1.1 (December 5, 2016)
Android 7.1.2 (April 4, 2017)
Updates for Nougat
With all exciting features and is, a major revision Nougat has undergone certain modifications and these updates are notified for all its users without any technical bias. Following is the overview of frequent updates for Android 7.0.
1st update for nougat | Android 7.1
Seamless system updates.
Storage manager improvements.
Improved fingerprint gestures.
Night light.
Virtual reality mode.
Improved touch and Display management.
 2nd update for nougat | Android 7.1.2
Launch actions with long-press on an app icon.
An advanced set of emojis.
Updated keyboard with direct GIFs
 3rd update for nougat | Android 7.1.3
Alerts regarding battery usage.
Renovation for Nexus and Pixel specifications upgrade.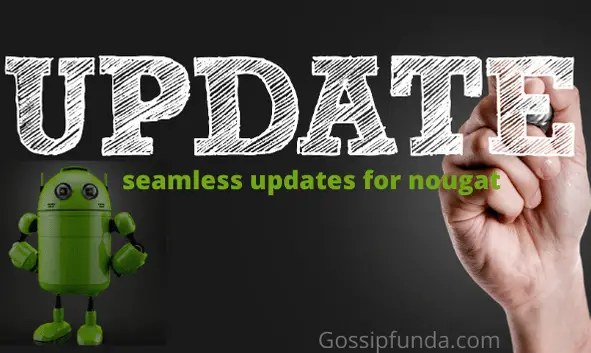 What are the features of Android Nougat?
Nougat was best known for its distinct features. Google developers mostly concentrated on the hidden features that can be brought into action easily by simple actions on android screens. These below-mentioned qualities need not only be considered as characteristics but can be noted as advantages of having Android nougat.
Set Custom DPI

No-root needed to change screen DPI(Dots Per Inch).

Steps

: Open settings -> Display -> Display Size -> select your desired DPI.

Multi-Window

Android Nougat enables Split Screen Multitasking.

Steps

: Open recent apps -> Long press and Drag the App -> now select the second app.

Drag and Drop Text

Android Nougat was best known for its Drag and drop feature, It made the process more simplifies by just moving and placing the content.

Steps

: Select and hold text -> Drop it to another window

Double Tap on Recent button to Switch between recent Apps

Switching between recent apps is often complicated in the previous versions. But, in Nougat it's just a thing in a blink of an eye.

Steps

: Just double tap on recent apps, It's just like alt + tab on PC

Enable Multi Window for All Apps

Nougat offers more than one window on a single screen that the user is currently working on.
Not all apps support Split Screen natively. For this, you have to permit the developer option in mobile settings.
Steps: Just scroll down -> Enable the option

Re-Arrange Control Tiles

Generally, the first six tiles are displayed as quick settings. But we can change them manually
Steps: Scroll down -> tap on the pencil symbol to add/remove tile

Enable System UI Tuner

This UI tuner brings certain facilities like  hiding status bar icons, showing your battery view time,etc.,
Steps: Scroll down on main display -> Press settings icon for 5 seconds -> select manually

Enable/ Disable Status Bar Icons

This keeps icons as per your liking
Steps: In system UI tuner select status bar.

Enable Battery Percentage

This makes us understand the battery level of our mobile phone.
Steps: Under status bar option, tap on Battery

Set App Notification Priority

Prioritize your app notifications helps you stay alert.
Steps: In system UI tuner tap other -> Turn on power notifications. Choose any app -> settings -> notifications -> Tap on 'A' icon and select its priority.

Night Mode

Night mode helps you have a better vision in a dark environment.
Steps: Go to Settings -> Display -> Night light.

Add Emergency Info

You can add emergency information regarding any serious situation or circumstances.
Steps: Go to Settings -> Users -> Emergency information -> Add info.

Use Data Saver

For applications in our android mobile phones, data permission can be enabled or disabled accordingly.
Steps: Go to settings ->  data -> data usage -> turn on data saver.

Quickly Navigate in Settings

You can easily switch from one to another set with no time.
Steps: Go to Settings -> Swipe from left to right at the right edge -> switch from one to another.

Pin apps to top in the Share menu

If you use an application very frequently, then you can pin it in the share menu.

Steps

: Just long tap on the icon and select pin
User experience on Android 0.7
When Android 0.7 was officially released Android authority faced several problems regarding platform issues and technical critics. Many users expressed that the previous version marshmallow and present version nougat has a very minute difference in the performance. However, Nougat got a good rating and many positive reviews during 2016/17.
Finally, Nougat surmounted with its uniqueness in providing recognizable and distinct features that made real-world mobile gadget issues more simplified.
 The below-mentioned features are mostly reviewed with positive ratings across the nougat user traffic.
Nougat or Android 7.0 is highly ranked for these characteristics:
Performance.                                        
Battery and data.
Productivity.
Notifications.
System usability improvements.
Emoji.
Privacy and security.
Accessibility.
Drawbacks of Nougat
Often very great things do have certain drawbacks and week points. In the same manner Nougat users used to face several issues regarding the performance of Android 7.0. However, Google's Android Authority never left an issue without resolving it and continually releasing updates to let users know about the solutions regarding issues of Nougat. Some of the issues that Nougat users had frequently faced are mentioned here:
Frequent updates: more number of updates disturbs the user's stability.
Connectivity issues: Problem with WIFI connectivity and Bluetooth pairing, takes a long time to resolve.
Ruins Battery life: More number of issues regarding battery life and noticed faster draining of battery.
Platform unavailability: The initial version i.e version 7.0 does not support all the devices. It is only available in a selective amount of android devices.
All Nougat devices do not support seamless system updates.
Certain Smartphone users (say, pixel) faced display issues during notifications.
App shutdowns: App crashes often occur. Frequent app shutdowns.
Irrelevant reboots: Automatic System Reboot for no reason and without intimation.
Charging issues: The ongoing process of charging suddenly stops.
Nougat does not grant permissions just by reviewing credentials, It requires a Hardware key to do so. Besides full disk encryption, Nougat follows File-based Encryption. This is the alternative scheme for drive encryption.  This makes users relieved from pre-boot authentication.
Downloads
Is Android 7.0 still supported?
Nougat Initial version's launch date: August 22, 2016
Nougat Final version's launch date: April 4, 2017
The answer to this is a pure "NO". Because Google's Android Authority has released three android versions after this. With the improvement in mobile technology, the older versions of android are considered versions with low compatibility and with several platform issues. We have three more versions in android. 
They are:
Android 8 (Oreo, API 26)
Android 9 (Pie, API 28)
Android 10 (Android 10, API 29)
To know about interesting stuff keep visiting Gossipfunda…
Conclusion
With an implacable service to around 2.3 billion smartphones, Android android plays a major role in the smartphone world. While there are 3.1 billion active smartphones, the Android world contributes 95% along with IOS. The progress of technology is purely based on what makes it fit. so that you don't actually notice it, so it's a chunk of day-to-day life. Bringing forward the versions like nougat it makes remarkable changes in the world of smart devices.
Not only taking the highness in the OS market it stood as the most traded OS across the globe. With advances in technology, android is getting much closer to people. Bringing forward the versions like nougat it makes remarkable changes in the world of smart devices. It provides unmistakable and distinct benefits to its users. Features like Removable storage and battery, Better hardware, Better charging options, Custom keyboards and etc., made android a legend in the world of smart devices.
As I mentioned earlier, Bringing forward the versions like nougat it makes remarkable changes in the world of smart devices. It contributes over 1 million applications with a facility download. Android's Google Play, any other way, uses a more open web interface for application downloads and offers movies that can be viewed on any android gadget with a browser facility with it.
Happy reading..!!