Just got started with call of Duty and this is what you came across. Reportedly a lot of active players have been facing memory error 13-71 in call of duty modern warfare/Warzone. The activision company has been actively trying to resolve the error. Though it seems a lot of players are still encountering these situations. A prominent yet strong solution couldn't be derived. Still our teams have put their best efforts to help you out with the situation. 
Stay tuned with us till we hit the end and you're gonna be resolving this error quick enough. Before we are lost reading the methods. I suggest you should have a look at the reasons causing this problem.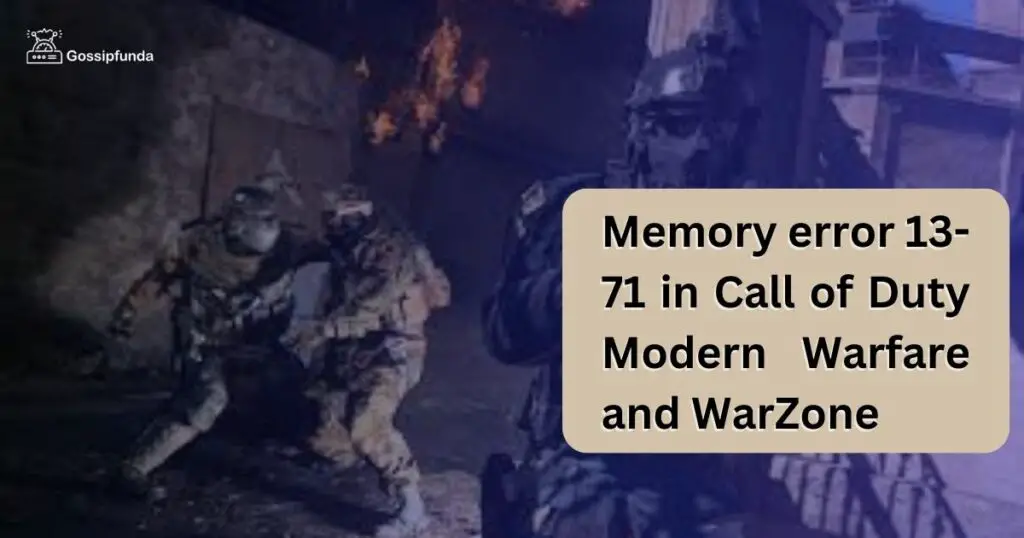 What is Memory error 13-71 in Call of Duty Modern Warfare and WarZone? 
To state the facts right this is a problem encountered by several Call of Duty: WarZone players. They have noticeably gotten the complaint which is about seeing Memory Error 13-71 whenever they proceed ahead to load the game or when they are being added to a Regiment. The vast majority of players access the game though We understand Xbox and Windows 10 computers.
The Activision company ceases to release the patch to get rid of this problem. In spite of the constant efforts by the company, many users are still being faced with this issue. To equip you with the best possible solutions stay tuned with our articles and you are going to leave with a bunch of methods to actually fix the problem. 
How to resolve memory error 13-71 in call of duty modern warfare/Warzone? 
For those users who are still being encountered with the error code on both consoles and computers here are the methods to resolve it. It has been discovered that there are various undetermined factors that could potentially be the cause of this error code. For the situation to be lagging behind Here's a list of possible phenomena leading up to this.
Method 1: Regiment Clan error
Clan tag glitch might be a possible reason you're being devoid of the user entry to your game. Typically this error arises If you see this when you're being invited to a regiment and when you proceed to join it, you fail to do so.
Repeat these sets of instructions.
Step 1 Go to the warzone settings menu
Step 2: Go to the Identity tab
Step 3: Proceed to click on your Warzone settings 
Step 4: From there on access the menu 
Step 5: There you can look for and remove the regiment clan tag option. 
Step 6: Click on it. 
Step 7: Recheck the website to see if the error is being corrected or not. 
Method 2: Fix the CrossPlay
By any chance, if you're experiencing a crossplay issue on your access device which may be Xbox One / Xbox Series X then you need to correct the issue. Crossplay enables players from distinct gaming platforms to connect each other's games and play in sync. This is independent of the device used to access.  One of the methods you can try is to disable crossplay on xbox. 
Steps by which one can do such are:
Step 1: Press the Xbox button on your controller 
Step 2: Menu appears. 
Step 3: Look until you find the settings for Profile & system 
Step 4: From there on select Settings.
Step 5: Under the General tab for settings, select Online safety & family.
Step 6: Proceed ahead by selecting Privacy & online safety.
Step 7: Click on Xbox privacy from the dialogue box.
Step 8: Select View details
Step 9: Click on customize option. 
Step 10: Choose Communications & multiplayer option
Step 11: Switch from allow the option to block option. 
Hence you have successfully disabled the crossplay option. 
Method 3: Fix the Regiment inconsistency
It's likely that if you're playing locally in split-screen mode, both accounts will either be a part of current Regiments or have pending invitations to join one.
Step 1: Open the game normally from the primary account that is in use when playing locally. 
Step 2: Visit the main menu,
Step 3: From there onwards try to access the Social tab by pressing F1 button
Step 4: When you're on the Social tab access the ribbon located at the top of the screen to select the Regiments. 
Step 5: After you have left the regiment and deleted prior regiment invitations from the primary account. 
Step 6: Use your second account to revisit the regiment.
Step 7: Restart the game to see if the issue has gone. 
Method 4: Clear game reserved info( for Xbox users)
Step 1: Access the dashboard of your Xbox One / Xbox Series
Step 2: On your controller press the Xbox button 
Step 3: A guided menu that just appears 
Step 4: Try to access the My Games & Apps menu.
Step 5: Select saved data menu 
Step 6: Then proceed ahead to select and delete the reserved space. 
Step 7: This will not delete your saves since Activision stores them on the cloud.
After you are done with these steps try to Launch the game normally and see if the error code is now fixed.
Method 5: Contact Activision
Sometimes companies tend to 'shadow-ban' without informing the user with prior notice. If anything goes against the community guidelines could occur. One should contact the Activision support group. 
Here are the steps to do this get in touch with Activision Customer Service. 
Tweet Activision customer service. Whatever your problem may be, while you wait for a response, tweet in the hopes that someone will view the complaint
Check the website's support section and follow these instructions to submit a ticket. https://support.activision.com/options,
Choosing the game pass like this, the cod points and battle pass, missing an item bought in-store. In this manner, you can assert things like "I didn't buy anything because my account was hacked," etc.
Playstation forums — you can Ask for assistance in the forums, and perhaps a member of the support staff will take note of your query.
Method 6: Uninstall and reinstall Warzone
This is the most radical possible solution. We can't guarantee it will work for everyone even though. But if nothing else has worked, it might be worth a try . Note that it may take some time to reload Warzone as the installation file is huge. Do this solution only if the problem has persisted for several days. 
Steps to uninstall warzone:

Step 1: Right-click the Windows Start menu 
Step 2: Click on icon 
Step 3: Click Settings option
Step 4: Open apps now . 
 Step 5: Type "Call of Duty Warzone" in the search box that says "Search this list" 
 Step 6: Now select Call of Duty Warzone and click on the "Uninstall" button. 
  Step7: Click Uninstall again and follow the on-screen instruction. 

 To reinstall do the below steps 

Step 1: Launch the Battle.net app 
Step 2: Log in to your account.
Step3: Select all games
Step 4: Find and select Call of Duty: Warzone 2.0. 
Step 5: Click Install to download. 
Step 6: Launch the Steam app and log in to your account. Select a library. Find and select Call of Duty: Warzone 2.0. 
Step 7: Click Install to download and install the game.
Hence your game is downloaded. 
Conclusion
To sum up, the articles we have enlisted a bunch of methods with elaborate steps to fix the issue. Call of Duty is one of the most prominent and widely appreciated games by the gaming fans. This first-person shooter game has a huge fan base and often tends to experience some lags. 
Commonly asked questions
What is a memory error in Xbox? 
It typically means that there is a lack of system memory to operate the game.
Can Activision shadow bans be removed? 
Typically in case of a shadow ban on your account, Activision will analyze your account for a few days to review it. Your lobbies will return to normal once the shadow ban is lifted, provided that no cheating is found during this period. 
What is crossplay in xbox? 
Crossplay enables players from distinct gaming platforms to connect to each other's games and play in sync. This is independent of the device used to access it.  One of the methods you can try is to disable crossplay on Xbox. 
Will our data be erased when reinstalling Warzone? 
No, typically the data is stored in the activision server. It can be fetched back on login.