Know about one of the world's leading manufacturers Logitech and its mouse, upon which platforms they work upon and stimulating aspects you may not even have recognized. Obtain information about the world's first commercially available mouse and award-winning Logitech's MX Ergo mouse. Get on and explore the best gaming experience with Logitech G- Hub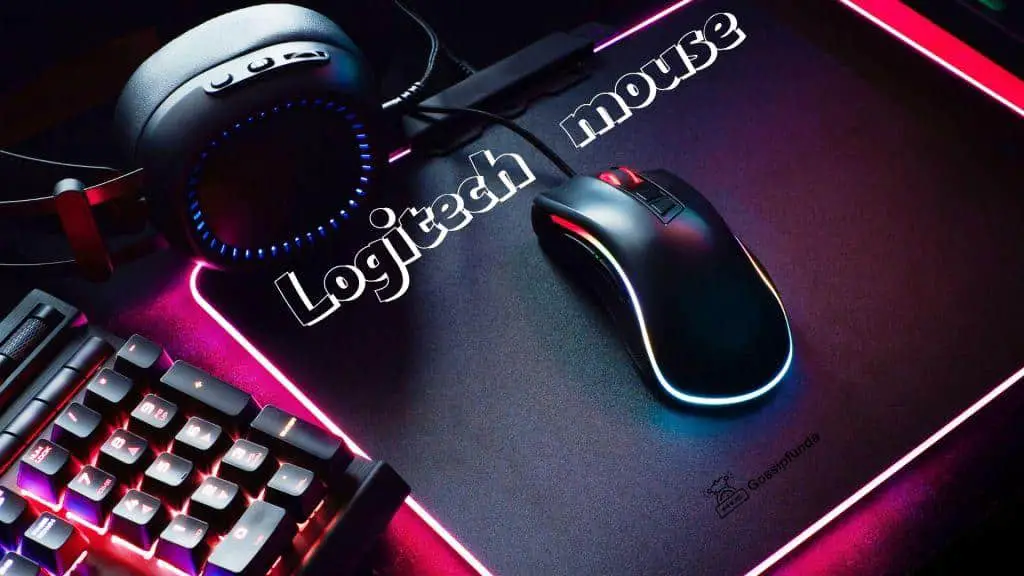 About Logitech Mouse Industry
Originated from the French word 'logicel,' Logitech is now the leading manufacturers of Mouse.
Being a manufacturer from Swiss, LOGITECH INTERNATIONAL S.A. manufactures computer hardware and software parts.
If we talk about its headquarters, then Logitech has dual base Lausanne, Switzerland, and Newark, California.
Being a reputable manufacturer, Logitech is best known for producing Mouse.
Manufacturing all types of Mouse in all genres, Logitech has built Ball Mouse, Optical Mouse, Gaming mouse, and Trackball Mouse.
The first Mouse of Logitech was P4, which was designed by Jean-Daniell Nicoud.
Watch Gossipfunda video on YouTube do not forget to subscribe:
Don't Miss: How to disable mouse acceleration
Label
The label on Logitech Mouse is mostly on the bottom with a model number and manufacturing date.
The bottom of the Logitech mouse has to connect button, but you need to use a paperclip or an instrument to press it if you don't have long nails.
Battery life
Battery life on these is 3 + years, as claimed by Logitech.
On the other hand, 2 years of battery life is now available on new advanced Logitech's Mouse.
Availability
Logitech Mouse is available all over the world, except in Japan.
Logicool is the name of Logitech known in Japan.
Logitech options
A powerful application and easy-to-use enhance the performance of Logitech Mouse, keyboard, and other devices.
Logitech options enable a user to reassign any button on Mouse, they will do work as you want!!
To activate different actions, you just need to work with the movement of the gesture button.
You will be automatically notified about device specifications like battery status, backlight level, and all.
A backup account can be created by you to have back up of everything regarding your mouse settings, etc.
Platforms
Logitech mouse work upon:
Windows
Mac
Chrome
Linux
Surface
Isn't is easy for a user to buy any Logitech mouse without worrying about platforms of his computer!!
Refinement
As Logitech provides a huge range of functions and designs, it's quite easy for a user to choose the perfect Mouse for them.
These Mouse have different shapes and sizes in order to fit perfectly in one's hand.
The shape of the surface and profile of Mouse is glamorous.
Read also: Best Budget Gaming Mouse
Logitech Flow
It uses a Logitech Cloud Service to assist with peer discovery, for computers behind the router's firewalls.
Features:
Logitech flow is used to link computers.
It uses a local network.
It allows users to share a mouse and a keyboard to link with computers.
Logitech Flow requires internet connectivity.
Your cursor movement to the edge of the computer screen allows you to switch between computers.
Logitech flow even allows users to share images and copy/paste text between computers.
Logitech G-HUB
Another success of Logitech is its "Logitech G hub." It developed and is developing award-winning wireless and wired gaming Mouse.
Features:
Innovating from sensors to shapes, G-Hub ensures that one may find the right one for them.
It gives a single user portal which is used for optimizing and customizing all their support.
You can do anything you want to do, whether it is assigning macros or creating color brakes, all these are inherent in its interface, making it easy to use.
G- Hub recognizes users supported Logistics G Gear through which users can enjoy customized features.                            
LOGITECH G GEAR includes hardware like:
Mouse
keyboards
Headsets
Speakers
webcams.
Downloading profiles is another feature of Logitech G-Hub.
One who wants to do animation, then he can use from multiple animation effects provided by it.
Downloading lightning profiles is an attraction to those who like different light for different occasions.
Don't miss: 12TB hard drives
List of best Logitech Mouse
The P4
As mentioned above, the P4 was the Logitech's first Mouse.
 Being the first commercially available Mouse, the P4 was first sold in the year 1982.
P4 was specially designed for graphical use and use in-network stations.
Whenever any new product launches in the market, users always compare it with the products already available. When compared to P4, we got to know that optomechanical technology was the advantage of P4 above any other regular mouse.
It has advanced tracking precision of that era.
The introductory price of P4 was $ 299(U.S.).
The graphical Macintosh® and Windows® operating system were introduced after the P4.
Their introduction was the reason behind Mouse being an often-used device in the world.
R4, the world's first intelligent Mouse, which even features an on-board microprocessor, was based on P4.
Features
To bring comfort to their users, Logitech Mouse have features like:
Rechargeable
Silent clicks
Darkfield tracking
Easy- switch technology
Flow technology
Programmable buttons
One can choose any type of Mouse depending upon the need.
Logitech M235
Talking about logistics M235 wireless mouse, one needs to mention that this highly serviceable computing accessory allows users to sail through their P.C. convincingly.
Features :
It has a compact size and study body.
This is portable, of course, that's what a user wants.
It is designed to keep either hand happy.
It is durable.
In addition to the above, it has soft side grips and comfortable shape.
All these features make the user feel good even after long hours of use.
Logitech MX ERGO
While discussing about Logitech mouse, the discussion is incomplete without mentioning award-winning Logitech's MX advanced mouse.
It is awarded as the best overall ergonomic Mouse for the year 2019. It's proud of Logitech. Isn't it!!
Features:
Talking about features of Mouse we have:
It's an innovative tilt feature.
It's sculpted design.
The buttons are placed intelligently, which makes it unique.
They are delivering 20% less muscular strain than regular Mouse attracts the attention of those who work long hours on their P.C.
For personalized comfort- it has a unique adjustable hinge.
It has the latest tracking technology.
It has scrolling technology.
Power Management Technology is also a modest one.
These unique features attract modern users.
Logitech M720
Considered as the best Logitech mouse model, M720 Triathlon Multi-device wireless mouse is the most comfortable one.
Features:
Users can pair with- and quickly switch between- three devices, whether connected through Bluetooth or it's USB dongle.
Being a multi-device, this Mouse can connect through Bluetooth or 2.4 GHz with a USB unifying receiver.
It has 100 DPI resolution.
This Mouse has 8- buttons.
Its battery life is 24- months.
It can be used with your laptop/P.C./ Mac/ iPad O.S.
All Logitech mouse can be reprogrammed with the replacement receiver of the same type only.
Logitech's M350 Pebble
The motive of mentioning Logitech's M 350 Pebble wireless mouse is because of its unique property of silent clicking and scrolling.
Features:
SHAPE- This Mouse has a small unique shape that makes it fit in your pocket bag and even fashionable in hand.
SILENT CLICK- This feature enables the user to do work silently without disturbing anyone around.
It has a 4 GHz wireless connectivity with a USB receiver stored in the Mouse's magnetic cover, which ensures that it gets connected to your device in no time.
Also, a hazard-free connection is provided by Bluetooth connectivity, which cannot be disturbed by physical movement.
Logitech G102 Lightsync
Innovating in computer gaming Logitech has invented advanced gaming mouse Logitech G102 Light sync gaming mouse.
Features:
Furtherance features of G102 light sync gaming mouse are-
Light sync
RGB lighting
6- programmable buttons
200-8,000 DPI Resolution
Vibrant animation
Game and media-driven settings make it easy for users to use it.
Making it more charming, users can program on their own from approximately 16.8 million colors.
It requires Logitech G-Hub software for its advanced features.
Logitech G502 Hero
This gaming mouse is unique due to its adjustable weight.
Features:
With 11 programmable buttons, this Mouse can be entirely programmed utilizing Logitech gaming software.
It has an adjustable DPI between 100- 16,000.
Logitech has provided five weights each of 3.6 g. This balance and weight can adjust according to user's need.
With durability up to 50 clicks, it provides next-generation gaming speed.
With RGB lighting, it is Light sync.
Soft side rubber grips make Mouse most comfortable.
Logitech Powerplay
Logitech power play gaming pad is the one that keeps your Logitech mouse charged at all times.
Features:
It collaborates with Logitech G easily.
It charges Logitech G Mouse even when in use or at rest.
POWERCORE module works for altering the energy field into charging current.
This gaming pad attaches with compatible wireless Mouse using magnetic attraction between them.
The pure beauty of power play is that it just stays charged and keep Mouse charged.
Being best in computer accessory Logitech mouse and other devices need to be updated to the latest version. So that you can enjoy best in gaming singing and entertainment.
Few more Logitech Mouse models:
Logitech Trackman Marble Trackball Mouse:

Features- wired, USB, 4- programmable buttons.

Logitech M570 Wireless Trackball Mouse:

 Features- Logitech advanced 2.4 GHz wireless connectivity, adjustable DPI trackball, time-tested shape, 18- month battery life.

Logitech Business B100 Optical Mouse:

Features- Corded Mouse, 3- buttons, USB connectivity, optical tracking, 800 DPI resolution.

Logitech G300 s Gaming Mouse:

Features- optical tracking, sculpted ambidextrous shape, 9- programmable button, RGB lighting, on-the-fly DPI, wired.

Logitech G602 gaming mouse:

Features- wireless, 250-hour battery life, 5.8 GHz radio frequency, programmable buttons.

Logitech B175 Optical Mouse:

Features- wireless, optical Mouse, work with Windows: XP, Vista 7, Mac OS x 10.5, Linux Kernel 2.6, 2.4 GHz wireless.

Last but not least, Logitech Touch MouseT650:

Features-  has Switched on/off button, multi-touch helps to save battery,  8- touch navigation.
Conclusion
There are a varietes of Logitech Mouse(s) you have seen. If there are not suitable then go for: Logitech V470 Bluetooth cordless laser, Logitech MX Master 2S Wireless Touch. Logitech Bluetooth M337 Wireless Optical, Logitech M235 Wireless Optical, Logitech M171 Wireless Optical, Logitech M-Sbf96 Wired Optical, Logitech Pebble M350 Wireless Optical, and many more. Choose any mouse according to your comfort and need, and enjoy the modest features provided by Logitech.