KLMS Agent: does your phone contain various apps that you don't know? Are you wondering what a KLMS Agent is and why is it on your phone? Then this article is waiting for you. Read the article to the end to know more about it.
In this article, we will discuss some simple and frequent doubts about the KNOX in your Samsung device. We will cover topics like What? Why? How? is the KNOX in your mobile without you installing it? How is KLMS Agent useful to the user? Is anyone spying on you through the KLMS Agent app? Is KLMS Agent a virus? And, Is it dangerous having it on your android device? We will also cover some basic questions like features of KNOX and many more. 
Without wasting your time anymore, let us quickly jump into the topic.
Don't miss: DiagMonAgent, IPSGeofence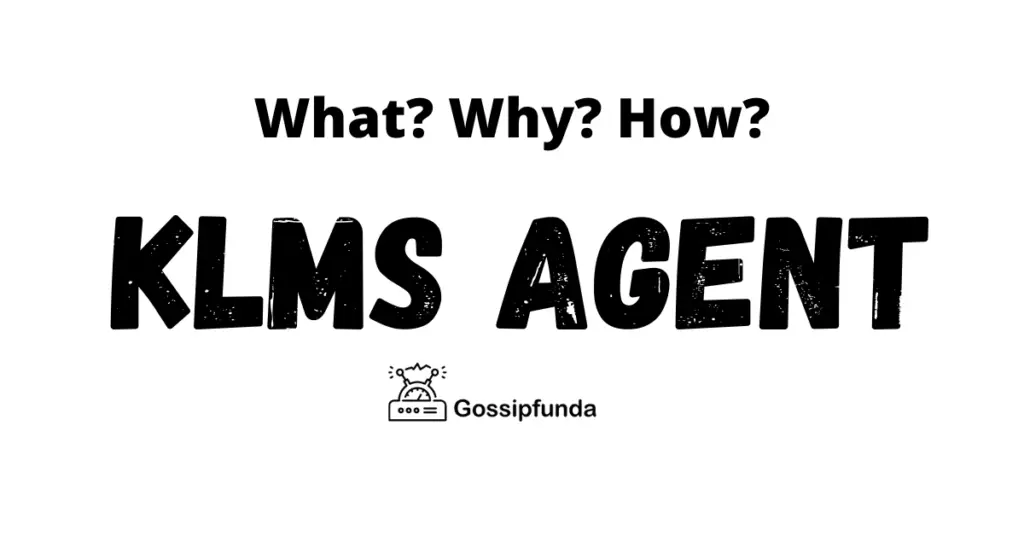 Firstly, we will understand about it?
What is KLMS Agent?
To know about KLMS Agent, first, we need to know about Samsung's Security system. In simple words, we can say that KLMS Agent has things to do with the Security Android Platform, KNOX. we can say that this is pre-installed software, which allows only the users with eligible authorized-access. This means this software blocks access of the system to all unauthorized users. So, we can understand that this somehow relates to the privacy and protection of the user's files.
This application is useful to access your file safely, like emails and other business work applications. This application comes with applications like finding the data, data locking, and clearing in case if the data is lost. Not only protecting data, but this application also creates a productive space that differentiates work-related work and private work. All the information inside the KNOX is cannot be accessed by users outside the workspace. All the information stores inside KNOX is under encryption which provides security to the workspace of users.
Is KLMS Agent a virus? 
From the above discussion, we can understand that KLMS Agent is not a virus. Instead, it is a useful application that stores the user's work-related data securely. Some people don't know the use of this application and may think this is a virus but it is not. It is also understandable because the name itself suggests being something dangerous.  
To know more let us know the features and functions:
KLMS Agent Features (KNOX)
Samsung security to the workspace comes with different features. Let us continue to know what different and unique features Samsung includes in its KLMS Agent (KNOX).
Software Integrity
We know that any software's origin decides if it is safe or not. If the user downloads the software from any trustable source or licensed-source, then we consider it to be secure. Most of the time, scam websites try to bypass your security system and make changes to your device. If any such action occurs in your device KNOX immediately identifies and blocks it to protect your data. Such modifications are easy to identify by this security system so this comes with software integrity.
Least Privilege
Generally, any security software requires access to devise resources to maintain proper security and work properly. Knox ensures that it uses that minimum to give a full-fledged service to the user even with fewer resources. This helps the software to provide quality security from any attack.
Data Storage Protection
From the above information, we say that the basic feature of this application is data protection. KLMS Agents helps the users to protect their storage data for example images, contacts, emails, and many more. This application secures data in such a way that no other can change the settings directly and modify them.
Network Protection
 It is a common practice by hackers to extract data from the users through networks. The data has to travel through different networks to reach the receiver, like WIFI cellular data, Bluetooth. There is a chance your data gets hacked during this process, hence KNOX ensures safety in such cases too. It lets the users have network encryption, which keeps your data safe from hackers.
What is KLMS Agent doing on my phone?
Commonly, most users have similar thoughts on KLMS Agent like its existence. I have not installed it, so what is it doing on my phone? I don't need a KLMS Agent, what should I do now? 
KLMS agent is not an app that the user installs but is it a pre-installed application. This application comes all along with your android device from the manufacturers. We can say that the KLMS Agent is bloatware. So, there is no need to worry about where this application comes from to your android device. We can see that this application auto-updates itself; it can be the most of concern to the users. 
Let us see some methods of uninstalling the Agent and KNOX services from your device or disabling them.
How to Disable KLMS Agent (KNOX) in your Android?
Some of the unrooted Samsung androids like Galaxy S7, Galaxy S5, S4, S3, Note 5 can use this process. Even Galaxy Note 4 and Note 3 users can also try this process. 
Step1: the user has to go to the Knox app.
Step2: then the user has to go to settings then tap on the Knox Settings tab.
Step3: there the user can find the Uninstall Knox option, tap on it.
Step4: there a message pops up on the screen, about the Knox backup. Select the Backup Now option to save all the data to your device folder, then click ok.
And that's all you have to do, doing this you can uninstall the Knox application along with the KLMS agent.
The users with new Samsung devices can follow the process below to uninstall this.
Step1: the user has to go to system settings then search for Apps.
Step2: on the top-right corner users can find the menu option there tap on the System apps option.
Step3: Search for KNOX application, there the user can find different applications that relate to KLMS Agent.
Step4: disable all KNOX-related applications in your mobile, once you complete reboot your android device.
So, by following these steps the users can disable the applications. Now, let us see how to uninstall these applications completely from your android device. 
How to uninstall KLMS Agent (Knox) in your Samsung android
The rooted-Samsungs can simply deal with such things. There is no need to disabling the application, instead, you can uninstall it completely. The user has to just follow the below steps to uninstall KLMS Agent completely from their Samsung androids.
Method1: Uninstall KLMS Agent (Rooted Samsung)
Firstly, the users have to go to the Google Play Store, then search for "Titanium Backup".
Download the application and then install it on your Samsung Galaxy Android.
Now, open this application and go to the search bar, type KNOX.
A list of applications appears on the screen, free up all Knox-related applications with the help of Titanium Backup.

i) com.sec.enterprise.knox.attestation
ii) com.sec.knox.eventsmanager
iii) KLMS Agent
iv) Knox Notification Manager.

After doing all these processes the user has to reboot the device.
Android Terminal Emulator (Root)
The user has to go to the Google Play Store and then search for an Android Terminal Emulator application.
Download and install the application, then open to launch the application. 
It asks permissions for root access, go for it.
Now, the user has to go to the terminal editor to execute commands. By doing this, the user can uninstall the application permanently.
Knox Remover Zip 
Method2: KNOX remover zip file
This is the last method to uninstall the Knox application which includes KLMS Agent. If all the above does not work then the method may help you to get rid of this.
First, the user has to back up their android device, the user can follow guides from different articles online. 
Then the user has to download the KNOX remover zip file online. XDA has developed this application with TWRP recovery, so it is completely trustable.
Now the user has to delete all the applications of KNOX.
Now, restart the android device and check for KLMS Agent.
That's all, now the user cannot find KLMS Agent in their Samsung Androids.
So, we have seen some effective ways of uninstalling KLMS Agent, now let us address some common queries. 
Is anyone spying on you through KLMS Agent?
If you think KLMS Agent is any source of third-party information control then it is completely false. This application is safe to use under various protection laws, which ensures data safety. In addition to this KNOX comes with additional safety features like fingerprint security, secure network data transfer, and more
Samsung's KLMS Agent
It is more general to find KLMSAgent in your Samsung devices. But any user can download this application from Google Play Store. This application of Samsung occupies a data up to 7.6 MB which is considerable for such applications. With approximately 500K+ downloads this application of KNOX is with 3+ rating.
The additional features of this application are, it comes with KME console integration. The latest version of this application is 21.1(2.3.6.04) which has its latest update on the 22nd of December 2020.
In the end
KLMS Agent is an application that relates to Samsung's security protection on work profile. This application comes with various advantages to the users mainly those who want to secure their information from others. This application helps the users to maintain a proper balance between work data and private data.
So, in this article, we have answered most of your major questions about KLMSAgent. After reading this article, the users get to know how to use KNOX (KLMS Agent), how to remove KLMS Agent completely from your android devices, how to disable KLMS Agent, different features of KNOX, and many more.
 That's all for this article readers, we hope you all have enjoyed reading our article. Let us meet again in different articles with different topics, till then it's a short goodbye.
Stay safe.
Stay Healthy.