Jupiter Ed is a learning management system (LMS) for K-12 schools that improves educational outcomes. The platform offers a variety of tools to support teachers in the delivery of their curriculum. They consist of discussion boards, online grade books, attendance monitoring, assignment submission and grading, and more. Jupiter Ed, developed by educators, enhances classroom instruction, assessment, and communication. Also, it offers students chances for personalized learning, such as adaptive tests, individualized learning plans, and data-driven suggestions for areas that need development. Also, Jupiter Ed provides a variety of communication options so that parents, instructors, and students can all stay informed and engaged.
They include email notifications, chat, and web conferencing, which can be used for parent-teacher conferences or student-teacher feedback sessions. Jupiter Ed provides educators with data on student success that allows them to tailor their instruction. It can integrate with a variety of tools and resources from other parties. This implies that teachers may use Jupiter Ed to quickly incorporate content from websites like Khan Academy or YouTube into their classes. The platform also allows for interfaces with other plagiarism-checking software programs including Google Classroom, Clever, and Turnitin. All things considered, Jupiter Ed is a potent LMS that has been created especially for the K–12 education market. Jupiter Ed's features, integrations, and reporting tools help educators improve the learning experience.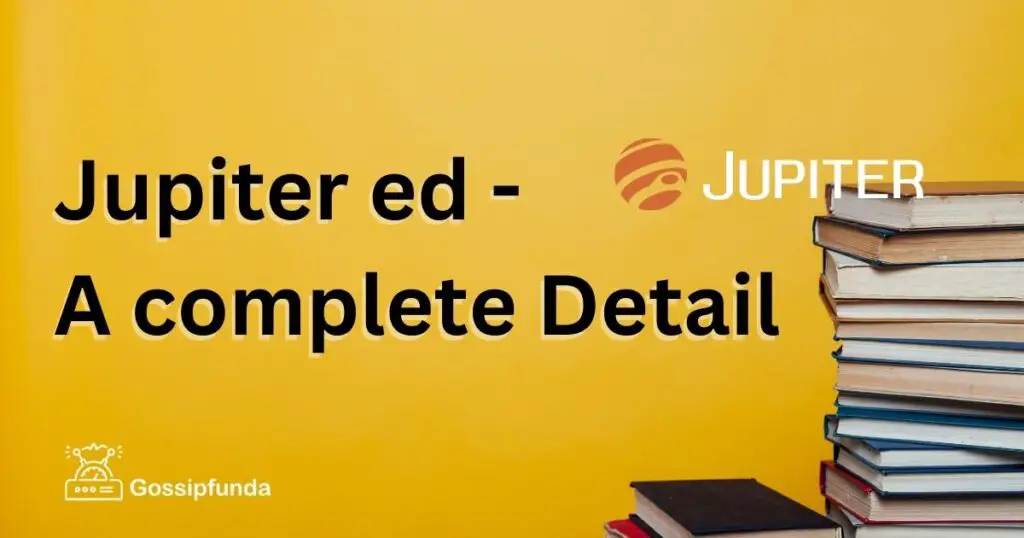 How to solve the Login issue in Jupiter ed?
Here, we will discuss some common causes of login issues in Jupiter Ed and provide some practical solutions to help you troubleshoot and resolve them.
Check your login credentials
Verifying that you are inputting the proper login information is the first step in fixing login problems in Jupiter Ed. Make sure your password and username are both accurate by checking them twice. When logged in, there is a link that says "Forget password." If you are unsure, try changing it. You'll receive an email from Jupiter Ed with directions on how to change your password. Set up a new password carefully according to the instructions.
Clear your browser cache
Delete your browser's cache and cookies if you're unable to log in despite accurate login information. Temporary data such as cookies, cache files, and history accumulated in your browser can impede the login process. Resetting your browser and enhancing its efficiency can be accomplished by clearing its cache.
Try a different browser
If you're still having trouble logging in, try using a different browser. Sometimes, login issues can be caused by compatibility issues between your browser and Jupiter Ed's website. Switching to a different browser can help to rule out any issues with your current browser. Popular alternatives include Google Chrome, Mozilla Firefox, and Microsoft Edge.
Check your internet connection
You might be unable to log into Jupiter Ed if your connection is poor or unreliable. By doing a speed test, you can verify the strength and stability of your internet connection.
Contact Jupiter Ed support
If none of the suggestions above work, get in touch with Jupiter Ed's customer service department. They will be able to give you more detailed troubleshooting instructions to fix the problem. Contact Jupiter Ed support by clicking Help on the login page or emailing [email protected].
Verify that the site is up and running
If there are any website troubles, check Jupiter Ed's website or social media accounts. Sometimes a brief outage or maintenance on the part of Jupiter Ed may be the root of login problems.
What to do if we forget the password?
Jupiter Ed is an online learning platform that makes it easier for parents, teachers, and students to communicate, share resources, manage assignments, and grade work. Users must create an account with a username and password in order to access the site. Users occasionally forget their passwords nevertheless, especially if they haven't signed in for a long. Jupiter Ed thankfully offers a number of solutions for changing a forgotten password.
Go to the login page and click the "Forgot Password" link as the first step in recovering a forgotten password in Jupiter Ed. A page where the user must input the email address connected to their Jupiter Ed account will be forwarded to them. The user will receive an email containing a link to reset their password after entering their email address.
Another option for resetting a forgotten password is to contact the school or district's Jupiter Ed administrator. Administrators have the ability to reset passwords for users within their school or district. To contact an administrator, users can visit the school or district's website or contact the school's main office for assistance.
If neither of these options works users can speak with Jupiter Ed's customer service department for more help if neither of these solutions is successful. Password resets are only one of the many problems or inquiries that the customer care staff can assist consumers with. The support staff can be contacted by phone or email, and users can anticipate a quick response.
Therefore, forgetting your Jupiter Ed password might be annoying, but there are a number of ways to reset it. Customers who need help can get in touch with Jupiter Ed's customer service team, email their school or district administrator, or change their password by email. Users should take steps to safeguard their account information and establish a strong, one-of-a-kind password to avoid illegal access.
How is Jupiter's study?
The online learning platform Jupiter Study offers materials and tools for students to improve their academic performance. Students may tailor their learning to match their own objectives and needs thanks to the platform's user-friendly and flexible architecture.
Jupiter Study's adaptive assessment system is a standout feature that provides students with access to interactive lectures, videos, and mock exams, among other study tools. Its adaptive evaluation method, called Jupiter Study, gives pupils individualized feedback based on their unique strengths and shortcomings. This technology analyzes student performance using data analytics and machine learning algorithms and offers focused recommendations for areas that can benefit from extra practice. Students can learn at their own pace and on their own schedule thanks to the interesting and simple design of these tools.
Jupiter Study also offers a range of social learning features, including discussion boards, study groups, and online tutoring. Jupiter Ed's tools encourage student motivation and collaboration by allowing students to work together on assignments and projects with classmates. This tools for tracking and reporting progress are an additional crucial component. Jupiter Ed gives students information on their performance, such as assessment results, study time, and advancement toward learning goals. The data can be utilized to identify areas that require additional practice and develop a customized study schedule.
Is Jupiter ed a rich area?
Jupiter Ed is a K–12 school-specific software platform rather than a place or a specific location. With the help of its tools and resources, Jupiter Ed is a complete LMS that facilitates communication, instruction, and assessment in the classroom. Jupiter Ed may be used as a learning management system by some schools in the Jupiter region, although this isn't always a good sign for the community or the school's financial standing. Jupiter Ed cannot, therefore, be referred to as a wealthy region.
There are other elements besides wealth and income that affect educational performance. Schools and communities that are struggling economically can nonetheless deliver a top-notch education. Similar to this, there are wealthy neighborhoods where students have difficulty succeeding in school. Schools nationwide use Jupiter Ed, not just those in Jupiter, Florida. With price schemes dependent on how many kids and educators will be utilizing the platform, it is intended to be both reasonable and accessible. Jupiter Ed can assist with instruction and learning in classrooms with a variety of socioeconomic and demographic circumstances.
In the end, using Jupiter Ed as a learning management system does not necessarily reflect the financial standing of the schools or communities using it. Other factors that go beyond economics, such as classroom quality, family participation, and resource availability, have an impact on educational attainment. Regardless of region or economic position, Jupiter Ed provides schools with the tools and resources they need to enhance student success.
What is Jupiter for schools?
Jupiter for Schools is designed to provide a centralized platform for managing all aspects of the teaching and learning process. It is, widely adopted by US schools, and supports classroom instruction, assessment, and communication through its range of features. The platform allows teachers to develop and manage lesson plans, assignments, and assessments, and monitor student progress throughout the academic year. Students, in turn, can use Jupiter for Schools to access course materials, submit assignments, and receive feedback from their teachers.
Another important feature of Jupiter for Schools is its ability to support personalized learning. Based on each student's unique requirements and talents, teachers can use the platform to design personalized learning plans for them. As the student progresses, these plans can be adjusted in real-time and shared with parents and other educators as necessary. Jupiter for Schools' online grade book is one of its notable features, allowing teachers to record and monitor student grades for an entire semester. The online grade book feature makes it easy to monitor student progress, identify areas where additional assistance may be necessary, and communicate with parents about their children's academic performance.
Can anyone enter Jupiter's ed?
Jupiter Ed is a K-12 LMS intended for use by educators, students, and parents within those schools. To utilize Jupiter Ed, one must first be affiliated with a school or district that has acquired a subscription to the platform. This typically involves creating an account on the platform and being granted access by an authorized administrator within the school or district. While it is possible for anyone to create an account on the Jupiter Ed platform, access to the full range of features and resources within the platform is generally restricted to authorized users within a given school or district.
After being granted access to Jupiter Ed, users can use the platform to access a variety of educational resources and tools. These include lesson plans, quizzes and tests, online textbooks, and communication tools for interacting with teachers and classmates. Jupiter Ed's features include tracking student progress, generating reports and report cards, and analyzing data. These features help to identify areas where additional support may be needed. Parents can create their own profiles on the site to access information about their child's grades, attendance, and performance. They can also connect with teachers and view assignments and homework through the platform. While being intended for usage by schools and authorized users, Jupiter Ed only offers the public a small number of tools and resources.
Without regard to affiliation with a school or district, anyone can access, for instance, a library of open educational resources. The platform provides access to these materials. Lesson plans, videos, and interactive learning exercises are just a few of the educational materials Jupiter Ed offers. In a variety of settings, these resources can be used to improve teaching and learning.
Jupiter Ed is primarily intended for school use and authorized users. However, the platform does provide certain services and resources that are open to the general public. Those linked with a subscription school or district and authorized by an administrator have full access to Jupiter Ed's features and resources. To access the platform's full range of services and resources, affiliation and authorization are required.
Is Jupiter ed grades free?
Jupiter Ed was created to be affordable and accessible to schools, despite not being free.  For schools and districts with various demands and budgets, it offers an affordable solution. Schools can purchase only the features and services they truly require thanks to our flexible price plans.
Schools and districts that wish to use Jupiter Ed as their learning management system must purchase a subscription to the platform. The cost of a Jupiter Ed subscription depends on the number of users and features selected. Schools and districts can use Jupiter Ed after purchasing a subscription to manage assignments, grades, and attendance, and communicate with students and parents.
Advantages of Jupiter ed over other platforms
The use of Jupiter Ed as a learning management system has a number of benefits over alternative systems. Jupiter Ed has a user-friendly interface, which is one of its key benefits. With easy navigation and logically organized features and tools, the interface is plain and uncomplicated. Both teachers and students can utilize the platform because of how simple and intuitive it is built to be. This can make it simpler for new users to use the site efficiently and help shorten their learning curve. Its extensive range of features is another benefit. Jupiter Ed provides tools for lesson preparation, grading, attendance monitoring, and contact with students and parents. Additionally, it offers an extensive collection of tools and resources to support teaching and learning.
Don't miss: 13 Reasons Why LMS is Considered a Secure System
Additionally, Jupiter Ed separates itself from other learning management systems with a variety of special features. As an example, its adaptive assessment system gives students individualized feedback based on their unique strengths and weaknesses using data analytics and machine learning algorithms. This can help students focus their studies on areas where they need the most help, leading to improved academic performance. The site also provides a variety of educational resources, including interactive courses, videos, and practice exams, to aid with student learning and engagement.
Jupiter Ed is its ability to integrate with other educational software solutions. Several well-known software programs like Turnitin, Clever, and Google Classroom can all be used smoothly with the platform. Jupiter Ed can simplify educational content management and accessibility for institutions, consolidating their technology stack for teaching and learning. It offers outstanding support for administrators and instructors in addition to these benefits. It also provides training materials, tools, and a dedicated customer support team to assist users with any issues or questions they may have. Overall, Jupiter Ed is a powerful tool for improving student engagement and academic performance.
Conclusion
In conclusion, Jupiter Ed is a powerful tool for improving teaching and learning in K-12 schools. The platform improves communication and teamwork between educators, pupils, and parents while giving teachers useful information and insights to help them make wise choices regarding instruction and evaluation. Jupiter Ed offers tools and features that can be customized to match the needs of districts and schools. Teachers and administrators can navigate and use it more easily thanks to its user-friendly layout. Many advantages are offered by Jupiter Ed to students, including access to excellent educational resources and tools for monitoring their academic performance and growth. It supports individualized instruction and differentiated learning, allowing students to get specialized help and study at their own pace.
Overall, Jupiter Ed is a powerful learning management system that offers a wide range of tools and resources to support teaching and learning in the classroom. Although it is not cost-free to use, it is a well-liked option for schools trying to raise student engagement, academic success, and parent-and-student connection. Jupiter Ed can help schools improve their grading and assessment procedures, monitor student development over time, and provide access to high-quality educational resources. It is a versatile tool for achieving these goals and more.