It sometimes happens that your phone does not restore or update and gets stuck in between, or the phone is stuck in restart mode. To come out of the stuck process we need to know what is iPhone recovery mode. So, in such cases, we majorly use the method to restore our iPhone by entering into Recovery Mode, which is considered a troubleshooting way. But that does not mean that it is a safe way to resolve this issue every time because, in this way, there is a chance that you can lose your data if you do not sync the backup.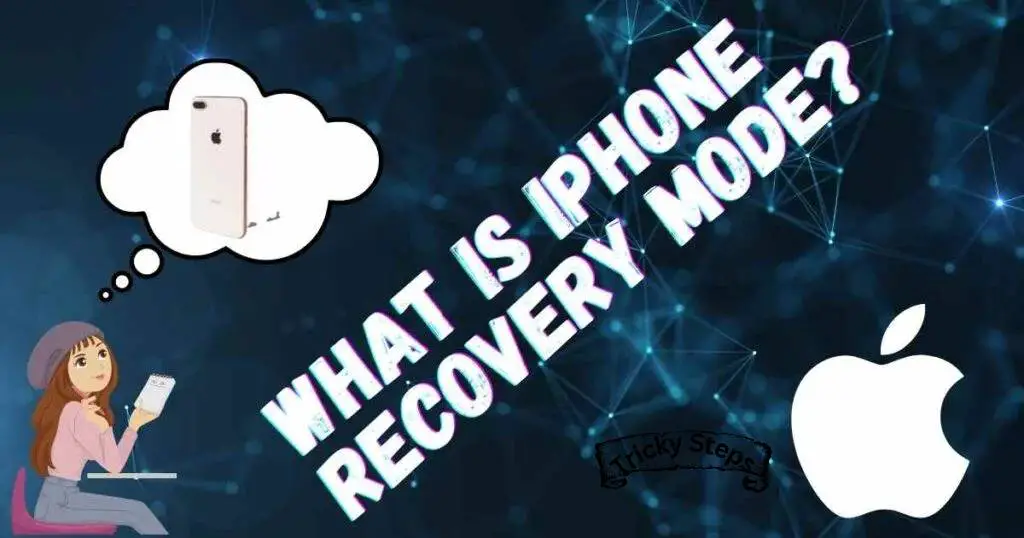 How to put the iPhone in recovery mode?
If your iPhone does not normally start with a restart option, then it needs to enter recovery mode. Follow these steps for putting your iPhone in recovery mode:
The main requirement is that your iPhone should be running on the latest version of iTunes.
Make a connection with the computer via a USB cable and open iTunes.
After that, try to force restart your iPhone by pressing down buttons until it appears on the computer screen "Connect to iTunes" or see the Recovery mode screen.
Then click on update when a dialogue box appears on the computer for restoring your iPhone.
iTunes will now start downloading the software to your iPhone.
After that, when the Restore process will get finished, Set up your device.
Alternate methods for iPhone recovery mode
There are different ways for other iPhones to enter into recovery mode. For example :
For iPad pro
As in iPad pro, there is no Home button, so recovery mode is done by these steps :
Keep pressing and holding the top button and the Volume up or down button of your iPhone at the same time and keep it held like this until the power-off box appears on your screen.
Drag the power off to the right side to turn off your device.
Create a connection with your windows or MAC while holding down the top button, and keep holding like this unless you see the Recovery mode screen on your computer.
For iPhone7 or iPhone Plus
Follow these steps:
Press the PowerOn/Off button of your iPhone present on the right side
When the Poweroff box appears, drag it to the right side.
Then, the Volume down button needs to be pressed and keep holding.
After performing the above steps, create connect of your iPhone to the computer by use of a USB cable and connect your device to iTunes.
When the iTunes connection is established successfully, then release the button of Volume down.
Is the iPhone stuck in recovery mode?
If your iPhone gets stuck in recovery mode, then you need to restart it, but after the restart, if you still see the screen in recovery mode, then follow these steps.
For Fixing the issue of recovery mode, then perform the method of Reinstallation of iOS or iPadOS:
Firstly, Connect your iPhone by lightning cable to either MAC or Windows and install the latest version of iTunes if it is not installed on your computer.
After a complete connection with the computer to iTunes, you will see a dialogue box on your screen where the message will appear that it requires to be updated or restored.
So, Click on Update to Reinstall iOs.
 Is the iPhone won't restore in recovery mode?
If the iPhone doesn't restore in recovery mode, then one can try to force restart in DFU mode. 
Follow these steps:
Connect your iPhone to the computer by a cable and open iTunes or Finder in MAC.
Just Press and keep holding both the Power button with the Volume Down button.
Hold the buttons for a few seconds and then release the Power button and Keep holding the Volume Down button.
Now when you have performed the above steps, Your iPhone comes to DFU mode if it appears on your computer, but the screen of the iPhone remains blank. 
After that, wait for your computer to download the required software and try to restart your iPhone.
Even following these steps, if you are not able to restore in recovery mode, then you can contact Apple Support Center for help.
How to get iPhone x iPhone13 out of recovery mode?
If you want to get iPhone X and iPhone 14 out of recovery mode, then the most simple step is to do a Force restart.
Force Restart can be done by following these steps:
First, you need to Press and simultaneously release the Volume Up and Volume Down buttons.
Press and Keep holding the Power ON/OFF button until the display shuts off and Keep holding the buttons until you see the Apple logo on your iPhone.
After that, your iPhone will go back to the Lock Screen.
Another method you can try is in case Force restart does not work.
The following steps are required to perform this method:
Firstly, check the version of your iTunes as the latest version is required.
Connect iPhone X/iPhone13 to your Windows or MAC and make sure it is running on the latest iTunes, and if it is not, then Go to help > Updates> update your iTunes.
Then, a pop message will appear after a complete connection of the iPhone with the computer. Click "Restore." Your screen will start restoring.
In case the pop message will not appear, then you can go to Summary in iTunes, where you can click on "Restore iPhone."
Additional information
For iPhone7, you can force restart  by following these steps:
Press and hold the Side button and Volume Down button together and don't release until you see the Apple logo on the screen.
For iPhone6, you can force restart  by following these steps:
Keep holding the home button and side button and when you see an apple logo on your screen, then stop pressing the home button.
Conclusion
The above-mentioned following methods will be helpful to each user of the iPhone having different versions. By following all these steps, I am sure that you will be able to fix the issue of iPhone recovery mode. It is sometimes becoming the only method to restore your phone when no other method works. So, I hope that this information might be useful to those who are facing this issue. They do not need to get worried regarding this problem as internal interrupts sometimes prevent your phone from getting restored or updated.
FAQs
What is iPhone DFU mode?
DFU refers to Device Firmware Update. iPhone/iPad/iPod and many MAC devices sometimes get restored from any state by putting in DFU mode.
Usually, we use Recover mode to restore, but if iPhone Recovery mode also does not work, then we put the iPhone in DFU mode. This method is usually helpful to solve more complex issues and serious problems.
Does recovery mode delete everything iPhone?
This is true that your whole data loses if you use recovery mode for restoring. As in recovery mode, your iPhone is restoring itself from the start, so it erases the data. That's why always remember that the use of iPhone recovery mode is not that safe, so use it only when there is an utmost requirement and no other method is helping. One can also keep all backups before using Recovery mode.
How long is recovery mode?
This is the important thing to know as sometimes many processes take a long time which might not be suitable for you as you wanted to process another method that can solve quickly. So, for recovery mode, it does not take a long duration. It can restore within a few minutes. Even sometimes, it can delay due to internet connectivity and your phone's functioning.