Hello Everyone, I hope that all of you are safe and enjoying life. This article is about the iPhone keeps restarting issues with the apple device. This problem is not common among users, they face it because of software issues, update problems, and errors may be. But I have a solution and I have come up with some of the best-known solutions for you all. The iPhone is the smartest device ever made by apple. No comparison of the iPhone with another phone can be made. Its popularity is all over the world and people are crazy about it.
Automatically Restarting is a sign of an issue on the phone and if your device is restarting constantly then it must be an issue with the iOS or software. If the restarting occurs at some specific instant then do not worry about it. It can be because of some updates. So, the problem of the iPhone keeps restarting not occur.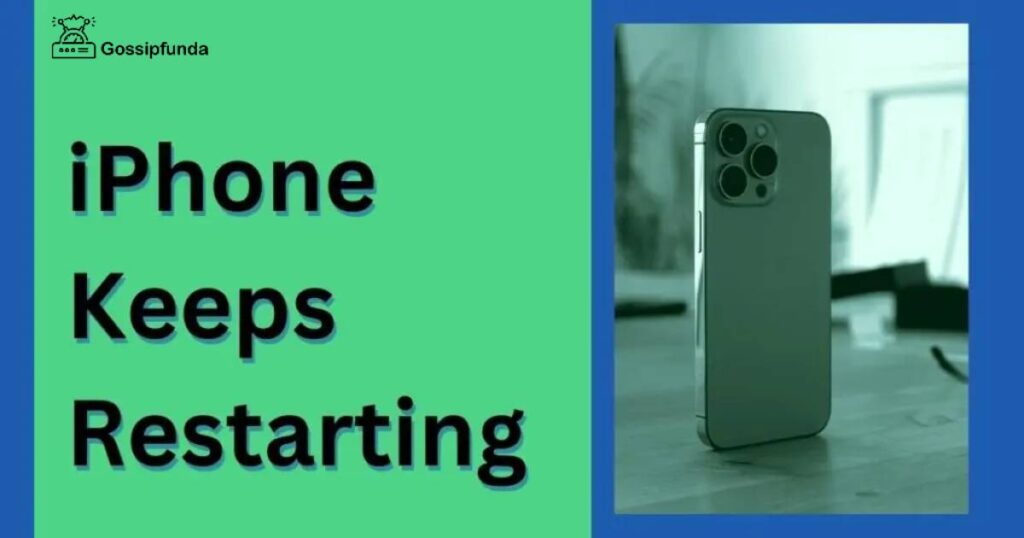 Does your iPhone always restart by itself? Either it happens at some particular time or with some frequent gaps or it is getting stuck in infinite loops. But no need to worry about this because I have all the needed solutions for this problem. Sometimes I even face this type of issue but generally, it goes away on its own and at that moment I have done many things to find the solution. Although I was a bit afraid of losing data on my phone. So, from that time to till now I always back up my necessary data to some storage device. I also recommend that you do this thing always to protect your necessary data.
Make a Data Backup of your iPhone initially
Various Ways to do a backup of the device and it is very necessary to do it to secure your data. An external device or software can be used to back up necessary information such as Files, Videos, Images, Documents, etc. I have made a routine every month to make a backup option for my data to protect against any harm. Viruses are made to harm information in the system and to protect that we have to keep a backup option for it. Anyhow if we got any problems or errors in our device then in that condition it is necessary to keep a backup. Let me tell you something, some Troubleshooting steps in the device erase some data while executing it or while restoring your iPhone from restarting again and again.
So, if you won't back up then you have to suffer consequences. There may be a serious problem with the device. So, it will indicate that it is your last chance to back up the device data.
A glitch in the device could trouble you while performing any task and then give a break to the device for a little and again it goes normal. This is the basic information that I have shown to you now we will understand some methods which can help you in solving this issue with the device.
Methods That will help you resolve the issue
They tried methods by many people around the globe. This helps them to solve the issue regarding iPhone keeps restarting problem. Now I will write some of the useful methods that can help you to get rid of it.
iOS and app Update
Almost most of the time when the iPhone keeps restarting, again and again, could be because of a software bug in the device. An update can fix this in a second. Likewise, apps can also Crash due to a bug or insufficient storage in the device. In that situation, it is necessary to update all the apps on the device to avoid the issue of crashing. Updating the iOS and apps will resolve this issue.
Let's see the process of updating. Go to Settings > General > Update software to update it then also if it won't update, connect it to a computer and start updating through iTunes. Now for apps, Open the app store and update all the apps.
Delete unnecessary Storage
I bet that you are not aware of the unwanted storage used by your device. Whether you are using your device or not, unwanted storage is usually created in the device like temporary files, log files, cache data, etc. This type of data will always hang or slow down your device and can create problems for you. So, to overcome this, always delete it from your device. Even you can even use an app like phone cleaner and many more to delete. One thing you can do is delete the cached data of all the apps. Click on Setting > tap on apps > select any app > click on cached data.
Now all the cached data will be deleted. This will free your device storage. My iPhone has too many unused and blurred images every time then I delete this type of image from my smartphone every time. You can also do it time-to-time so that storage issues can't come. 
Uninstall unused or unnecessary apps
Notice every installed app on your device and find out which app you did not use for a long time. If that app is creating a problem in the device then just uninstall it. All apps are not necessary to be downloaded, it will just cause a problem. Although after updating the app or if we haven't updated it for a longer period then also it troubles your device. Uninstall unused app Setting > General > iPhone storage. Scroll down and uninstall the app which you want to. Necessary to uninstall the apps to dodge iPhone keeps restarting issue.
Reset the Setting on the Device
The setting of your phone can also cause the issue of restarting. It's a good process because you won't lose the data of the phone. This solution is good but it has a small problem in that you have to put in the password for all the wifi networks that you use again. Now go to settings > general > Reset device > Reset all settings.
Sim card removal technique
Even when I heard for the first time that our sim can cause restarting issues on the iPhone. I did not believe it, then I researched it, and obviously, this is truly the reason that if our sim is not connecting properly to the carrier service, usually this error comes in the device. If we do not resolve this problem then our device can get stuck in the boot loop and after that, it is hard to remove it. Now to solve this first we need to eject the sim out by a small pin and again insert the sim into the device. If this works then well and good and if not then no need to panic I will give more solutions below.
A force restart of your iPhone
A force restart is a bad idea after all but a difficult situation has a difficult solution. Forcing your device in any condition is not at all good but if other solutions do not work then we have to try them out. Hence, Connect your iPhone to a computer> Press and release Volume Up button > now press and release the volume down button > Hold the side button till the apple logo appears > hold it till recover mode comes 
iOS restore through the computer
This is used when all other methods are tried and do not work at all. It erases all the data of your system and reinstalls iOS on the iPhone. This is a lengthy process of up to 1 hour. Wait and follow the process. Although we can erase data from the setting, it won't be enough. A reinstall of iOS works almost all the time. We will use DFU mode to restore iOS. Let's see
Quickly Hold and release the Volume Up key and Volume down key
Now control and push the sidebar
When the screen becomes black, then again hold and press the volume down key
Keep pressing the mentioned buttons for at least 5 seconds or more and release the side button
Check For Any Physical damage to the iPhone
We have done everything to solve the issue then also nothing works then this solution can work. Possible that the hardware issue is the last thing or that it is the only issue the device is facing. Apple center can resolve the hardware issue physically. Till then check for outside damage and inside damage to the device. Battery health is also important, just check it for confirmation that everything is good. Contact apple customer support at last and make an appointment for the iPhone. If the damage is caused by throwing the phone or a scratch appears, this can also cause the problem.
Conclusion
Hopefully, You all have understood about the iPhone keeps restarting problems through this article. As per my knowledge and understanding, I have talked about all the possible and known solutions regarding this issue. Even if you tried all the things and still it is not resolved then, at last, take your device and go to the service center or change it. Everything is in this article for your reference. Restarting problem is not common, few will go through this issue. Apple's quality and software are futuristic and fashionable. Backup of data is very very necessary before trying any of the methods. It is important because our data is precious, if we lose it in some condition
Then we will face the consequences of it. An update of the device kept the device functional. Regularly updating phones and apps helps in good performance. The bug is like a virus that can malfunction your device. So, in that case, updating the app can resolve this bug. We have installed many unknown and unused apps and they are harming our system as well though timely deleting of unnecessary apps helps in boosting the performance. iOS also plays a huge role in the iPhone, it controls everything in the device.
At last, I hope that you will find the needy solution which you are looking for in your device. Understand that everything is not for everyone, and all have their advantages and disadvantages. Always take precautions before any major issue comes. Like we can always check for battery health, and update checks of devices and apps, this thing helps you in maintaining the device.
FAQ
How to get out of the restart loop in the iPhone device?
Look for the solution, in that case, try one of the solutions first which I have shown you in the article for preference, and Gradually try other methods also if one does not work. Things will sort if we try to find the solution. Clearly telling you that if your iPhone is in a restart loop then when you try to fix it. So, in that condition, your entire data will be lost. 
Will iOS not work after fixing the issue?
No, obviously it will work because we are fixing an issue that includes iOS repair as well. Understand one thing: it requires a lot of patience and effort to fix something and this does not mean that fixing it will affect another system like iOS. it will operate smoothly after the fixing of the issue. iOS is the main system of iPhone devices, it handles almost every function of the phone. The Main thing of this iOS repair is to go on to recovery mode, and in that mode, almost all the issues related to it will be resolved in a few minutes by restoring iOS.
Does Force restart decrease device performance?
Maybe 'YES'. A force restart is not the solution to fix something until all other methods fail to do So, this is considered as an emergency method to fix the issue. Even this has drawbacks like your device can misbehave, some of the apps will not open at all, and Images may not appear properly on the device. The Advantage of using this is that it can repair IOS could solve any issue of the device.