Hello, everyone, I am again here to unravel the big trouble faced by many iPhone users during updates which are iPhone error 4013. First, we require to understand the problem and why it comes during updates of an iPhone, iPad, or mac. Typically, it ensues due to restoring your device or updating your device. This may trouble you at first but it's not a big deal to handle the problem. In iTunes, this error usually occurs if your USB or some external devices have issues. A very common problem and can resolved quickly with the help of some updates, methods, etc. Those who have iPhones refer to the problem as a communication problem that is stopping you from using iTunes.
Error 4013 is like this: "The iPhone (Your Device name) cannot restore. An unknown error occurred 4013″ it would occur only for iPhone users. There may be a software bug while trying to update your device so, because of this, it's not updating. This is easy to resolve with the help of some methods you must comprehend to fix. Anyhow, there are many ways available on the internet to fix this issue and we will concern them in this article to find out which one is best for us.
Issue will be seen by some of the iPhone user like error 9, error 4005, and error 4014. All the error will solve by these Ordinary steps which I will clarify further. A simple thing you can do to get rid of this issue is to update your IOS on the iPhone, this can resolve many issues including these errors in the device.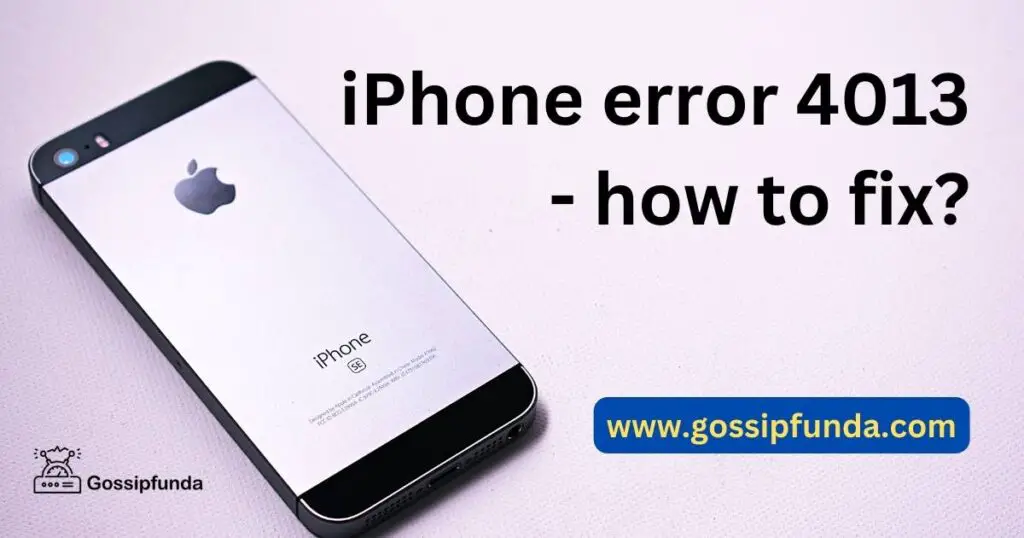 Methods that will assist you to solve this issue
The different solutions available over the internet can help you with this issue. Resources are more but the approach of each solution will be different. So, I have reached up with the most suitable methods that I will document below.
Method 1 – iTunes update for your PC
Every update's released by apple at a specific time. Though it is necessary to update everything on time because if you update it then no issue will occur.
Need to install iTunes from the apple website, then
Open iTunes.
You will find an option at the top of the iTunes window.
Tap on the Help button and Check for updates.
A new version has been installed automatically.
Method 2 – iTunes update for Mac users
Mac users have an inbuilt iTunes app and updating is easy as well.
Update your Mac version
Search for Apple menu and click on system preference
Click on Software update 
Automatically the update will process in your mac
Fix iPhone error 4013 without losing the data
All the process is good, and the data will be safeguard. all essential and regular data has been protected and safe. Alike necessary to back up all your data so that it will be protected in the circumstance of any malfunction. Suggestion, always keep a copy of your data in a safe place for the worst condition. To fix the issue, we need to download a professional tool named Tenorshare Reiboot, this program is usually for solving the issue of IOS devices. With a single click on it then, you can use this device. Multiple other operations of this device are Factory reset and recovery mode. Allow me to guide you on how to use it.
Run Reiboot on your computer and connect the device which has an error with the help of a USB cable. Now Click on 'operating system repair' then the next window will appear as 'start repair' just click on it. Tap on the latest framework and it will be downloaded automatically. Again click on Start Repair.
Factory Reset option to fix the error
One of the most well-known ways to fix the issue is to do a factory reset of the device. This means that it will delete a layer of all the data which you have to solve the issue. Everything will be removed from the IOS. When we erase all of our data then the system drive and all the necessary updates and files start from new, and settings are also back to normal. Pursue the downward steps to accomplish a factory reset
Backup all the necessary data because it will erase all things
Connect the required device with the system and open iTunes
Click on the summary section.
Tap on restore button
Read Also: Different ways to factory reset without data loss
DFU mode to get rid of this iPhone error 4013
A way to fix all your errors in the device. This is especially used by professionals. A core system that is present in your device is manipulated by this method or way. Only a few in this world would know about this method but they also don't know how to use it. I will explain the method below.
Start the iTunes app on your computer as well as connect your iPhone device to the pc.
Penetrate the DFU method in the iPhone
Switch off the phone and carry the power switch for 3 seconds, then tap and hold the volume down key.
Keep the controls for 10 winks, don't depart the volume down key and release the power regulator.
If it displays a black screen. So, then release the volume down key.
Now you are in DFU mode and ready to use
On the pc select the restore option on the iTunes menu.
Additional steps that could assist you to fix this issue
I want to share some other methods as well that would be helpful in some situations if you are not getting a result from the above methods. 
Step1 – You need to ensure that the latest version is installed in your system of apps or windows. this is necessary to avoid any issues such as framework, updates, or errors. The updates are available in your system itself. Proceed to AppStore > modernize your mac. Present if you have to update your mac. Go to apple logo in setting then hit software update in it. This will make sure that your system will be updated to the latest version.
Step2 – A forceful restart of the iPhone can help it. It is used in a version of iPhone 8 or more. Push the volume up key and unleash it fast to force restart the device. Also pressing the down volume key and quickly releasing it can help you in entering force restart. Don't restart again and again. The problem will be resolved in a single restart to solve iPhone error 4013.
Step3 – This error can also be caused by a cable. So, changing the cable can help to solve the issue. A corrupt cable can harm the device or provide misinformation.
Step4 – Apple support is an easy way to solve all your issue. Try to call apple support or chat with a customer support executive. They will suggest to you on how to solve this. Understand everything clearly from customer support. Do as it is, as they say. After that, if the iPhone error 4013 does not resolve then again call customer support they will guide you again in that case.
Cleaning Your iPhone for iPhone error 4013
When you use the device, it will produce many unwanted files or space and the internet plays a huge role in it. These files are created by your device and are kept in a corner where you cannot reach, and they will continue to harm the device. This type of unwanted file will try to hang your device and make it worst for you. Log files, deleted files, and temporary files are considered unwanted files. Many ways to clean your device and improve the performance or get rid of errors. Empty the recycle bin of your device, it would be located in photos or files. Temporary internet files are a big problem. It is created when you download something from the internet like Apk's, music, picture, etc.
Phone manager apps or phone cleaner apps can help you to clean this type of file. Log files are also very important to delete otherwise it will try to hang your device. Every app has its data and cache data but very few of them would know about cache data, go to the setting of your device then find the option of apps. When you open it, and you will find an option of cache data. Delete it from there to free some space on the device. Attempting to do these specialties, would support you in the lengthy run. An unrestricted area in the apparatus will make sure that your device is in good condition. By using this method iPhone error 4013 will not occur at any cost. 
Conclusion
Devices are man-made and every human being could be wrong in any situation. So, likewise, every device can trouble you with data, privacy, storage, and errors. All are natural and have a thought in mind as we keep our house neat all the time. Device also required for cleaning time to time. Whether it's data, storage, or files we need to clean them if we want no trouble with the device. All electronic devices malfunction at some point and harm your data or may delete permanently. Every time keep your important data on different storage or device. All the methods or steps which I have shown in this article are ascertained means these things have been tried by other people to check their pertinence of it. 
Error 4013 is not a big issue if it occurs. Problem is easy if you know the right way to do it. Generally, it goes when we restart or shut down. An update to your iPhone can also solve the issue. You ought to discover the correct thing for your device and keep going. iTunes play's a big role in this type of error. iTunes is an apple melody medium where users locate it enjoyable to listen to music. An app and platform made for apple user. if the iPhone error 4013 occur through iTunes, then uninstall iTunes and again install it, after the issue may be resolved. All knowledge regarding this issue I have given to you. So do everything clearly and take precautions as well to avoid any data loss
FAQ
Could we factory reset the locked device?
Yes, one rule to follow for necessary device buttons to work and maintain that it is charge fully. Every method is in this article. Do read it properly and use it if needed. Everything is in the article for you need, from simple steps to complex methods. All the solutions which I could provide you are in this article just read it carefully and find the right one for you. Reset is the process in which all the necessary settings are back to normal, and the data will be lost in this process.
What is the master lock in the device?
Master lock is a combination of password or a pin, that is set up by the user even though he/she first bought the device first and try it first. This is an emergency password to unlock the gadget when you forgot its password. it is using four-digit sequence code to unlock the device. Sim pin can also be the master code if you have set it as the master code for the device. Many times, I forgot my lock screen password but at that time I did not know about this thing but today I have set up my master code password in case of emergency.
IOS will be affect by this method?
iPhone IOS not affect by this method because we use it to repair the IOS function. The error problem which we face somehow solved by repairing IOS and it does not affect the IOS system. Repairing me we are restoring the entire IOS system by giving it an external repair method to fix the issue. All are trustworthy methods and did not harm the device or the system in it.