Most of us are drawn in by the iPhone 14s and the Samsung Galaxy S23's fashionable new aesthetics, but there is more to these products than their first appearance. The iPhone 14 appears to have fairly little change at the first glance. However, a new interior makes repairs simpler and less expensive, indicating a significant turn for Apple pointing in the right direction. Let us also meet the brand-new, four-color Galaxy S23 and S23+ with sharp Nightography excellent selfies and a long-lasting charge for fluid gameplay. The unwrapping experience is one of the most thrilling aspects of purchasing a Samsung gadget! By using recycled paper entirely for the Galaxy S23's box and salvaged glass and recycled plastic in its design, Samsung seeks to make as many of its product lines as feasible green. Lets jump right into it!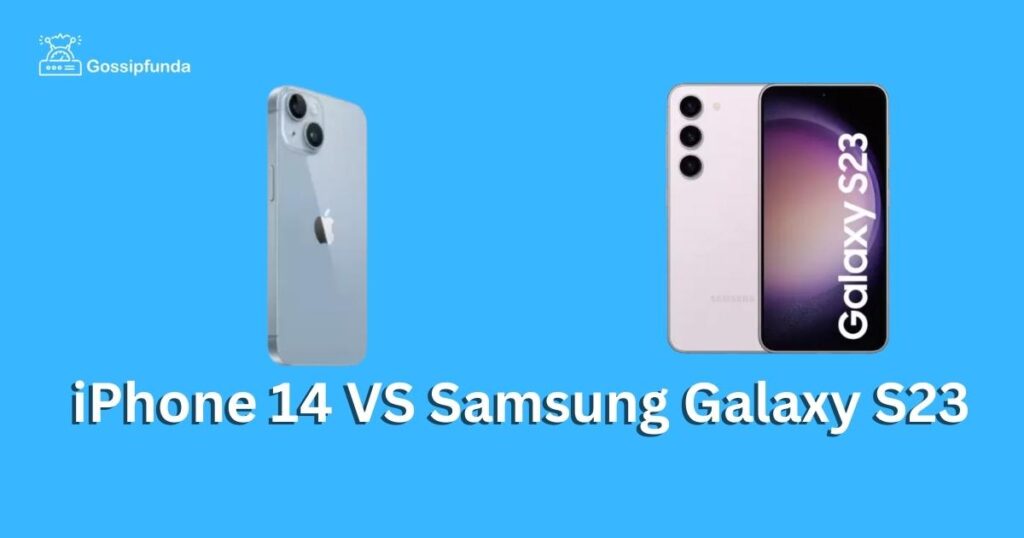 Apple iPhone 14
As of Monday, September 26, 2022, at 4:40 A.M. As per CNBC, Apple announced it would construct the iconic iPhone 14 in India as the American technology giant attempts to shift some production out of China. The gadgets are now being manufactured at Foxconn, Apple's primary iPhone assembler Sriperumbudur's factory from outside Chennai. Apple has been producing iPhones in India since 2017, however frequently they were outdated models. Apple unveiled the newest model in its lineup the iPhone 14 at its debut.
Why should I buy the iPhone 14?
Reason1 :
The key selling point of the Apple iPhone 14 is that the price found for Apple iPhone 14 Pro is $999 and for Apple iPhone 14 is $799. Cost savings over an iPhone 14 Pro, rendering it to be the least costly iPhone available today. The first iPhone to consider is this one if you don't want to spend a great deal of money on an iPhone 14 Pro and don't require the three cameras or always-on display that the extra cash buys. Even though its exterior appears to be the same as the version from the previous year, the iPhone 14 is a credible challenger.
Reason2 :
The iPhone 14 and iPhone 14 Plus are equipped with a powerful camera system that features new Main and front True Depth cameras, the Ultra Wide camera for unique perspectives, and Photonic Engine—an upgraded image pipeline—to produce stunning photos and movies. With a 5-core GPU included in every model, the A15 Bionic CPU provides exceptional speed and efficiency for demanding applications and was designed with privacy and security in mind. The iPhone 14 and iPhone 14 Plus are the first devices in their class to integrate crucial safety features like Crash Detection and Emergency SOS via satellite.
Reason3 :
The color changes are minimal for example, Midnight, Starlight, and Purple are joined by a brighter Product (Red). The fifth color is a lighter hue of blue. The iPhone 14's notch only saw a small tweak to become narrower and deeper while Dynamic Island was introduced to the iPhone 14 Pro series. The iPhone 14s has a shiny exterior rather than the smooth finish of the iPhone Pro series. Both device chassis are made of aluminum. The basic iPhone 14 weighs 1.2 ounces less than the iPhone 14 Pro, so you may feel the difference in weight when holding it in one hand. So, like the iPhone 14 Pro Max, you have to hold it in your hand.
What are the new features to be thrilled about?
SIZE :
With a 6.1-inch, conventional 60Hz OLED screen, aluminum sides, and a glass back, the body of the iPhone 14 is basically equivalent to that of its predecessor.
BATTERY :
It even includes the same A15 chip and extended battery life of 44 to 48 hours between consecutive charges just like the 13 Pro models from the previous year. You can go around two days between charges if you only use it periodically. The battery's anticipated lifespan is not stated by Apple, however, it ought to withstand more than 500 full charge cycles and preserve at least 80% of its nominal capacity. A new Apple iPhone 14 battery price may range from $30 to $90 in the US and should last more. The new internal design was applauded by repair specialists. Tin, tungsten, rare earth elements, plastic, recycled gold, and The 14 are all present. In its study, the company lays down the phone's impact on the environment. Apple offers free recycling and trade-in opportunities, as well as for non-Apple products.
REPAIR :
The iPhone 14's glass back is now quicker to repair and less expensive. The major adjustments are concealed from view. It was once the case that the back glass panel was essentially attached to the frame, requiring a replacement after being broken, a tedious operation demanding the complete dismantling of the gadget from the front is necessary.
The new iPhone 14 may now be handled from both the front and the back thanks to its unique mid-frame design. Although it falls short of the Samsung devices that are modular, and have user-repairable vision, it is nonetheless a significant step in the right direction for Apple. Improved heat conduction for the user means longer gameplay sessions. However, for repairs, it means that replacing the back glass is just as simple as changing the screen, which significantly improves the device's longevity. As a result, rear glass repairs now cost $499 for the iPhone 14 pro. Again, third parties are probably going to charge less.
What are the spec's of the iPhone 14?
Aluminum, glass, and ceramic protection are used in the design.
Capacity: 128GB\s256GB\s512GB
Apple A15 Bionic, as the processor
Chip: Bionic A15 chip
2 performance and 4 efficiency cores make up a six-core CPU.
Five-core GPU
Neural Engine with 16 cores
Display: Super Retina XDR display
All-screen OLED display, 15.40 cm/6.1 inches (diagonal), 2532×1170 pixels, 460 pixels per inch
The iPhone 14 display includes curved corners that sit inside a typical rectangle and has a beautiful curved design. When measured as a typical rectangular shape, the screen is 15.40 centimeters (6.06 inches) diagonally (although the actual viewing area is less).
RAM: 6GB
Capacity: 128, 256, or 512 GB of storage
iOS 16 as an operating system
Camera: 12MP dual-camera system camera Main: 7 components, sensor-shift optical image stabilization, 26 mm, /1.5 aperture, and 100% Focus Pixels.
Ultra Wide 12 MP: 13 mm, /2.4 aperture, 120° field of view, five-element lens, 12MP ultra-wide
2x optical zoom out;
5x digital zoom case made of sapphire
False-color flash
Photonic Motor
Full Fusion
Advanced blurring and Depth Control in Smart HDR 4 Portrait mode
Natural, Studio, Contour, Stage, Stage Mono, and High-Key Mono are the various effects available for portrait lighting.
Night mode
Panorama (up to 63 MP) (up to 63 MP)
Photographic Techniques
Wide-angle photography and Live Photos
lens adjustment (Ultra Wide)
Modern red-eye reduction
self-image stabilization
Buffer mode
Geotagging of images
The pictures were taken using JPEG and HEIF.
IP68 (6 meters of water resistance for 30 minutes)
Weight: 172g Dimensions: 146.7 x 71.5 x 7.8mm
True Depth camera support for facial recognition is provided by Face ID.
Safety: Crash Detection and Emergency SOS
Read Also: How to send long videos on iPhone
Samsung Galaxy S23
The S22 seems to naturally lead into the S23. The battery has been raised by 200 mAh, the design has altered somewhat, and the selfie camera has been improved. This time, we have the option of 8K recording at 30 frames per second, but the primary camera module still resembles the S22 series.
The Galaxy S23,
the Galaxy S23+,
and Galaxy S23 Ultra are the three devices that make up the Galaxy S23 series, with the latter being the traditional absolute beast. The non-Plus is often the smallest member in the series. 
Why should I buy the Samsung Galaxy S23?
Reason1 :  Elegant style and understated finishes. The side metal frame has a slight arch but is otherwise smooth and flat, unlike the absolutely flat screen. Here, there are no edges.
Reason2 : If you had been looking for the Galaxy S23 to come in bright and vibrant hues. The designated color tones are Phantom Black, Cream, Green, and Lavender. They are incredibly rustic, help to maintain a low profile, and offer a simple charm.
Reason3 : Samsung decided not to carry over the S22 Ultra's impressive camera system and 108MP sensor to the S23.The S23 still includes a 50MP wide lens, a 12MP ultra-wide lens, and a 10MP camera with 3x optical zoom stabilization in response. Despite having only 12MP, the front camera is still an improvement over the S22's 10MP selfie camera. The robust Snapdragon 8 Gen 2 chipset, which acts as one of the primary features of the Galaxy S23 and its bigger co-models, is a significant boost to this phone.
The large camera modules that protruded from the back of the phone and were attached to its frame are no longer present. Now, only the metal rings that shield the lenses protrude outward from the back's flat surface. Samsung is the strongest at AMOLED. The organization has spent the last ten years refining displays that are beautiful, vibrant, crisp, and exquisite. The Galaxy S23 continues to do this, but the brightness has now been significantly increased. The little phone has a maximum brightness of 1,750 nits if necessary. And you won't need anything more, not even in the summer heat of August.
Reason4 : The Samsung-tuned Qualcomm chip is placed inside the lovely Gorilla Glass Victus 2, which also has an Armor Aluminum shell. Nevertheless, the battery and base storage is just half as large. Galaxy S23's has at least 200 mAh more than the Galaxy S22's 3,900 mAh battery. The Plus enhanced cooling system and UWB features are also absent from the S23. For someone looking to join the Samsung Galaxy parade, it might be the perfect blend of size, price, performance, and camera capabilities.
What is One UI 5.0 in the new S23?
The One UI 5.0 is implemented on the new Samsung Galaxy S23. One UI is Samsung's collection of software coverings, or customizations, for Android. Every sequential Android release since One UI's launch in 2018 has also gotten a significant One UI update. On numerous Samsung smartphones, including the Galaxy S23 series, Galaxy S22 series, and others, the update is available. 
More devices will receive the update in the following weeks and months. Samsung's One UI 5, which is based on Android 13, offers all the system-level enhancements provided by the most recent version of Android. Because Android 13 is a minor update, you shouldn't expect One UI 5 to fundamentally alter how you use your Samsung phone. Although not very revolutionary, many of Android 13's enhancements are intelligent improvements. The language options in Android 13 allow you to change the language of each app that appears and the push notification permission offers a per-app notification option.
Although it's a slight change, One UI 5's UI 5 is likely to make you notice it immediately. The notification panel has a relatively modern look. The larger and more vibrant app icons should make it easier for you to easily identify which app's notifications originated from. The number of quick settings icons shown when the notification shade is partially enlarged was also altered in an early One UI 5 beta.
What are the spec's of the Samsung Galaxy S23?
Networking: GSM, CDMA, HSPA, EVDO, LTE, and the launch of 5G
Dimensions: 146.3 x 70.9 x 7.6 millimeters (5.76 x 2.79 x 0.30 in)
Size: 168 g (5.93 oz)
Build: Aluminum frame, glass front and back
Dual SIM or SIM Nano-SIM and eSIM Dust and water resistance IP68
Stronger drop and scratch resistance with an armor aluminum frame (advertised)
Dynamic AMOLED 2X, 120Hz, HDR10+, 1750 nits are the display kind (peak)
Size:  6.1 inches, 91.3 cm2
Resolution: 1080 x 2340 pixels, aspect ratio: 19.5:9
Protection: Victus 2 with Corning Gorilla Glass and an always-on display
Android 13: One UI 5.1 Chipset, PLATFORM OS
Snapdragon SM8550-AC Gen 2 Snapdragon 8 (4 nm)
Capacity: 128GB only, 128GB 8GB RAM, 256GB 8GB RAM, and 512GB 8GB RAM
Sensors:  Fingerprint, proximity, accelerometer, gyro, compass, and barometer features Samsung Wireless DeX and Samsung DeX
Natural language dictation and commands in Bixby
Galaxy Pay (Visa, MasterCard certified)
LI-ION 3900 mAh, non-removable BATTERY
Charging in 30 minutes, 25W connected, PD3.0, 50% (advertised)
Colors: Phantom Black, Cream, Green, Lavender, Graphite, and Lime are MISC colors.
Read Also: Unable to connect to Samsung server
Conclusion 
The iPhone 14 is an excellent phone for the money because it has improved cameras, a faster A15 Bionic chip, and fun Action mode for video capture. Although Samsung essentially left the proportions of the Galaxy S22 unchanged, the Galaxy S23 is not as big as the S23 Plus. They suit the S23 phones' new look, in my opinion. It can be concluded with assurance that the iPhone 14 and Samsung Galaxy S23 have proven to be a trusted and sensible option to purchase given its capabilities and price offered.