Apple Inc. is set to release four new iPhones of the iPhone 14 series in September 2022. Two of these are expected to be the standard models called iPhone 14 and iPhone 14 max. These are going to be more affordable and cost-effective for their users whereas the other two are expected to be in the more luxury segment called iPhone 14 pro and iPhone 14 pro max. These models are high-end models and therefore priced accordingly at a slightly upper end. In this article, we will discuss the iPhone 14 pro: detailed specifications and rumors.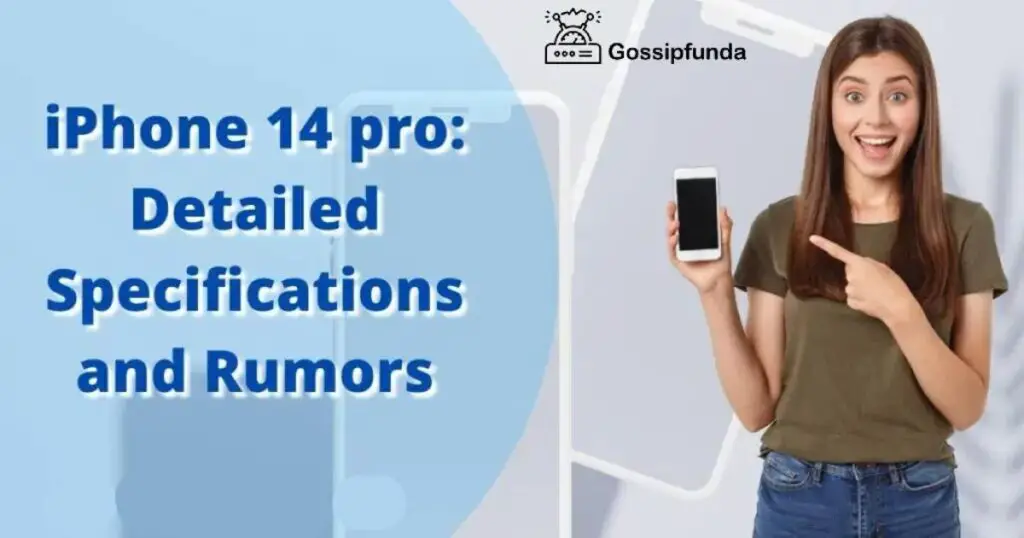 iPhone 14 pro expected table of specifications
| Item | Specification |
| --- | --- |
| Launch Date | September 2022 |
| OS | iOS 16 |
| Network | 5G  |
| Port | USB-C |
| Connectivity | Cellular, WiFi, Bluetooth, and Satellite |
| Outlook | 0.2 mm thicker, pill-shaped cutout,  |
| Colors | Graphite, Gold, Silver, Dark Purple |
| Speaker | Earpiece, Loudspeaker |
| Display | 6.1 inch XDR display, dynamic 120 Hz with LTPO technology |
| Processor | Apple A16 bionic CPU with 4nm process |
| RAM | 6 GB LPDDR5 RAM |
| Storage | 128 GB, 256 GB, 512 GB, 1 TB, 2 TB |
| Camera | 48 MP wide main camera |
| Battery | 3125 mAh |
| Price Range | Starting from $1099 |
The Launch
Apple usually launches all its products during the fall, continuing its legacy iPhone 14 pro, and other phones in the iPhone 14 series are expected to be launched on September 13, 2022. This would be just a few days before the grand Apple event rumored to be on September 16. During this period the pre-orders of the phone will start and finally, the iPhone 14 Pro will be released on the market on September 23, 2022.
If rumors are to be believed, there are some supply chain issues with the parts of the phone but there is nothing to worry about as other vendors will be able to fulfill the gap and the supply chain is expected to get restored without any major delays from an end-user perspective. These are just rumors and not yet confirmed by any official source. So to all those waiting for the iPhone 14 launch and purchase, there is absolutely no reason to be disappointed.
General specifications
iPhone 14 pro will come with a full touch screen like usual and an iOS 16 operating system. It is also rumored that the touch ID feature might return but nothing is confirmed. In recent days where wearing a mask is a compulsion, it is very important to have another method to unlock the phone other than faceID. However, the face recognition system used is top-notch and capable of identifying the user even while wearing a mask. It is said that the new iPhone 14 pro will have a smaller 5G modem chip which will leave a little extra space for the battery.
The new iPhone is said to be loaded with modern sensors including the ambient light sensor and proximity sensor. The most important and impactful change that is expected in iPhone 14 pro is the use of USB-C port connectivity. This is expected to offer higher transfer speed and increased charging speeds as well.
Connectivity
Just like the earlier models, iPhone 14 pro also supports regular cellular, WiFi, and Bluetooth connectivity as usual. In addition to that, a major enhancement can also be seen in this parameter of connectivity. Rumors say that the iPhone 14 pros will also have connectivity to the satellite network in emergency cases. This means that if you are an iPhone 14 user and you land yourself in a place with low or no network coverage then, you will still be able to call a few emergency contacts over a satellite network and let them know your location.
This is a major development and adds an extreme sense of security and safety to its users wherever they go. This feature can prove to be a game changer and many manufacturers might follow and incorporate this in their designs to enhance the end user's safety and security at all times irrespective of where they go.
Outlook
Moving on to the look and feel of the new iPhone 14 pro, we hear that a few major changes have been incorporated into the design. The infamous notch seems to have been ditched in the new design and a pill-shaped cutout with a punch hole is incorporated. This gives a better feel to the user as compared to the notch which was a disturbance on the screen. The pill-shaped cutout will be used for faceID recognition. Retaining its block-like design, iPhone 14 Pro is expected to have a 0.2mm thicker body design compared to its previous 13 or 12 series.
Also, in further sections we will discuss the camera which has caused changes in the body design as well, that is the corners are expected to be more curved this time. The phone will be available in the usual colors graphite, silver, and gold in addition to a new color dark purple. The other colors namely pink and green have been dropped for this release.
Multimedia
In this segment, we will see what is new and what is retained from the older version in the multimedia domain. We hear that there will not be a 3.5mm jack in the iPhone 14 pro for headphone connectivity. It will have an earpiece or loudspeaker as its speakers and an additional microphone for noise cancellation. It will also offer wireless screen sharing for screen mirroring. Once again these are just rumors or information gathered from leaked sources and we do not have an official confirmation on the same. It's approximately a month's wait to confirm all these features from official sources. If Apple maintains its standard of amazing sound experience, this segment does not require any major changes to deliver quality. In earlier models as well the sound quality has been pretty great and it is expected to be maintained here as well.
Display
iPhone 14 Pro is expected to have a 6.1-inch super retina XDR display. There are multiple other minutes but impressive changes in this segment. It is rumored to have a 120 Hz dynamic refresh rate display which will help increase performance. On the other hand, it will be equipped with the second-gen LTPO technology which means that the screen will be able to slow down its refresh rate up to 1Hz if there is no moving image hence improving battery life. Another notable feature that might be introduced here is the always-on-display mode in which the users will be able to see the weather, event reminders, fitness stats, and many more widgets on the lock screen itself. This will deplete the battery but that can be managed by the LTPO technology by consuming less battery than usual during view.
Processor
The processor in this case has been enhanced from the previous versions. iPhone 14 Pro will be using an Apple A16 bionic CPU which is the latest in its domain. It will also use a 4nm process to fit in more transistors and increase performance significantly. However, not much can be said about the user experience but as the iPhone is already super fast so we can not comment as to how much the end user will recognize the speed difference. Moreover, nothing can be said before actually experiencing the performance. So, more on this when the phone is released. One thing can be said for sure that the processing capabilities for sure will improve as the A16 bionic CPU is the latest in the market and is known for its performance.
RAM
The new iPhone 14 pro will be available with 6 GB LPDDR5 RAM which is the latest in its domain and is faster and more energy efficient. This means that we can expect an increase in the performance parameter and also will help maintain the battery life duration. It is set to be made available in various storage options starting from 128 GB, 256 GB, 512 GB, 1TB up to 2 TB. This is a huge amount of data space either for storage or processing purposes, there will never be a problem of storage space shortage. One of the most important factors one looks at while buying a new phone is its RAM specification. It plays a major role in enhancing performance because however powerful the processor might be if it does not have sufficient RAM there will not be any significant performance increase.
Camera
In this section, we will discuss the most hyped-up feature of any iPhone which is its camera. In any group of friends, the one who has an iPhone always clicks the pictures, right? So it is time to be happy because iPhone 14 pro comes with very impactful changes in the camera quality. It comes with a 48 MP wide main camera which is significant, to be precise 4 times, resolution jump from its previous 13 series which had 12 MP cameras.
It will come with an optical image stabilization feature but with this, the size also is expected to increase. The camera is rumored to have larger apertures and the rear camera module also is expected to get bigger. Other than that, just like its predecessors iPhone 14 pro also comes with a trio of rear cameras including the main camera, ultra-wide and telephoto array and we have no complaints!
Battery
With the incorporation of an always-on screen, users might experience some battery issues but not too much as the latest LTPO technology will bridge the gap to an extent. iPhone 14 Pro is expected to have a 3125 mAh battery size which is less compared to iPhone 14 standard model with a 3240 mAh battery size. It is rumored that iPhone 14 pro has a smaller 5G modem chip which will leave enough room for expanding the battery size a bit and improving the battery life. But nothing can be said concretely as there is no official comment about it so far. We can witness some major changes to improve battery life or it might remain as it is. So if you are someone whose priority is good battery life then the iPhone 14 standard model looks like a better choice than iPhone 14 pro at this moment.
Pricing
The most important question everybody is waiting for is the pricing. How much do I need to save up to get the brand new iPhone 14 pro in my hands? Well, if sources are to be believed then there might be a slight surge in prices compared to the previous models. iPhone 14 Pro is expected to start from $1099 which is a $100 dollar increase from iPhone 13 pro. But, if Apple stays consistent with its pricing trends then iPhone 14 Pro is expected to start at $999. It is also good to know that there will be more pocket-friendly standard versions as well of the iPhone 14 series.
Conclusion
I hope we have covered iPhone 14 pro: detailed specifications and rumors. Finally,  we are all eagerly waiting for the new iPhone 14 series to get released and for us to get our hands on it. In all, it looks like there are some major changes expected in a few parameters and some of the old changes are going to be retained. Hopefully, it will offer a good user experience and maintain Apple standards. The countdown has begun, and there can be official news any time soon. So keep your seatbelts on and wait for that moment when you hear the words open for preorders!
FAQs
Is the new iPhone 14 pro available now?
No, it is not available as of the date this article is written (26 July 2022). The expected release date is in mid-September.
Will iPhone 14 pro drill a huge hole in our pockets?
Well, that depends. All that can be said at this moment is that it is most likely to be released in 4 versions. Two of which are expected to be more cost-friendly.
Which is better: iPhone 14 or iPhone 14 pro?
That totally depends on the features one is looking for and the budget. iPhone 14 series features are not officially out yet. Once they are, it would be better to comment.
When will the pre-orders start and what is the waiting period?
The dates are not officially confirmed yet but it is expected to start in September post the launch. Users might not face a very long waiting time but nothing is concrete as of now.