When trying to install a new driver, Windows users frequently experience the 0x80070103 install error. Driver compatibility difficulties, out-of-date drivers, incompatible software, and hardware issues are only a few of the causes of the error. The issue might be annoying because it may prohibit you from installing vital drivers or updates that are necessary to maintain the proper operation of your system. In this post, we'll examine the top 10 root causes of the 0x80070103 install error and offer potential fixes for each one so you may repair the problem and resume normal computer use.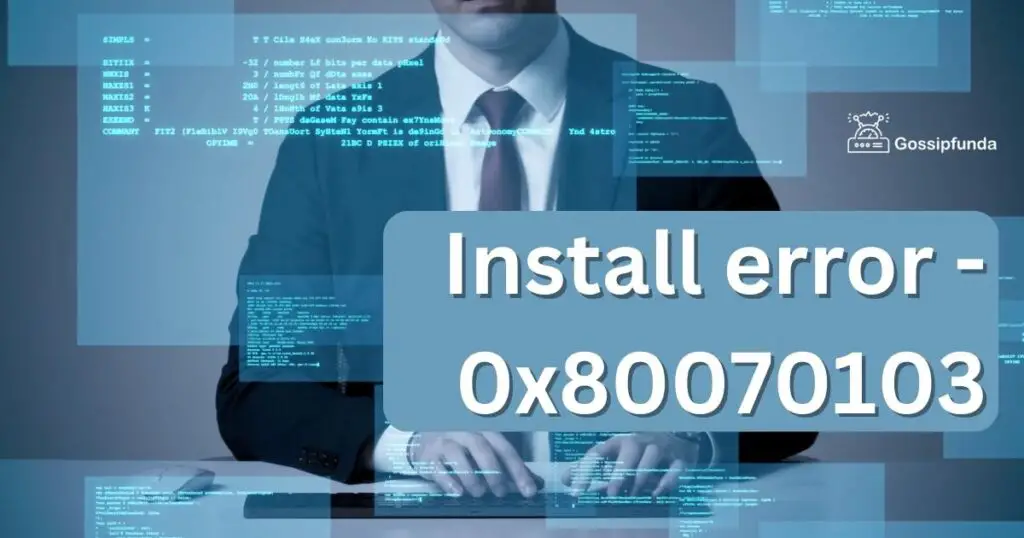 Causes of Install error – 0x80070103
Installed driver: If the driver you're trying to install is already on your system, you could see this error. This may occur if the driver was a part of an earlier Windows update or if you manually installed the driver in the past.
The driver you're attempting to install could not be compatible with your system, which is another reason why you can get this error. You could experience this if you try to install a driver that was intended for a different version of Windows or a different kind of computer.
System file corruption: The 0x80070103 error may appear if one or more of your system files are corrupt or damaged. Malware or viruses, faulty shutdowns, or other problems might all be at blame for this.
Not running is the Windows Update service: Your system's updates are downloaded and installed via the Windows update service. You can see difficulties, such as the 0x80070103 error, while attempting to install updates if this service is not active.
Drivers that are out of date: This error may occur if your system uses out of date drivers. If your drivers haven't been updated recently or if the driver update was issued after your last update, this may occur.
Hardware problems: You can see this error if the device you're attempting to upgrade has a hardware problem. You might not be able to install the required driver updates, for instance, if the device is broken or has a compatibility problem with your system.
Low disc space: If there isn't enough free disc space on your machine, this error can show up. This could happen if your hard drive is overloaded with data and software and has little room left for upgrades.
Corrupt Windows registry: The Windows registry is responsible for managing system settings and configurations. If the registry is damaged or corrupt, installing updates may be problematic and result in errors like the 0x80070103 one.
If you have a firewall or antivirus programs installed on your computer, it's possible that it's obstructing the installation of the necessary updates. If the programme is configured to block particular downloads or upgrades, this can happen.
Network issues: If your network connection is faulty, you may experience issues when attempting to install updates. For instance, if your internet connection is slow or unstable, you might not be able to obtain the necessary updates.
How to fix Install error – 0x80070103
Look to see whether the driver is already set up:
You can use the procedures below to see if the driver has already been installed:
On your keyboard, press Windows key + X, then choose "Device Manager" from the drop-down menu that displays.
Find the device you're attempting to install a driver for in the Device Manager window.
The driver is probably already installed on your computer if the device is shown without a red X or yellow exclamation mark.
There may be a problem with the device and the driver may need to be updated or reinstalled if the device is shown but has a yellow exclamation point or red X next to it.
Verify your drivers' compatibility:
Find the device driver responsible for the issue. The error message often specifies which driver is the problem.
Check the system requirements for the driver on the manufacturer's website or in the device's user manual. Verify that your machine satisfies the prerequisites.
Try downloading and installing the most recent driver from the manufacturer's website if your system satisfies the criteria. Ensure that the driver you download is the appropriate one for your hardware and operating system.
The Windows Update troubleshooter should be used:
Running the built-in Windows Update troubleshooter will assist identify and resolve any difficulties you're having with the Windows Update service. The troubleshooter may be used by going to the Settings app, choosing "Update & Security," and then clicking "Troubleshoot." Go to "Windows Update" and choose "Run the troubleshooter." Any problems that are found will be fixed by the troubleshooter while it runs.
Restarting Windows Update is a good idea:
Restarting the Windows Update service might help fix any issues it may be experiencing. Open the Run dialogue box, enter "services.msc," and hit Enter to restart the service. Find "Windows Update" in the Services pane, right-click on it, and choose "Restart."
Newest drivers:
One problem that outdated drivers might lead to is the 0x80070103 error. Consequently, it's crucial to keep your drivers current. To obtain the most recent versions, you may either use a driver update tool or go to the manufacturer's website. Ensure that you obtain and install the appropriate driver for your operating system and device.
Look for hardware problems:
Running hardware diagnostics can help you find and address any issues if you have a suspicion that the hardware is the problem. Numerous computer makers offer built-in diagnostic tools that are accessible at boot-up. On the website of the computer's manufacturer, you can download diagnostic software if your computer lacks built-in diagnostics.
Releasing disc space:
Disc space is needed for updating and driver installations. To guarantee that you have adequate room to download and install updates, it is crucial to clear up disc space. You may remove unneeded programmes, erase temporary files, and remove useless files and apps.
Windows registry repair:
The 0x80070103 error can be brought on by corrupt or damaged registry entries, among other problems. To correct any faulty or damaged entries, you can manually update the registry or utilise a registry cleaning. When editing the registry, take care because any mistakes could lead to system instability.
Disable firewall and antivirus software temporarily:
The 0x80070103 problem can occasionally be brought on by updates and drivers being blocked by a firewall or antivirus programme. The problem may be solved by momentarily turning off the programme. However, keep in mind that after installing the update or driver, you must enable the software.
Change your network:
Try joining a different network if you're experiencing network problems, such as a sluggish or inconsistent internet connection, to determine whether the issue still exists. Additionally, you might try clearing your network settings or asking your internet service provider for help.
Conclusion
The "0x80070103" error can be annoying, but it is typically resolvable. You may fix the problem and successfully install the necessary drivers or updates on your system by using the techniques described in this article. Remember to check for driver compatibility, update all drivers, clear up disc space, look for hardware problems, and, if required, think about temporarily turning off your antivirus or firewall. By following these instructions, you can keep your system updated with the newest drivers and software and working properly.
FAQs
Can the "0x80070103" problem be brought on by a damaged Windows registry?
It is true that a damaged Windows registry can result in the "0x80070103" error. To fix any faulty or damaged entries, it is advised to utilise a registry cleaning or manually update the registry.
Can the "0x80070103" error be brought on by a network problem?
Yes, the "0x80070103" error can be brought on by a network problem. Try connecting to an alternative network if you're experiencing difficulties obtaining updates or drivers to check whether the issue still exists.
Can the "0x80070103" problem be fixed without changing drivers?
Without upgrading drivers, it is feasible to resolve the "0x80070103" problem. The Windows Update troubleshooter, restarting the Windows Update service, or fixing the Windows registry are all options you may attempt.
The "0x80070103" problem might perhaps be brought on by a conflict with third-party software.
Yes, the "0x80070103" error can be brought on by a conflict with third-party software like antivirus or firewall software. Think about temporarily turning off such software and trying again.
Does the "0x80070103" error have a hardware component?
The "0x80070103" error can be caused by a hardware problem with the device you're trying to upgrade, yes. Running hardware diagnostics is advised to find and resolve any issues.