Most of us are unaware that by using Google Lens, we can make our lives a whole lot easier. Doesn't that sound interesting? Well, this is as simple as it sounds. It's just like the game of click, tap, and done. Google Lens is basically a content recognition tool/app that is based on AI(Artificial Intelligence), which is going to help you in the long run of your day-to-day life. Now the question arises, "How can it be helpful?" Google Lens app simply allows you to aim your phone at an object and take its picture or to add a photo from your gallery and then just tap on the button. That's it. Your useful information is at your fingertips without the need to give any description of it. Isn't that much easier? Well, it is.
Now the question is whether it is really that simple. If yes? Then how can we use it? The answer to this is quite simple. You can use Google Lens on any smartphone, whether it is an Android smartphone or an iOS smartphone. Google Lens is a simple and handy tool that can be used on your smartphone anywhere at any time. It simply helps you to retrieve information about a real-time object from the recognition of an image. This image can be of any kind of plant, text, place, animal, or anything else. Like, if you want to know about any exotic plant, just simply open Google Lens and take a picture in the frame provided.
Then a text will appear saying "TAP ON THE SHUTTER BUTTON". After this, you can select any of the oval buttons to present below, having options like translating, homework, shopping, dining, texting, etc. This will take a moment for Google Lens to connect with its servers, and then it will show you some descriptions and similar pictures instantly. That will help you to gain knowledge and information about that exotic plant. 
If Google Lens has removed something from your image, simply resize it to fit your needs. So, install Google Lens on your iPhone and let your device do all the hard work for you, i.e., scan images and retrieve the correct information with a simple click. Not just this, you can also solve your doubts, translate your text, search for your favorite pair of shoes, and review your nearby cafes or restaurants without visiting them.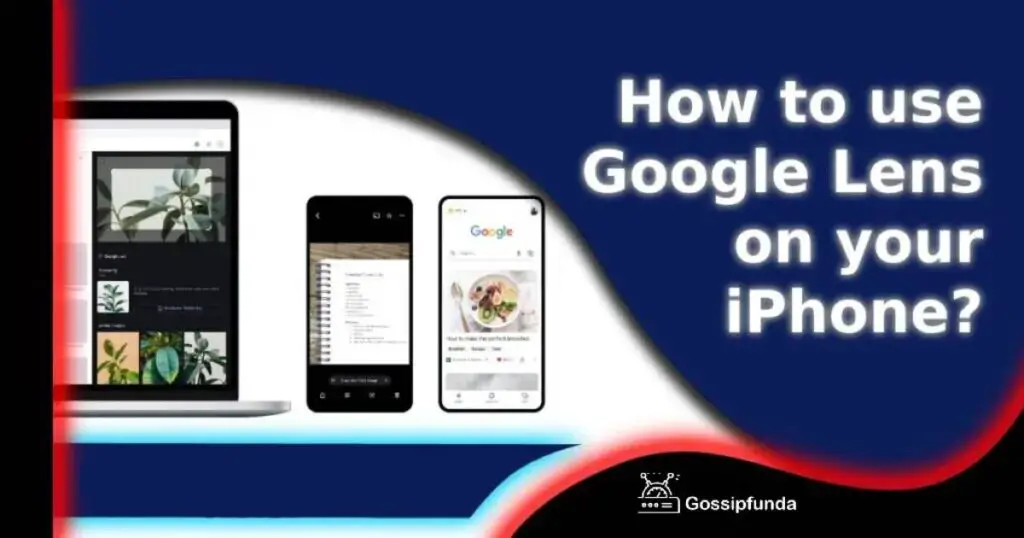 How do you use Google Lens on your iPhone?
This AI-based tool is easily available and can be easily installed on both Android and iPhones However, there is a separate Google Lens app for Android smartphones, but there is no separate lens app for iPhones. So, here are a few ways in which you can install Google Lens on your iPhone. All you need is either the Google app to be installed on your iPhone or you should have the Google Photos app installed on your iOS device. Let's understand this.
Open the play store(Apple play store)
Look for the Google Photos app and the Google App.
Download and install both Google Photos and the Google App from the Apple Play Store.
How can the Google Lens app be used through the Google photo app?
Launch the Google Photos app. 
Login with your Gmail and it will ask for permission to use the Google Photos app. Simply click
When permission is granted, all the photos stored on your iPhone will automatically appear in your Google Photos app.
Open an image and select the lens icon present at the bottom of the image. 
Below this image, a similar set of images, a description of the object(present in the image), and other information will appear.
To know more about the details of the object, simply click or tap at any point in the image.
How can Google Lens apps be used through the Google app?
To get access to Google Lens, you have to download the Google app on your iPhone.
Open the Google app and click or tap on the lens icon presented on the right side of the search bar of Google.
Google will ask for your permission to access the camera. Simply click or tap OK.
When permission is granted by you, only then the lens icon will change into a camera.
Aim your camera at a real-time object. Google Lens will scan it and will automatically produce similar images and descriptions.
However, the major difference between Google Lens and the Google Photos app is that with the help of Google Lens we can search for real-time objects that are present at that time at that place, but the Google Photos app allows you only to search for pictures that are already present in your phone's gallery. However, both will give the same results that could be possible.
HOW DOES THE GOOGLE LENS WORK IN IPHONES?
Google Lens simply helps us to learn about various objects, faces, texts, sculptures, monuments, and many others. When you aim your camera at a certain object, Google Lens will simply scan it, and then there will be several icons available at the bottom of the Google Lens. These options include text, translating, homework, shopping, dining, etc. Simply click on one of the icons as per your needs. In that case, if you want to know about your dress, aim your dress within the frame of the camera and click the picture.
Then click on one of the icons located at the bottom of the picture. If you want to know where this dress is available or what material is used in the dress, then click on the shopping icon. This will display similar images, and the description will include links to shopping sites where this item is available. This will help you save a lot of time and energy. Here, your device did all the hard work without wasting your time and energy, and all you got was the best possible results for this.
You can also use this for schoolwork. Aim your camera at a book and then the lens will recognize it, and through Google, you can simply add it to your cart so that when you need it you can simply go to the cart and buy it without any need to remember all the details of the book. If you have a question and you are not able to solve that question because no one is there to help you, simply aim your camera at the question and click it. Then click on the homework icon, which will show similar images to that question, which can help you solve the question in a quick and easy way.
If you have the curiosity to learn more and more languages, then this Google Lens will definitely help you out. If you see a text and want to know about it, click it and then click on the translate icon. This next screen will show you the options of which language you want to translate into. Click it and then click OK. It will translate your text. This will help you at any place and at any time. So, you don't have to worry about anything.
If you see any historic landmarks, and you want to know about them, Google Lens will help you by giving you facts and information regarding them. Google Lens can also help in identifying buildings, works of art, sculptures, etc. So, go, get and learn about various historic monuments and sculptures with just a simple click. In the event that someone is not able to describe the object to the search engine, then the person can simply use Google Lens in order to search for that particular object and know its details without the need to give a brief description of that product.
Why do we use Google Lens?
Google Lens simply reduces the time and energy of its users. It is a simple and efficient AI-based tool that helps you to get the right information in less time and in an efficient way. This app will help in enhancing the knowledge of the user because what we see around us is not probably what we know. So, learning about something new and different every day will surely help us boost our knowledge, vocabulary, and intellect. So learning through such an AI-based tool will be like a fun game.
Wanna know some interesting facts that you can learn from Google Lens? Here they are-
You can be your own self-guided architect.  
You can be a botanist and know about exotic plants. 
Be the one to know the book with its cover. 
Mark your events on your calendar. 
Know about different nearby cafes and restaurants without actually visiting them.
Most important click the image from the back of the Wi-Fi router and your phone will directly connect to the Wi-Fi. 
Time to install Google Lens on your iPhone but little things should be kept in mind
Since technology is being used by most of us in almost every sphere of life, being dependent on such applications should be limited. As Google lens is like a support, i.e. it is like a helping hand to us which provides us with the best possible results, it could. But that doesn't mean it will do all our work always and every time.
It is an AI-based tool/app, which means it will show the most accurate possible results to its users. But that doesn't mean it can never go wrong. Sometimes Google Lens is not able to recognize the object properly and thus is not able to show accurate results. So, Google Lens keeps on improving day by day so that it can give the best possible results to its users.
Many new features are now being added to the Google lens to enhance its abilities and improve the experience for its users. Recently, Google has made an announcement that Lens is going to upgrade a feature, i.e. "Multi search". You only have one image, and you can ask Google lens multiple questions about that image.  Like if we click an image of a kurta, we can ask multiple questions like what is its color, which type of material is used, where this will be available, what will be the price of it, and many others at the same time without any further delay. "Multi search" is now available in beta on both Android and iOS.
FAQs
Can we use Google lens on all phones
Yes, Google Lens can be used on any phone whether you have Android smartphones or iOS smartphones. Google lens app is available for Android smartphones but there is no separate app for iOS. 
Is there any extra thing required to run the Google lens? 
No, if you have an Android phone install the lens app if you have iOS simply download the Google lens or the Google photos app. 
Is the Google lens app free for iPhones? 
Yes, the Google lens app/Google photos app is totally free for all. You can install it from the Apple Store Or play store. 
What is the purpose of Google Lens? 
Its main purpose is to make you aware of everything that you see around you and to save your time and energy. 
Can we check our Google lens history? 
Yes, Google lens history can be checked through my activity present in Google.
Is Google lens further upgrading its features? 
Well yes, it is improving its features. Since it is based on AI and technology is being developed day by day. So, every day it keeps on enhancing its features so that it can improve the experience of its users. 
Can Google Lens be always collected? 
As it is an AI-based tool so it is not possible that it is always correct and accurate but it keeps on improving its features day by day.