Setting a password on your Android device is a good way to keep it safe. This Android characteristic is a very good way to prevent our privacy from getting exploited. There might be certain data and files in your phone that you cannot afford to lose anyway. But sometimes, in between our daily routines, we tend to forget our phone passwords. Or some kid might enter the wrong password too many times that it goes completely locked. This situation can turn out to be troublesome. And before thinking much, we unlock it with a Factory Reset. This is helpful but it costs all of your precious data. Therefore you should always keep in mind that there are always ways to unlock your android phone password without Factory Reset. These are very easy and it saves you from losing your previously kept files. So, let's dive into them without much fuss. 
By using the Android Unlock tool
This Android Unlock tool can help you bypass the phone to lock in just a few clicks. It effectively disables the locked screen whether it is a PIN, pattern, password, or fingerprint. You can use this to unlock your device if it goes through several failed attempts, an unknown change of password, or the phone screen malfunctioning. 
Many people lose hope trying to reopen their device lock and stepping up for a Factory Reset. Before doing all that, they must follow this trick from now onwards.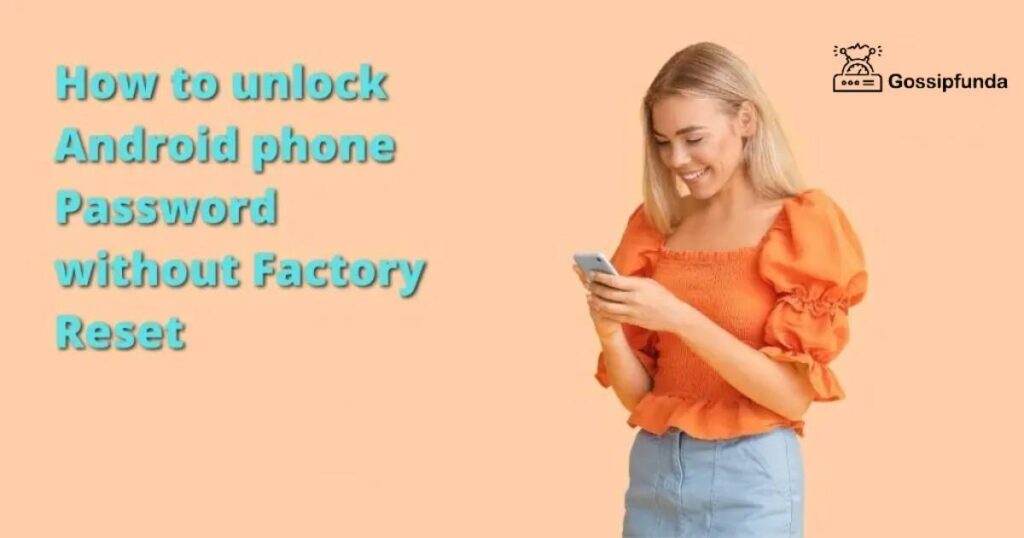 Unlock your phone password with the help of your Google account
If you ever forget your phone password or underwent too many failed attempts, you can try this trick as well. This is also an effective way to unlock the Android phone password without Factory Reset. You must know that your Android device should be synced with your Google account. Now, by accessing your Google account, you can unlock your device. How? Just follow these steps:-
When the option to enter the PIN or pattern shows up, enter anything five times. In most Android phones, during the sixth attempt, the user gets prompted by a message. It asks the user to try again after 30 seconds. 
At this point, you will see an option called "Forgot pattern" at the bottom of the screen. This option enables the device to take the required actions to generate an alternative. Tap the option. 
You should at least remember the Google account your Android device is synced with. Here, just enter that Gmail account. 
Following the Gmail address, there is a space to enter the Account password. Enter it. In case you don't remember your Gmail password too, then skip this step. 
Now, tap on the "Next" option. It will open a new tab.
From here, you can set up your own new password, PIN, or pattern. This time, set a password that is easy to remember and you don't forget it anyway. 
This trick is helpful for users who have a Google Account. But if you don't possess a Google Account, you should certainly try out the following methods. 
Use Backup Pin to unlock your Android phone
There is also another way to unlock an Android phone password without Factory Reset. You can use the Backup pin method to get out of this problem. Let's bring back the situation where you completely forgot your password and made more than 5 or 6 failed attempts. At that moment, you should notice that your device will prompt a "Backup PIN" option. But how do I carry out the steps? Follow these carefully:-
Try unlocking your device with random patterns or passwords.
After making a series of failed attempts, a pop-up message will appear to try after 30 seconds as usual.
When you notice the "Backup PIN" option, tap to access the menu.
Here, you need to enter a suitable Backup Pin. 
Press on "OK" to confirm the Backup Pin.
Now enter this Backup Pin to unlock your phone screen. 
By doing this, you needn't perform a Factory Reset at all!
Configure Smart Lock Settings to unlock your phone
This method is suitable for every user who is using Android version 5.0 and above. Just check if your device fits this criterion or not from the phone Settings. Skip this step if it doesn't. There is a thing called the "Smart Lock". 
Access the security section of your phone to find the Smart Lock settings. Further, you will see three different options which belong to Smart Lock. The three options are- "Trusted place", "Trusted Device", and "Trusted face". 
Now, you have to know how to unlock your Android phone password without Factory Reset anytime. To do this, you need a trusted place set up with a GPS facility. You just need to set this accordingly beforehand. This will let your phone automatically get unlocked as soon as it identifies your safe place. 
This is the most simple way and doesn't require much step-wise guidance. 
Activate Safe mode to bypass your locked Android phone screen
This method works if in any case, you have locked your device with the help of any third-party apps. What you need to do is get your device into "Safe Mode". You can unlock your device easily in this way by following the steps below:-
You have the "Power" button on the side of your device. Just press and hold it for a few milliseconds. The pop-up menu will show up as expected.
Now press and hold the "Power Off" key option for some time. 
The device will prompt a message to know if you want to get it into "Safe Mode" or not. You need to press "OK" to get into "Safe Mode". When a device enters "Safe Mode", all the third-party apps get deactivated. 
Now, open "Settings". 
Go to "Applications".
Select and uninstall the third-party application which you are using to lock your Android device.
After this, if you reboot your device in normal mode, the screen will no longer be locked. 
Therefore, this is a great technique to unlock Android phone passwords without Factory Reset. If you want, you can again install that app and set a suitable easy password or pattern for your phone. 
Use Android Device Manager to bypass your Device Lock
ADM or the Android Device Manager is very useful for locating a device in case it is lost or stolen. And that is why it is also referred to as "Find My Device". It provides three different options to either ring, lock, or erase everything from an Android device. 
However, you need to have access to your Google account and keep it synced with your device. Now, perform the following steps to unlock your Android phone password without Factory Reset. 
You will have to visit https://www.google.com/android/find at first from any Android or PC. Then, login into your Google account. From the choices, select the device which you need to unlock at the moment.
After this, click the "Lock" option. A new pop-up tab will appear.
Set a new password or pin from here. You can also choose to add your phone number or another email address for recovery purposes. 
"Confirm" this new password. 
Go back to your Android and try unlocking it with the new password you have just set. It is bound to work perfectly. 
Use Android Debug Bridge to unlock your Android device
Yeah, this one is going to be a little more time-consuming. However, it will efficiently save you from a traumatic Factory Reset. This method is also a little complicated.
The steps to implement ADB or the Android Debug Bridge are as follows:-
Firstly, you have to visit the Android developer's site https://developer.android.com/studio/command-line/adb.html. From here, you can download the Android Debug Bridge on any device (preferably a Laptop or PC). 
Open the installer and then download all the necessary packages from it and keep it on your Laptop or PC. 
Find a USB cable. Establish a connection between your phone and PC with it. 
Open the "Settings" menu on your phone.
Navigate down to "About Phone". 
Tap the "Build Number" option seven times. It should prompt the developer option on your device.
Now, once more go to the "Settings". 
Open the "Developer" options. 
Switch USB debugging to ON. 
Your phone is fully connected to the PC now. Open the "Command Prompt" installation directory on your respective Android Debug Bridge. 
Enter this command in the command prompt- "adb shell rm/data/system/gesture.key" 
Press the "Enter" key. 
 Restart your phone now.
Your device will get unlocked and no password or pattern will be required. 
Unlock your Android device using Unlock Android Screen
You will again need the help of your PC or laptop to execute this method. The steps to successfully unlock your Android device without Factory Reset are:-
You have to first connect your Android device to the PC or laptop using a USB cable
Launch the "Android Lock Screen Removal" on your device
Select the "Unlock" option.
From the available options, select your specific device model. The recovery package for different phone models is never the same. Hence, you need to carefully choose your Android device model. Now we will enter into the "Download Mode". 
Switch your Android device to OFF.
Then, keep pressing the "Volume Down", "Home" and the "Power" key simultaneously. 
Then press the "Volume Up" key to enter the "Download Mode". 
As soon as the phone enters the Download Mode, it will start downloading the recovery package. It will take as much time as it requires based on your device model. Wait patiently till then.
Select "Remove Now" when the recovery package download is complete.
Then type the confirmation code to unlock your screen lock. 
Use Android Unlock Software to Disable Screen lock Password
This is probably the last technique you can apply to unlock your Android phone password without Factory Reset. There is a software known as the "Android Unlocker Software". This software is globally well-known to unlock any phone. It efficiently cracks all kinds of PIN/password/pattern/fingerprints without the need for any Factory Reset. 
The only thing of concern is that some users might lose their data either way. This is not for all brands to be specific. Samsung and LG users don't have to deal with this issue. Other brand users need to keep a backup of their data somewhere to retain them later. 
Android Unlock Software eradicates all five types of locks active on your device- PINs, patterns, passwords, fingerprints, and face locks. 
Conclusion
Forgetting phone passwords is very normal these days with people's minds being overloaded with so many stressful thoughts. Without any possible way to fix themselves, they tend to perform a Factory Reset with a heavy heart. At the end of the day, nobody wants to lose their confidential stuff and memories just for a mere password or PIN.
We hope this article helps everyone who lands in this trouble. Everyone should be aware of the fact that anyone can unlock their Android phone password without Factory Reset if the above techniques are tried at once. Also, keeping a backup of data is always advisable. This will at least ensure that you are not going to lose your phone data if anything goes unexpected.
Frequently Asked Questions
What is the master code to unlock an Android phone?
The secret code to unlock any kind of Android phone is *#*#7780#*#*. It is also referred to as the Android reset code. You can easily unlock your device if you forget its password with the help of this code.  
What is the master PIN to unlock any SIM?
Phones generally don't have a single master pin to unlock them. Each differs from the phone according to what the person makes it when they set it up. Often SIM pins have a default value of about 0000 or 1234. However, SIM card pins can be changed by the user. 
What is the master unlock code for unlocking Samsung devices?
For this, you have to enter 00000000 (eight zeros). Once done, a message will come up mentioning that the Sim lock is disabled with a check mark.