A sizable fraction of people always wanted to try the newest versions of an iPhone whenever they came into the market. Among these, a sizable portion utilizes Android devices. One thing Android users need to think about before configuring the new iPhone is how to sync content from Android to the device. Especially, how to transfer text messages from android to iPhone. Since communications may contain important information regarding our personal or professional lives. We'll concentrate on text transfer from Android to iPhone in this particular piece of article. The following instruction demonstrates effective data transfer techniques, so you can migrate your messaging on your devices.
How to transfer text messages from android to an iPhone
You can get all your old SMS and MMS to your iPhone with the help of an app. One of the greatest ways to move all of your texts from Android to iPhone is with this method. " Move to iOS" is the name of the application. This app is not only capable of transferring SMS particularly but can also transfer contacts, photos, videos, and much more. But it has certain limitations in its usage. This method's drawback is that it can only be applied to data transfers to brand-new iPhone devices. The Move to iOS app must be used as part of the initial configuration of the iPhone; it cannot be used after the iPhone has been configured for use. Let's examine the app's usage: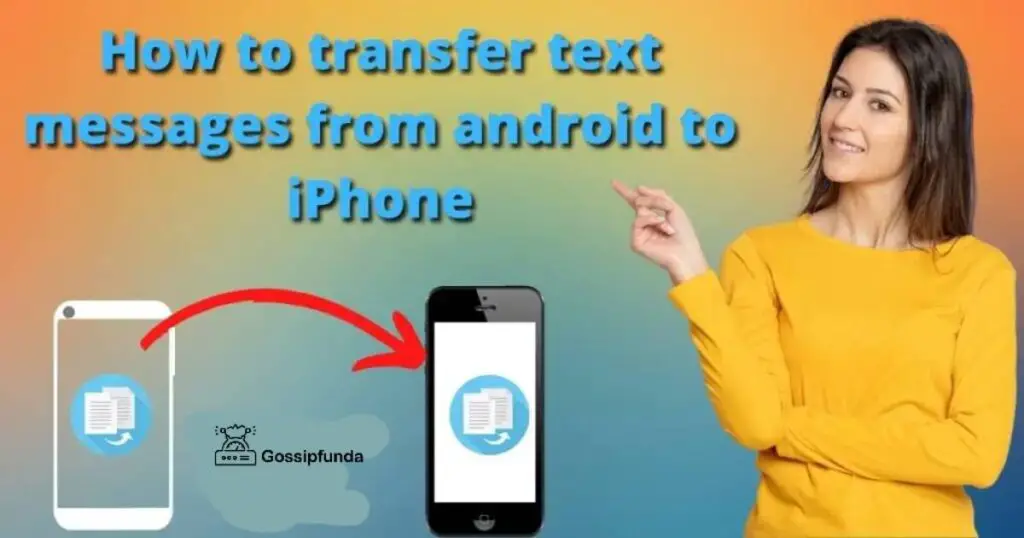 Install the "Move to IOS" app from Google Play Store on your android phone.
Remember, this app cannot be downloaded in every version of Android, you must be using 4.0 or a higher version for execution
Simultaneously, open your iPhone. Make sure you have an internet supply.
When you turn on your iPhone, a list of options will appear from which you can recover your data.
You will get the option "Move data from Android", choose this option.
You will receive a security code displayed on the screen of your iPhone.
Enter the provided security code in the app on our android device, whenever asked.
Choose the data that you want to transfer to your iPhone using the "Move to iOS" app.
Using these steps, you can transfer messages to your iPhone.
Helping hand
Be sure to keep both devices idle until the transfer is complete. For instance, the Move to iOS app on your Android device should always be visible. Your data will not migrate if you use another app or answer a phone call on your Android device while the transfer is going on. Stop the usage of any settings or apps that can disturb your Wi-Fi connection on your Android device, such as the Smart Network Switch. Select Wi-Fi from the Settings menu, tap and hold each recognized network, and then delete the network. Next, try the transfer once more.
Try again after restarting both of your devices.
Disconnect your cellular data on your Android phone. Next, try the transfer once more.
Using Droid Transfer
This method overcomes the limitation of the above-mentioned method. The best part is that you may transfer your texts using this approach even after setting up your iPhone. Droid Transfer is risk-free to use and is free of malware, adware, and viruses. The app has undergone comprehensive testing, and Microsoft, Norton, and others have determined that it is safe. You can archive your messages for storage if you don't require them to be used in the iPhone Messages app after being imported.
You may then save backups of your crucial chats in the memory of your iPhone, on your computer, or in a cloud storage service like iCloud or Google Drive. But your android device cannot allow you to archive your message directly. You need to use any indirect source or a third-party app to execute the process. You need to use a droid transfer program on your computer for better execution of messages. Here we go with the process:
Install this program on your window.
You also need a transfer companion app with this program. You may back up messages, music, images, and other items on your Android phone to your PC with Transfer Companion, a free program that works in conjunction with the premium PC application "Droid Transfer."
Connect your android device with this program using a Wi-Fi connection or any other source.
On the side menu, you will see the messages option.
Tap the Messages option and choose the conversation content you want to take a backup and archive.
Save this content in the form of PDF, document, text, or HTML.
You must employ Method 1 if you want your messages to be saved in the iPhone's Messages app. However, you can make your exported conversations available for viewing on your iPhone if you only need to refer to your archived messages.
How to view messages in PDF format on your iPhone
Open the iTunes app on your pc.
To transfer files, connect your iPhone to iTunes.
Choose the iPhone entry option from the side menu.
Tap the file sharing option and choose the iPhone PDF viewer app.
Add the file PDFs you want to transfer to the iPhone.
If you wish to see these exported messages on any other device, you need to upload them on cloud services such as Google Drive or iCloud.
Do not forget to install the chosen cloud service on both your PC and iPhone.
To sign in to the service on all devices, use the same account.
Your exported communication files should be uploaded to the cloud service.
You can view the files via the respective app on your iPhone after they have been uploaded.
You can also send the files via email from your PC to your iPhone. Simply send yourself an email with your message files attached to accomplish this. Send the email, then tap the attachments to access them on your iPhone.
Shifting of WhatsApp data and messages from android to iPhone
What about messages sent and received on an app like WhatsApp? The methods above are perfect if you need to migrate your SMS or MMS messages. Unfortunately, you cannot now view messages from WhatsApp on Android when using WhatsApp on iPhone, since Android and iPhone messaging use different formats.
PhoneTrans tool: you must try this tool if you're looking for an expert android to iPhone transfer tool to make a flawless and quick transition from your Android to your new iPhone. It makes the process of migration of data to a new phone simple. Let's view its key characteristics for phone-to-Phone transfer:
As is required, copy data content from an Android device to an iPhone 
Transfer contacts, music, photographs, and other files from your Android device to your iPhone, including messages.
During the transfer process, no data will be erased; everything is secure.
Additionally, you may selectively back up your Android to the PC and move texts from one Android to another.
How to make use of PhoneTrans
Setup PhoneTrans after downloading it to your computer. 
Your iPhone and Android should be connected to the computer.
Using PhoneTrans, you must first back up your Android messages before restoring them to your iPhone.
After opening the PhoneTrans app, choose the Phone backup option
Select the Messages option from the list of given options for backup
Tap the Backup now option
Go to the Phone restore option on the side menu of the app
Tap PhoneTrans backup and select the backup you made recently
Again, go to the phone restore option and choose messages
Tap restore now after confirming your iPhone
Anytrans tool
You need this effective program – Any Trans – to transfer text messages from Android to iPhone when configuring a new iPhone, particularly iPhone 13, or if you wish to migrate messages after configuring. You can quickly transport text messages and a variety of other types of content from your Android handset to your iPhone with this robust iOS data manager and mover. It enables data migration while moving phones or following setup. Its basic feature includes:
With ease, copy texts, photographs, contacts, etc. from an Android device to an iPhone.
You can get a lot done faster because of the transfer speed.
Additionally, transfer data straight across iPhones without restoration.
Easy transition from Android to iPhone, including support for iOS 15 and iPhone 13.
Below mentioned are the steps you can follow to transfer messages from android to iPhone;
Install the above-mentioned tool on your computer.
Connect the android device and iPhone to the computer or PC.
After launching the transfer tool, it will start detecting devices.
After your phones are detected; choose Phone switcher from the side menu.
Click on the Phone to iPhone option and tap Migrate now.
Choose the source phone from where files are being transferred and the iPhone to export the files.
Choose Next to continue the process.
Choose the categories you need to transfer. We are discussing the transfer of messages, so choose the Messages option.
Tap on the Next option to start the process of the transaction.
Drawbacks
 The three drawbacks of using this application that you can encounter are examined in-depth below.
There is no free version available: In a way, this isn't entirely accurate. The Any Trans app can be downloaded without cost. Without purchasing the application, you won't be able to access all the features. The drawback of this is that you could not know whether your hard-earned money will be effectively spent.
Your device must remain unlocked for iTunes to function properly: All of your devices will be able to play music from your iTunes collection, but the Any Trans software cannot be used to change any of the content there. If iTunes is the major component of your device that you're attempting to back up, this might be quite difficult. On the other hand, you can put your music collection together on your phone without destroying any already-released tracks. Simply use the convenient drag and drop tool to accomplish this.
You are unable to edit your iTunes library from within the program: Yes, if your I Device is set to automatically lock after a predetermined period, the transfer does not run very easily. This is unfortunate!
Conclusion
You may quickly save text messages while switching from an Android to an iPhone using these most effective techniques, and you can even transfer texts after setup. With any luck, the foregoing advice will be of the utmost assistance. If you desire a convenient method for transferring data from your Android device to your iPhone, then this article will surely help you.
FAQs
How long does it take to transfer data and text messages from Android to the new iPhone 13?
The answer to this question depends upon the type and quantity of data that is being transferred. Generally, it takes about 20 to 30 minutes for a complete transfer. Sometimes it may take a long time due to issues during transferring. A slow transfer may be due to poor Wi-Fi connection, or some files may contain bugs.
 How to fix slow data transfer issues in the "Move to iOS" app?
You can read the content below if the Move to iOS procedure is sluggish or seems to take forever. We'll offer numerous solutions for this problem and introduce an alternative tool to make it simple and quick to transfer data to iOS.
Examine the Wi-Fi connection.
When the Move to iOS transfer is interrupted, this is the first thing you should do. Wi-Fi connection plays a significant role in moving time, as we have discussed. Ensure a reliable and robust Wi-Fi connection is established for your iPhone.
Reset the procedure
Another process might halt the "Move to iOS" app if it becomes stuck at a certain percentage. To restart the setup procedure, long press the power button. To migrate your data from Android to iOS, repeat the instructions.
Delete files from an Android device.
You must transfer all the data from the Android phone because Move to iOS does not allow you to move just some of it. Therefore, if there is a lot of data on it, this process may take a while to complete. Deleting a few unused files can therefore be a fix for the Move to iOS issue.
How to fix message loading errors in droid transfer?
Here are the steps necessary to fix the problem if, after clicking the Messages section in Droid Transfer, you see an "Error Loading Messages" message;
Droid Transfer and Transfer Companion update
Many of the problems with loading messages have been fixed in our Transfer Companion app, especially for smartphones running Android 8 or earlier. Additionally, make sure that Droid Transfer is up-to-date on your PC by selecting Options → Updates from within the program.
Grant app permissions for transfer companion
Open the Settings app in the main Android menu. Tap "Apps" or "Application Manager". From your list of provided apps, select "Transfer Companion." If the necessary permissions are not already enabled, tap Permissions and check that they are.
To let Windows fix the problem, select "Run compatibility troubleshooter" in the Compatibility tab as shown in the above image if you have followed the above instructions and Droid Transfer is still not loading your messages.