There are many ways to transfer an android file to Mac using some applications. Transfer can easily take place with the help of a USB cable and APK(Android Package Kit). Files can also be transferred through Android Wireless Transfer App, Airdroid, Handshaker, and many more. We can also achieve the same result by using FTP(File Transfer Protocol) and can share data and files through wifi.
"Data is the new oil" is rightly said by Clive Humbly (a British mathematician) which means data is considered as important as oil because files and data are critical for verification and validation in an organization. Data is also useful as oil in its refined form, in the state when it's analyzed and is making profitable meaning and use. In this digital era, people prefer to use many types of operating systems like Microsoft Windows, Linux, macOS, and Android. Many people use MacOS and many Android according to their preferences and use. Some people prefer the Android Operating system because of the factors like price, improved battery life, and exceeded memory.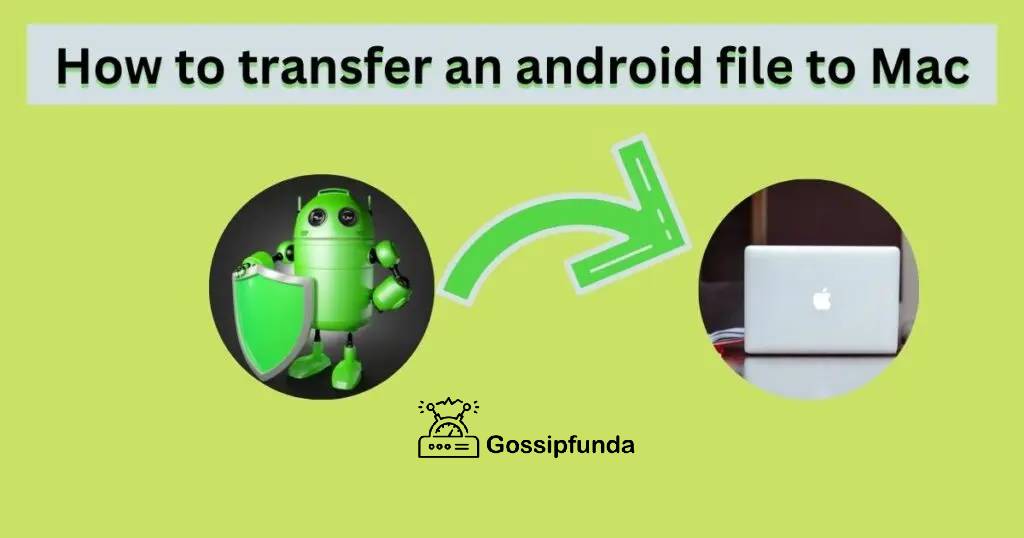 It is also preferred because of the flexibility and the customizations that android provides the users. Many users find Mac to be their first choice because of many reasons. Some of them are that mac devices are faster, they are better hardware, are easy of using, and have a camera quality that mac provides. Security can be termed as the best reason why mac is preferred by many, but there has to be made a linkage between the operating systems through which you can transfer files or data that is considered to be gold can be transferred between the two and can make your life easier.
Why do you need a data transfer app?
What is Data transfer?
Data transfer is the process of moving data from one device to another. There are many ways to do this, and it is important to know how to transfer data and files in different operating systems.
 Why is Data Transfer important?
Data transfers are important because they allow people with different devices and operating systems to share content. Data transfers allow people with an Android phone, for example, to share content with someone who has a Windows computer or an iPhone.
What type of files can be transferred?
Many different types of data can be transferred. Files such as photos, videos, music, and documents can all be transferred between devices using a variety of methods.
Operating system
What is an operating system?
The operating system is a collection of programs or software that manages the resources. An operating system as the name suggests is a system that operates the whole hardware and software collectively. It is more intermediate between the user and the software.
What does the operating system do?
The operating system is a collective assemblage of software that is responsible for the interaction of the user with the computer. The meld or combination of the operating system and computer hardware forms a complete system that determines what the computer can do as a whole. 
Responsibilities or functions of the operating system:
Maintaining security
Security management is one of the most important functions that an operating system helps in establishing. Security management by the operating system helps in securing the computer from the external and internal factors that can hunt the data and files.
Job Scheduling of resources
There are many tasks done in the computer and it is the job of the operating system to schedule the job that means it is the role of an operating system that it has to allocate the system resources to the different tasks that are going on at that time.
Management of Time
A very important responsibility of the operating systems can also be seen in time sharing it is the job of the operating system to assign all the programs and software packages to various users working on a computer system.
Memory Management 
Memory is a very important part of the computer, so it is very crucial to analyze the distribution of the memory. The operating system also manages the memory that has been allocated to the tasks that are going on the computer, it also has the job of de-allocate the memory.
Other functionalities of the Operating System
Other responsibilities of the operating system include the management of the processor. OS assigns different tasks to the processor at the time of need. It is very helpful in the management of the device in terms of allocating and de-allocating the devices in a time of need. The operating system also has all the power and authority to keep a check on all files. It helps the computer in protecting the files and giving the internal details and Organisation storage to all the files.
Types of operating systems
General Purpose operating system.
Mobile Operating system.
Embedded operating system.
Network operating system.
Real-time operating system.
Mobile Operating system
The mobile operating system is one of the most important operating systems that are designed in a unique way they are very important in mobile computing and in many communicational devices that are phones tablets species etc. Examples of mobile operating systems are macOS, Android, and Google.
Android
Android is the world's most popular operating system and supply chain. The android market is a leader in providing high-quality apps for mobile phones and tablets. Google Android is widely used by top brands and companies in the world. It has become the most widely used mobile OS in the world from 2010 to 200o.
History of Android
Android is an operating system developed by Google for mobile devices. The first Android device was released by HTC on October 2008 and it has since been running on various other devices, including smartphones and tablets. As of September 2016, there are 2 billion active Android users worldwide, with over one billion active monthly users alone.
Multifunctionality of android
Android supports many different types of devices, including mobile phones and tablets, televisions, and cars. It has various settings, from simple text messaging to complete office suites, including word processing software, spreadsheet software, presentation graphics tools, and more. The ability to run on so many different device types means that it can be difficult to transfer files between your Android phone and Mac computer if you are not using the same app on both devices or making use of a cloud service such as Dropbox.
You can use the Android Debug Bridge (ADB) for this, but it is not a method that many average users will be comfortable with. In addition, you need to make sure that the computer and Android device are connected to the same network. Many newer Android devices are equipped with a USB cable that can be used both to charge the device and to transfer files between the computer and Android.
If your system does not have such a cable, you may be able to find an older one online or at an office supply store. Before you start transferring files between your Android phone or tablet and your Mac computer, make sure that you download the USB file transfer program from Google on your computer.
macOS
The Mac operating system was first introduced in 1984, was updated to be compatible with the Intel chip architecture in 2006, and will continue to be updated.
History on MacOS
macOS was introduced in 1984 to run Macintosh personal computers (PCs). The OS helped build graphical user interfaces (GUIs) widely, even ennobling Microsoft to maneuver far away from its user input technique in favor of mistreatment GUIs for Windows OSes.
Multifunctionality Of macOS
macOS is less complicated to keep up (by a large margin) and easier to use (by a medium margin) for many pc users than Windows 10.
Viruses area unit exceptional.
Spyware and adware are essentially proofs of concept.
Apple features a long history of supporting its technology (while Microsoft features a memoir of jumping ship at the primary signs of trouble… Zune, Windows Phone, UWP, Edge).
Apple's default browser, Safari, is mature (unlike Edge).
All major productivity computer code (e.g. Office, Photoshop, etc.) is on the market on Macs.
What are the reasons for transferring files between android and macOS?
Why does it have to be transferred files between Mac and Android? There are three reasons for transferring files between a Mac and an Android: 
Storage right management
Users tend to keep a large number of data on their devices, including music, apps, etc. It is not difficult to fill up the storage as we can easily download and add apps, watch movies, listen to music, play games, or browse pictures with these USB drives. But These things can be stored easily on Mac, and we could upload them to the Android device by using a USB cable.
Transfer of files between Mac and Android
With these devices becoming more and more like computers with notebook and desktop-style designs, they are highly suitable for transferring data from a computer to a handheld device such as an iPad or other tablet.
Transfer of files between Android and Mac
You can easily transfer files between Android and Mac systems; the transfer is possible through a USB cable. This makes mobile data management easy and fast. Files can be easily transferred from Android to Mac, including documents, music, photos, videos, and so on.
Steps of transferring an android file to a mac
There are a few different ways to transfer files between your Android device and your Mac computer, but the easiest way is to use a USB cable.
Transfer using a USB cable
Plug the USB cable into your Android device and your Mac computer.
Open Android File Transfer for Mac, then tap "Connect" to connect your device to your Mac. Your Android device will now be connected to your Mac.
Drag and drop the files you want to transfer from your Android device onto your Mac's desktop or Finder window. You can also copy files from your Android device to your Mac using Android File Transfer for Mac.
If you connected two devices, you can drag and drop files from one device to the other.
When connecting your device to your computer via a USB cable, the interface will pop up to allow connecting to an Android device as illustrated below. Once the interface opens click "USB connected" and then double-click on your device to select it as shown below in the screenshot. All files on your Android device will be listed and available for copying to the Mac desktop.
Click "OK" to continue.
Click "OK" to exit Android File Transfer for Mac. Your files are now safely on your Mac!
Use the USB cable that came with your Android device to connect your Android device to your computer. Some Android devices come with USB charging cables and aren't designed to connect to a computer directly.
Once connected, Android File Transfer for Mac will open.
Drag and drop files from your Android device to the Mac desktop. You can use the View button to view your device as a drive letter so you can access your files faster.
Alternatively, you can copy and paste the files from the Android device to your Mac using the Copy/Paste option on Mac.
Install an Android File Transfer app on your Mac. Then connect your Android device to your Mac, and you will be able to copy, move, and delete files on your Android device.
An easy way to transfer files between Android devices is to install a third-party file transfer app like Xender from the Google Play Store onto your Android smartphone or tablet. Then you can transfer files from your Mac to the Android device by connecting them via USB or Wi-Fi, depending on the capabilities of the apps you are using
-To transfer files from an Android device to your Mac, you can drag and drop files or copy and paste them manually using your Mac's clipboard. You can also connect your Android phone to your Mac with a USB cable to access all the files saved on your phone, just like you would any other external hard drive.
If your Android phone has a Google Photos app installed, you can save photos to your Google Photos account online and automatically upload them to other devices associated with your Google account. Google Photos will also store previous versions of your photos in its library in case you delete a photo from your Android phone and want to recover it later.
Transfer using APK(Android Package Kit)
Luckily, this is usually pretty easy. Android devices use a special type of file format called. APK (Android Package Kit) and macOS and Windows can handle these so transferring files from your Android device to Mac OS should work seamlessly if you know what you're doing. Read on for eight tips on how to transfer android files to Mac OS in no time!
Find the folder with the APK files. For most Android devices, this will be Downloads or Gallery; it often starts with /DCIM/Camera/.
Download and install a free app such as Transfer APK to Mac.
Access your phone's Gallery, go to the APK file, select it and click "Open". All of the files will be transferred in one go.
Make sure you have enough free space on your Mac for APK files before transferring them. Remember, APK files are large so if you don't have enough space, you may end up deleting other data or even be unable to make this work at all. The only way around this is by backing up important data elsewhere first. If you find yourself in this situation, you can try to delete some files on your Android device to free up space.
Read the "readme" file that comes with the APK. It might give you useful instructions about how to use it. However, you shouldn't rely on it for information about properly using the app.
Set up a folder on your Mac for managing. APK files. You will have to install another app like Jii 100% Free Android File Manager or File Explorer for Mac if there isn't an app pre-installed with macOS Mojave or newer versions of macOS High Sierra (or if you need more advanced features)
Transferring. APK files to your Mac can be done effortlessly if you have enough storage space, but it can be a hassle if you don't. However, backing up necessary data is always a good idea. Also, remember that transferring APK files to your Mac will likely take quite some time and could consume a lot of bandwidth on your mobile data plan. If you don't have unlimited mobile data, you should transfer files to your Mac using a cable or an external hard drive instead.
Your Android device might not let you transfer. APK files if it has run out of space available for storing them in the internal memory. You will have to delete some other apps or photos so that there's enough storage space.
FAQ
Is Android File Transfer for Mac Safe?
There are many ways if we want to transfer the Android file to Mac. Every way is considered to be very safe. There is no threat to the data if we are achieving the transfer. The user need not worry about security issues.
How do I transfer files from android to mac wirelessly?
If we wish to transfer files from Android to math in a wireless way then we can consider many ways. We can use the Airdroid app for wirelessly transferring files.