How to stream on Twitch? You are an excellent gamer and want to let people know your skills? Have you seen any gaming video that got the inspiration for a live stream? Then you must read this article. This article is going to cover how to stream on Twitch for PC, PS4, Xbox, Mobile phone. Which software do we require to stream on Twitch? What are the basic requirements? And all other stuff about microphones and webcams.
In a conversation of two streamers, it is inevitable to get a topic of Twitch. Not only streamers, even the audience who know about streaming, will not end up without addressing Twitch. I am not bragging; this is true. With over fifty-five million users around the globe, Twitch stands to be the number 1 streaming app. Justin Kan's life-changing app (Twitch build) was Justin TV. After adding a video game streaming feature, the results were remarkable. It does not matter what game; every gamer who streams learns Twitch. Twitch remains a starting step for every live streamer.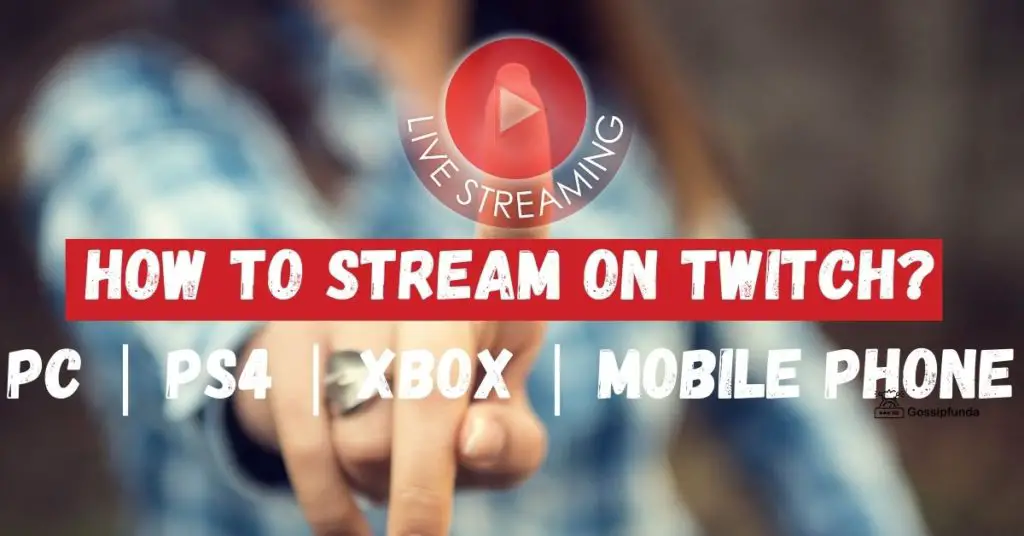 Basic Requirement to stream on Twitch?
In this article, we help readers to learn how to stream on Twitch? Using built-in features. In this article, we will be using OBS studios.
Twitch deserves this appreciation. According to official statistics, in the year 2019, Twitch owns 73% of the live streaming platform. But in the year 2020, it is 53% (percentages are according to the hours watched). This does not mean the craze for this app is falling. The downfall of these percentages is because of the increase in the availability of other streaming apps. The live streaming market is changing rapidly with the exposure of YouTube streaming and Facebook streaming. Though this app anyway leading all other apps.
Note to readers: This article provides knowledge on streaming on Twitch using OBS studios. But this is not mandatory. Users can use any streaming software of their choice like Streamlabs OBS, stream yard, or any other software. Let us waste no more time and see how to stream on Twitch.
Creating Twitch account for live streaming
For any software, the first and mandatory thing has an account. However, Twitch has other steps to do, as well. But the initial step to prepare yourself for streaming is to create an account. Before that, make sure you study the guidelines of this streaming platform carefully. Here are the steps you need to follow to set up your live streaming account.
Read the guidelines provided by the platform properly.
The users who are thinking to set up their live streaming channel, make sure to read the guidelines. This is an important step, yet everyone neglects it. There is a big bundle of the legal section on its website. If it is not possible to read the whole information, then try reading community guidelines. We suggest bookmarking the page. This helps the user to know the guidelines which update frequently. All this process should take place before creating a Twitch account.
Create a Twitch account
It is simple to create an account on Twitch. Go to Twitch, then you can do it just by clicking the "Sign Up" option on your desktop. Then the user has to fill in the required information. To create an account on your smartphone, first, the user has to download the Twitch app. Twitch provides an option of signing in with a mobile number. Later the user can add an email address.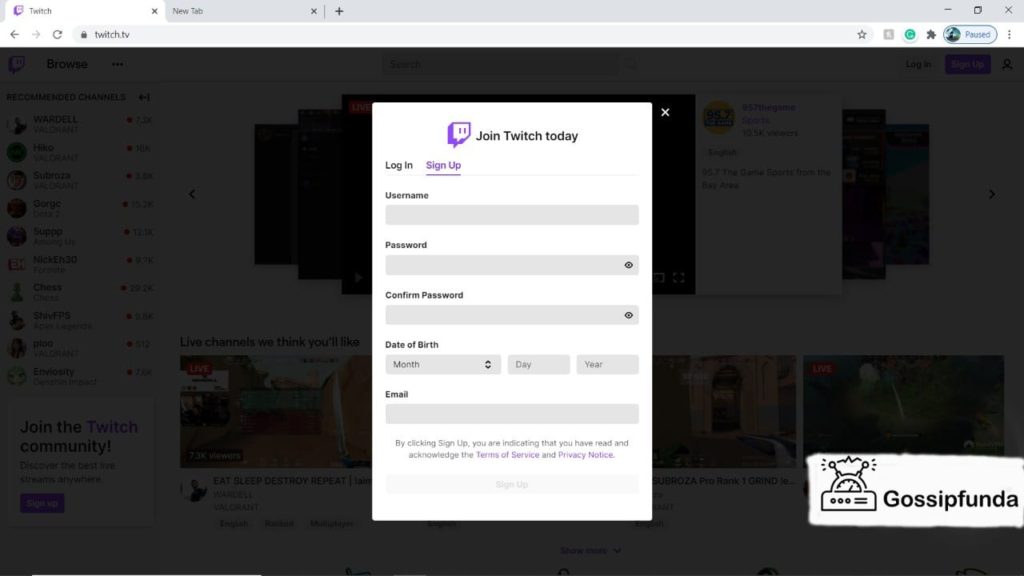 Enable two-factor authentication
The user must enable two-factor authentication to broadcast. The user cannot enable two-factor authentication with the help of a smartphone. He or she needs to do this on a desktop. To do this, one has to their account and log in. Then the user has to click on security and settings. In that, he or she will find an option of enabling 2-factor authentication. For this, the user should have both a desktop and a smartphone.
Live streaming software for Twitch
When the user wants to live stream from their PC, we suggest beginners start their process with software encoders. If they have hardware encoders with them, then they are free to use them. Using software can help cutting down extravagance.
As every sector has its advantages and disadvantages, the software has their disadvantage too. So, it essential for users to look carefully before selecting software. The list below provides you information about some of the famous software. These are popular software which most of the streamers use.
OBS Studio: In the list of most famous software OBS studio tops. Most of the content creators use this live streaming platform. The features of this software are, firstly it is free software. Another feature that attracts people is open-source with cross-platform compatibility. With the features above, this software has many fans.
Streamlabs OBS: Streamlabs OBS is the second popular choice among the streamers. This application has salient features that help double-dip our channel. The major disadvantage of this software is this it is only available on Window devices.
XSplit: This is a paid software. The broadcasters who want to invest in streaming can try this application. This application only works out if you are okay with trying paid versions.
vMix: This software is also a better option for live streamers. We suggest using this software only if you are a pro live streamer.
The user can also take a look at Twitch Studio. Twitch studio is an official Twitch software that is in open beta presently. The user can also use any other software and checkout online for more streaming software.
What are different types of hardware needed to broadcast on Twitch?
The user does not need to have any special type of instruments. It is really simple to stream on Twitch. Twitch does not care about video quality. This can be both advantage and disadvantage in Twitch. Unlike YouTube or any other streaming applications, this does not support HD or 4K picture resolution for streaming. So, the user may not need to buy expensive DSLRs to shoot video. You are convincible enough with a medium rate video shooting app.
Though streaming in Twitch is budget-friendly, it also has some constraints. Most of the Twitch content creators have a broadcasting problem because of the device. Twitch is economical, but any random PC's CPU will not be able to handle pressure while encoding. So, the users have to make sure they use a decent device with decent features.
Let us take a look at the different devices required.
Devices to stream
The major and important part of live streaming is the device in which you stream. This can be a computer or a console, or even a smartphone. Devices as smartphones have a wide range of advantages in the world of streaming. These devices do not require software or other hardware. PCs are never a choice of streaming. As they require a larger spectrum of hardware. Software is a very useful application because of its features. It allows for creating scenes and overlays. These make PC broadcasting cool. It is a fact that many streamers use their console for gaming and PCs for broadcasting.
Having a PC is useful for professional streaming. But having a regular PC would not do the job. If the streamers are thinking of broadcast through their desktop computer, then make sure you have enough requirements.
Below is the list of requirements for a decent streaming PC:
The CPU – CPU is responsible for encoding and gaming activity while streaming. As the CPU needs to take care of two major tasks at the same time, it is better to have a strong CPU.
The GPU – GPU should also be useful for encoding. NVIDIA GeForce GTX 1080 is well enough for this. Else, NVIDIA RTX can also be used. Graphic cards come with hardware encoders. They are useful for both software as well as CPU.
A Platform – Any suitable device can be treated as a good platform. It can PC or Laptop or any other. The user must be focussing on the quality of the device. As this is the device that one will be broadcasting from.
Setup – Streamer can use any console for gaming. It can be a computer or any other. The user also requires another computer broadcasting. The user needs to keep in mind that the computer which he uses for encoding must have a stronger CPU.
In short, the minimum requirement for a streamer is a PC with an i5 processor and 8 GB RAM. Do not forget to have a good internet connection. If not, the streamer will be facing problems while streaming. These are the basic needs for a live streamer. If the user wants to stream professionally, then some other things add to the list.
Additional requirements
If you want to take streaming to a professional level, you will need some other objects. A professional streamer needs to attract an audience. This is not possible by putting your game on screens. So, as a professional streamer, you will need a microphone and a camera. When the audience has your sound in the background, they tend to attract more and engage. Communication is the best trait in live streaming. Replying to your audience directly is far better than text in the chatbox.
A good microphone can let you have more subscribers. In live streaming quality, audio is essential. With a poor-quality microphone, there are many chances of losing the audience. The audience has to hear good to have a good response. If you cannot afford one, then try using a microphone that is in-build in your headset. But if you are taking streaming to a professional level, then you must have the right one.
The list below is some popular choices:
Zalman ZM-Mic1
Maono AU-04 USB Microphone Kit (link)
Blue Yeti Nano(link)
Samsung G-Track Pro
Blue Yeti X
Now, if you think you are confident enough, then you can show your face. Facial expressions are the key factor for good communication. To attract an audience, you should show them your expressions. This is a great source of non-verbal communication. For this, you need to have a good investment in a camera. A good quality camera can bring a lot more subscribers to your channel. The list below is some popular choices.
Logitech HD Pro C920(link)
Microsoft LifeCam HD-3000(link)
Logitech C922 Pro Stream
Razer Kiyo
Logitech Brio 4K
Buying an economical Camera can save approximately 100 dollars. But it is essential to make sure your audience can see you and listen to you. This is the most basic setup to stream on Twitch. Though these are not enough. There are some other additional things that one needs to have a good live stream.
Now, let us see detailed steps on how to stream on Twitch from different devices.
How to stream on Twitch using a desktop computer
We have already discussed that streaming from a computer is what professional streamers stream from. For this, all we need is a good internet connection, another device. This other device is to take a look at the live stream. The users have to keep in mind that today's unknown streamer is a future popular streamer. So, we suggest our readers always think of a large audience before you set up your streaming channel. Consistency and engaging the audience are primary steps for a good content creator. Make sure you are consistent and always engage your audience. Try to stream on the stuff you love
Let us the complete process of live streaming from the very beginning to the end.
Have good knowledge of the content
At the very beginning, Twitch was all about streaming. This platform was completely engaged in the video games and streaming sector. Now, this statement is not entirely true. However, Twitch provides the users, facility of streaming. Yet, Twitch has a lot more content in it.
The user needs to understand that different content should have a different type of necessities. In our part of the discussion, we covered a lot of things. Like the basic requirements of devices. Microphones, cameras, graphic card, etc.
Therefore, it is important to segregate your content. Understanding content and its requirements are the essential steps. Before you go buy for the necessities, fully understand the content. Analyze the requirements. Make a list of things. Then go ahead and go according to the plan.
Arrange the proper set
To have a proper streaming channel, it is vital to gather requirements, then arrange them. As a beginner, you don't need to have top-end devices. If you want to use the latest model and top-end, then it is your choice. But even with minimum gear, it is fine. For a beginner, it is an extravagance having a webcam. The steamer can cast the screen. So, you don't specifically need a camera. A microphone is also an additional budget. As the streams are facilitated with chat rooms to chat. However, they add professional traits to your streaming.
Buying the stuff is not enough. The user has to make sure that all the hardware stuff is all set with your PC. Arranging your webcam, microphone to properly co-ordinate with your PC. Setting up the required software. Rechecking if all of them are working. In addition to this, the user needs to have an alternate desktop or a green screen. And that's all. Now you are completely ready to stream.
Install the software and connect it to the Twitch application
The first step as a steamer is the installation of software. At the start of this article, as mentioned, we are using OBS studios. The user is free to use any other software according to his or her choice. Download the OBS studios application, then install the application on your desktop. Once the user completes the installation procedure, the application seeks permission for running the auto-configuration wizard. The user can opt for a manual setup. This step is important, as this makes the users familiar with streaming.
To finish starting formalities, the user has to go File option. Then click on the settings. Then choose to stream on OBS Studio. Make sure you choose the Twitch application as your server. This helps the user to connect to their Twitch account to this software. Else, connecting Twitch using stream key.
The user has to log in to their Twitch account. Make sure you remember your login information. Once you open this application, the user needs to go to the Settings. Then click on the channel and videos option. There the user can find a primary stream key. Copy that key and paste it into your OBS. And that's it. You are completely done with your third step.
Adding media sources (Audio and Video)
OBS needs access to things you need to stream. The user has to add things in the source section. For example, your game, your microphone, webcam, everything comes under source. If you do not add this as a source, then you won't be able to access them. OBS Studio has the capability of recognizing the audio source. If you cannot find this option, then follow these steps. Go to File. Then select the Settings option. Then go to the audio. There you find an audio option. You can connect to any device you want to.
In the settings option, you find a video option as well. For this, the user needs to go to Sources in OBS Studio. There he or she can find the plus symbol (+). Click on it to open lists of sources. There you can add all the required sources you want to. This includes your desktop, text files, games, webpages, and all.
Finding a satisfactory setting
Based on the strength of the devices you use, you can change settings. The Twitch app has the luxury of evolving different settings depending upon the available spaces. Usually, greater bandwidth and strong processor results in a higher quality of videos. Based on the content that you stream, dedicate the settings of your system.
If the user is confused and has only a little knowledge of numbers, then there is a solution. There is a Twitch guide that provides a piece of adequate understanding of these settings. So, make sure you read the guide correctly before starting.
If you are still confused, then do not think more of this. Just start streaming. Take the initiative and start, rest, you will understand it automatically. You will surely have a tough time at the start, but later, you understand them. If you want a piece of complete knowledge on these settings before you start, then try reaching out to articles online. They can provide you information about Upload speed, bitrate picture clarity, and FPS. Still, we suggest you start before wasting time. If you are enough popular streamer, then go deep into understanding these settings.
How to stream on Twitch from Play Station 4
In this section, let us see how to stream on Twitch from a PS4 device. The starting procedure is the same for PS4. The user needs to create an account. Then the user needs to enable two-factor authentication. Now, let us see what the are steps to stream on Twitch through PS4.
Setting Up Environment for PS4.
Play Station 4 (PS4) is a gaming device. Thus, the user has to pay attention to a couple of things before streaming. The first and foremost thing that the user should do is to connect their console to their Twitch account. Also, be assured of the things below.
Disable HDCP.
High-bandwidth Digital Content Protection (HDCP). To disable this, the user has to go to Settings. Then go to the system. There you can find this option, then select disable. Generally, this option should be on if the user is watching content. This option should be off while streaming.
Set up devices.
To set up your devices, the user needs to go to Settings. Then go to the Devices. This is the place where the user finds options to adjust audio and video. Here the user can adjust the volume of the microphone. For all PS4 users, they must know that PS4 does not support any other cam other than Play Station's camera.
Set up audio Sharing.
After launching the game, the user has to go click on share. There the user has to go to Broadcasting settings, then to Advanced Settings. Click on Audio Sharing Settings. Now, enable the volume of your microphone.
Enable Chat Option.
In the same advanced settings of Broadcast Settings, the user finds a chat option. You can tick the box with "Display messages to spectators." And "Spectator's Comments" to chat.
Connect Twitch to PS4
After clicking on the share, click on the Broadcast Gameplay. Then select Twitch. This is where you broadcast your gameplay. The user can connect to PS4 either by scanning QR on the screen. Or going to twitch.tv/activate from your device. Then enter the code on the screen.
One final step to start streaming
Once you connect Twitch and console, the user can put the name for the stream. The next step is to enable the camera. Then choose output quality. And that's all. You are completely ready to stream from Twitch using PS4.
Streaming in PS4 is the most uncomplicated process. Here the users do not even need to install the app. The users have to install Twitch only if they want to see others stream.
How to stream on Twitch from Xbox
Xbox is the product of Microsoft. Microsoft is one of the biggest rival companies to Twitch. So, to streaming on Twitch, one needs to install the application. Here is a complete guide on how to stream on Twitch using Xbox?
Install Twitch
Go to the store, then download the Twitch application. And then install.
Log in to your Twitch account.
The primary principle remains the same in this, also. The user, after installing the application, has to login to their Twitch Account. The user has to visit Twitch.tv/active from their devices. Then enter the code on the screens.
Connect Your Devices
Unlike PS4, the user can connect to any ordinary webcam. Connect your whole sets like the microphone and all to Xbox. The user has to follow the steps below.
Go to settings > Account > privacy > Xbox Live Privacy > View Details > Game content. After going to game content, allow the options: "Broadcasting Gameplay" and "Sharing Content using the camera."
Go to Online Status and History, enable the Everybody option. This can let other people know if you are online.
Enter the name of your channel and start streaming.
How to stream on Twitch from mobile
Download Twitch 
To stream live from android or mobile, we need to either install the twitch app from the play store or app store or visit https://www.twitch.tv/ from your phone browser. Installing the app will be mostly recommended as you can access it easily compared to the browser.
Log in to Twitch Account
Before going to use the app, we have to create an account in Twitch or if you already have an account, then log in.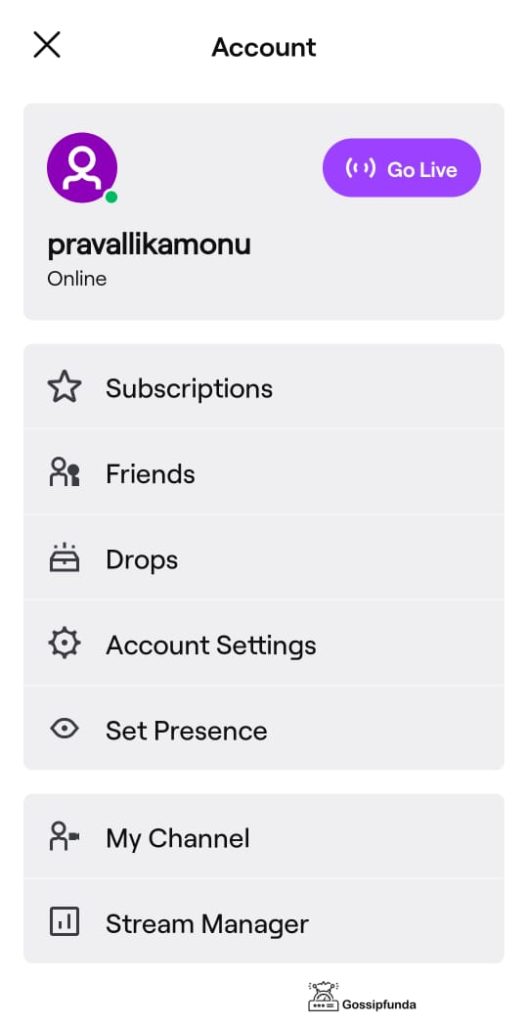 You can also watch the live streams of your favorite people that you are following without missing! By allowing the notifications.
Create a profile of the stream 
Click on the profile image, which is located at the top right corner, there you can see the "go live" button present.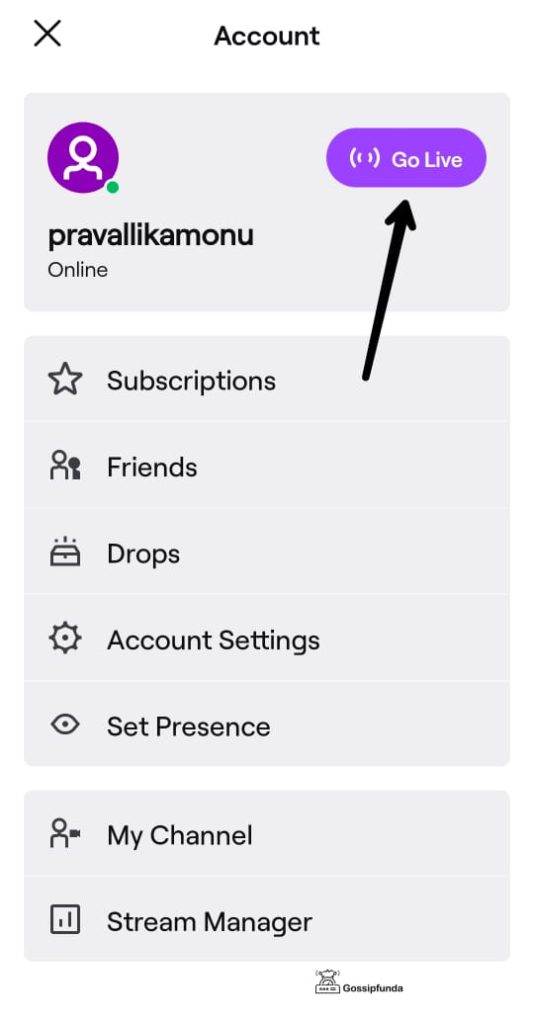 There you can observe "Describe your stream," there you can write about the stream, which ultimately becomes the name of the stream.
Describe stream
Below that, you find "select a category" there, you can find many categories such as – art, sports, just chatting, food and drinks …etc., where you have to choose a particular category that resembles your stream's purpose.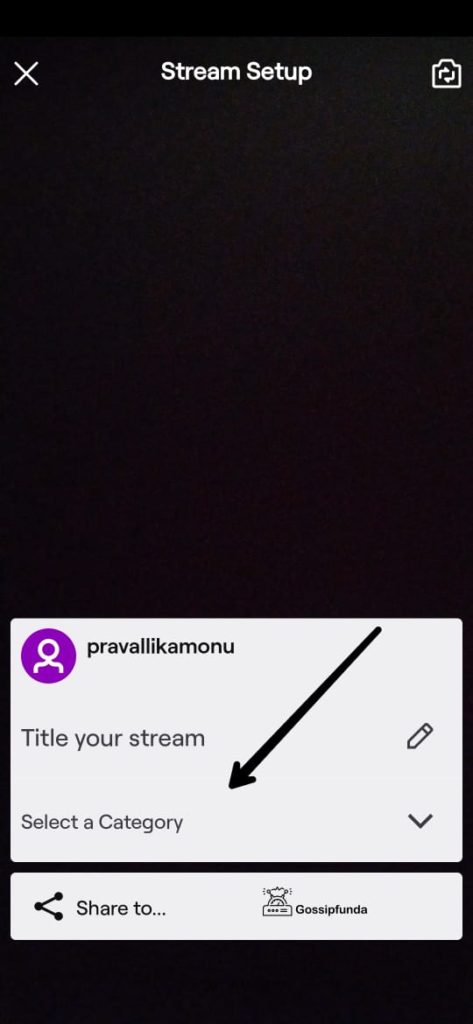 Below that, you can find the share to a button. On clicking it, you are directed to various social media apps in which you want to share your stream's link.
And that's it. By following these simple steps, you can stream on Twitch using Your Smartphone. Isn't it easy? Then what are you waiting for? Go ahead and stream from your smartphone.
Packing up
We suggest streamers to follow some basic etiquettes which can help the audience attract. Greeting audience, consistency, maintaining proper schedule adds to this list. And that's all for this article, guys. Hope you all have gained some knowledge on How to stream on Twitch? This article provides a complete guide on How to stream on Twitch using a desktop, Play Station 4, Xbox, and Smartphone. We also discussed what kind of software one should install to stream. Also, some necessary hardware components like the strength of CPU, graphic card, etc., in this article, we have mentioned some other requirements like microphone and camera with some popular choices.
Hope this article was useful. If it was, then do not forget to share this article among your streamer friends. If we have missed any content, then let us know by commenting in the comment section.
Stay safe and enjoy happy streaming 😉
For more interesting articles related to technology, you can visit our channel Gossipfunda.