In today's busy lifestyle, smartphones play a significant role in our lives. From ordering food to booking a taxi, smartphones are capable of doing almost everything nowadays and somehow we all are pretty much dependent on them. But sometimes, they also become very annoying due to those unnecessary calls, notifications, unwanted alerts, and whatnot.
Also, sometimes we are indulged in some important meetings or having a fun time with our loved ones and at that time, these unwanted notification popups are quite irritating. So what's the ultimate solution to this problem?
Well, to get rid of these disturbing notifications, smartphones have a pre-installed setting known as DND or "do not disturb" mode. Today, I am gonna show you How to Set Up and Customize Do Not Disturb on Android. But, first of all, let's understand what do not disturb mode actually is.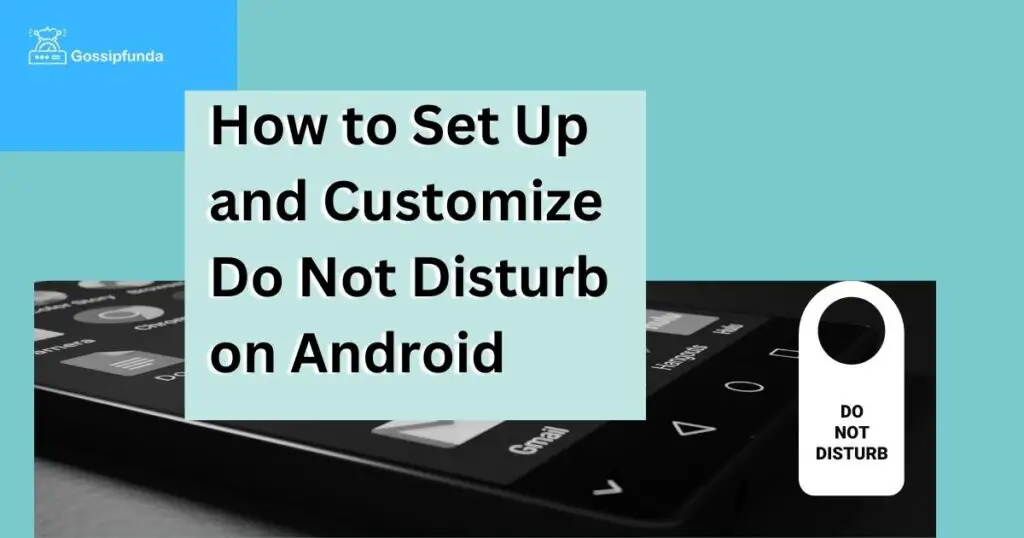 What is Do Not Disturb Mode?
DND (Do not disturb) mode is a setting that mutes calls and notification alerts so that you will not get disturbed in between your work. You can use the DND mode in various scenarios such as in meetings, while driving, sleeping, and much more. It totally depends on you when and where you have to activate this setting.
Also, you have the option to alter the default exceptions and change them according to your preferences or needs. You can also set up the manual schedules as per your timings but we will discuss those tweaks later in the article. Not to mention, emergency calls or important calls do come in DND mode and you will not miss out on them. 
How to turn on Do Not Disturb mode on Android?
You can set up DND mode on your android smartphone in two easy ways. Let's see them one by one.
NOTE – I am using a Samsung device here for the demonstration but the process is similar in other android smartphones too. The slight difference is just because of the different user interface.
Through Notification Panel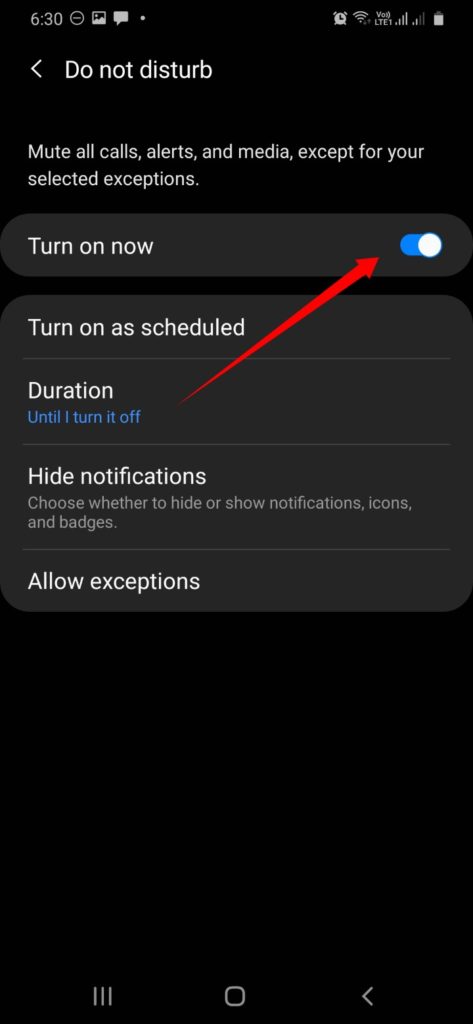 In this method, you just have to scroll down the notification bar from the top of the screen and there you will find an option to turn on the DND mode in quick settings. As you can see in the screenshot above, there is a toggle button to turn on the desired setting. Also, if you hold the button for a few seconds, you will be redirected to the customization panel of do not disturb mode. Although, if you don't have this button in your notification panel, you can use the second method to enable the DND mode.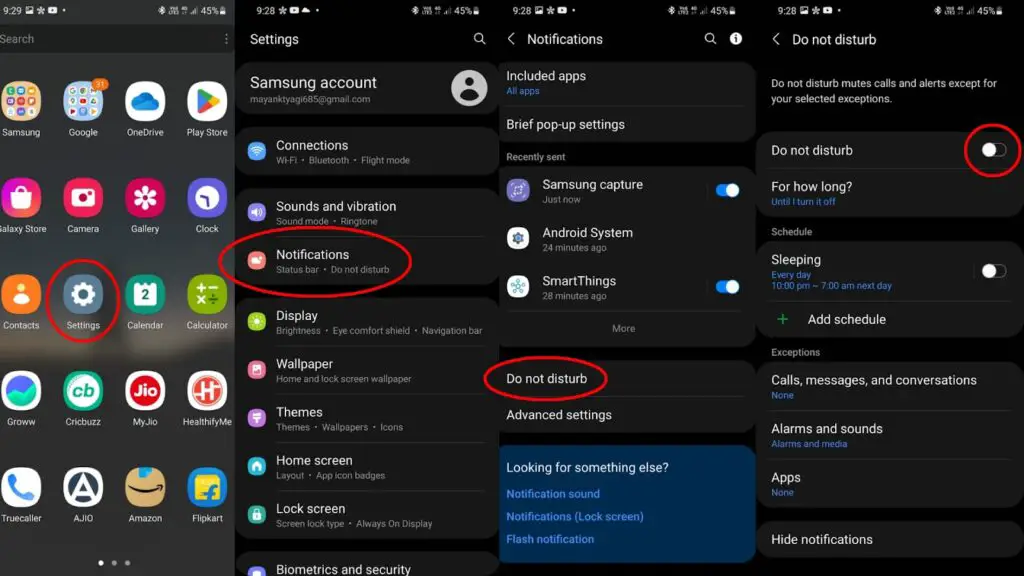 Try this method if you can't be able to turn it on from the notification bar. Follow the procedure step by step.
Step 1 – Open the settings app of your smartphone.
Step 2 – Click on the "Notifications" tab.
Step 3 – Scroll down a little bit and then click on "Do not disturb".
Step 4 – Now, you can enable it from the toggle button itself.
Now, if you have enabled the DND mode, let's understand how to customize it as per our needs.
Customize Do Not Disturb Mode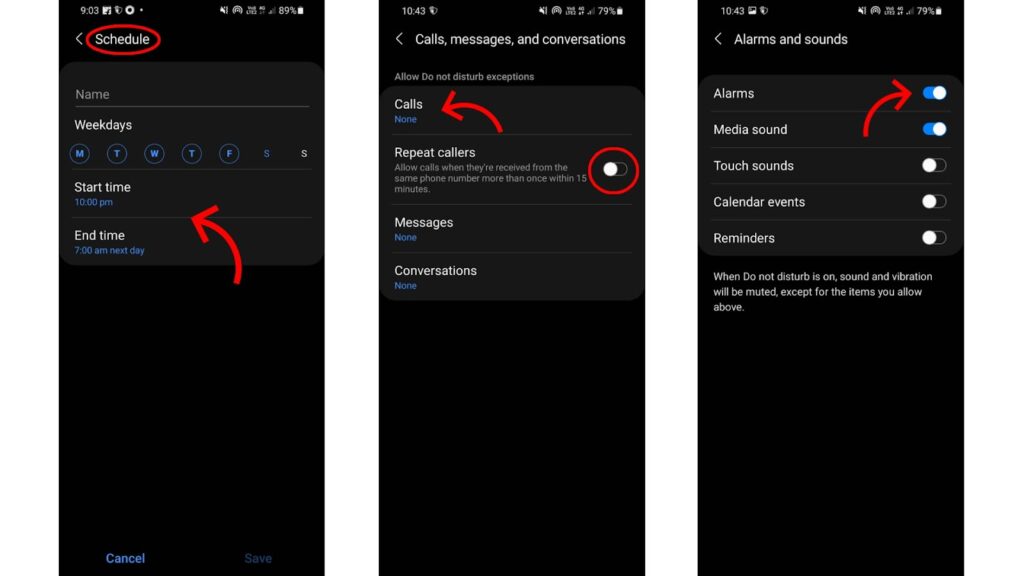 Yes, you heard it right. You can further tweak the DND mode as per your own requirements so that you can make the most out of it. From setting important schedules to setting up important messages or calls, you can make a lot of changes. Let's see how.
Set up Time duration
Time duration basically means how long you have to enable the DND mode. It can be very subjective such as 1 hour or 5 hours and depends on person to person.
Step 1 – Click on the "For how long?" tab.
Step 2 – Here, you will get three options, "Until I turn it off", "Ask every time" and the manual timer itself. The most practical one I say is the manual timer.
Although you have to do it again and again as per the different events or schedules. The only thing which makes it a better option out of the three is that you have total control over it.
Set Up Schedule
Moving further, setting up a schedule is the most important task when using DND mode. Sometimes, you are in an important meeting, having some urgent work, taking a nap, driving and many other scenarios can occur. You can set up them easily in the settings. 
Although you get a pre-listed sleeping schedule (10 pm to 7 am, every day), and if you find it useful according to your sleep timings, you can just simply turn it on.
Step 1 – In the DND mode itself, click on the 'Add schedule'.
Step 2 – You can give a particular name to it in the first tab.
Step 3 – You can choose the day you want to set up either a weekday or weekend. 
Step 4 – Here, you can set up the start timing. For example –  10 am.
Step 5 – Here you can se the end timing which means DND mode will automatically be turned off at this time.
After creating a schedule, you only need to turn it on through the toggle button. You don't have to create it again and again. You can set up as many schedules as you want. 
Exceptions
Exceptions play a major role in setting up the DND mode. You can pick exceptions as per the choice such as important contacts who can call you irrespective of the 'do not disturb' mode or important apps whose notifications can be a priority for you. 
Step 1 – In the DND mode, click on the 'calls, messages, and conversations' tab.
Step 2 – Here, you can select the calls, and messages you want to be notified about. 
Step 3 – In all of these tabs, you can choose further between priority things, all, or none. For example – favorite contacts only, all contacts, and none.
Not to mention you can enable the 'repeat callers' option also. It means that you will be notified about the calls which are coming from the same number again and again in time duration of 15 minutes.
You can set up sounds such as alarms, media, touch sounds, calendar events, or reminders. I suggest you should definitely keep the alarm sound on if you are using the DND mode while taking a nap.
You can choose between apps and make exceptions so that even with DND mode on, you will be notified about them.
You can also hide the notifications from your screen. Either you hide all the notifications or just the selective ones. You get the option to hide app icon badges, pop-up notifications, status bar icons, and much more.
Read Also: Android Adaptive Notifications
Conclusion
So now you understood How to Set Up and Customize Do Not Disturb on Android. DND mode can be very useful for those people who are spending much more time on their smartphones as compared to normal human beings. Look, smartphones are made to enhance our lives but not to degrade them.
I hope you are pretty clear about it now. That's it for today. If you have any queries or doubts related to DND mode, do let me know in the comment section below. I will surely get back to you in no time. Cheers!
FAQs
Do we actually need do not disturb mode?
Well, the answer to this question is quite subjective and varies from person to person. Some people like using DND as it suits them well but on the other hand, some people find it difficult to manage things with DND mode on. They find it restricting somehow. Even I personally don't use it very often.
Does do not disturb mode block the calls?
No, it does not block the calls. It only mutes calls, notifications, and alerts except for your selected exceptions. So need not worry about that.
How to turn off do not disturb mode?
Turning off the DND mode is quite simple and easy. You can either turn it off from the quick settings in the notification panel or by the settings app on your smartphone.