Everyone is busy with their work in this digital era, we can connect with each other via smartphones which is time saving compared to a physical meeting. Even though we use all the digital equipment, in certain scenarios we will be busy answering phone calls. Voicemail acts like a saver, to use voicemail we need the password, or to reset it if needed. This blog helps with this question i.e. How to reset the voicemail password on android.
If suppose you are busy with some work or you are on call with some other and won't be able to answer the call. In that case, Voicemail is helpful, it is the same as sending an audio or voice message which is recorded in the receiver's phone. The receiver can listen to it later only by entering the voicemail password. Most smartphones come with voicemail available, which helps you to make use of it when you are not able to call the target person or receiver.
We use many applications and software where we give passwords to use them, and because of so many passwords, we might forget the password we used earlier. It leads to resetting the password which is the same for voice mail also. Resetting voicemail password have different method based on the phone carrier. In this article, we will explain the features of voicemail, and some of its advantages, and disadvantages of Voice mail. And also provide various solutions to reset the voicemail password in Android.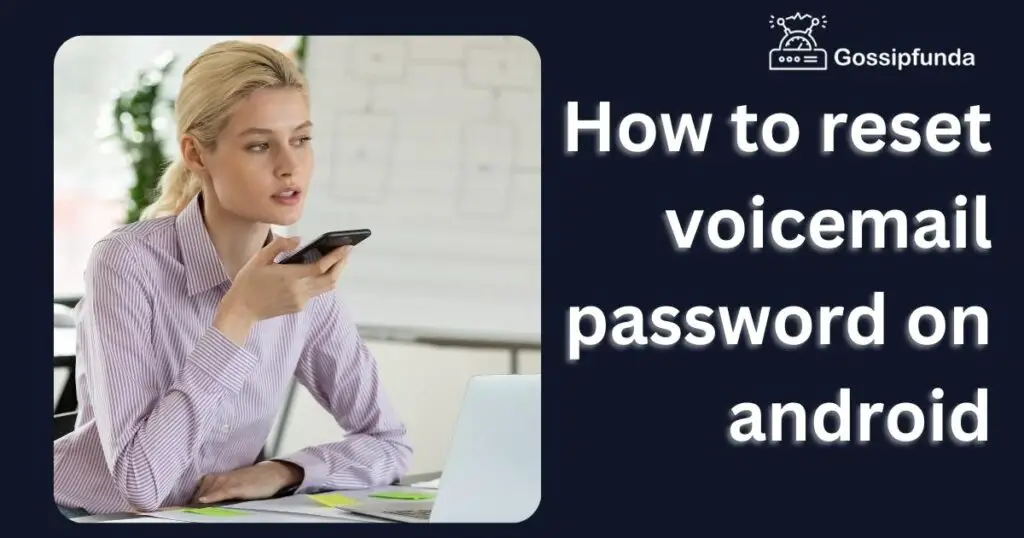 Features of Voicemail
Voicemail has a simple user interface that helps users to use it like a simple phone app we use regularly. The user interface of Voicemail has some named features like selecting the voicemail and managing the messages either to listen or delete the voicemails. It will notify if the user has some waiting messages to listen to or play. The sender can send the message i.e. deliver it or play it.
Advantages of Voicemail
1. Call screening
If you are using voicemail in your business, it helps you to prioritize the calls i.e. the high priority call will be attended immediately. The non-urgent calls can be sent to voicemail so that the sender can drop a recorded voicemail to you. In your free time or later you can attain voicemails and connect to them.
2. Accessibility
Voicemail helps to run your business 24/7 i.e. if your business is off for some days or some other important things are taken care of, at that time the customer can drop their queries, suggestions, and requests to your voice mail number. It helps in personal use also, like when you are busy with some work or unable to attend a call for some reason the sender can send the information to your voice mail or you can ask them to send a voice mail.
3. Cost effective
It cuts down the cost paid to customer service staff. By using voicemails you can answer calls only when they are important or at certain times of the day. It reduces staff expenses but also serves the service that needs to be provided to customers. It will make you accessible of whole time including when you are actually busy as they can leave a voice mail.
4. No time limit
As it is a recorded message the sender can send messages that may last for a few minutes to hours which will help the sender to leave a detailed message. From the business point of view, customers or consumers can send their detailed issues using voice mails. Which helps them to explain things in one go without any interruption.
5. Secure
If the messages are sent as voice mail there is a low chance of being lost or corrupted easily. But in the case of calls, you have to listen to them in one go. The messages that you write on the desk have a chance of being lost by anyone. Hence these voicemails are secure so that they can reach to target listener if the voicemail number is correct.
6. Customers prefer voicemail
As it has no time limit and the messages are secure, customers can send as long as detailed information or issue. There is no interruption when they are recording because it is one way. And customers don't need to wait to register their issues or requests. These are the main reason why they prefer voice mail.
Disadvantages of Voicemail
1. Customers doubt the technology
Customers have doubts about technological progress. They think the receiver (i.e. Company or Business) may never listen to the voice mails as the voice mails are queries, and requests which may consume more time to resolve them. this is casual behavior from the customer side because they don't have any idea about how this technology work.
2. Language difference
In calls, the sender and receiver come to common terms like talking in a specific language that is comfortable for both sender and receiver. But in recorded voice mail there are changes where the voice mail can be neglected because of differences in languages. One solution to this is to inform the customer that leaves a voicemail in this language only.
3. Hacking
The hackers can hack the system by making spam calls, SMS, or some other technique like phishing where the voicemails can be breached, altered, or deleted. If the voice mails include some personal or sensitive data it can be misused by them. Suppose you thin k your device is hacked then try to fix it.
4. Unwanted voice mail
As the voicemail is built to consider all the received messages, it will collect all the messages including important and unnecessary ones. At the time of playing them, it will be overhead to listen or skip the unwanted voicemails. But in normal calls, you can ignore them or cut the calls. You can block the voicemail number from sending voicemails.
5. Consumers don't know how to utilize it.
It is new and challenging for most consumers. So it might be a barrier for the consumers to use it, they might not use this. So the consumers must have the basic information regarding how to use voice mails.
6. Hectic to reply to all voice mails.
When you receive a large number of voicemails it will be hectic to listen to all the mails and reply to them. It is comparatively more difficult than receiving calls. So try to listen and reply to the voice mails within a certain time gap. Then it will not be hectic for you and the sender will get the reply as soon as possible.
Reset your voicemail passwords on the Android
There are various methods based on your carrier. Most of the carriers allow you to reset the voicemail password on Android, but for some carriers, you have to contact them regarding the issue.
Method 1: Reset voicemail password (if you know the current password)
You can reset the password using the Phone app on your device. Follow the below steps carefully to reset it, if it didn't work then go to other methods for specific carriers.
Step 1: Open the Phone app.
Step 2: Click on three dots i.e. more options.
Step 3: Select Settings on the list.
Step 4: Look for Voicemail and tap on it.
Step 5: Then select Change PIN to reset it.
Step 6: It will ask you to confirm your old PIN, enter your current password, and click continue.
Step 7: Now enter a new PIN and continue.
Step 8: At last enter the code again.
Step 9: Click on OK to confirm.
The above method is easy to make changes if you remember the previous voicemail password. If you forget the password then this method won't help because it asks for the current password. In such cases follow the below mentioned other methods.
Method 2: Reset voicemail password with AT&T.
To work with this so that you can reset your AT & T voice mail password, you have to be in AT & T wireless coverage area. AT&T customers can change the password or Voice mail PIN via call or by following the instructions below to reset the voice mail password.
Via AT&T account.
Step 1: Open the phone's browser.
Step 2: Now open your AT&T account, and select the My wireless.
Step 3: Inside the My Devices and add-ons section, select your device.
Step 4: At this step, select Manage my device.
Step 5: Under Device options and settings, choose Reset voicemail password.
Step 6: Now you can reset your voice mail password.
It might be a long method to work, so here is a short method you can use only if you have an AT & T prepaid phone. Just dial 611, and after that navigate to voice prompts where the password of the voicemail can be changed. As suggested, try this short method also.
Via a call.
First, Call 611 to enter the wireless number with the area code.
Next press 3 to select Get Help with Voicemail.
After that press 3 to select reset your voicemail password.
Enter the billing zip code of your account.
At last, type seven digits of the wireless phone number to reset the voice mail password and then click OK.
Method 3: Reset voicemail password with Tracfone
Tracfone allows its customers to reset their voicemail PIN with the help of messaging text to them. It is as simple as the above mentioned methods, follow the given instructions.
Step 1: Open the Message app.
Step 2: Start a new conversation by clicking on the icon at the bottom right corner.
Step 3: In the Recipient field enter 611611.
Step 4: In the message field type Password and click on the send button.
Step 5: After some time you will get a link as a reply. Reply to it with VM.
Step 6: Type Y and send it, it will reset the voice mail password to the last four digits of your phone number (the phone number from which you started the conversation).
Step 7: Press 1 and hold for a few seconds on the call dialer, which will give access to your voicemail and to change your password also.
Method 4: Reset voicemail password with Verizon.
If you want to reset your Verizon voicemail password on Android, at the dialer dial *611 and make a call. Then provide all the requested information, and when the assistant will ask for what you're calling? say Reset my Voice mail password. The system will insist on you throughout the process after which you will be able to reset your voicemail password.
Method 5: Reset the voicemail password on Sprint online
It is most useful because it helps you a lot like blocking text messages, resetting your voicemail password, etc. So you have to be on Sprint's official page and follow the steps.
Step 1: Go to the Sprint website and sign in with your account.
Step 2: Inside My Sprint, click on My Preferences.
Step 3: Under Things I can manage online, Select the Change voicemail passcode.
Step 4: It will open the window i.e. Reset Voice mail passcode, and follow the instructions which help you to reset the password on voice mail.
These are a few methods by which you can reset your voicemail password. It is a common habit to forget the password but in some urgent needs, resetting the password can be a big task to connect to it. So it is better to remember the password or passcode of your voicemail.
Conclusion
In this article, we have explained the methods to reset your voicemail password in Android along with some of the features, advantages, and disadvantages of voicemail for personal and business. To sum up, voicemail is a professional way to communicate with others when they are busy. When the receiver is busy we can get their attention by sending a voicemail, they can contact us by listening to the voicemail. If there are any suggestions or queries regarding this article, feel free to comment on them.
FAQs
Can I use voicemail for personal use?
Yes, you can use it for personal use. It is the same as voice mail in business. The sender can drop a voice mail by explaining the matter or just remind the receiver to call back when they are free. If you have enabled voice mail on your device and you are busy, the sender can record the message in a digital mailbox which can be retrieved by the receiver (owner) only. It can be used for personal or business use also,
How can I block someone from sending voicemails?
You can block the sender from sending voice mails by following this method. Open the received voice mail which is to be blocked, and click on more options where you can block the number. This is similar to blocking the number from making calls. After some time, if you want to unblock the number you can do so. Blocking the numbers from sending voicemails may block them by sending voice mail, but they can make calls.
Why am I unable to use voice mail?
If you are unable to use voice mail on your mobile then there are chances that voice mail is not enabled on your device or the carrier is supporting the voice mail feature. In some smartphones, you can't see voice mail as they are not supporting the voice mail feature.