Technology has made our life simple and at the same time will impact our lives if it's used in the wrong way. Hidden keylogger is used by parents to track their kid's activities and by some organizations to track employers' activities. whereas it is also used illegally by hackers. Hidden Keylogger refers to software that tracks every key pressed in the system or phone keyboard being tracked and logged by hackers, and cybercriminals to steal your information. Whatever you type on the screen is recorded in the background using a hidden keylogger. Every single action such as entering confidential information, username, password, and bank details are tracked and obtained by hackers which is very dangerous when they collect financial data.
Every one of us will have some kind of threat in our mind while entering our bank details on our phone or PC. Am I right? Yes, What if someone keeps monitoring our activities hidden using some malicious software that is installed on our device? This term Keylogger is not alone meant for hackers to steal passwords and account details. But it is also used by many applications such as Grammarly, a Plagiarism checker used to access not every keystroke but scans the text and some parental control apps which are for a legitimate cause.
Well, Having some basic knowledge of how keyloggers work will take you to be aware of malicious tracking of your device. Most software companies use these hidden keyloggers to track the system operations and functioning of the network which is legal. But the same software when it is used to divulge someone's details it is illegal to use. so, let's dive into the detailed information on how to remove the hidden keylogger from your system or smartphone.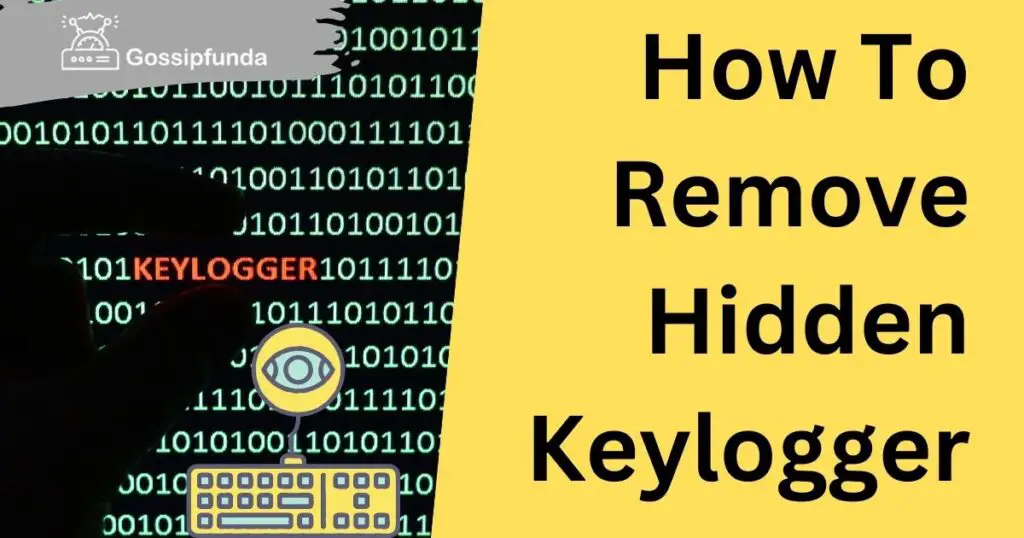 What does keylogger mean?
Keylogger refers to a Program that runs in the background destined in recording and monitors every single typing of the user. Whereas some kinds of keyloggers are used to even record your actions using a camera or eavesdropping by listening to your call logs, monitoring the web pages, stealing passwords, PIN details, credit card details, etc. This software is installed on the user's device without their knowledge.
Once it is installed, the user doesn't have any idea about the spyware. The software runs in incognito mode unless you find some unusual activity on your device or reliable antivirus software installed on your device, the user is blind about these malicious attacks.
Hardware keylogger
Hardware keyloggers are implanted into the system's hardware inside the keyboard port. So whatever you type is intercepted as signals and the data is revealed to the hackers.
But this method is very tough as the hacker needs physical access to your hardware part of the system while you are not present.
Software Keylogger
Software keyloggers are easy in terms of installation into the system's hard drive. This kind of keylogger gets installed on your system while you get trapped yourself by clicking on a link looking to be genuine and resulted in the installation of keyloggers on your device.
So it's advisable not to install a third-party keyboard, any other external source of the keyboard, or even an external file attachment from unknown sources which is not secured. Since it is easy to install this type of keylogging is mostly used by malicious attackers.
How to detect keyloggers on your Android device?
Detecting keylogger on your android device is not a difficult task anymore as there are several ways to explore these hidden keyloggers. When you find some unusual activity on your smartphone you need to guess for malicious attacks that might be happening in the background or because of other common issues of your smartphone. These precautions are done to keep your data and transactions secure. Have a look at the below reasons to detect keyloggers on your device.
Battery Draining
The battery runs out soon due to multiple reasons. When multiple programs are running on your device it consumes much more battery than usual. Other than this, when malicious programs are running behind without our knowledge these are the culprit of draining our batteries at a faster rate
Device performance is slow
It's natural that while you install a lot more apps, your mobile performance decreases. At the same time, you should also check for other reasons such as any hidden keylogger that might be uninstalled on your device which lags and slows down your device performance frequently.
Nowadays android mobile is well configured and designed to function at high speed and with lot more added features. so never compromise if the device functions slowly and check it immediately.
The device is getting overheated
Device overheating is one common problem in some phones if many apps are running in the background. But if you happen to open too many apps while all are running in the background you need to close such apps.
Even if no apps are running in the background and still your phone is getting overheated then the keylogger might be the culprit.
Mobile getting hanged or crashed
It's expected that any smartphone would have crashed or stopped working randomly. But, if you find something unusual that the phone stops working frequently then you need to dig into the issue deeper and find out the hidden keylogger.
Receive strange messages
When you get strange links or messages from an unknown contact make sure you are not clicking on the link. These messages are sent by malicious attackers to make you fall into the trap of installing the keyloggers while you click on the link.
How to remove the keylogger from your device?
Keyloggers can either be installed in computers or smartphones to track every single key that you press on your keyboard. Nowadays people are doing large transactions of amount using their mobile to pay credit card bills or other financial payments. so hackers are targeting smartphones to get the confidential details of the user.
Use Antivirus software: Using an antivirus will protect your phone from unwanted apps getting installed and scan the device regularly for any malware threats. In the case of an iPhone or any smartphone, you can install Antivirus software to detect Keyloggers that are hidden. This software provides the feature of keystroke protection to protect your data by scanning and checking for hidden keyloggers. There are lots of anti-malware tools and anti-keylogger tools available in the Google play store. You can download any of these tools to protect your device. Downloading apps from unknown resources is again a threat to your device.
Check the Downloads folder of your phone: Any downloaded app is stored as an APK in the downloads folder. So check it regularly to find any suspicious app and delete it.
Do Factory Reset: Doing a factory reset will delete all data and apps from your phone .so if a hidden keylogger was installed in your phone will also be removed once your phone is done with this option. Make sure to have a backup of some important files.
Use CyberGhost VPN:
Installing CyberGhost VPN will protect your device from cyberattacks by protecting and securing your network.
Avoid public WiFi Networks: Avoid using the internet in public places provided for free as they are less secure and easy for attackers to track your IP address 
Don't click on strange links: Don't click on unwanted links or messages that come with links that is having weird texts.
Have a security PIN for your device: Safeguard your device with a password that prevents anyone from accessing it in your absence.
Always use Two Factor Authentication: Two-step verification is an added security to your device. Even if anyone has got your login details and password they can do nothing without passing the two-step authentication method.
The ways to Detect hidden keyloggers in your system by various techniques are listed below 
Your keyboard functions in an unusual way in that your typing strokes don't sync with the letters on the display screen 
There will be delayed processing of keyboard strokes such as whatever you type gets delayed to be displayed on the monitor it a disappearing cursor. 
System hanging as there are some background operations happening 
You might end up getting some errors or slow loading of web browsers 
Keeping an updated system prevents any security issues such as keyloggers 
Configure browser security settings by removing unwanted plugins, deleting cookies, and clearing the cache. 
Install a good antivirus or anti-malware software that is very efficient in finding out hidden keyloggers and other malware attacks on your system. 
Methods to Remove keylogger from your pc
Check the Task manager 
Task Manager helps you in listing out the details of currently running applications, background processes, and the processing power and memory it consumes.
To open the task manager Press Cntrl+Alt+Delete.Select Taskbar. It shows you the list of apps and background processes that is running on your system. Select any suspicious activities like keyloggers and click on end task. In this way, the keylogger will be stopped from functioning.
Inspect programs and features 
Go to the start button
Click on the control panel
Select Programs and Features
It will list all the applications installed
Look for suspicious downloads and uninstall it
Scan for keyloggers using antivirus software 
Regular scanning of your computer with antivirus software protects your computer from unwanted threats. So using an antivirus is one best option to detect hidden loggers from your device.
Uninstall the keylogger application
Once you have detected the hidden keylogger present in your system either using an antivirus or taskbar program then it's an easy process to uninstall it promptly. Most of the hidden keylogger files reside in a temporary cache area of your system.
Have a look there and remove the application. This is another simple way to detect keylogger files. Follow the steps given below.
Go to the start button and click on settings or the gear icon
Under settings select the System option
Click on storage and it will show the storage of the Local disc (C:) file.
Select temporary file storage 
A list of apps is shown, Select any suspicious app and remove it.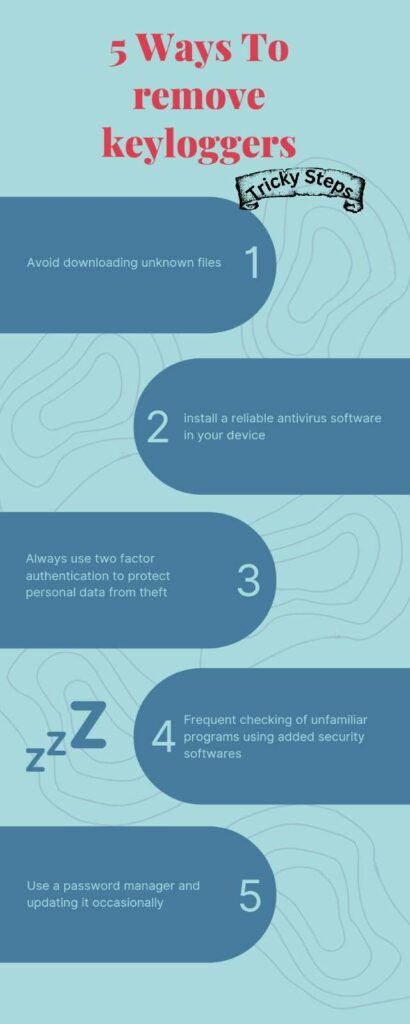 Conclusion
As a result of reading this article, you would have gained enough knowledge about hidden keyloggers present either in your system or in your smartphone. Wherever it is installed it is going to steal your bank details or password just by tracking your keyboard inputs. So make sure to follow the outlined steps above to detect and remove a keylogger from your device. It is worth installing antivirus software even on your mobile as we all have switched to doing most of our money transactions on our mobile. In today's world, we are collecting and giving a lot of data online. Start protecting your data with the use of technologies available by choosing a good antivirus software or other security software products as per your need.
FAQ
What are the common keylogger attacks?
Keyloggers are programs used by cybercriminals and hackers. Their main purpose is to track passwords and bank details by tracking every input of keys pressed on your keyboard and recording and stealing your data. These attacks are carried out through USB cables, Malware, Software bugs, and hardware bugs. So make sure you don't open or install any suspicious files on your device.
How do keyloggers infect your device?
There are various ways that a keylogger infects your device. As we are surfing a lot nowadays, we sometimes click on POP-UPs or download an attachment from unidentified contacts. Some other way keyloggers attack your system is when someone does have physical access to your system and installs it utilizing hardware or software bugs. Also while you use physical storage devices like pen drives without scanning the contents your device has a high chance of getting infected with such keyloggers
How to know if my Android phone has a keylogger?
It's simple. All of us download lots of applications from the Google Play Store. Typically most of us would never care about having an antivirus for our smartphone. But, it should be the foremost step to download what is available for free.so, Go ahead and download a good antivirus software like Avast. It will scan your device and find out keyloggers or other malware threats affecting your device.