How painful is it when you accidentally delete some of your favorite photos from the gallery? We have all been there and experienced the panic and anxiety that sets in after losing pictures of your loved ones or your favorite pictures of yourself. The brain automatically starts running in all directions to think about how to recover permanently deleted photos from the gallery. If you are in a similar situation then don't worry because there are many ways by which you can recover your pictures. Without further ado let's get into it and discuss in detail, the methods to recover your deleted photos from the gallery.
Recycle Bin
The easiest way to recover a permanently deleted photo is from the trash. This feature is available in newer versions of mobile phones. I remember the struggle earlier, once you delete a picture, it might be by an accidental touch; your memories are erased forever, and you will not find that picture again. To overcome that, the manufacturers have come up with this amazing feature where any deleted picture is stored in the recycle bin for a period of 30 days before getting permanently deleted from the device. This is life-giving us a second chance and we must take it before it is too late.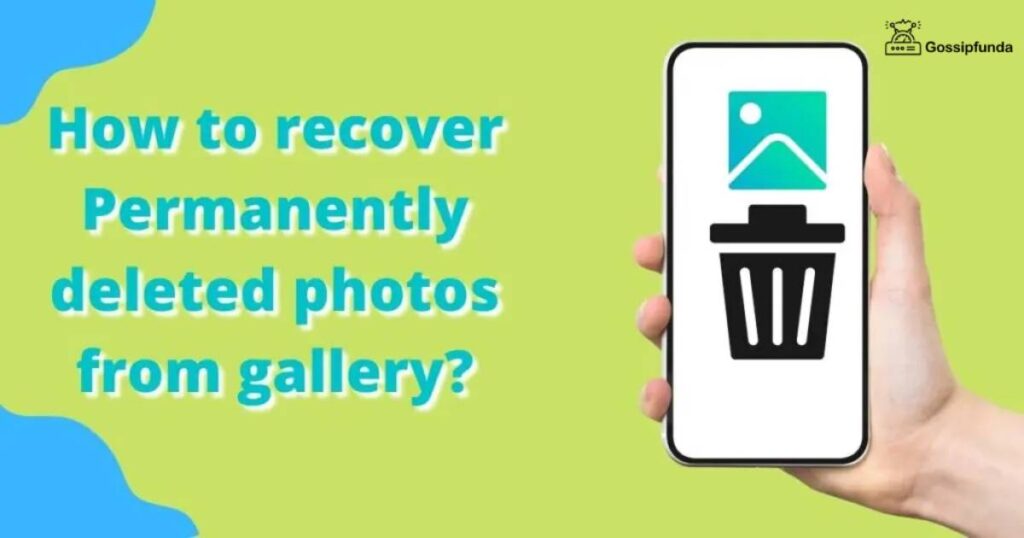 You may wonder how to retrieve the photos from the recycle bin and where is this bin? Well, it is very easy. Just follow the steps below to find out:
Unlock your phone and open the gallery.
Once you are in your gallery, look at the bottom right, you will find a hamburger symbol with three horizontal lines. Click on it.
Now you will see a pop-up with several options, one of them being the recycle bin. Click on it.
In your recycle bin, you will be able to find all the pictures with the number of days left for their deletion.
Click and open any image you want to restore.
At the bottom of the screen, you will see two options – Restore and Delete.
Take any action very carefully because if you delete it by mistake, that picture will disappear forever. 
Click on Restore and your picture will be restored to its original album from where it was deleted.
This is one of the most simple and safe methods to recover a deleted picture from your device as this comes as an in-built feature from the manufacturer. This does not require any backup to be taken beforehand as well. However, it is very highly recommended to do so.
Google Photos
Let us now move on to discuss the next method on how to recover permanently deleted photos from the gallery. One such method is Google photos, it is built by Google and is used to share, sync, and take backups of the photos in our gallery. It operates on the concept of the cloud and is extremely safe and secure to store the images. Google itself is synonymous with ensuring quality with security.
Coming back to recovering the deleted photos, is no rocket science, only a few clicks and you can get your photos back. One important thing to ensure is that you sign in to the correct Google account. Many people have 2 or more google accounts for different purposes and if you take a backup of your images from account 1 and try to recover them using account 2, it will not be possible. The second change period which is the window in which you can recover your deleted photos is extended to 60 days. Great isn't it? Let's quickly see how it is done.
Unlock your phone and open Google photos. You will generally find it in the Google folder on your phone.
Make sure that you are logged in using the same account you took backup from.
Click on Library on the bottom right.
On top of the screen, you will see multiple options like Favourites, Utilities, Archive, and Bin. Click on Bin.
You will be able to see all the deleted photos. Select all the photos you want to restore and click on Restore.
If you see a pop-up then tap on restore again.
This will restore all your photos back safely. Please note that your trash bin can hold up to 1.5 GB of data after which when you send more items to the trash previous items will get permanently deleted, and we will not be able to recover them ever.
Microsoft OneDrive
Just like Google, its contemporary Microsoft Corporation has also launched its own cloud service to backup and store data in a secured cloud. However, there is an extra feature in Microsoft OneDrive. It automatically uploads your pictures to the cloud and removes them from the gallery. Although this option needs to be enabled first as one-time permission till it is disabled again. This not only creates a safe storage space but also releases space from your phone gallery and helps improve the performance of the phone overall. All the backed-up images can be accessed and downloaded anytime anywhere from any device which will log in using the same account.
Let us quickly get into steps to follow to take advantage of this:
Go to OneDrive Website and log in with your ID using which the backup was taken.
In the navigation panel, select Recycle Bin.
Select all the photos you want to restore.
Click on the "Restore" option to recover all your deleted files back.
One thing to note here is that OneDrive has different policies for personal and work accounts. For personal accounts, the deleted items are permanently removed after 30 days whereas for work or school accounts the period is extended to 93 days. By mistake, if you have deleted an entire folder, you can also recover everything at once by selecting the "restore all" option which is also available for personal accounts only. It is always a good idea to backup and store your images on any trusted cloud provider's services as it ensures that your data, especially all the sensitive data like your personal photos or documents would not be misused in any case. It is also recommended to not store any confidential data like bank documents, personal information, or passwords on your phone for security purposes.
Google Drive
What is the difference between google drive and google photos? Aren't they the same? Well, both the products are developed by Google and so are equally trustworthy but, google drive is a platform for storing all kinds of files or photos whereas google photos are specifically designed for photos and have some extra features to enhance your photo experience as well. Earlier, photos stored in google drive used to be available in google photos too but from July 2019 this feature has been deprecated, and drive photos don't show up in google photos automatically. One important and helpful point to note here is the automatic photo backup. This will back up all the photos present in the gallery to google photos regardless of their activation from the drive or google photos.
Let us quickly get into how the recovery from google drive is done:
Unlock your phone and open the google drive application. It usually comes pre-installed on your phone in the Google folder.
Tap on the hamburger symbol (three horizontal lines) on the top left of the screen.
Click on "Bin" to be able to see all the deleted items.
Select the deleted images you want to restore.
Click on the three dots on the top right and then, click on the restore option from the pop-up that appears.
Your deleted images will be restored back instantly to their original location on the drive.
Just like in all other cloud storage services, even on google drive if we delete the content from the bin then it is impossible to recover it back so be very careful about the same.
Android data recovery tools
The images we see in our phone's gallery actually reside as objects in the device's internal memory. So to retrieve a deleted image also, we need to dig the mobile internal storage using some third-party image recovery software. There are many tools available in the market but not all of them are trustworthy. Some of these tools may cost you some money also but some are free. One needs to do thorough research before deciding which tool they would go for. These tools have a very self-explanatory User Interface that is easy to understand and follow. Another prerequisite is to have a laptop or a computer to run the software. Now comes the tricky part, to be able to access your phone's internal memory and pull deleted image objects from there, these tools require your phone to be rooted and in USB Debugging mode.
Rooting your phone is not a recommended practice and opens the doors for several other hazards which might cause damage to your phone and may incur financial loss, emotional distress, and anxiety if any malicious entity enters your system. Now you need to really think multiple times: is that image really that important to risk it all? If yes then go ahead with extreme caution but if not then do not.
Conclusion
We discussed multiple ways in this article to recover permanently deleted photos from the gallery with or without backups. I would like to bring your attention to the fact that rooting your phone is never a good idea as it opens up doors for many other security risks which ultimately lead to financial loss or emotional distress and anxiety and it is not worth it. There are tools available in the market which do not require your phone to be rooted but if even that does not work, think twice before rooting your phone. You might think that you will be able to unroot your phone but that has risks of its own. You can never recover it back to its original state and may corrupt or cause permanent damage to the phone.
Wrapping it up, Technology is advancing faster than the speed of light. Every day there is a new innovation that comes into the market to make our lives easier and so it is always a good idea to make use of the latest technology. One such technology is the cloud – it is nothing but a huge unimaginable amount of servers kept in one place called the data centers. They can be accessed easily over the internet and ensure utmost security and redundancy so that we don't lose our data.
Engineers are working day and night on all kinds of technological advancements and it would be a shame if we still lose any data and be sad about it. Hope this article helped you to understand how to recover permanently deleted photos from the gallery and pulled you out of the "I lost my favorite picture" zone to the "I found it" zone.
FAQs
Can I recover my photos after deleting them from the trash?
Unfortunately no, there is no way to recover photos after deleting them from the recycle bin.
Can we extend the period of storage of deleted items in the bin?
No, this 30 or 60 days window is a generic one that applies to all users and is decided by the cloud service provider.
Will backup of my photos cause slowness or consume more space?
No, creating a backup of your photos or documents will in fact save space on your device as the cloud is huge and you get a lot of space for free. Even then if you need more it can be purchased at a minimal fee. Also, the backing up process requires zero downtime and runs in the background.
Can I unroot my phone after rooting it?
Yes, you can but it does not guarantee anything. The whole rooting and unrooting the phone can lead to some device corruption issues or your device may run into other issues as well so from our end it is not recommended.