As we know, the hard drive is an electronic device, which may lie to some issues. Sometimes after using the hard drive for a shorter or even a longer time, it accidentally stops working. You hear some noise coming from your system, some rainbow light on your display, or a system restart issue. These all are the symptoms that your hard drive is affected; it is damaged.
Now you must worry about all the hard drive data saved. Right? If yes, let me tell you we are here for you. We have some methods and tools that can help you recover all your hard drive data. And additionally, these methods and the tools we will discuss are mainly meant to retrieve all your photos from the crashed hard disk. You must have seen various ways by which you can recover the pictures from your hard drive, but we are here with additional solutions that can help you retrieve the deleted photos from your damaged hard drive.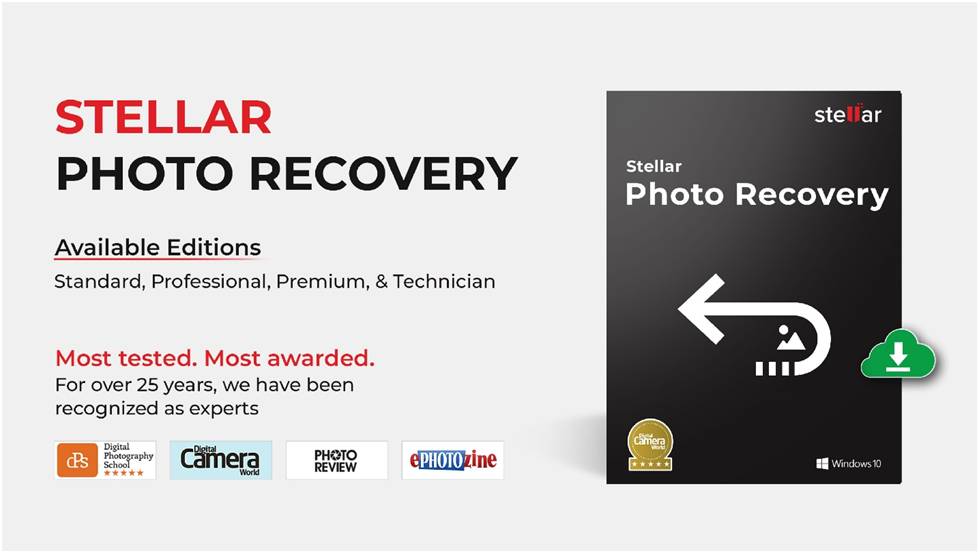 Method 1: Fixing Hard Drive Through CMD Prompt
The first method is a very basic method that you should try. Sometimes your hard drive may be partially corrupted. So it is not required to go for recovery at this point. There may lie some small issues that could be recovered easily. So firstly, we recommend you try the steps mentioned to troubleshoot the problem with your hard drive. These steps will help you in resolving some small issues if present in your hard drive without actually going for formatting off the hard drive. So quickly follow mentioned steps-
1] Go to the search Bar of Windows, which is present on your taskbar.
2] Search for CMD > Run As Administrator
3] Type the command chkdsk and press enter.
It would give you all information related to the issue in the hard drive, analyze it and fix it accordingly.
4] You can also type the chkdsk C: /f /r /x command and fix issues with your hard drive.
If following the steps doesn't help you, then quickly go for the next methods.
Method 2: Recover Data using Disk Management Utility
Your hard drive is affected if method one doesn't work for you. If your hard drive is damaged completely and you cannot access the data, you can try using a disk management utility. You can use a disk management utility to recover your data easily. To recover your deleted photos using the disk management utility, follow outlined steps-
1] Press Windows + X; it will open the power menu for you.
2] Click on the Disk Management option
3] If your hard drive is visible, then you can go for the formatting of your hard drive.
4] After completing the formatting process, You will have access to your stored data. Formatting fixes the hard drive issue and thus enables you to retrieve all deleted photos.
These are the computer techniques that you can follow and recover the photos. These methods only work in situations like accidental loss of photos, etc. This will only work if your hard drive is completely intact. Here we recommend an application that will help you in the best possible way to recover all your deleted photos from your crashed hard disk.
Method 3: Use a Photo Recovery Software.
Stellar Photo Recovery is extremely useful and pain-free software to operate & has the potential to retrieve you from most data loss tragedies and recover deleted photos. It is a media recovery tool available for both windows and Mac. You can visit the Stellar Photo Recovery website and freely download the software. They even offer you three basic plans. After that, you can check its details on the website and buy it.
You might get surprised to know that it also supports recovery for phones and tablets. It supports the recovery of various file formats, including video and audio files. Its function is not only limited to the hard disk, but it can also help you to recover all your data from various storage devices like SSD, SD Cards, SD cards, USB Drives, etc. And the most important tool is very safe to use. So let's look at how this tool helps you recover deleted photos from your hard drive.
1] Visit the Stellar Photo Recovery website.
2] If you have windows, click on the green button that says free download. It will download Stellar Photo Recovery for you.
3] Quickly run setup and install Stellar Photo Recovery.
4] Launch Stellar Photo Recovery software and choose the hard drive that contains the deleted photos you want to recover. And then click on Scan.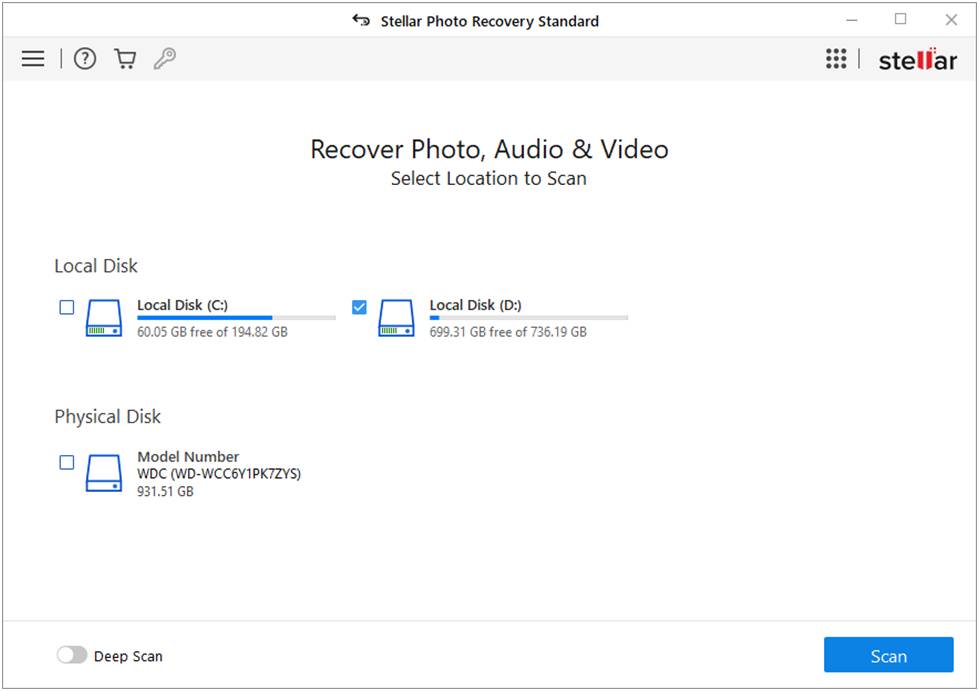 5] Once the scanning is finished, you can preview the recoverable files.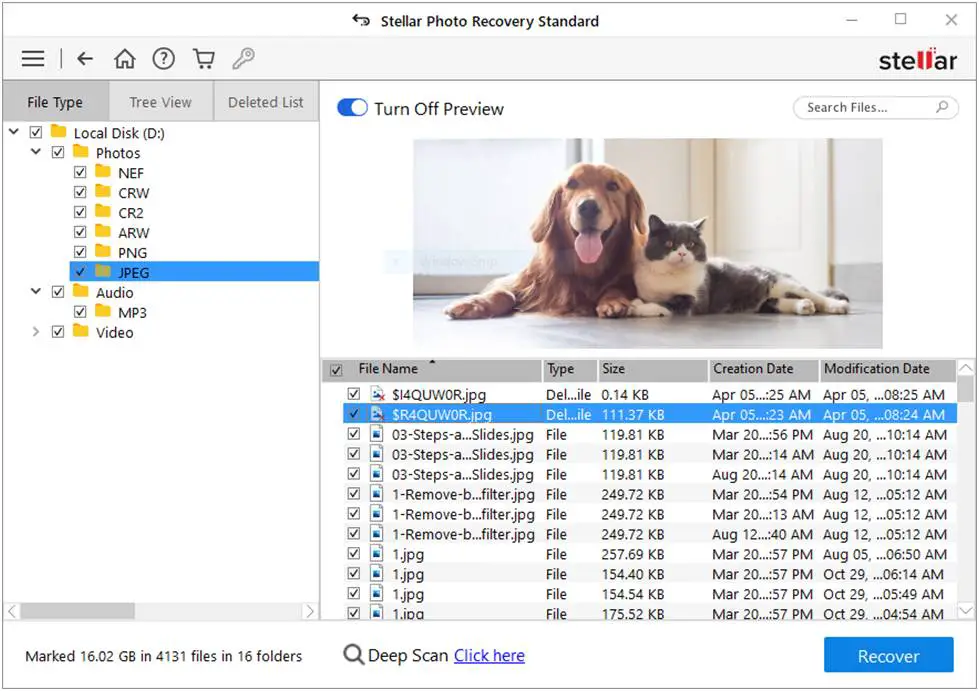 6] Select the deleted photos that you want to recover. Once selected, click on Recover and save them at a specific location per your wish.
This will recover all your deleted photos with no effort or time.
Stellar Photo Recovery supports the recovery of CR2 /CR3/CRW (Canon), ERF (EPSON ), RAF (Fujifilm), K25 /KDC /DCR (Kodak), MRW (Konica Minolta), MOS/MEF (Mamiya), NEF/ NRW ( Nikon), ORF (Olympus), RAW (Panasonic), PEF (Pentax), SR2/ARW/ SRF (Sony), X3F (Sigma), DNG, DJVU, PGM, Adobe EPS (Mac), Adobe EPS (Windows), TGA, JPEG, TIFF (Motorola and Intel), BMP, GIF, PNG, PSD, INDD, PSP, PCT, JP2, and many other file formats.
Conclusion
You don't need to worry about mistakenly deleting or instantly losing any file. These files can be recovered easily by using a disk management utility. And if the problem is minor, you don't need to format your disk. Instead, you can troubleshoot it by using the chkdsk command. However, if your hard drive is completely damaged and you must quickly and easily recover the photos, these computer techniques fail. Therefore, following these simple steps, you can use the Stellar Photo Recovery software and easily restore deleted photos and other files.