How to play android games on PC?
Android is the largest platform among smartphone users. It has about 2.5 billion active users, using a handset or a tablet that runs Android. Android platform has a lot of games that are loved by millions of people. Today, we are going to learn how to play Android games on PC.
Let's face it, there is this one time you wished that your favorite game is on Android. Therefore, we help you out in completing your wish of doing just that. Furthermore, not only you can play games but also use many apps that you normally use on Android.
For example, I loved to use bamboo paper on my android device. I wished the same could be available for my Windows device. Then I used the methods discussed below to download it.
Actually, Bamboo paper is now available on the Microsoft Store, if anyone is interested. Click here to visit that page.
What advantage does it give you to play Android Games on PC?
There are multiple advantages over playing your favorite games on your computer. Firstly, you have a huge screen that takes experience on another level. Secondly, many games work better after pairing up with a keyboard and mouse. Moreover, if you do not have a powerful graphic-intensive smartphone then your computer becomes one. For example, playing a demanding shooting or FPS games would have a better experience on a PC
Therefore, if you have never tried playing Android Games on PC, you definitely must. Let us see, what is the best way to perform this feat.
Play android games on pc
The files that are downloaded on your phone cannot be used to play on your computer. It is because your computer uses a completely different operating system than your phone. Therefore, we have to create such an environment like your Android Smartphone on your computer.
This is why we use the help of Emulators. Specifically, we call them Android Emulators. There are multiple Android emulators available that you can download for free. They are NoxPlayer, BlueStacks and many more. In this article, we are only going to briefly discuss the best emulators there are i.e. NoxPlayer and BlueStacks
NoxPlayer
This is rated among the best emulators available for Windows machines. You can download it completely for free and set up the player so that you can enjoy your games.
Now the installation is extremely simple. Following is how it's done
Installing NoxPlayer
Just do a Google search on "NoxPlayer" or click here to do so. Now visit the first link that comes up on the search engine. Alternatively, you can also click here to visit the website directly itself.
Now that you have opened the website on your browser, it should look like this
Now proceed to click on Download to download the software itself. The application is also available for MAC users (YAY!!). You can click the link to download for Apple devices.
The download should immediately start. Wait for it to finish and double click the downloaded .exe file to run the setup.
When you double click the setup, the setup wizard should promptly open as follows.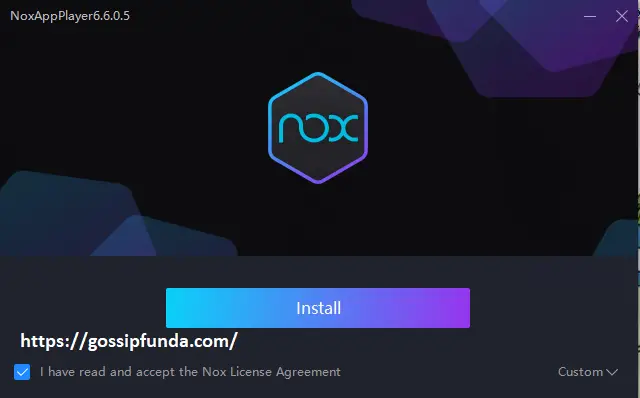 Click on custom, on the bottom right corner to expand settings.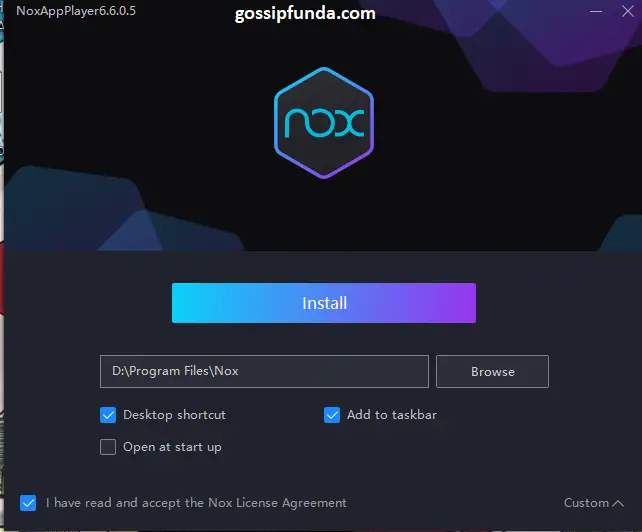 Now choose a path where you want the player to install. If you are unsure, then leave it as default.
Now that you have clicked, install the install wizard should continue to finish your installation. While the setup is installing, you can click on the FAQ button to get QnA about this player.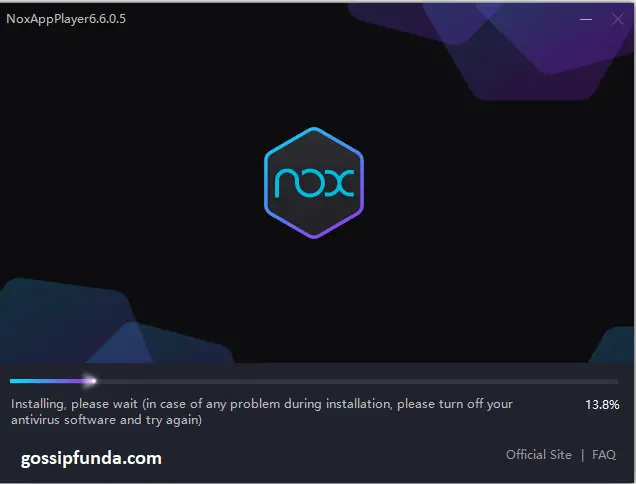 After installation, please click on Start to open the player
Setting Up NoxPlayer
A beautiful android emulator should open up and greet you to start downloading games.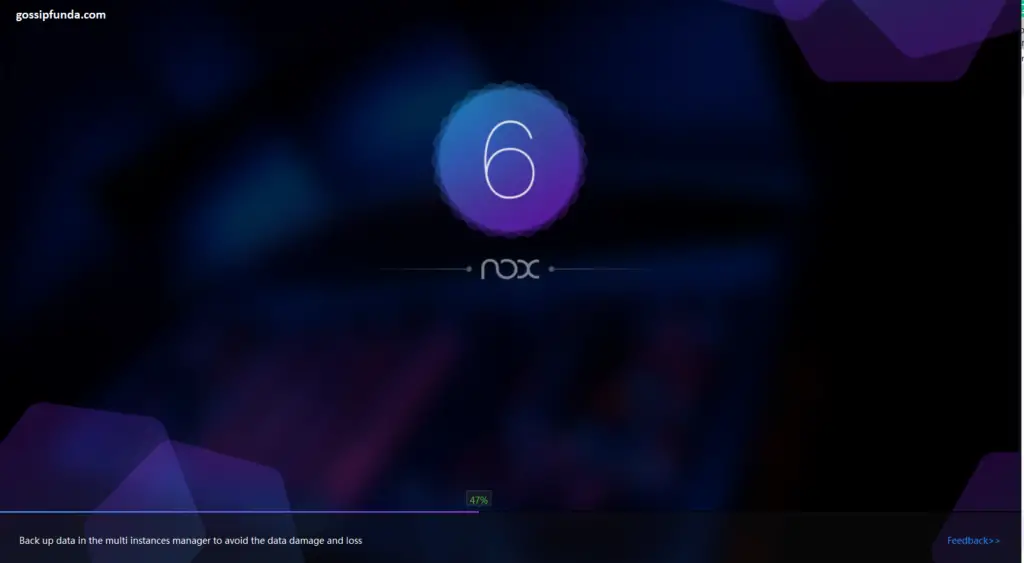 But before that, you must log in with your Google account. It is a must if you want to back up your data. Therefore, please enter your credentials to validate the ID
Now that you have everything set up, let us jump on how to download your favorite game.
Downloading Android Games
Before doing anything, let us get to know the player. If you notice on your bottom right, there are three options. The first one is to go back. The second one is the home button. Lastly, the third one is to open recent apps.
It is just like another smartphone you have.
Therefore, now to download any game you like, just search it on the search bar.
Click on the first Google link and Nox should open up your play store.
Now that the play store link of the game is now open, just click install. Following, your game should download and install.
You can open the game by clicking on Open. Alternatively, you can also access it through the home screen of Nox
Now that we have taken a look at NoxPlayer, let us also visit BlueStacks
BlueStacks
BlueStacks is another superb emulator that I have used for many years. You can download this player for free from its official website. Click here to do a google search on BlueStacks. Click here to visit the official site to download this player.
Installing BlueStacks
The installation is fairly simple. After you visit the official website, click on "Download BlueStacks".
You would now have a small .exe file downloaded on your computer. It should be less than an MB. This is not the player, but a downloader and installer. Unlike NoxPlayer, BlueStacks does not provide the direct installer.
Therefore, double click this .exe to open the downloader. Now you can choose to install at your custom path by clicking on "Customize Installation".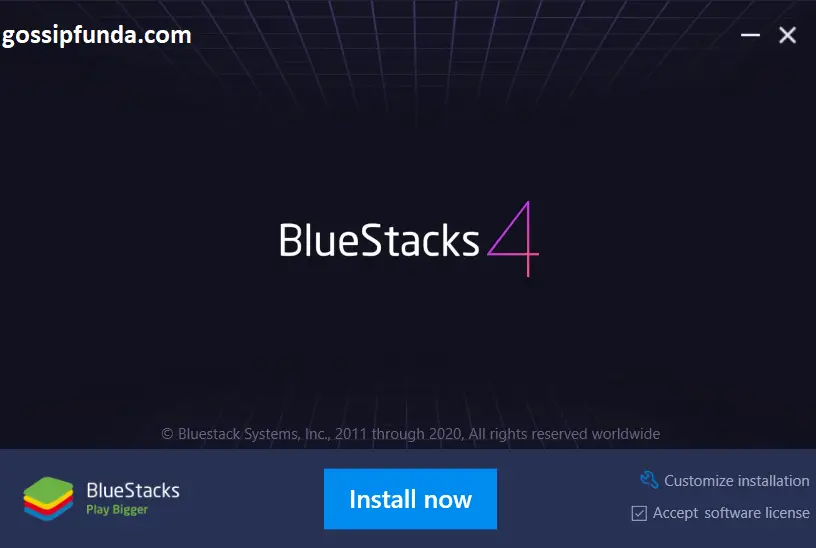 Now click on the teensy tiny "Install Now" button on the down right corner, to start downloading the player. You would be greeted by a new screen that gives you an estimate of the download.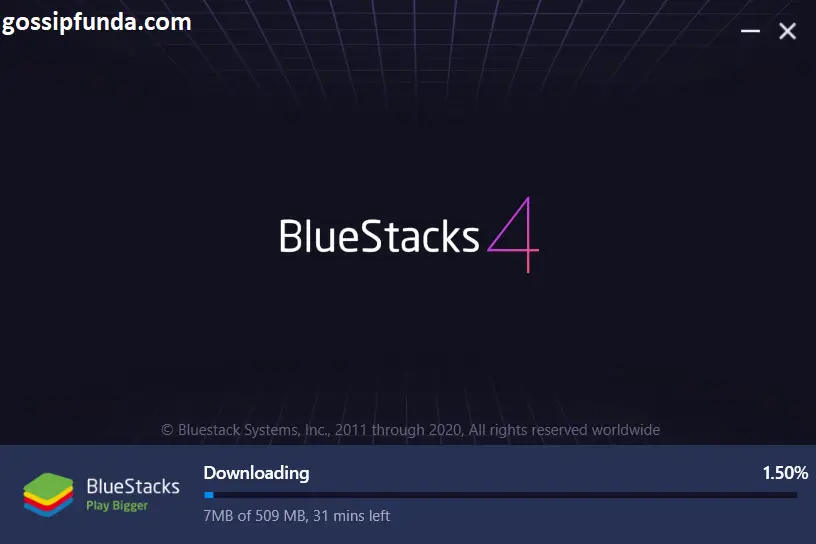 Now that it is successfully downloaded, the player would open and prompt you to sign in.
Setting Up BlueStacks
Firstly, you need to sign in to the BlueStacks player. Enter your Google play id and password to continue
After your successful login, the player should look like this
Downloading
Now, it rather easy to download games that you like. Firstly, there are multiple recommendations on your screen on the right. You can choose to download from any of those supported games.
Furthermore, you can also click on the Play Store icon on the top left side of the player. You can search for your favorite game in the search bar of the Play Store.
Click install to start downloading. There is a wide variety of games supported by BlueStacks and you can check that list on the official website.
A good thing about BlueStacks is that it has a menu regarding the controls on how to play that Nox player lacks.
The Review
NoxPlayer and BlueStacks are excellent in their own ways. Obviously, they are emulators and contain bugs. They won't get you a feel of the real smartphone because the game might have bugs to work with these players.
Furthermore, if you have a touch screen laptop or a transformer book, you can even enjoy the games that require touch. The usage of these players can be done if you love to play games on a big screen and keyboard and mouse support
The best part about using these players is that you can even install third-party apps. You can test them before installing them on your main device. It is very helpful and essential feature that you can get by only using these players.
Bonus: PrimeOS
Emulators are definitely a very good choice to play Android games. But what happens if we take it one step further?
PrimeOS is actually an operating system just like Windows, Linux, and macOS that can be installed on your computer. It will use all the resources of your computer to give you an entirely new experience. You must download this operating system and try it if you liked the above emulators.
Instead of installing in your computer, you can use a virtual machine to get to know how they work. You can download this operating system for free by clicking here.
Conclusion
To conclude, there are multiple android emulators for your computer that can give you a very good experience. The best ones are NoxPlayer and BlueStacks. This article covers on "how to install them and set them up".
Furthermore, you have an operating system completely designed for computers. It is known as PrimeOS and is available for download for free.
Don't Miss: Android Backup: Importance And How To Perform