A person which I came across a few days back, lost his iPhone in a dump yard and tingling here and there to find it but he lost hope after all the hard work then suddenly he recalled 'Ping' and he used it and found his iPhone. Is this method reliable to be used to find the lost device? How to ping someones iPhone? Numerous methods are available but only a few of them are good or we can depend on that method.
Apple is famous for Its Product Quality, Service, Innovation, and Many More. The iPhone is the bestseller for Apple which made this company a huge success. These devices are the best in the world. I hope everyone likes Apple not as a brand but as an iPhone device. It comes with enormous features to make your life easy and reliable. I am sure everyone wants to protect this Costlier Apple phone but how? This is the issue with some people because they don't know how they can protect their iPhones and Everyone just uses the phone but thinks of security.
Your iPhone could be lost anywhere from your bed sheet to your couch. Apple provides the best security from its competitor brands, so I am here to help you and make you aware of it. Bring some popcorn and enjoy it till the end to understand about ping someone's iPhone. Did you know about 'Pinging' on your iPhone? This means that to find your lost iPhone with some of the methods. If you have lost your device in a particular area or somewhere then this could help you to find the phone. It does not matter whether your iPhone is silent or vibrating. It can find your device easily.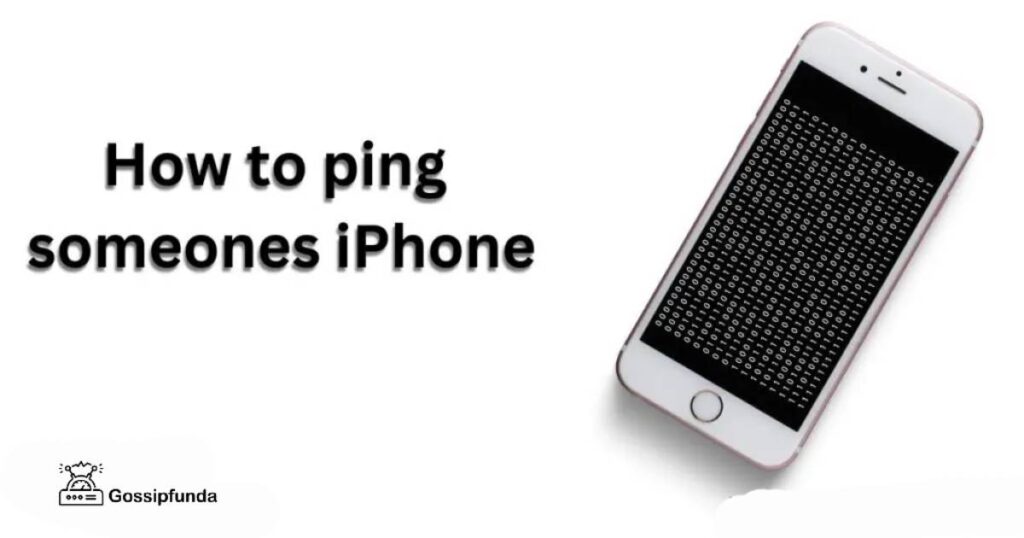 Different Methods to ping your iPhone
Now, you already know what is pinging on an iPhone. You need to share your location with some other person to find the iPhone. Documenting some of the methods beneath to find the iPhone
Method 1: By using the Find my app
This app is the medium to permit you to find your lost iPhone in a minute. Whether your phone is far or near this can help you at any distance. This uses a satellite connection to locate the device anywhere on the earth. Map option is also visible in this tool, you can see live locations with the benefit of this tool.
Utilize any of the apple gadgets which you have to find your lost phone, Now you need to enter your apple id in that different apple device like an iPad or mac. After entering the id then you will find the option of find my device or otherwise log in to iCloud.com and choose "Find iPhone" and simultaneously select your iPhone from the list then you will find an option of play sound just click on it, your lost iPhone will Vibrate and after 1-2 min it will play a high-frequency sound until you are able to find your iPhone.
Method 2: Using the apple watch
The Apple Watch is very useful in this type of case. If you have an Apple watch then good or you don't have one then try to get one to protect your costlier device. The Apple Watch can be helpful in many ways. It can check your heartbeat with the help of an in-built sensor or watch or you can record the steps of your walk. Isn't this an interesting feature? Try this method first because it is easy to do if you have a watch. Now we will see how you can ping someone or your iPhone.
Explore the option of the control center in your apple watch you can find it in the setting of the watch. Swipe from the bottom to access it in the watch then you will find a choice for iPhone with sound waves, just Click on it and it will ping on your iPhone with a loud voice, But unlike 
then find my device ping, this method of ping last for a min only. 
Method 3: Siri can help you find your device
All of us are familiar with Siri's Functionality and its power. Siri can do anything if you speak to her but some of us use this function and some may not know about it. Siri is voice assistance generated by Apple to help users to solve every problem of theirs in shorter than a minute. Just speak to Siri and she is willing to serve you. You need to fire up Siri on some other Apple devices like Mac or iPad and ask her(Siri) to find the device which you are looking for. As per my observation, fewer people know about this function of Siri and it is useful when you don't have the option to look for it.
Let us see some tips to find someone else iPhone
These tips are very useful to find your loved ones, friends, and family members. Believe me, I have used this method so many times to find my sister's iPhone just to make me more of a reasonable person in front of my sister's friend. You can also do this to have a little fun, But in reality, these things are important to learn, so it can help you one day when you lost your or someone else's phone.
Tip 1 – Ping a loud sound to someones iPhone.
Go to your PC, then search for the iCloud sign-in page on google.
Now sign with your apple id password on the page, always remember your id password
There you will see an option of Find iPhone 
A map will open and you will see a Green Dot on it
Tap on that dam dot to find your device
Click on ping sound to find the device
Tip 2 – How to you ping someone's location
Go to Find my app and Start sharing Location at the bottom
Type the desired phone name and gave permission for sharing the duration
Permit for an hour or days
It will find your device
Tips 3 – Help of command
Use the ping command from your computer so it will send and request another Computer. Whether device is online or offline and responding.
Apps that can help you to track iPhone
Certain types of apps are available in the market which can help you to get rid of your iPhone tracking. Let us see some of the useful apps which can help us 
1. Umobix app
This app is trustworthy and reliable to use. It does not share your data with 3rd party services. This is legit and secure for tracking your iPhone location. One of its best features is this locate your location in real-time. Track the location with the help of this app. It works not only on iPhone but can work in android also. You need to download this and register it. This app can be free for someday and then you have to purchase it or take a subscription to it.
2. Spyic app
This is also a good app to use and one of the most secure apps I have seen. They are committed to their service, and with the help of this, you can monitor all of the data on anyone's device. It has many features to explore or understand such as access to location, geoforcing, a keylogger, Social media account, or even you can check web history. I know you will like these cool features but don't do it unless in reality someone's phone has been lost.
3. Cocospy app
This app is mainly used for parental control to spy on their children's activities or friends. It allows you to trace all of the relevant information that you want. You can see their text messages with the help of this tool and call logs as well. Social media can be accessed through this tool. This tool not only works on apple devices but also it is compatible with Android devices. This app is safe for all and privacy is their priority. Parents more often use this app to find out what their children are doing in this app, are they doing a bad thing or a good thing or not then  in that case this app is useful to find it out
4. Family Sharing
The family sharing option is provided by apple default on iPhone. To need to activate this first send an invite message to the target device by iMessage then they have to enter their apple id credential in your phone. After that tap on your name then tap on the family sharing option and enable the location option after that, Now select the family option that you have to add to it, after all of these steps you will be able to see their location on your device. This method is good to use because your family is involved in it and trustable also.
Conclusion
Apple iPhones are the costliest smartphone in the world. I hope that no one is afforded to lose this phone at any cost, there are some who can afford to lose but they are exceptions and the rest don't want to lose. iPhones are used worldwide. Every year apple sells Millions of iPhones in the world either online or in the store. Every method and tip we have discussed is good to rely on and trust. Losing an iPhone is always hard to accept in any case. Protection is always a good idea in any case, Every year there are many iPhones lost and found with the help of this type of tool or method. You must have always 2 products of apple to find your one device if one has been lost somehow.
Apple id and password must be remembered in order to find your lost device because without the id password you were not able to log in to the iCloud server of apple and will be restricted to find your device. So always take precautions and write that damn password in a book or something else, so that you can remember. I hope now you know how to ping someones iPhone.
FAQ
Is there any iPhone security issue with this method?
No. Not at all any issue with the security or data breach. Everything is saved from your password to your data, The apps which I have listed in the article are trusted they never send your data to anyone nor do the see your data when you enter the details in their app. Data is the biggest issue for everyone, as I always think these companies use our data to send to other companies for money but not everyone is the same and these companies are an example of it. You can use this app without any worries or hesitation.
Legal to track someone's location without knowing them?
This is the blunder you made, As far as the person knows about this it should be good but if he doesn't know that you are tracking his location without his permission then it is always considered as a crime in almost every nation because no one wants to share their location without knowing them is always a crime but if your intentions are good then this will not make a difference. Always be aware laws of your nation and be within the limit. Even you can track their other information also if you have informed them about their location.
What will happen after tracking the device?
After finding your device you can immediately turn off the location so others cannot find it and go to that location to find the device or you can go for the legal option if Someone else has stolen your device if you wish to. One more thing you can do  In this type of situation you can change the password of your iCloud so that Other people can not try to track it. Immediately go to search your device always.